DIY Succulent Arrangements: Fun and Easy Ideas for Your Home
Succulents are the perfect plants for creating gorgeous crafts like table centerpieces, DIY succulent bowls, and even holiday decor. If you're looking for succulent arrangement ideas, this post has you covered!
Many succulent types can thrive indoors, which means we can use them as part of our home decor, as long as they're placed in a sunny location.
If you're ready to get creative with these drought-tolerant plants, I've got some great ideas to show you.
I'll walk you through each succulent arrangement design and give you instructions on how to replicate them yourself. 

(This post may contain affiliate links).

But first, let's talk about how and why succulents are so versatile when it comes to holding up in containers. After going through this list, you'll be ready to create your own DIY plant crafts!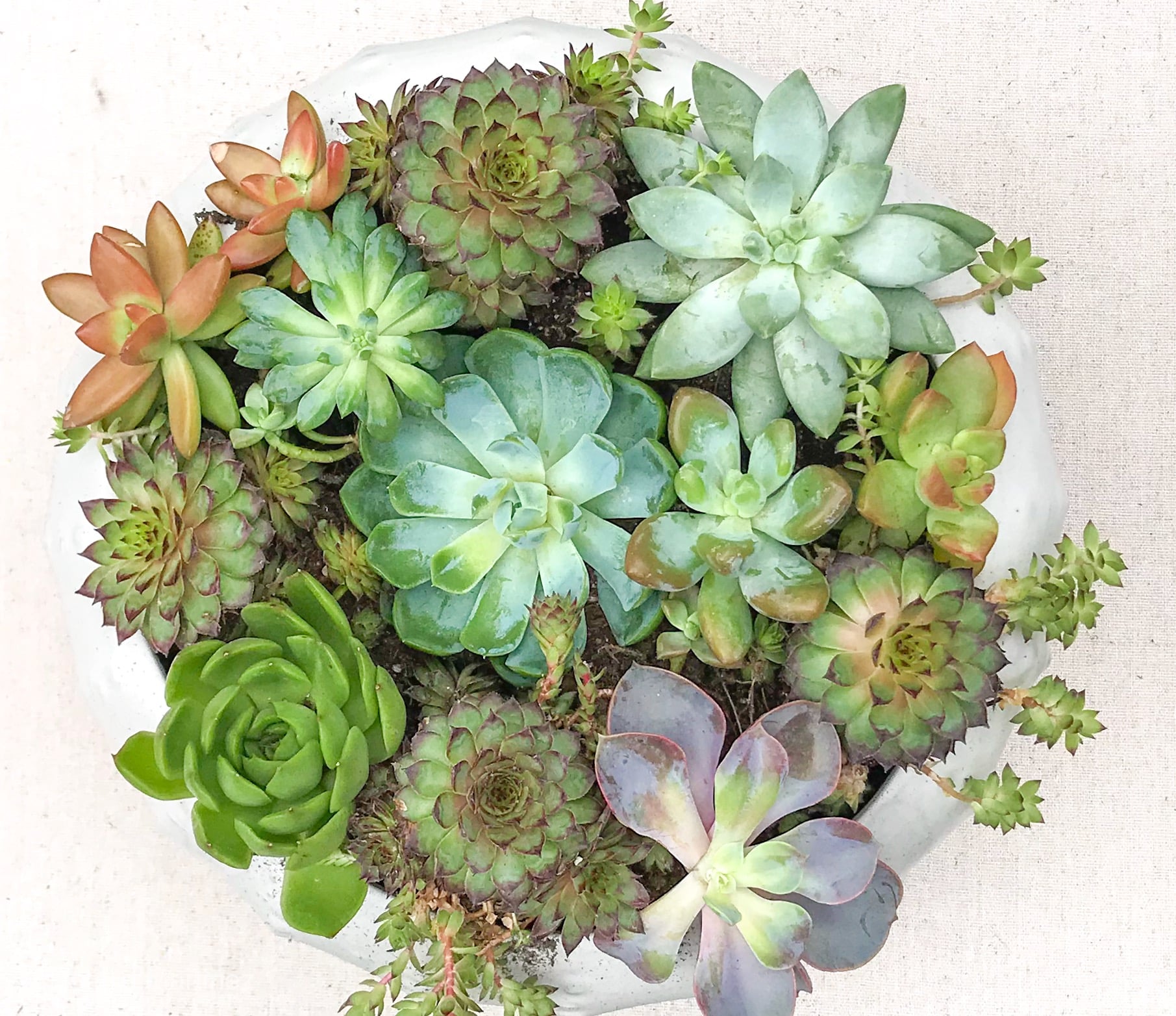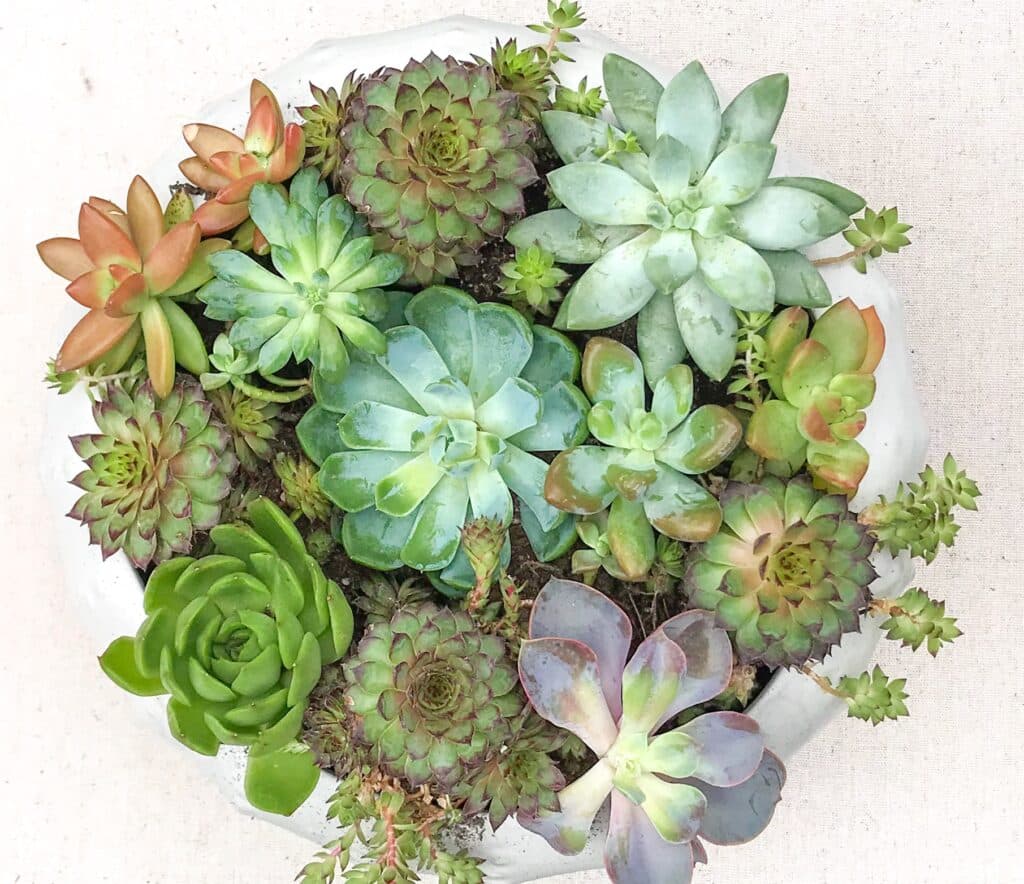 Why Succulents Are Perfect for DIY Planters and Crafts
I'm sure you've seen plenty of neat succulent designs and have wondered how they hold up over time. The truth is, succulents are slow growers, especially when planted tightly together in small containers.
They don't mind it, actually. When planted closely together, succulents will stay the same size for a long time, instead of growing larger.
Thankfully for us, their varying sizes, shapes, and colors mean they can complement each other nicely when paired together. They make a striking visual!
Better yet, they can last long in the same spot, unlike other plants and flowers.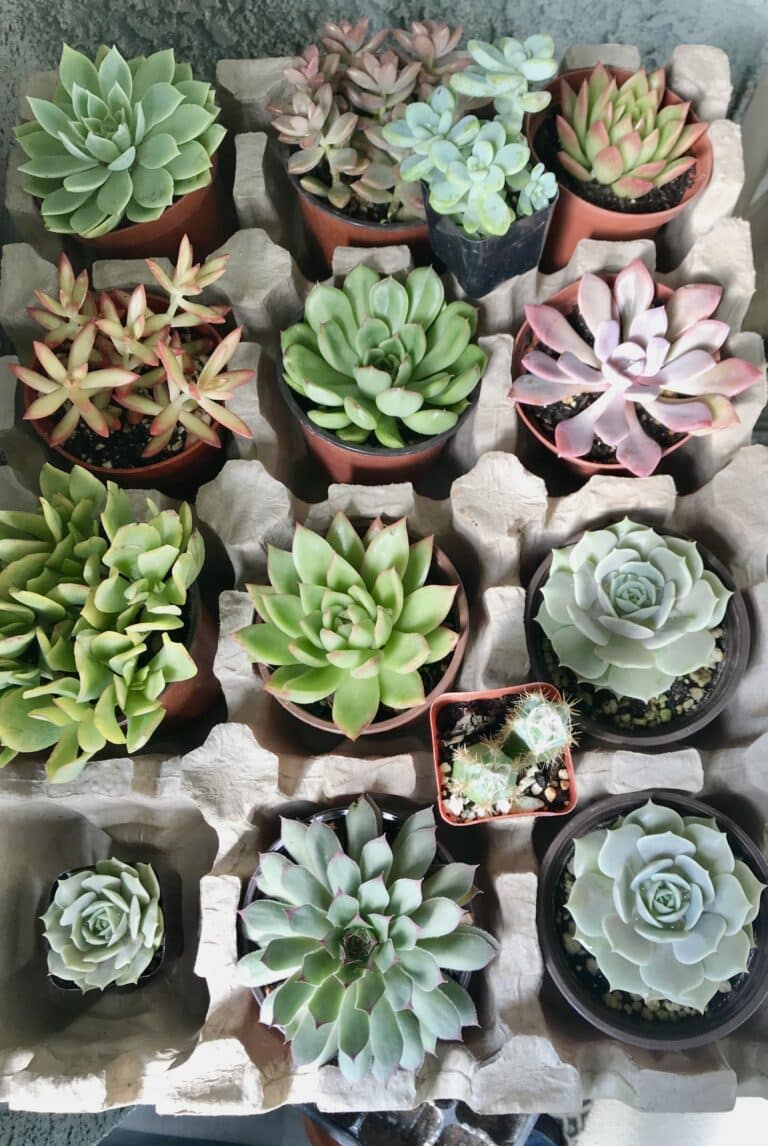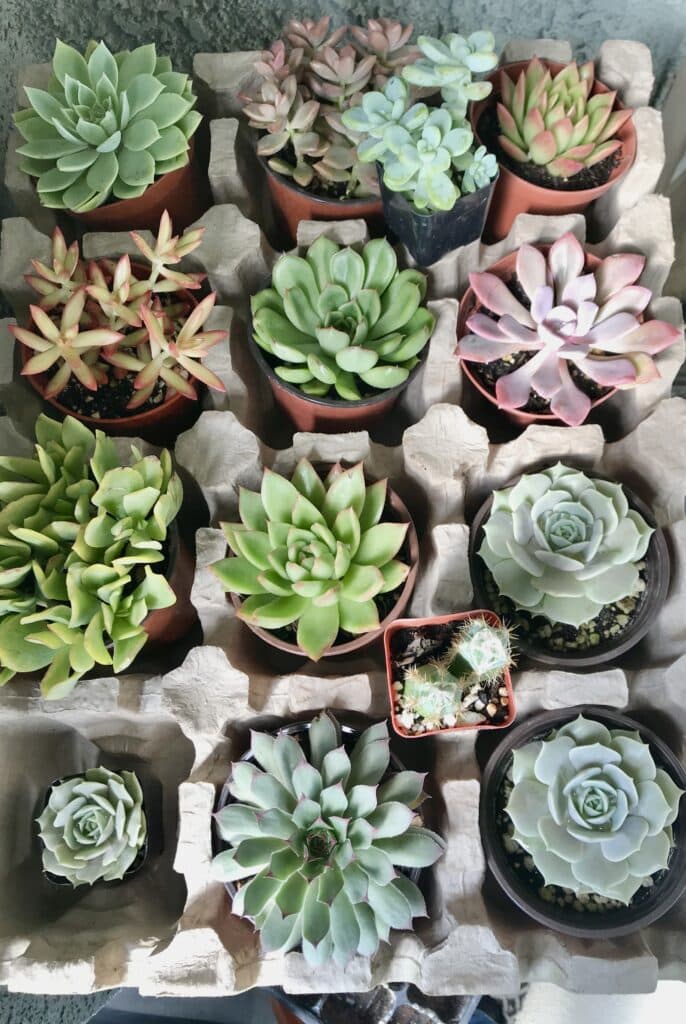 Once you're ready to create a new arrangement, you can simply take out the succulents and replant them.
This is what I do when I create my yearly DIY pumpkin succulents craft. When we move into winter, I simply tug the succulents off the top of the pumpkin and replant them into the soil.
From there, they begin to grow new roots after a few weeks and take up nicely in their new pot.
Which Succulents Can Be Used in Crafts?
You can use different succulents for your own creations but I'll my favorite varieties include:
-Graptosedum rosettes
-Elephant Bush
-Hens and Chicks Succulents (Sempervivum)
-Echeveria
-String succulents
You have a variety of succulents to choose from, so the possibilities are endless!
Aside from their beauty, succulents are resilient and can take some neglect. The leaves retain water, which helps from survive long droughts.
It's yet another reason they're so great in arrangements and crafts: they won't wilt after a few days without water as flowers do! They're good with minimal water, especially when dormant.
Caring for Succulent Arrangements Indoors

If you want your indoor succulent arrangements to stay vibrant, you need to care for them properly. Don't worry – that's easy! They'll just need a few things in the way of light, drainage, and water.
The amount of light they get is important: they're live plants, after all. You'll want to place them in indirect sunlight. Indirect sunlight is all most succulents need to stay beautiful indoors.
As far as soil, aim to use one that is well-draining, since succulents can rot quickly if left in soggy soil. Succulent soil or a bag of cactus mix can be easily found online or at your local garden center or home improvement store.
This type of soil doesn't retain excess water, so if you use containers with drainage holes, you'll be better positioned to avoid overwatering mishaps.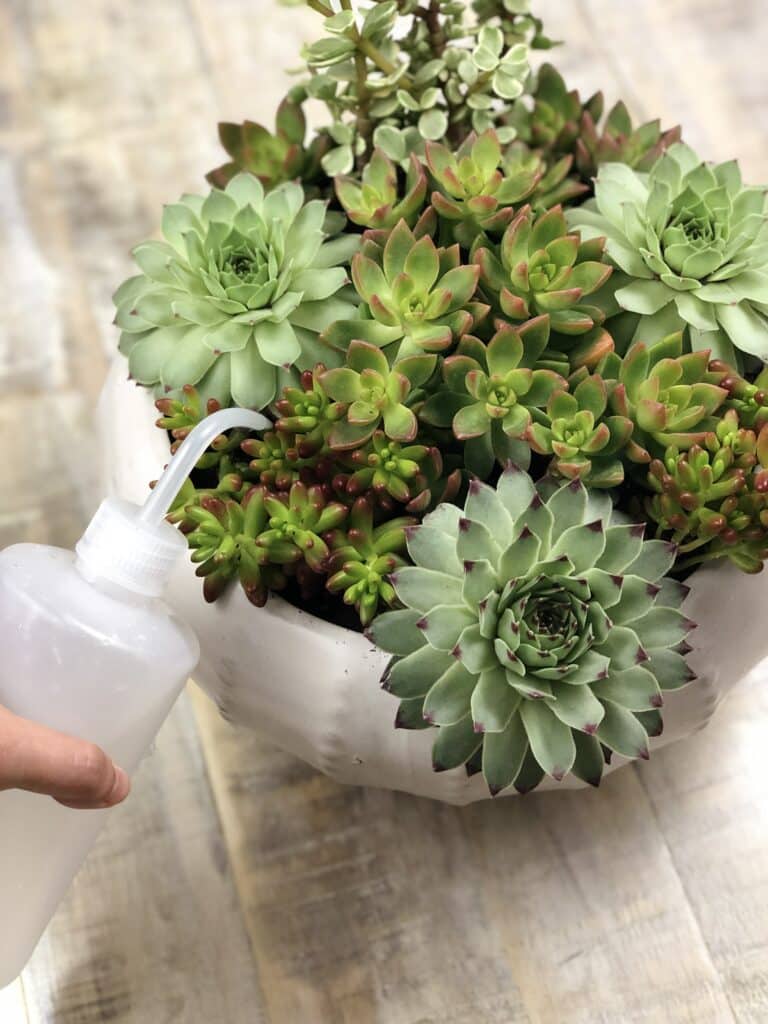 Supplies for Succulent Crafts
The following supplies can all be used when creating your own succulent arrangements, but not all are necessary.
It all depends on the look you're trying to achieve or create. I like to use as many natural materials as possible.
For this reason, I don't like to use floral foam, especially since I don't think it's necessary with succulents. You can achieve the same results by using things like live moss and chicken wire.
Also, many people use hot glue on succulents. This might seem strange but it actually doesn't harm the plant: it lives on and can be replanted.
If you prefer to avoid using hot glue on live plants, you can use floral glue; it takes longer to dry so you'll need to be more patient, but it's still effective.
The great thing about succulent container gardens and succulent plant crafts is that you can get as creative as you'd like. Many types of items can be used to plant succulents – just be mindful of drainage.
If the container can't have a drainage hole, like a mason jar, then I wither am extra careful with watering.
For containers without drainage, you're better off watering sparingly and infrequently so the soil doesn't remain soggy for too long.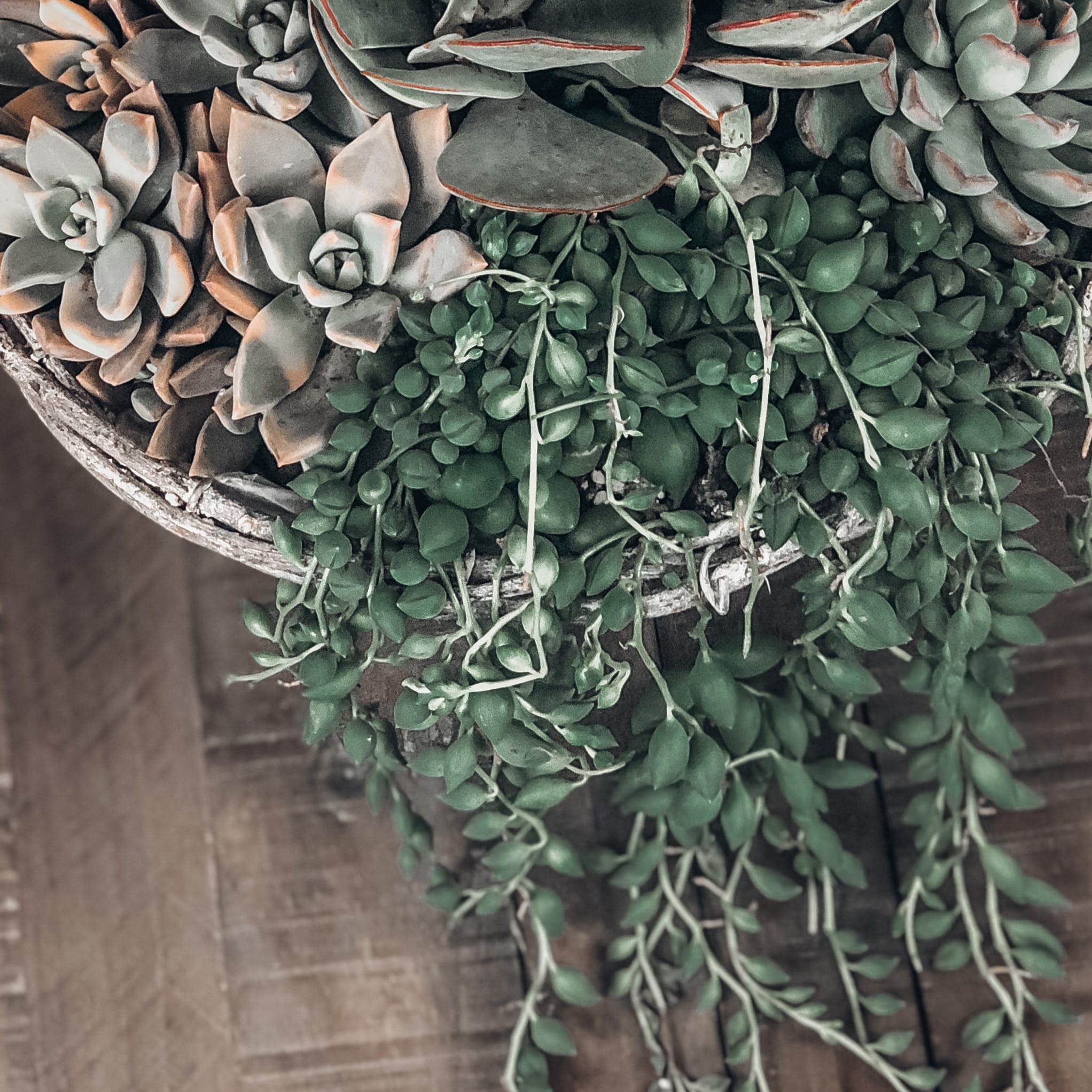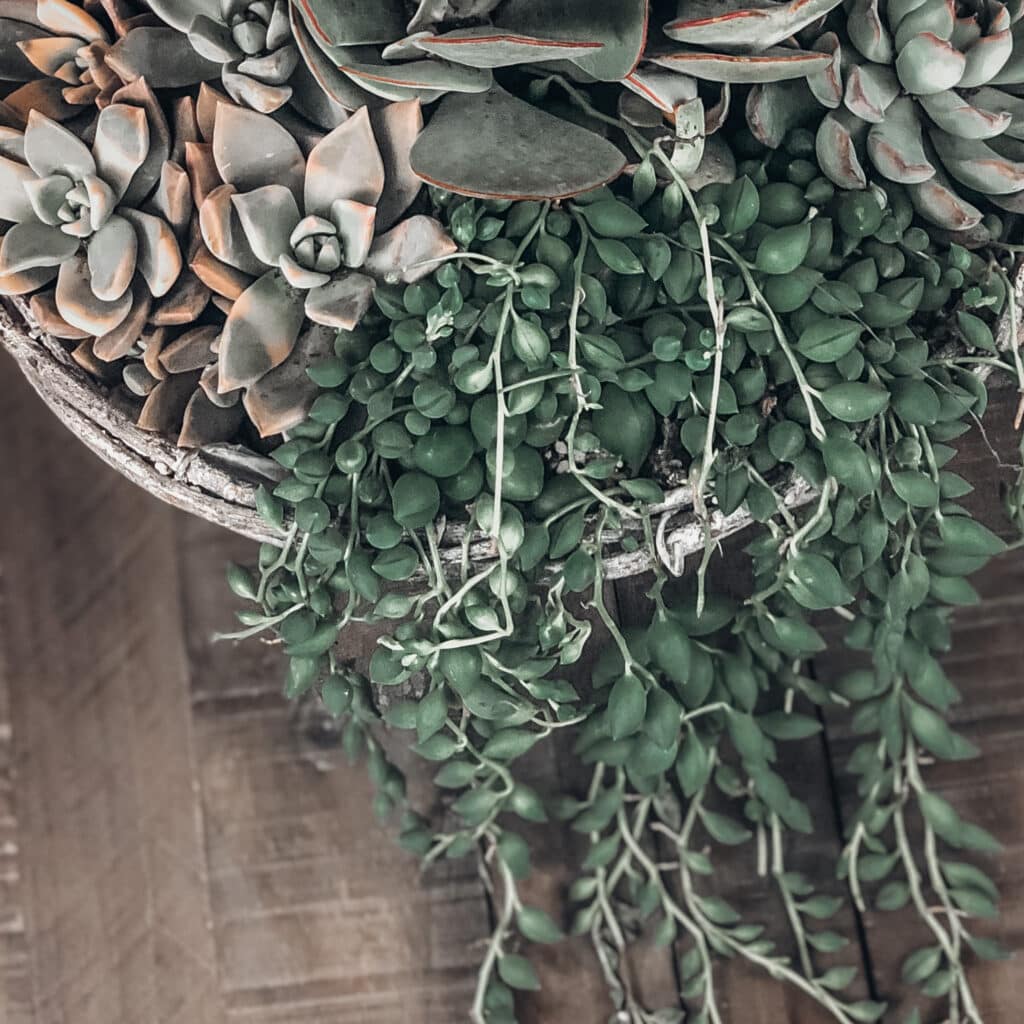 Here are the most basic supplies for creating DIY succulent arrangements:
-Live plants (your favorite succulents)
-Succulent cuttings (tiny succulents are great for smaller containers like tea cups and small pumpkins)
-Succulent soil or cactus mix
-Sphagnum moss
-Hot glue or floral glue
-Containers or planters
-Watering can or watering squeeze bottle
-Top dressing such as decorative gravels or rocks

The supplies above are general ideas but you can plant in your favorite mediums or things that you find inspiring.
You might already own these things or you might have to craft stores, thrift shops, or online stores to get ideas! Remember that it's all about visual interest and what grabs your attention.
DIY Succulent Plant Arrangements
Below are some of the succulent arrangements I've created over the years; it's one of my favorite things to do! I've used them both inside my home and in my garden.
I always make sure they get indirect light when kept indoors, and I care for them just as I would any other succulent planter. You'll see that I've used different types of succulents, too.

Oftentimes, I like to stick to color schemes that look pretty with the planting medium I've chosen. I'll explain more for each arrangement.
I hope you'll find inspiration from each to pull for your own succulent projects!
Colorful Rosette Succulent Arrangement
This is one of my top favorite arrangements. I chose vibrant colors and rosette-shaped succulents.

Because echeverias tend to stretch out of shape and grow leggy when not placed in full sun, I made sure to keep this planter outdoors in the sunshine.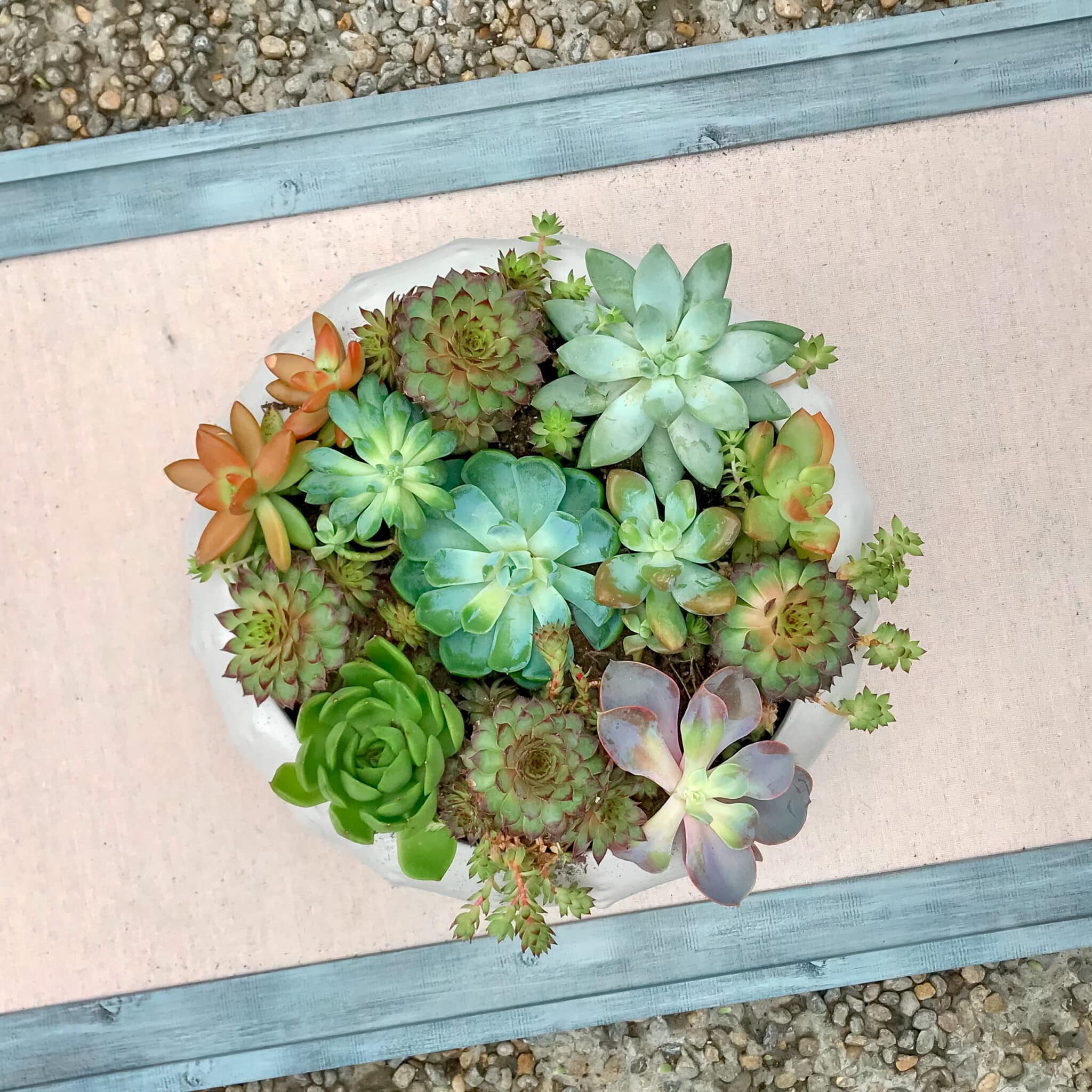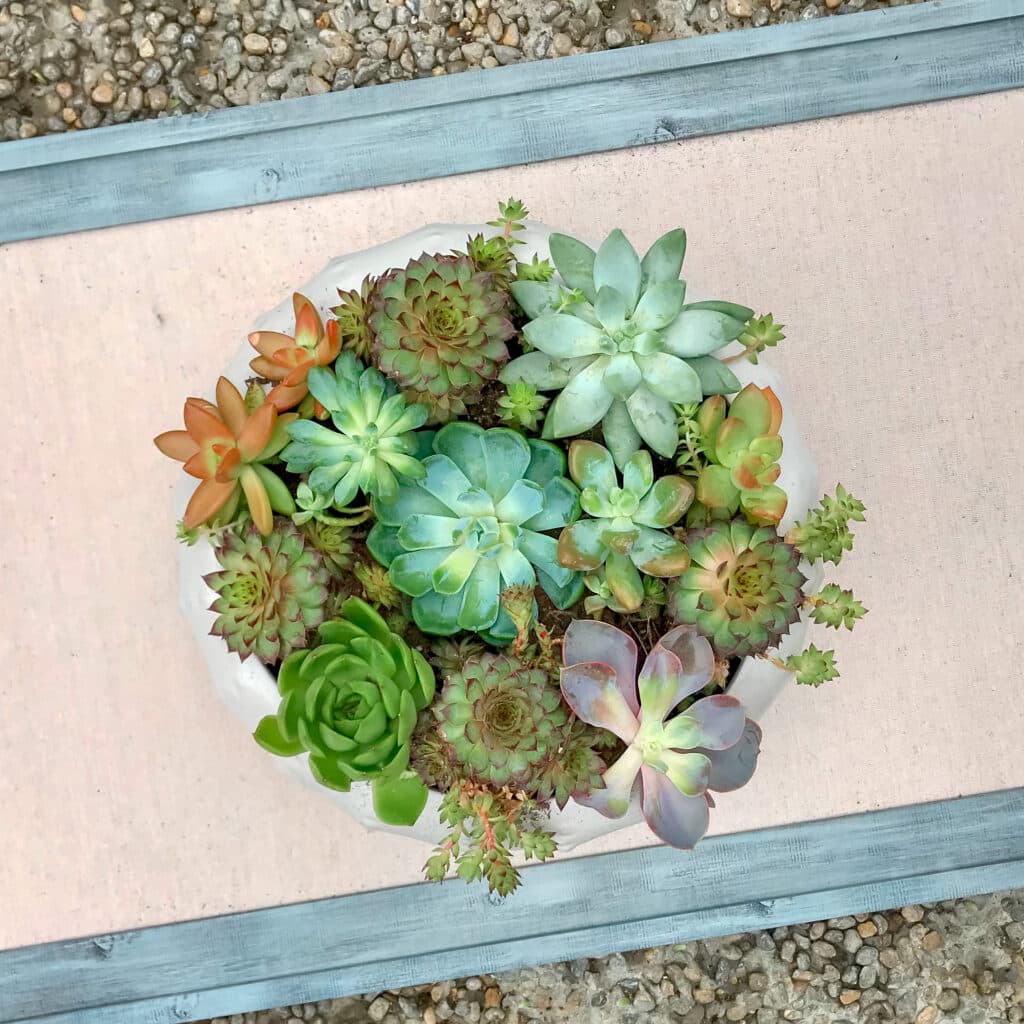 The container has a drainage hole at the bottom, which was perfect. Most of the plants shown are Echeveria varieties, and a few are graptosedum (orange-colored) and sempervivum (green and purple), which also love lots of light.
This planter works well for outdoor table tops but can also be kept on your front porch or front door area with other planters.
2. DIY Pumpkin Succulent
You might think you can only make succulent arrangements for spring and summer, but my favorite time of the year to use succulents in crafts is fall and winter!
I enjoy making DIY pumpkin succulent crafts and Christmas decor every year. The reason being that I like bringing live plants and greenery indoors during cooler weather to help bring some natural elements into our home.
Pumpkin succulent crafts might look very intricate but they're very easy to create.
You can use either faux pumpkins or real pumpkins for this craft. The photos below showcase the crafts made with faux pumpkins.
I used all Sempervivum 'Hens and Chicks' succulents. They're readily available in my area during the fall, so I grabbed some at the garden center and decided to get creative.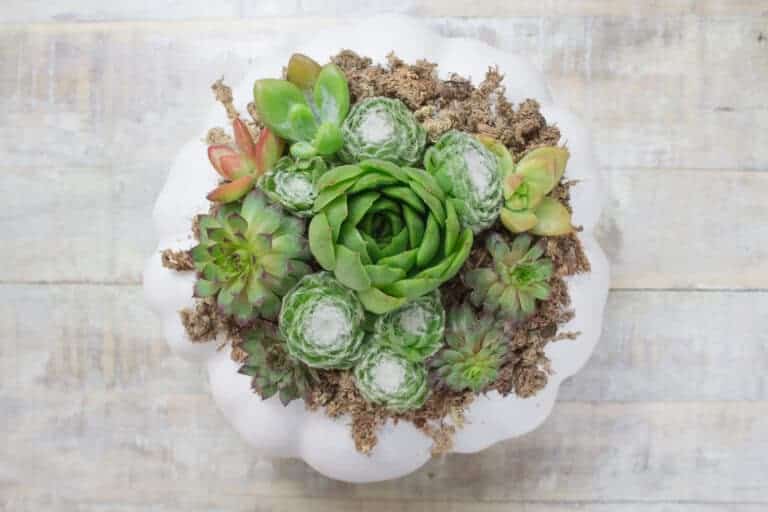 With shades of green, orange, yellow, and purple, it felt perfect for fall.
I made one large pumpkin and several small pumpkins, yoo, so that they could adorn my dining table all season. It's one of the most natural fall succulent centerpieces you can create.
Sphagnum moss is key for this look. This type of moss is a great growing medium for succulents. I've noticed my succulents begin to root into the moss after a few weeks. It makes it very easy to water, too, and can hold enough water to keep them hydrated.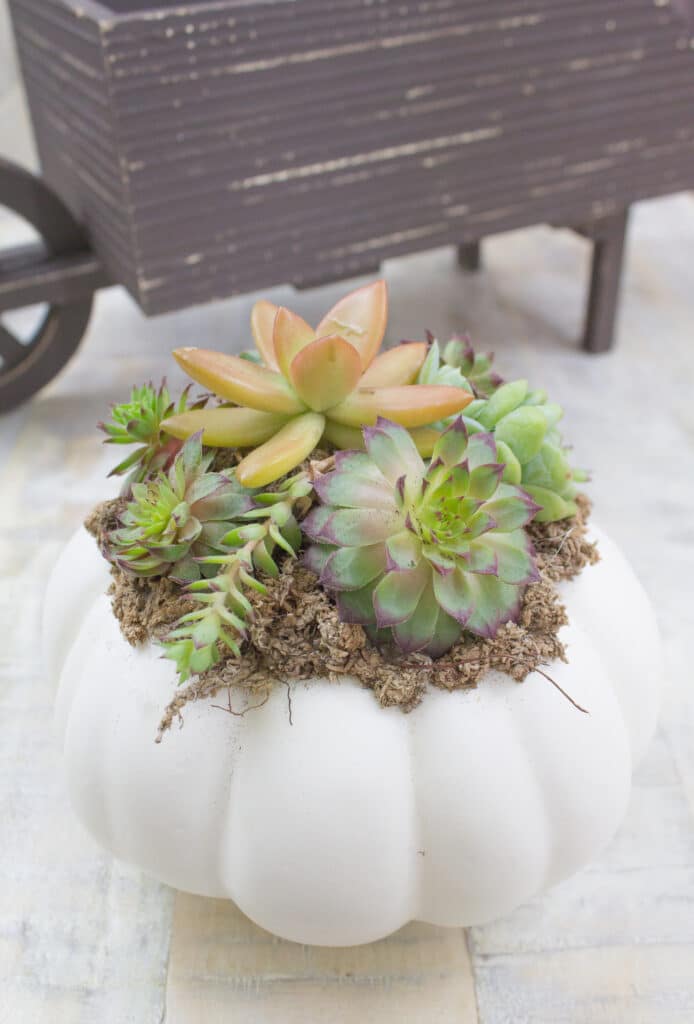 I also don't need to water this craft very much. Just a few spritzes onto the moss with a spray bottle will do. For more photos, head over to his blog about my DIY Pumpkin Succulents Centerpiece.
Below are a few succulent Christmas arrangements. I used planters that I love and decided to add some Christmas cheer to them to display around my home. Let's take a look!
3. DIY Christmas Wooden Barrel Craft
This is a tiny wooden barrel I found at a craft store. It looked adorable so I decided to plant some succulent cuttings into them. These are baby Echeverrias.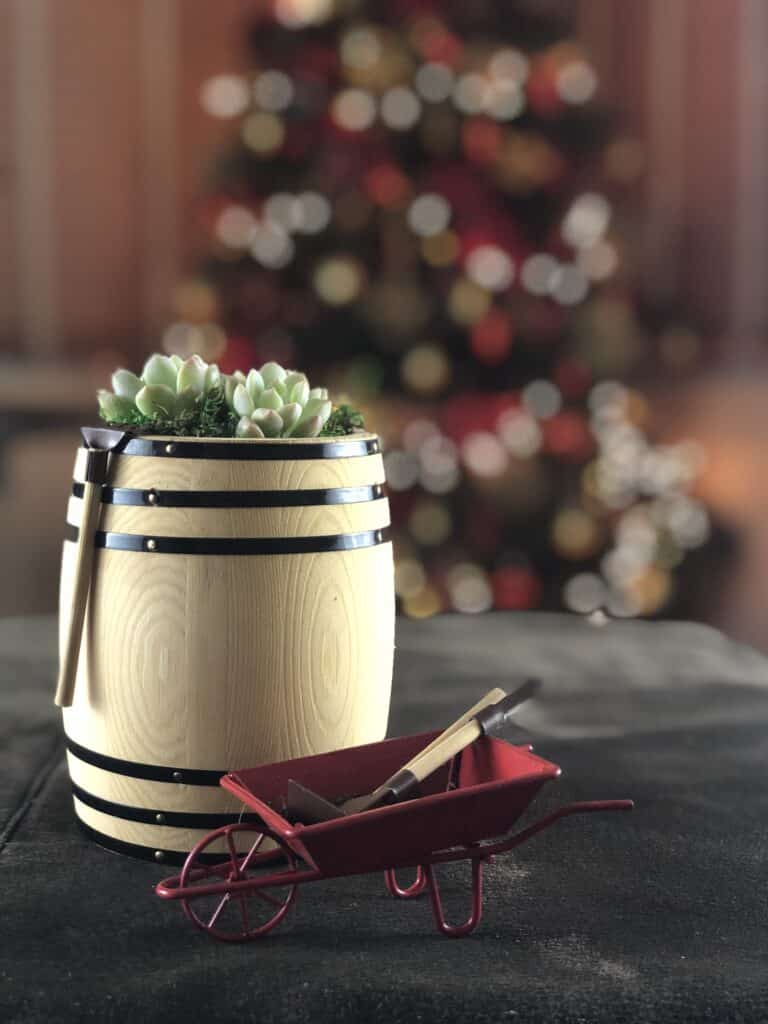 I filled the barrel with cactus mix and then added moss to add another natural element.
This craft doesn't need to be made during Christmas time BUT I think it adds just a little bit more Holiday cheer to the room if you do!
For indoor succulent arrangements, one of my "tricks" is to add fairy garden accessories into the mix. It elevates the arrangement and makes it look like I put a lot of thought into how I display it.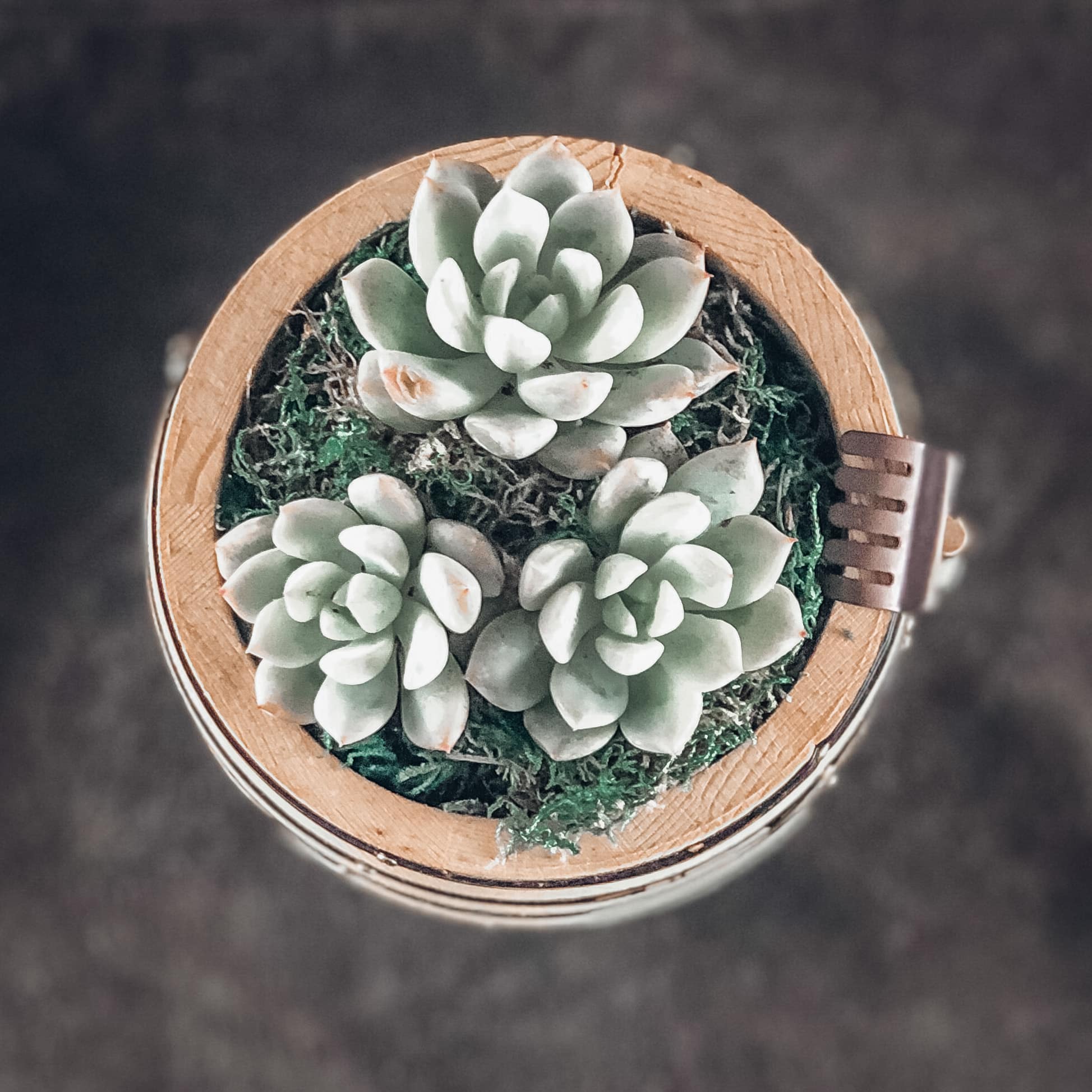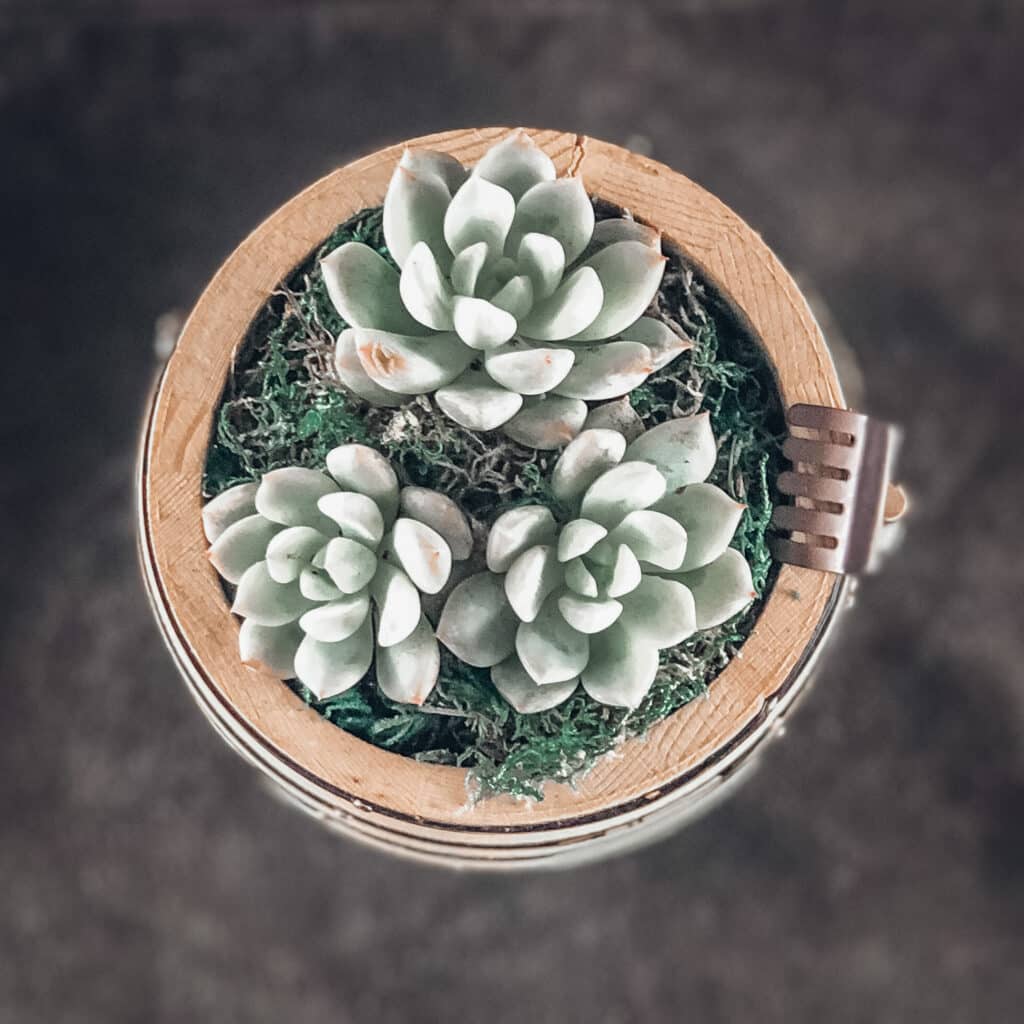 4. DIY Christmas Succulent Ornaments
This might be my favorite Christmas project to date.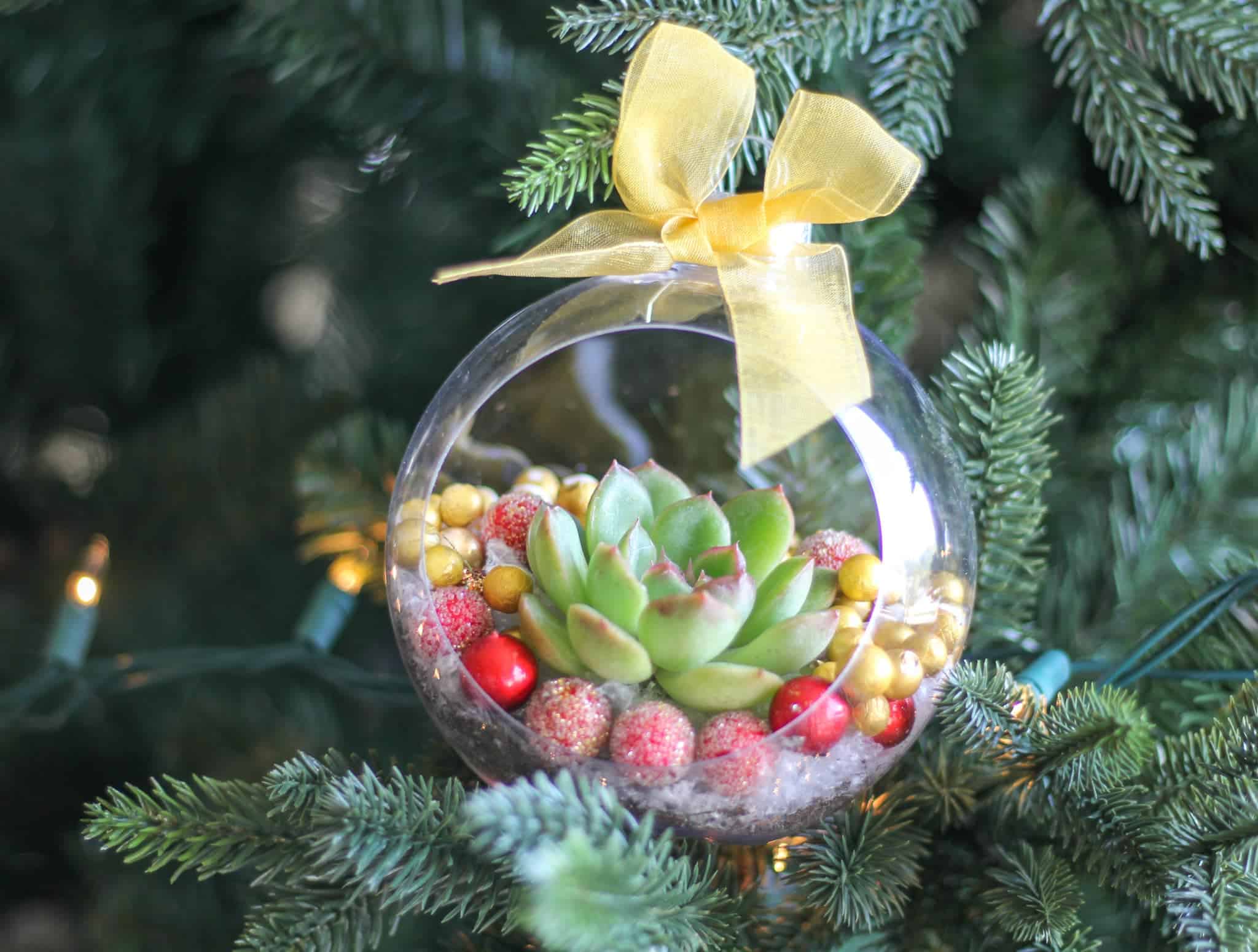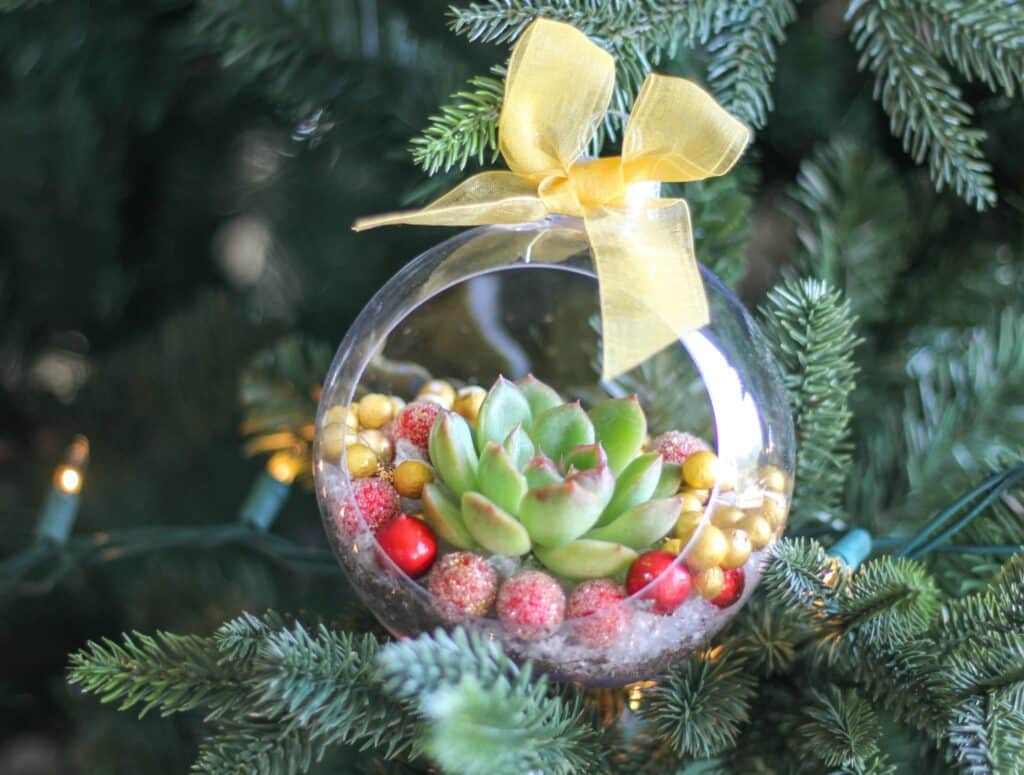 I used floral beads and ribbons to decorate terrarium ornaments for my Christmas tree. I used classic colors like green, red, and yellow.
The best thing about these ornaments is that they're rather large in size and they have a flat bottom, which means you can place them on flat surfaces like your mantelpiece, coffee table, or dining table.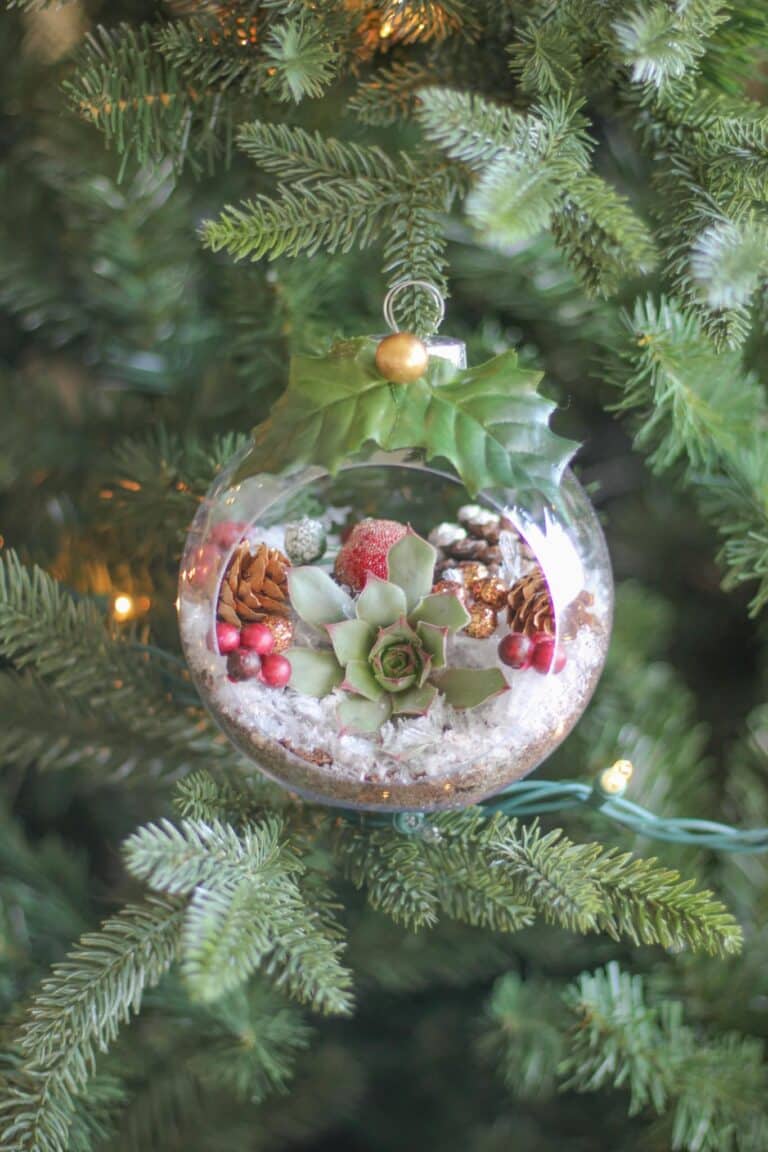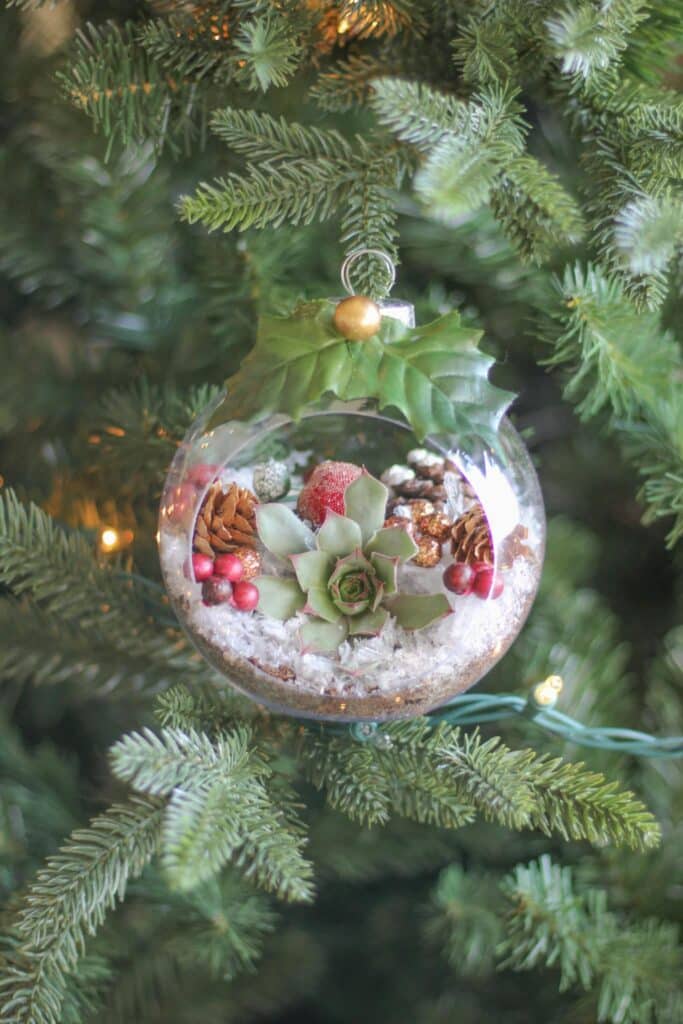 They were rather heavy, so if you hang them on your Christmas tree, make sure to secure them tightly. Also, try to hang them so that they lay atop a sturdy tree stem.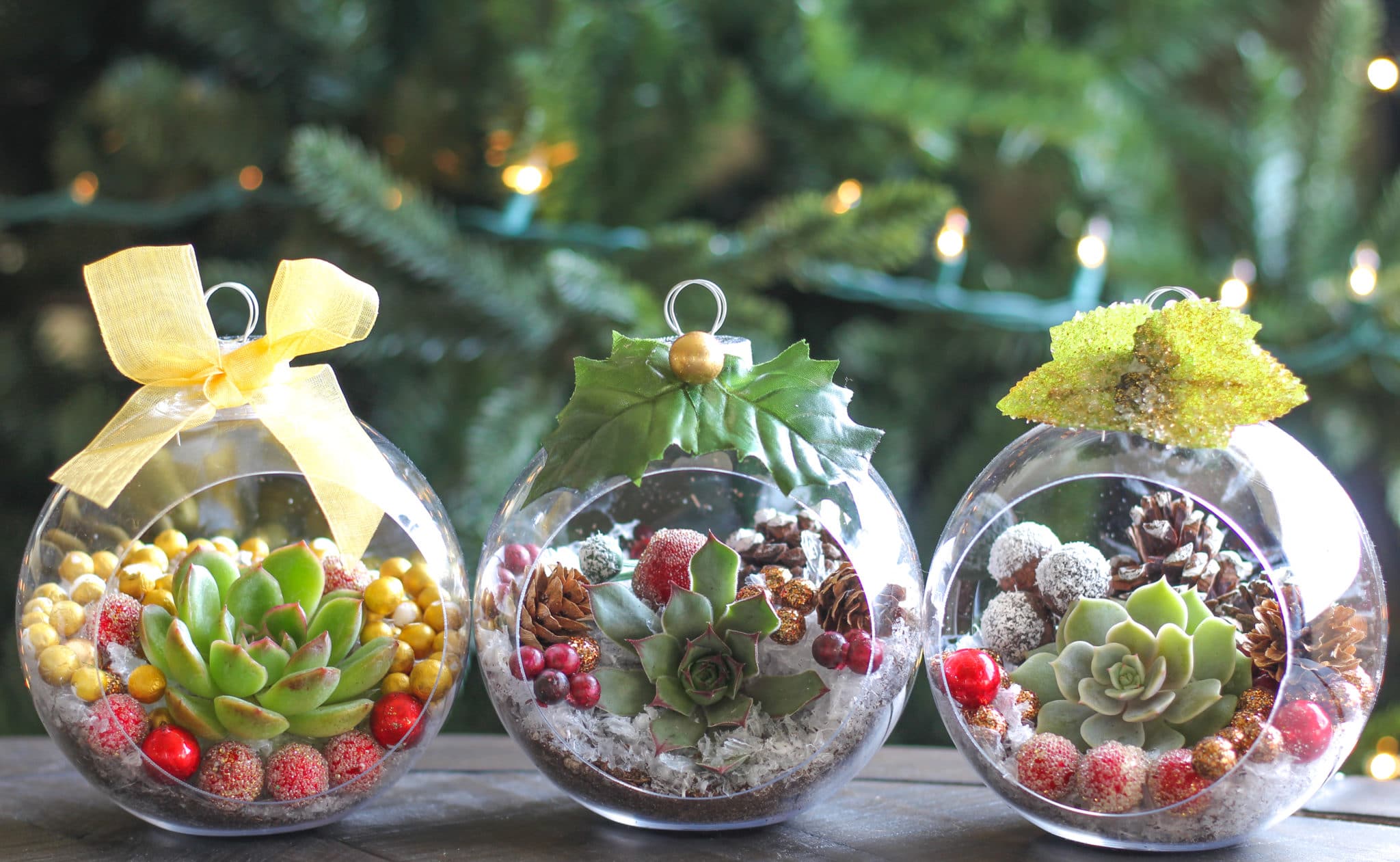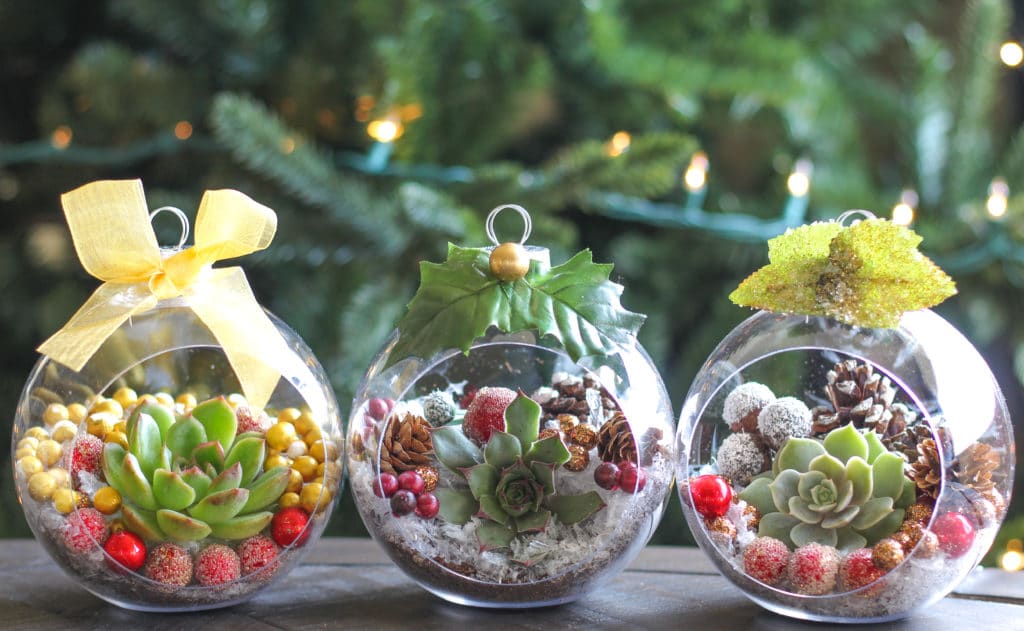 5. DIY Christmas Succulent Table Centerpiece
I loved the way this table centerpiece turned out. It features small Echeveria Lolas and they stole the show!
I want to mention, however, that this Echeveria variety tends to stretch out easily and quickly if direct sunlight is limited. My dining table sits close to a large sliding glass door that lets in plenty of sunshine, so the rosette succulents stayed mostly in their compact shape.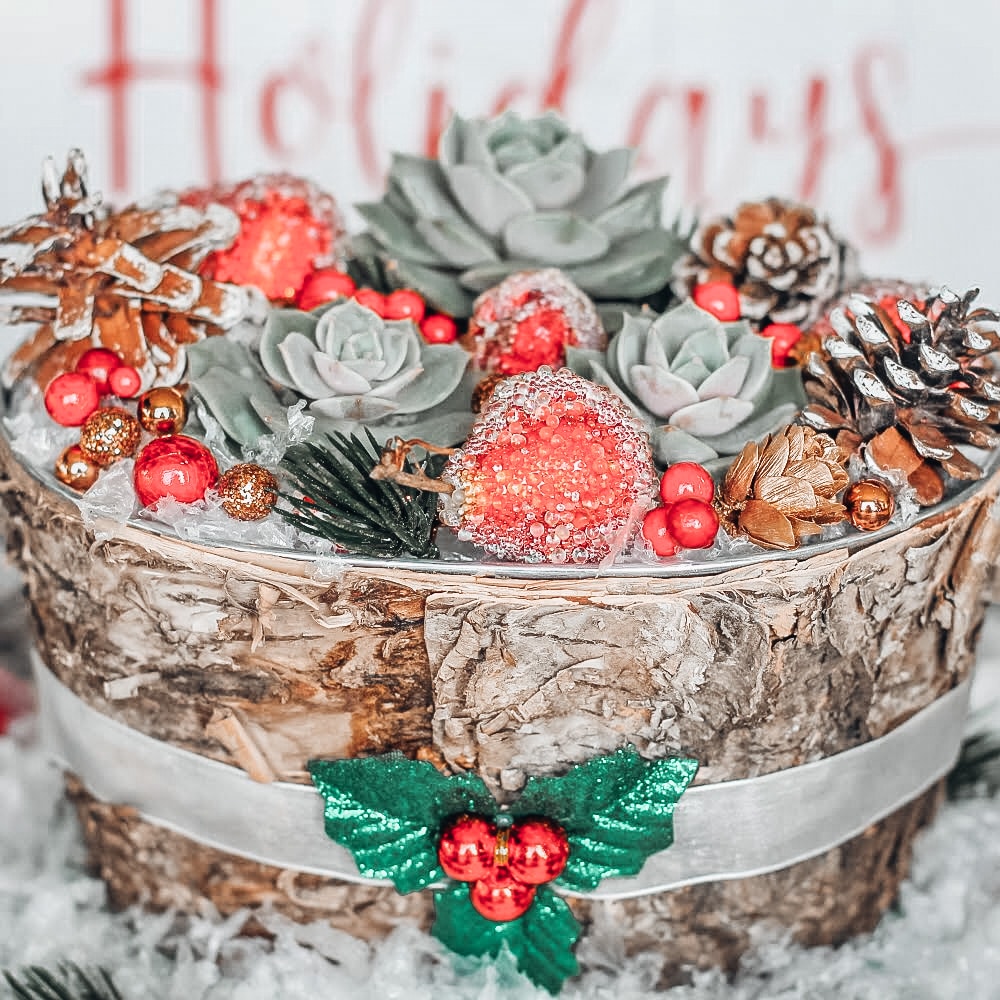 If you're doing this at home, make sure you have enough light coming in or simply choose another succulent variety.
What I liked about this craft is that I used Christmas craft supplies I already had on hand. I simply used ribbon and faux floral stems to add some Christmas zest to this planter from Michael's.
I tugged off the small red balls from floral stems and used faux snow to cover the soil.
Head here to find out all the steps and supplies to making this Christmas Succulent Table Centerpiece.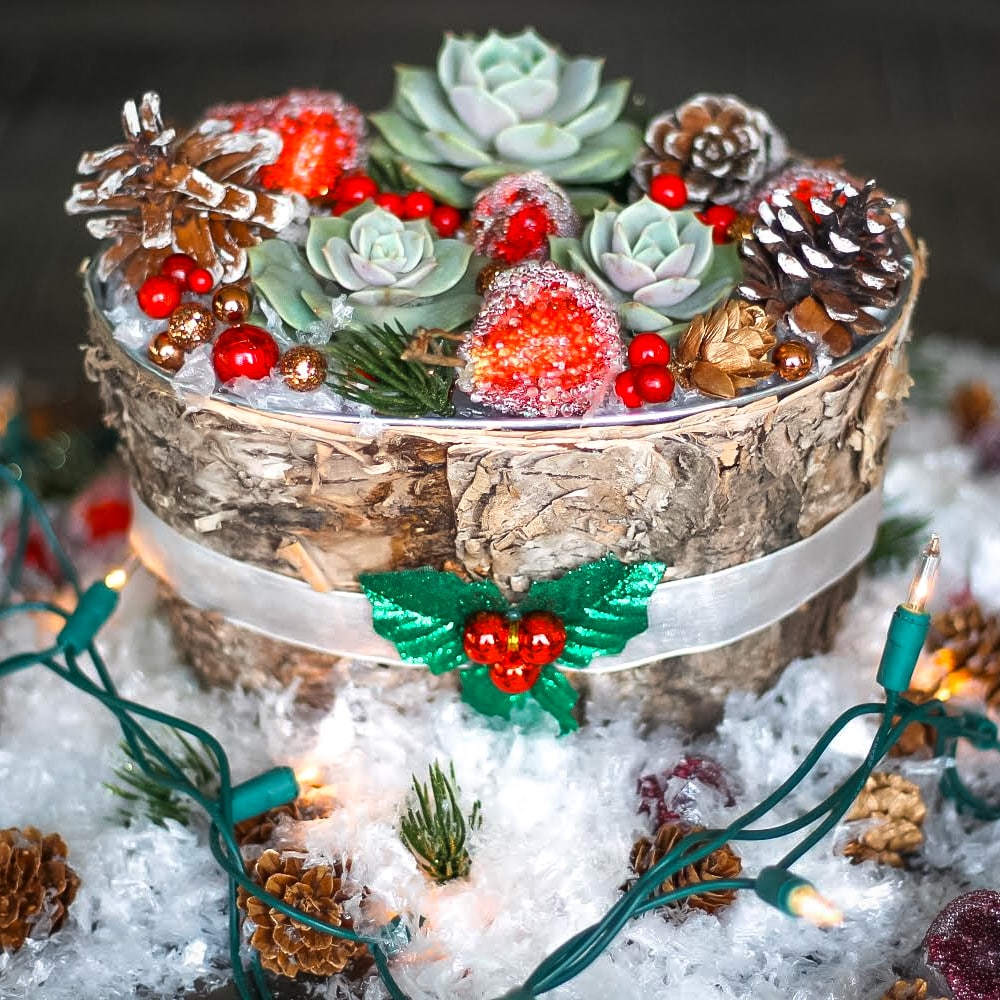 6. Rectangular Planter Box Succulent Arrangement
I LOVE this arrangement because it's large and thus able to hold plenty of succulents. Not only that, it's actually the perfect planter for my side patio, which is also rectangular in shape.
This type of large outdoor planter gives you the opportunity to get creative. It serves as a great structural piece AND focal point in the garden.
I have four of these planters along the sides and entrance of my patio and I love them all.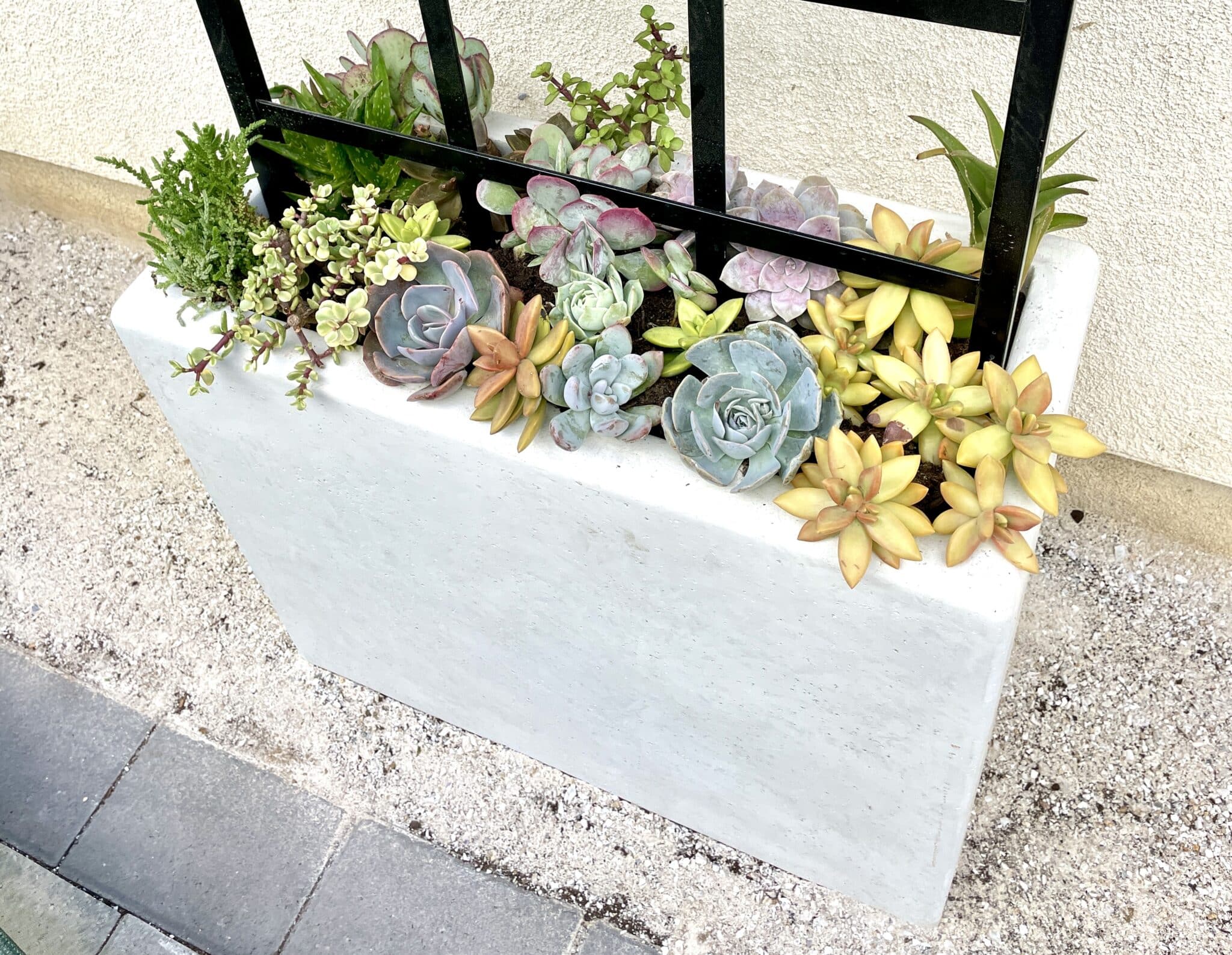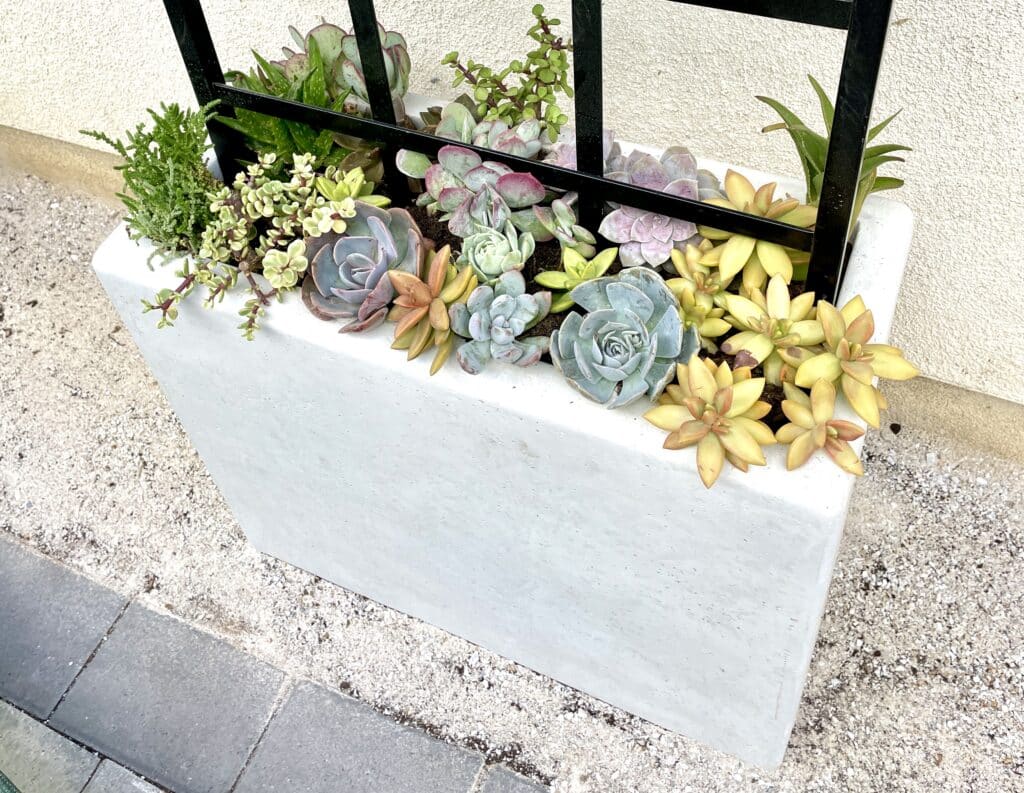 With a large outdoor planter, the possibilities for plant types are endless. Since they'll be outdoors, you won't need to worry too much about overwatering or root rot, because the sun will evaporate the water quickly.
I like to plant all different types of succulents together. For this planter, I utilized Echeveria, Graptosedum rosettes, Aloes, Elephant Bush, Jade Crassula, and a few others.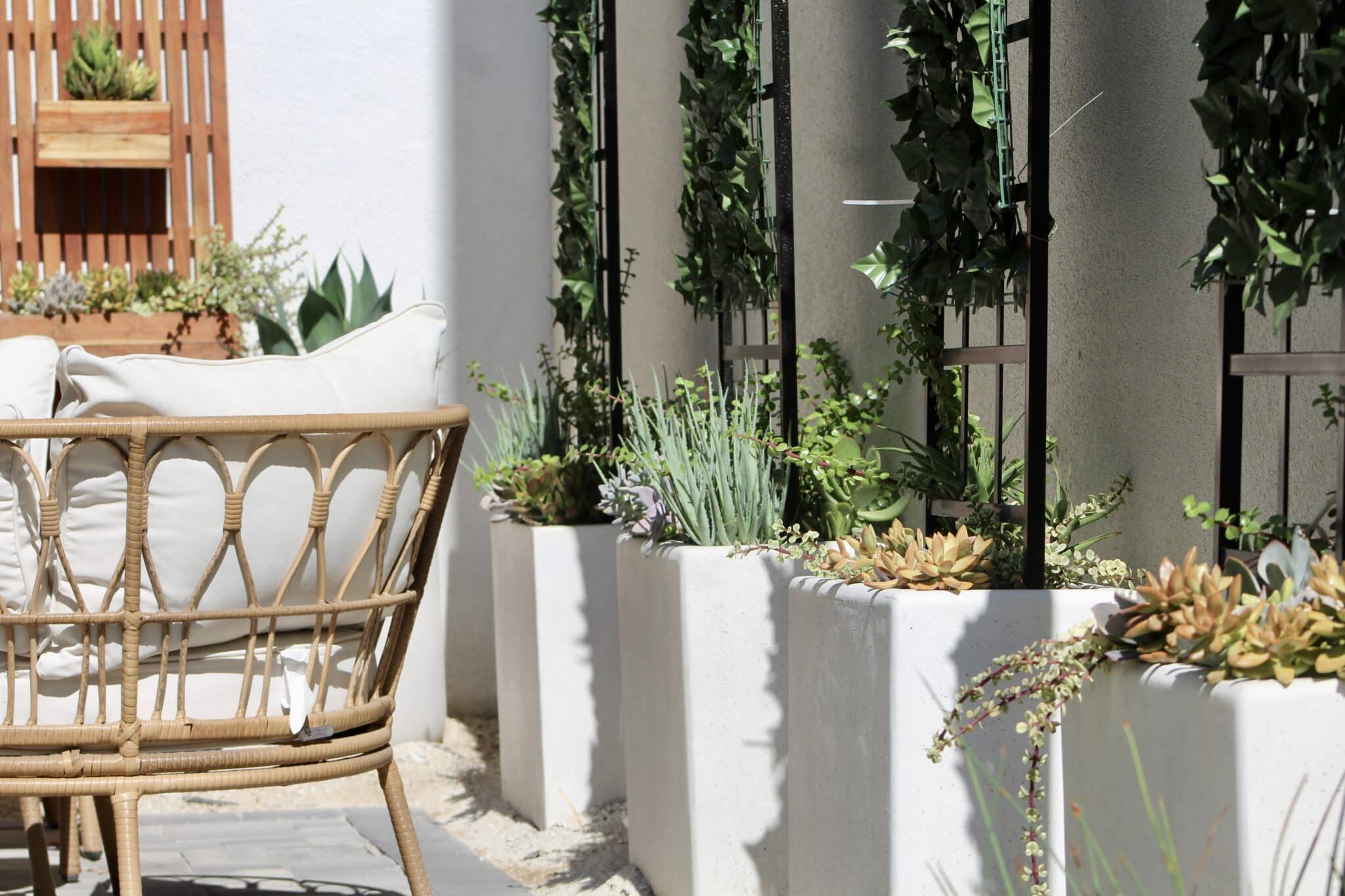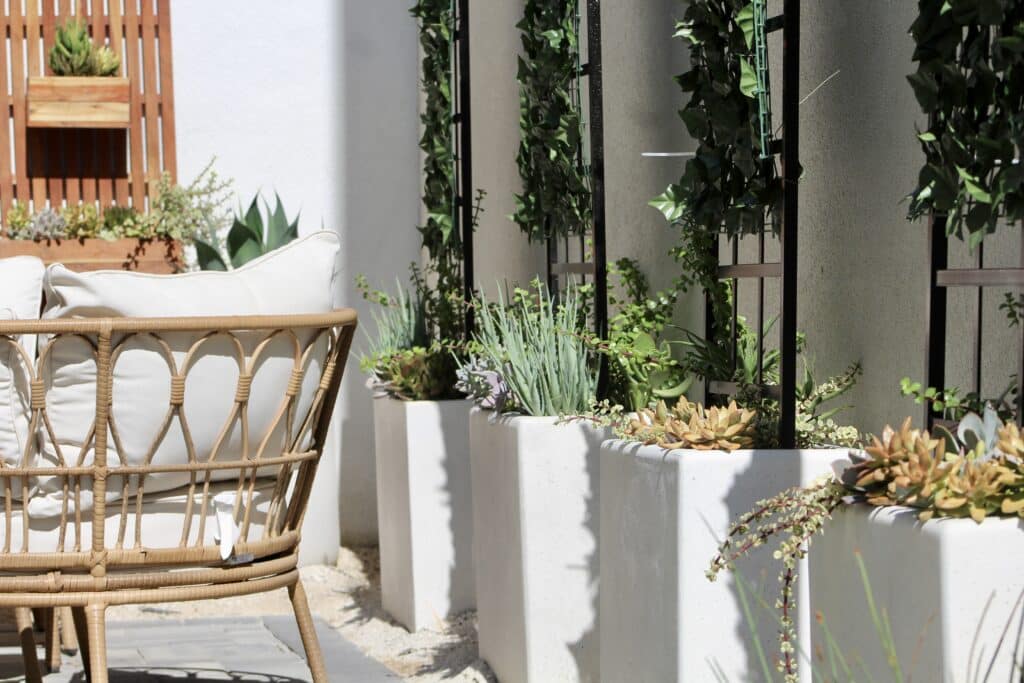 This type of tall planter is perfect for trailing succulents, too, because it gives them room to drape and grow downwards before touching the floor.
7. Echeveria Lola with Moon Cactus and Senecio Blue Chalksticks
This beautiful off-white planter was a gift from my godmother. I placed it by the entrance of our front door next to other small planters.
I figured this pot would complement blue-colored succulent plants well and I was right!
To make it a little more unique, I added a hot-pink moon cactus, and I think it made for a subtle yet striking succulent arrangement.
Give this combination a try!
Just make sure it gets plenty of sunlight to keep the Echverias from growing leggy, and water sparingly to keep the moon cactus happy.
During the summer, you can water more often when the soil feels dry. During times of high temperatures, especially in dry climates, this means about every other day.
For the grey planter to the right, I planted a large purple Echeveria with String of Teardrops and Elephant Bush. It's another stunner and one worth replicating!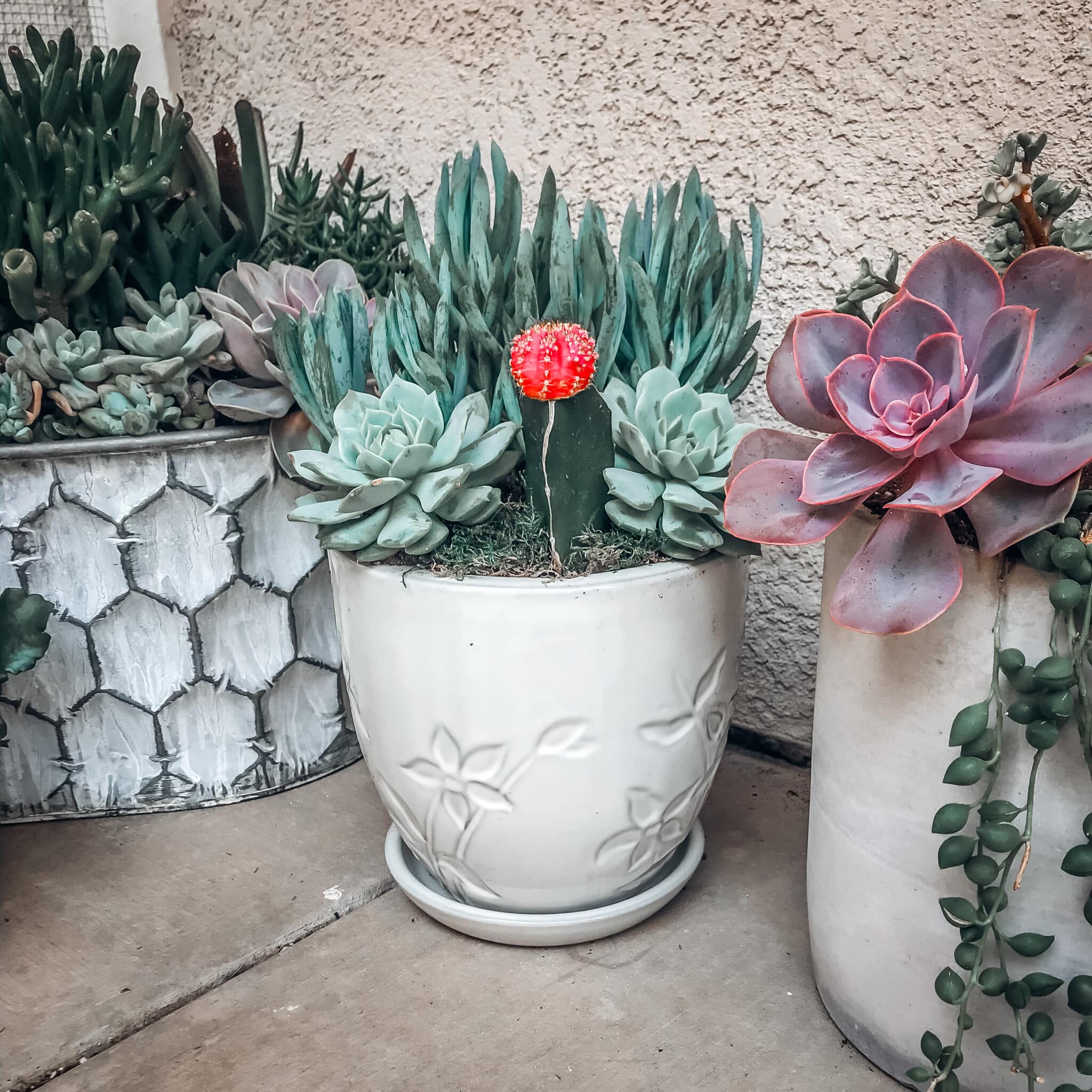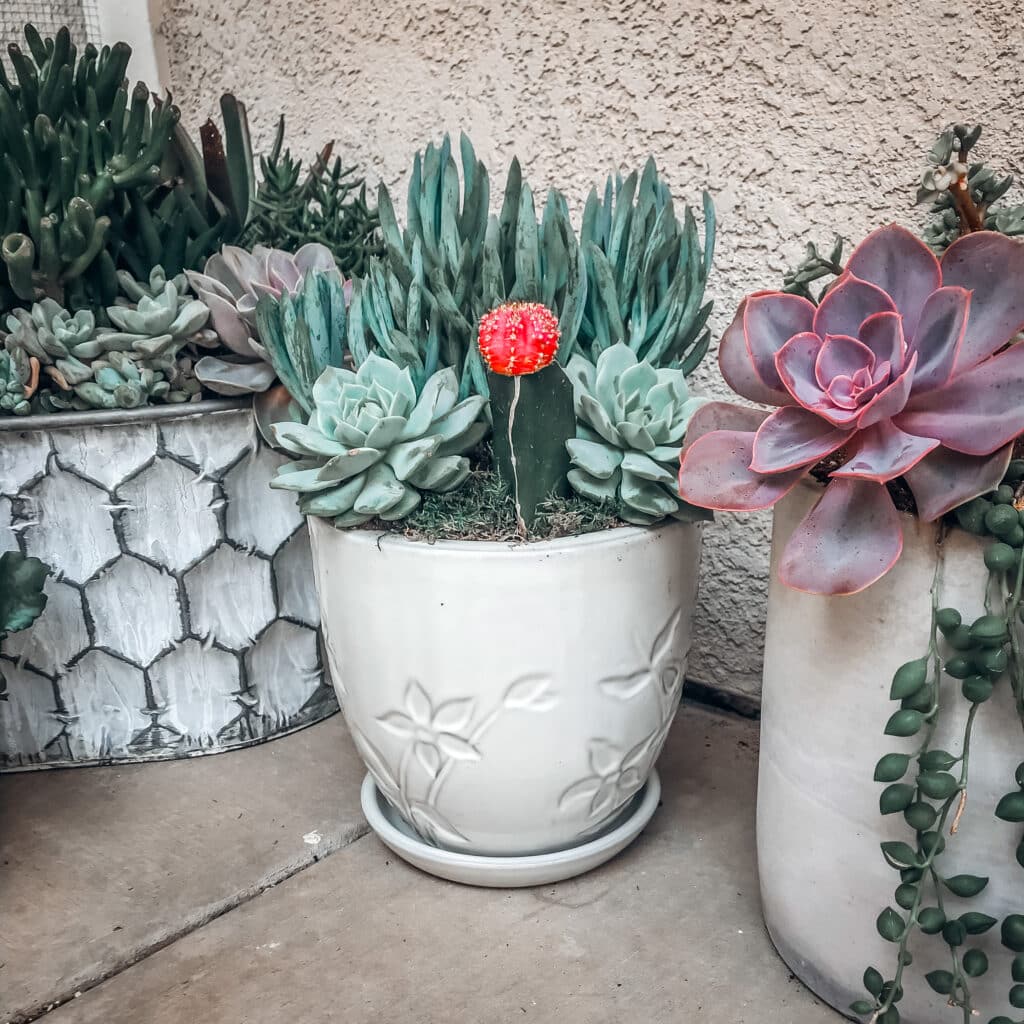 8. Single Aeniom Planter

Sometimes you need to keep things simple and this is what this planter is. But don't be mistaken – simple doesn't mean less stunning! Just look at how gorgeous these aeonium rosettes are.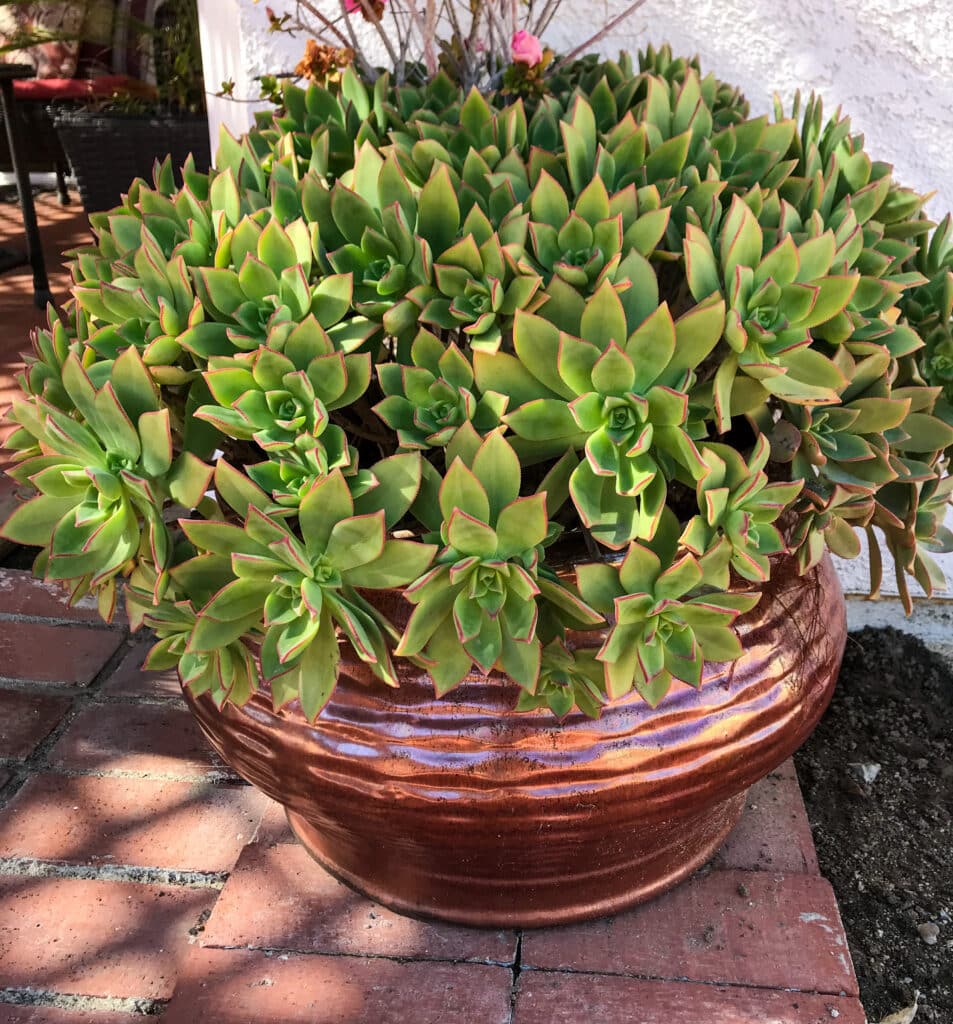 It's the perfect outdoor arrangement.
To replicate this look, simply choose one succulent type, and buy as many as you need to fill in your favorite round planter. That's it!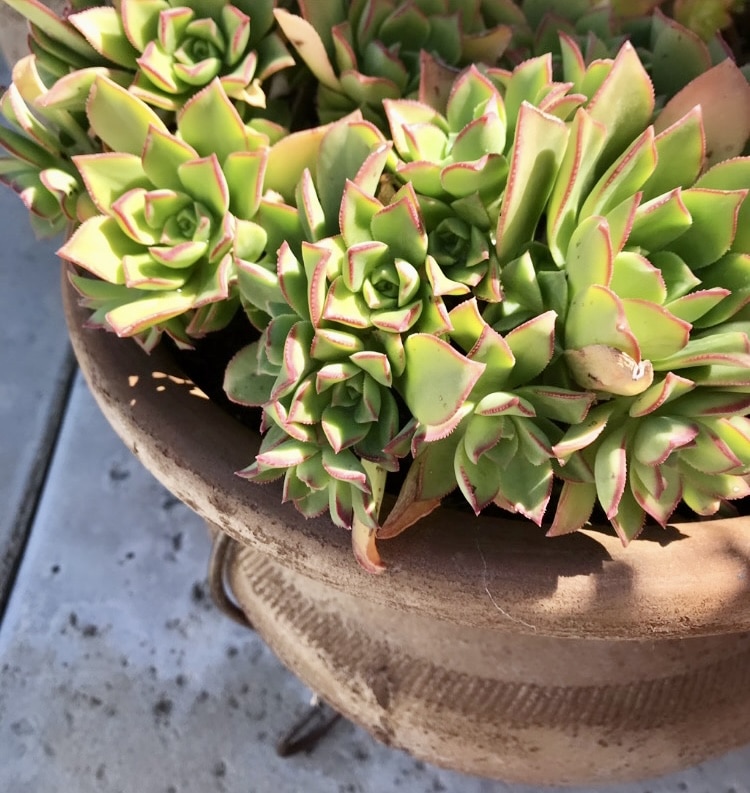 9. Terra Cotta Succulent Fairy Garden
This fairy garden was really fun to create. I simply used several terra cotta pots of varying sizes, making sure the smaller-sized pots could nest comfortably into the largest planter.
Then, I added succulents and succulent cuttings. I also took some garden moss and fairy garden accessories to add some character to the arrangement.
To cover the soil, I utilized tiny decorative rocks.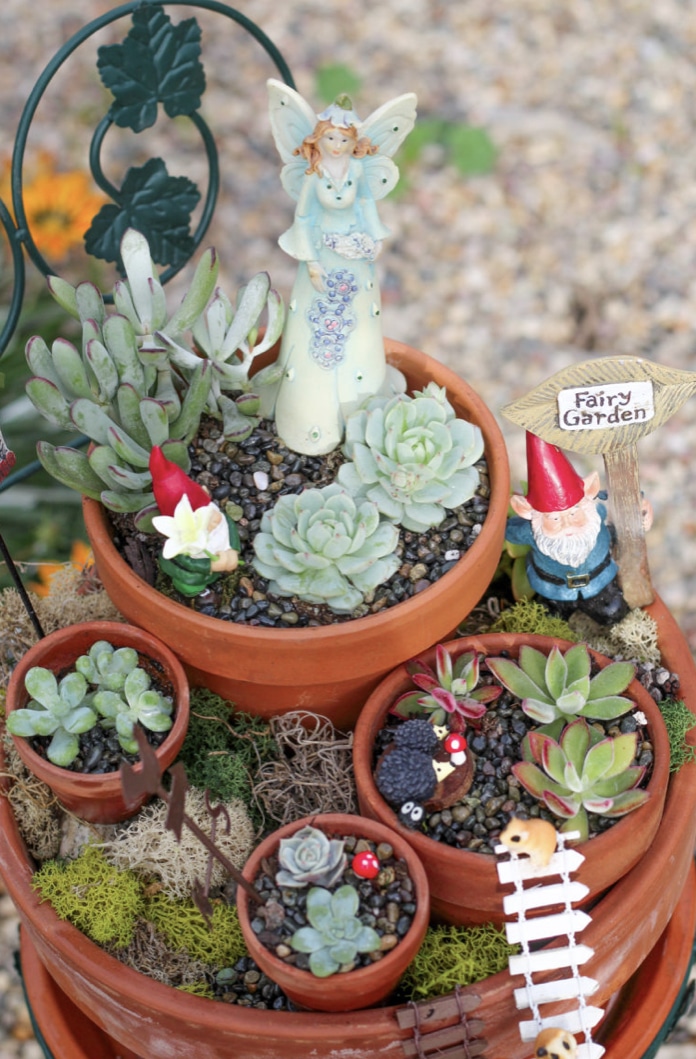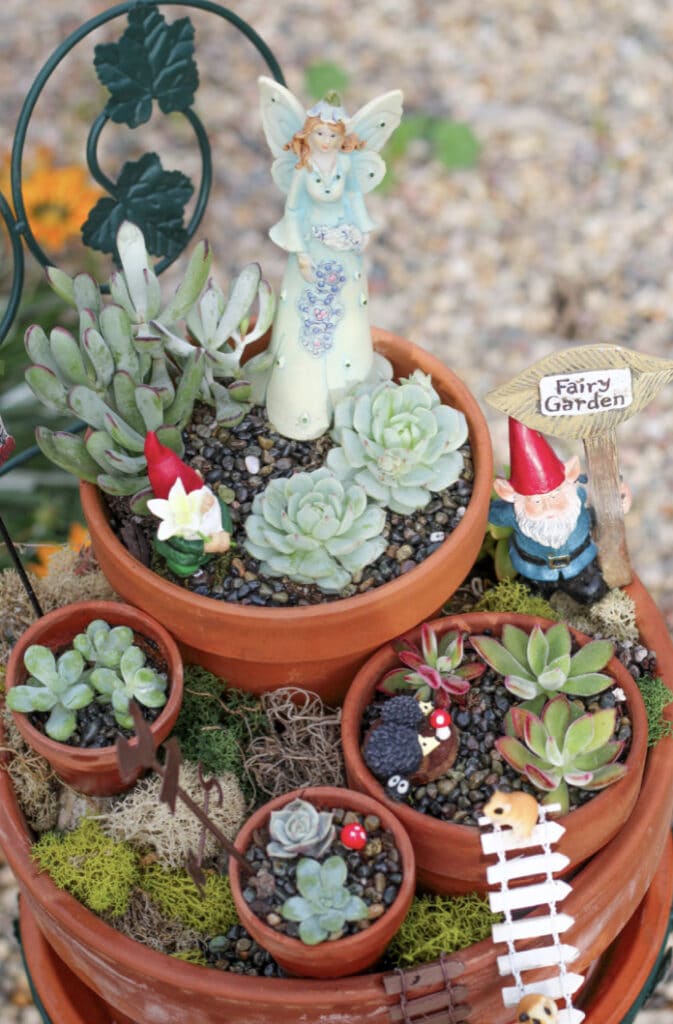 Simple but pretty!
Place the fairy garden arrangement over a bench or chair and let serve as a decorative focal point in your yard, like in the photo below.
For a full tutorial on the craft, head to my post about How to Make a Beautiful Fairy Garden with Succulents.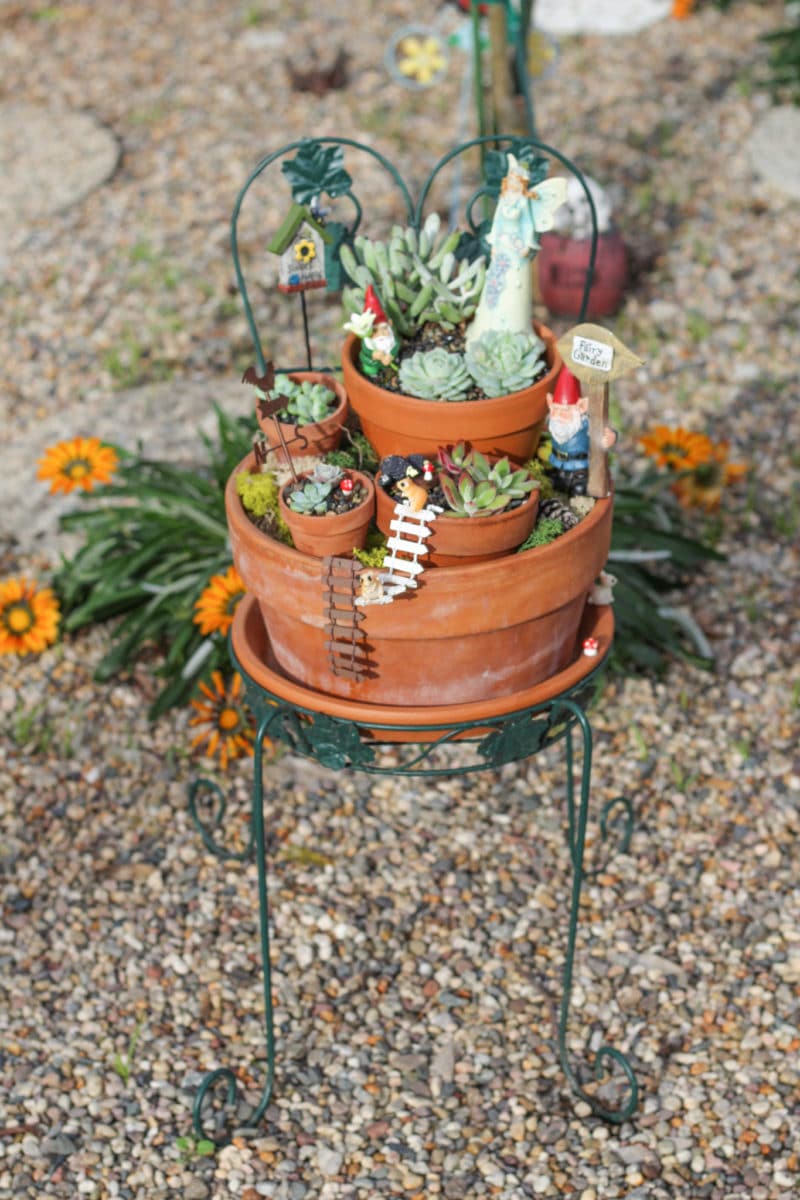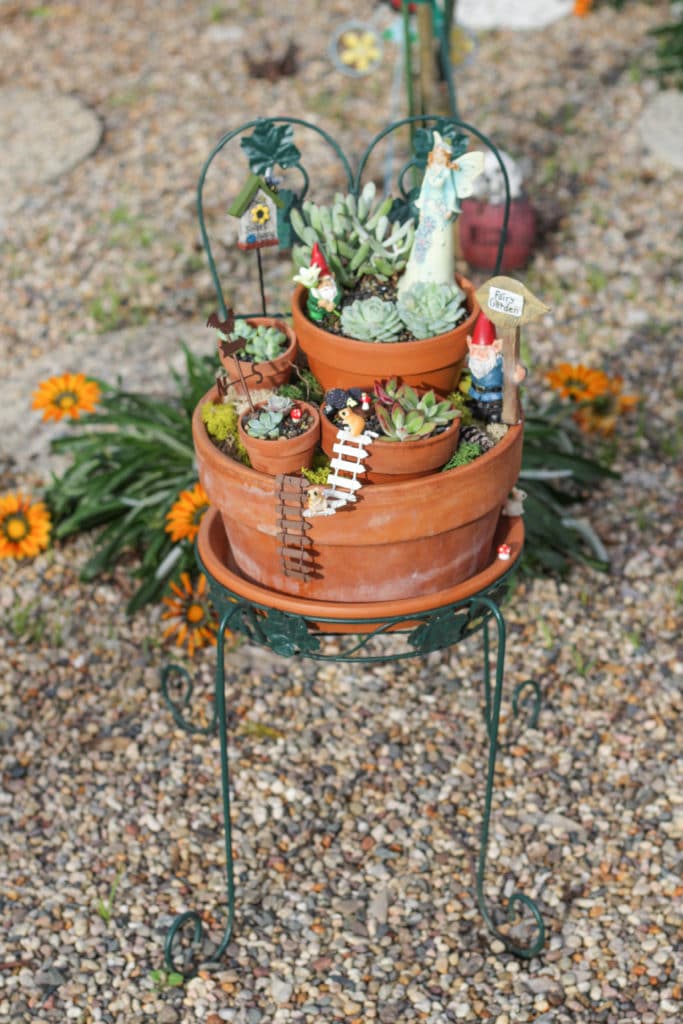 10. Succulent Arrangement with Fall Colors
I made this arrangement during the fall when I was ready to really lean into the season. I wanted to use autumnal tones like burgundy, green, and cream.
To achieve this look, I purchased variegated Elephant bush, green and purple sedum, and Sempervivum 'Hens and Chicks' with burgundy-colored tips. Gorgeous!
The round planter is the perfect cream shade and lets any plant take center stage.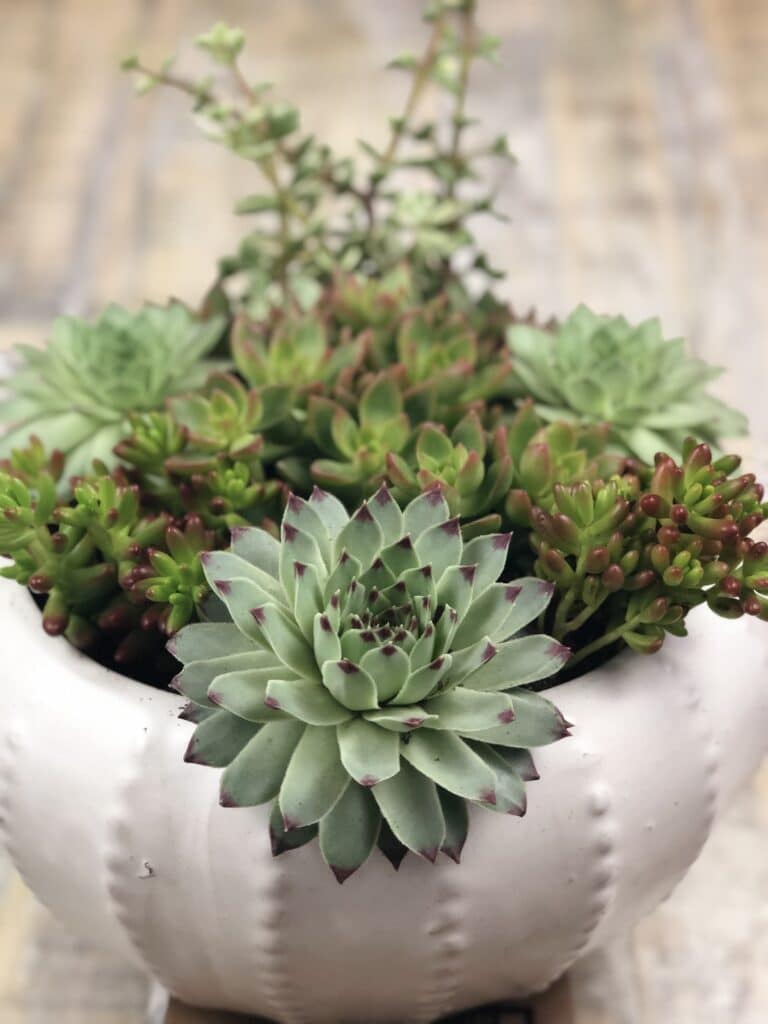 Sempervivum 'Hens & Chicks' are lovely plants and they're also monocarpic succulents. For more care information, visit this helpful post on How to Care for Hens and Chicks Succulents.
11. Succulents in Lavender Planter

Terra cotta makes the perfect planting medium for succulents but sometimes, the color can get repetitive and boring.
The solution? Paint the pot!
For this arrangement, I grabbed some lavender paint and painted the entire pot (minus the inside and bottom).
It went from earthy to soft and vibrant.
To highlight the lavender tone of the pot, I included pastel-colored succulents and one lavender rosette. I placed white stones on top of the soil to hide any bare spots.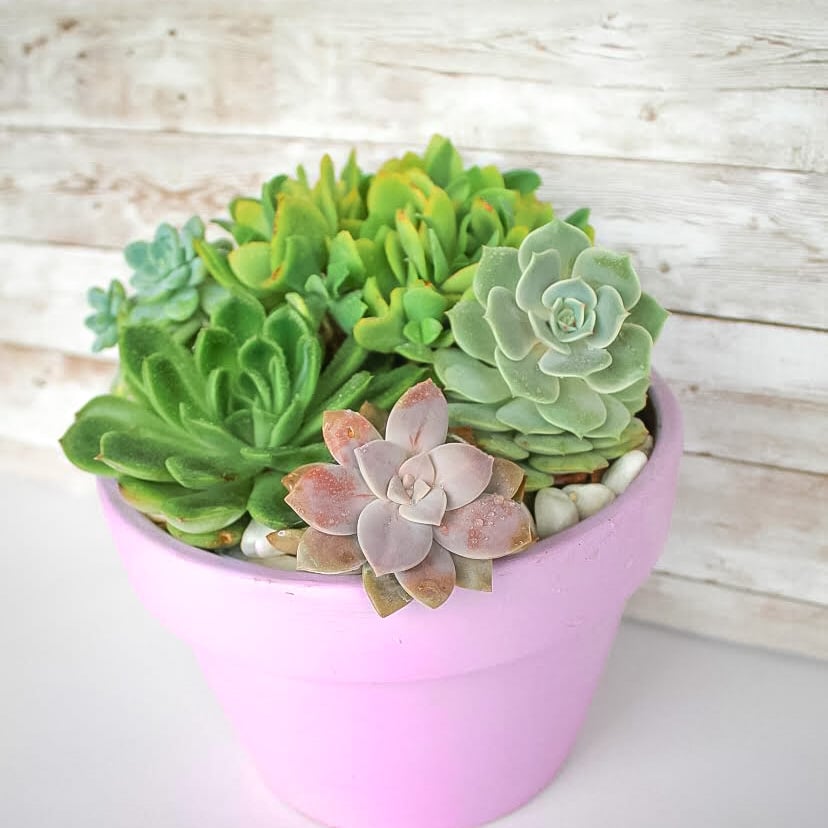 12. Outdoor Trailing Succulent Arrangement
This large outdoor planter features tough plants like jade crassula and ice plant. Notice how the addition of Echeveria really livens up the entire planter.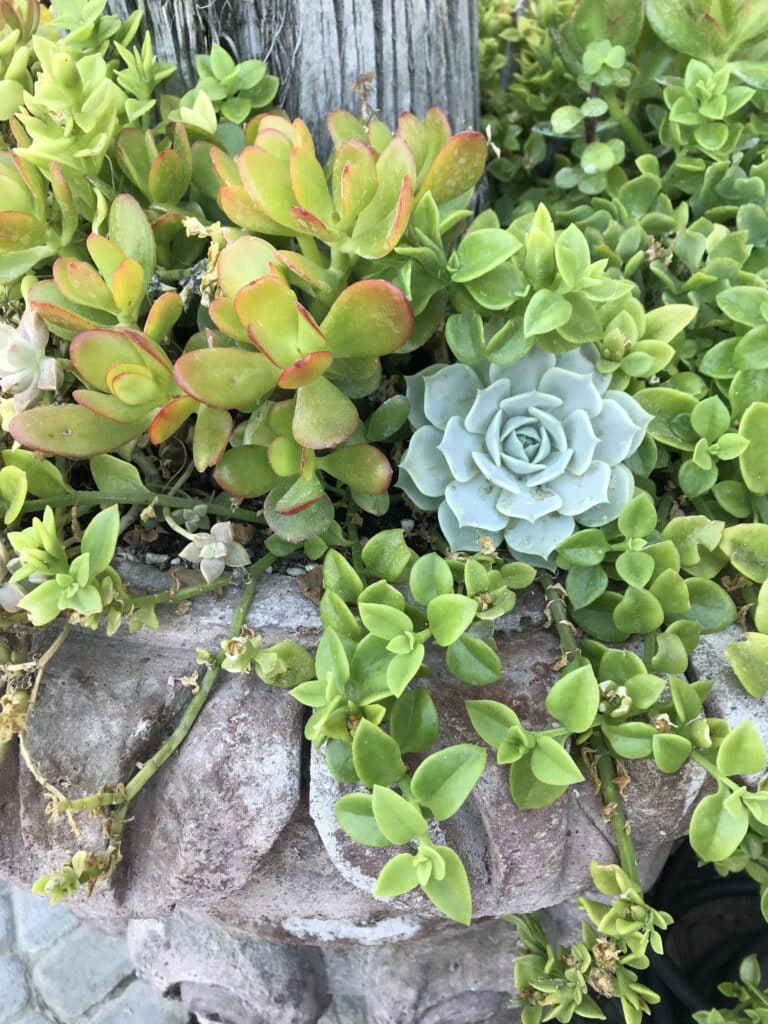 13. A Quick and Easy Terra-Cotta Planter

Looking for something super simple? Just used a plain terra-cotta pot, one type of succulent, and a topper like the decorative stones below.
Plant them together and voila- you're done!
The plant shown below is a graptosedum rosette. It's super resilient and great for the outdoors.
It won't get leggy quickly the way Echeveria rosettes do when they don't receive adequate sunlight.
In my eyes, that's what makes this succulent a winner in the garden.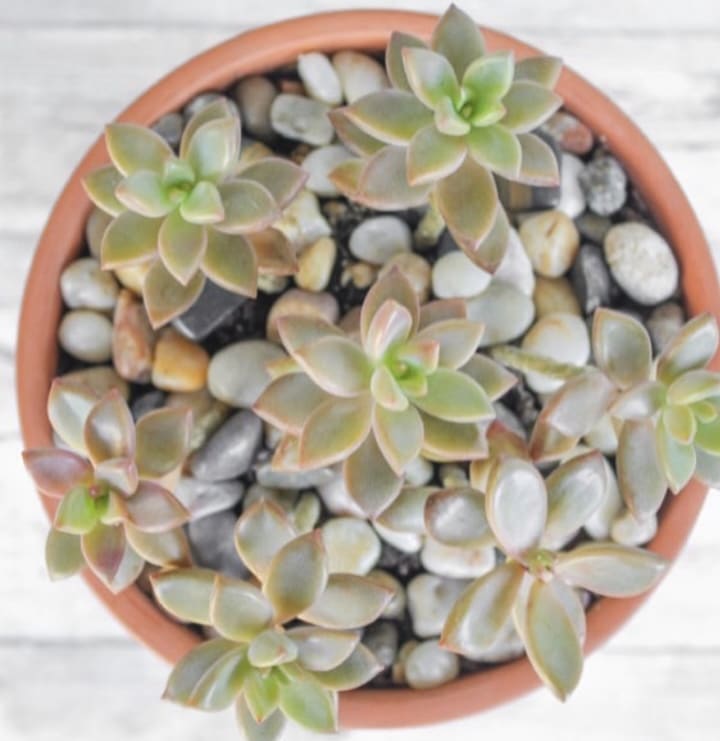 14. Jade Houseplant Arrangement
Jade crassula is one of the easiest succulents to keep alive plus it grows well indoors, too. Plant it alone in your favorite pot; that's enough to make is shine as a houseplant.
If you crave something a little more exciting, you can use fairy garden accessories like I did, below. See the mini shovel and rake?
They're hanging on the rim of the planter and I think it looks adorable!
It proves that you don't need to create a full-on fairy garden to utilize mini fairy garden accessories.
Sometimes simple is best.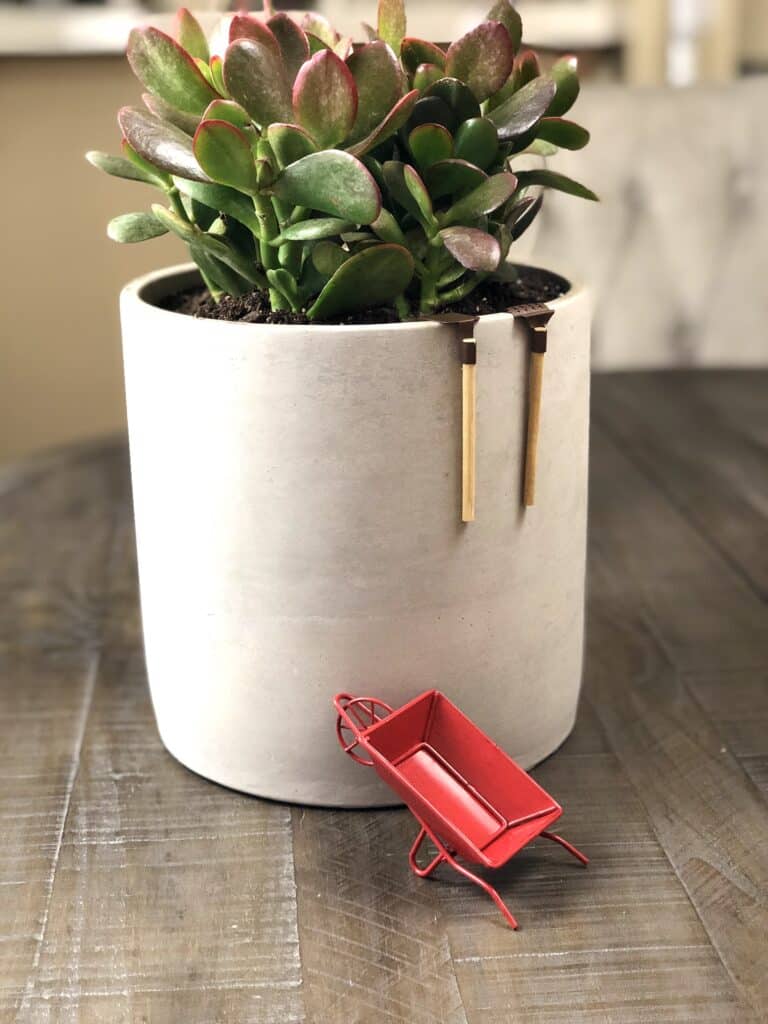 15. Outdoor Succulent Arrangement that Can Handle the Heat
If you need an arrangement that can withstand high temperatures during the summer months, the one below is a perfect example.
It features Firesticks cactus as the focal point. This succulent is one of the toughest plants around and it's also one of the most unique and beautiful. As the weather warms up, the stems turn orange and red.
Be careful when handling this one, though. The sap of the stems is toxic and is known to cause some serious skin and eye damage.
Handle with extreme care.
I see this plant used generously by my city but I don't personally grow it because I have a child and a dog.
To finish off the heat-tolerant succulent planter, add some jade plant varieties and some elephant bush.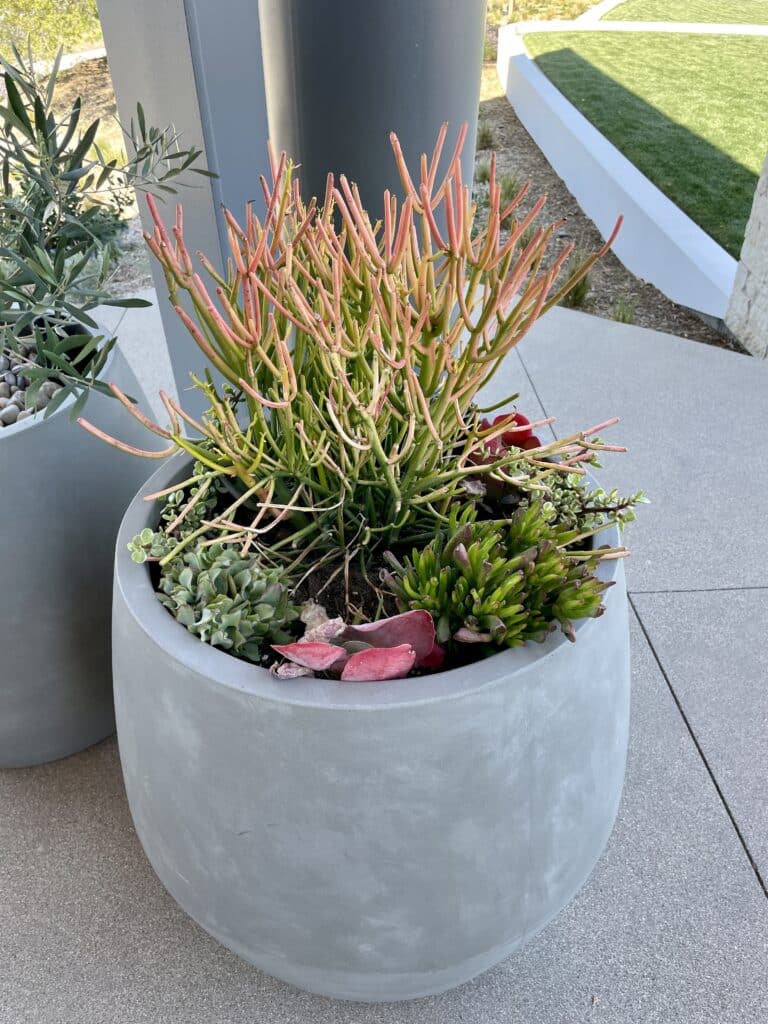 16. Multi-Colored Crassula Succulent Arrangement
Crassula succulent comes in many types and many colors.
Why not have some fun with that and plant them all together in one pot like in the photo below?
They'll play off each other well and you'll have a succulent arrangement that is seriously low-maintenance, drought-tolerant, and heat-tolerant, too.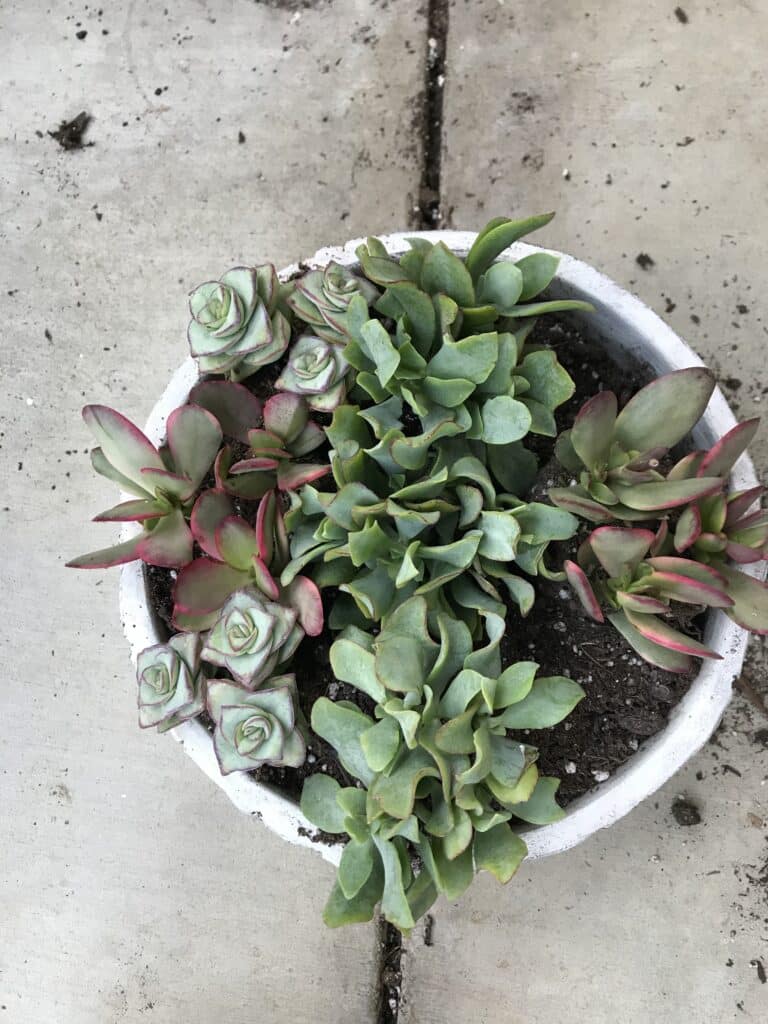 The crassula types below include Stacked Crassula, Ripple Jade Plant, and Crassula Ovato 'Triple Color' Jade.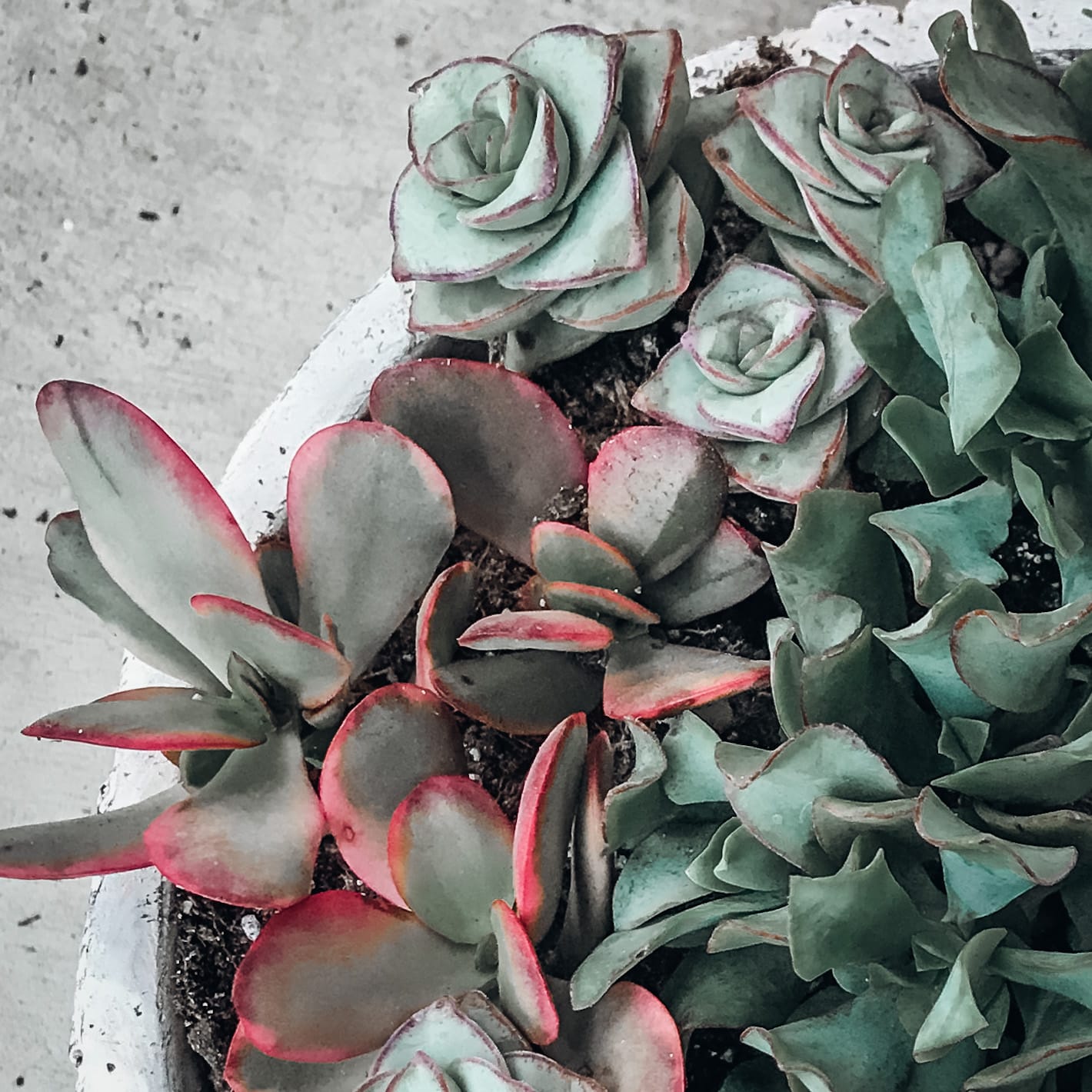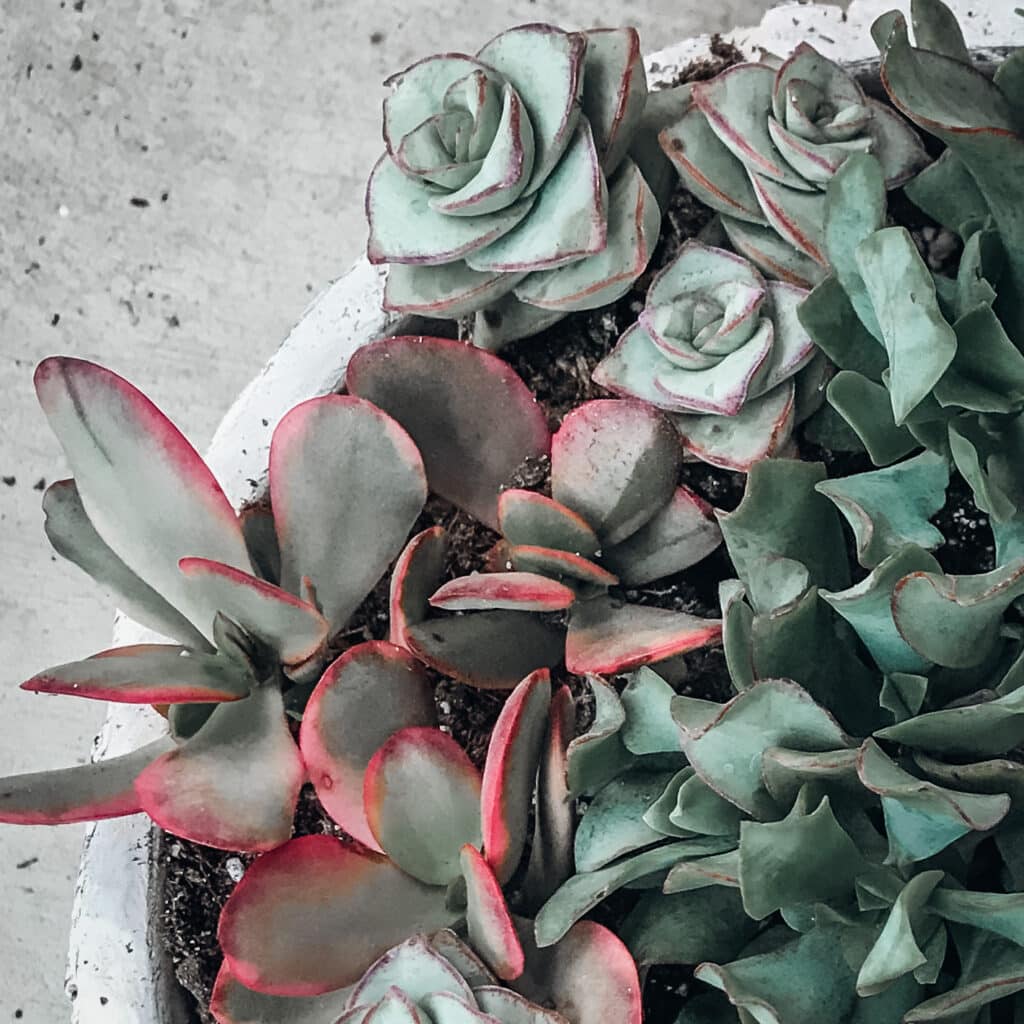 17. The Colorful Succulent Arrangement
The arrangement below has no rules. I simply took several different succulent and cacti types and threw them together in this bowl.
It worked out nicely but I had to be careful with watering. You see, cacti can be tricky to water when planted together with succulents.
Cacti prefer low water, even during the summer. I watered thoroughly but sparingly.
If you're just starting out with succulents, I recommend planting cacti and succulents separately because getting the watering right can be complicated.
I did it because I really wanted pops of pink and red to live alongside the pastel colors of the Echeverias and Panda Plant, so I used several moon cacti.
I loved how it looked and I kept it this way for many months. If one succulent fails, that's ok! Just replace it and think of it as a learning lesson for next time.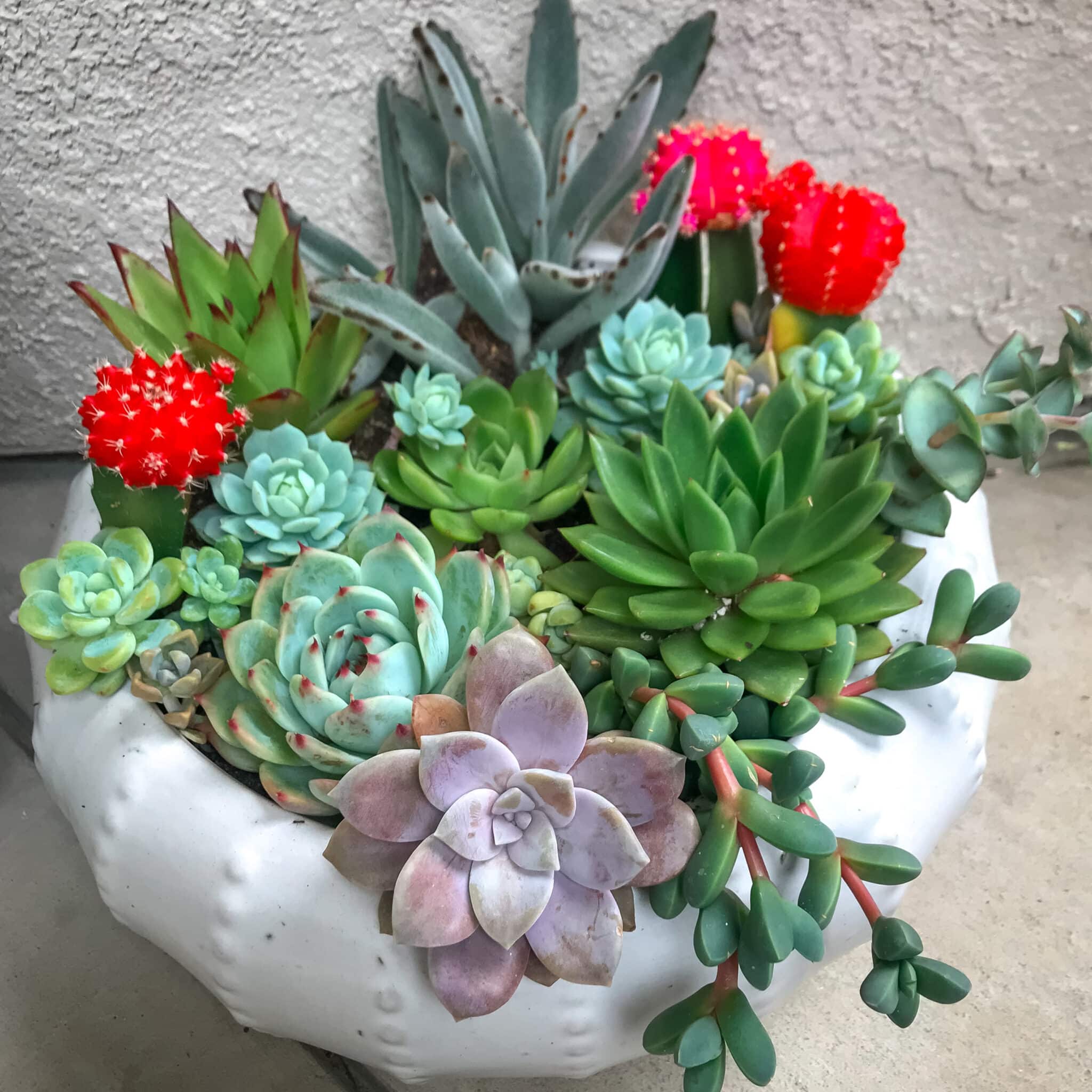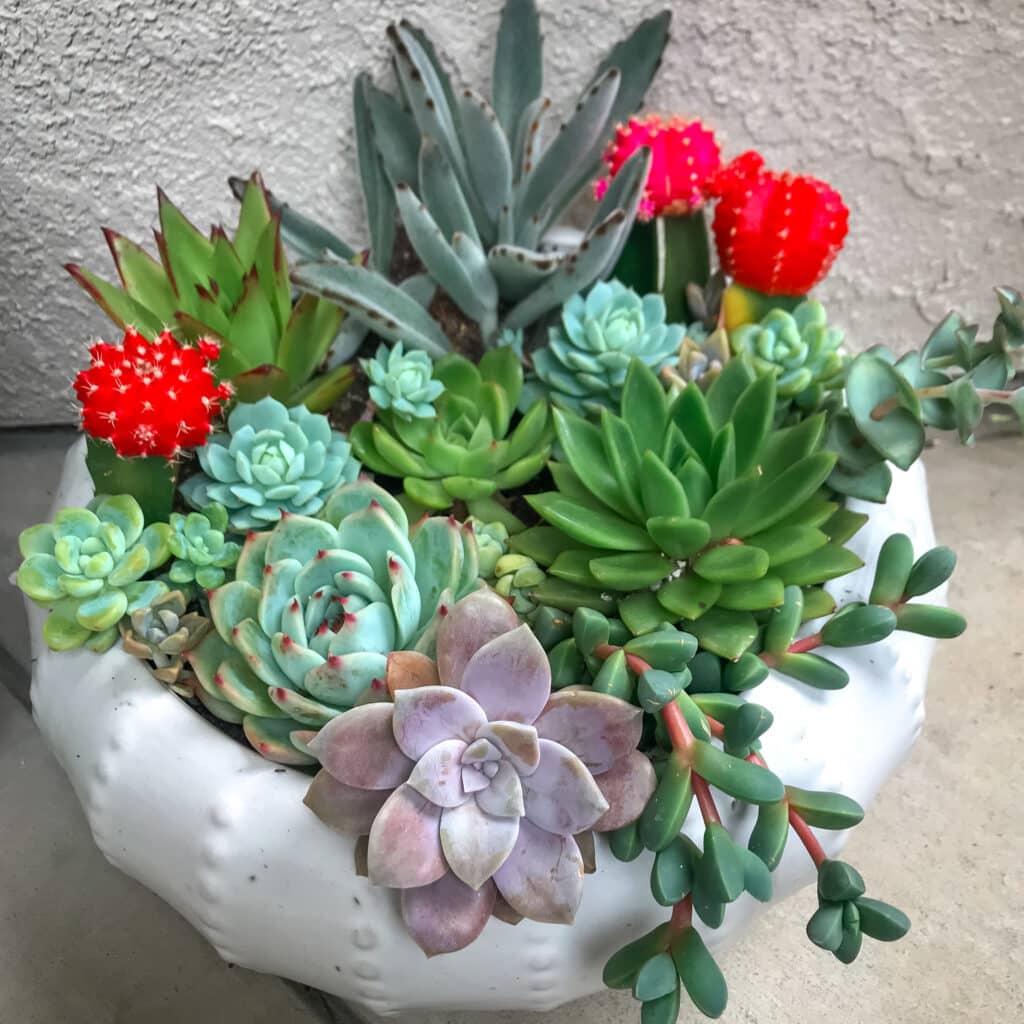 18. An Elegant Succulent Planter
I spotted this beautiful arrangement at a local garden nursery and had to have it. I found it so elegant. I think they paired the colors of these particular succulents brilliantly with the grey-toned planter.
The planter is unique but it doesn't take away from the beauty of the plants.
The simple Jade Crassula adds height to the arrangement while the Aloe and Echeveria act as beautiful fillers.
You have two main colors at play here: green and grey. The combo is stunning and one worth replicating at home or in the garden.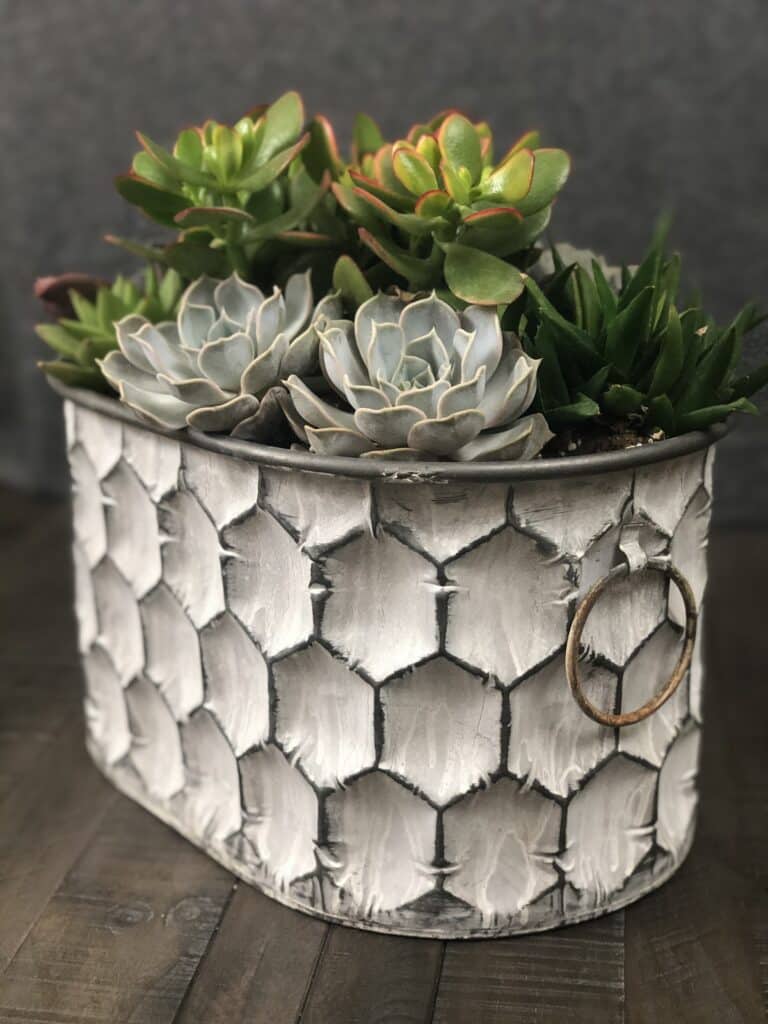 19. Steel Watering Can Succulent Cuttings Arrangement
I propagated these Echeveria succulents and when they grew tiny roots, I decided it was time to plant them!
Instead of the typical pot, I used a small faux watering can that I purchased at a craft store. Since the small plants didn't need a ton of water, this planter worked well and was cute enough to display as decor.
If you propagate succulents, you can do this too, with almost any type of pot, planter, bowl, or even fairy garden accessory. Give it a try!
Once the plants started to grow and needed more room, I gently grabbed them out and replanted them in a larger pot.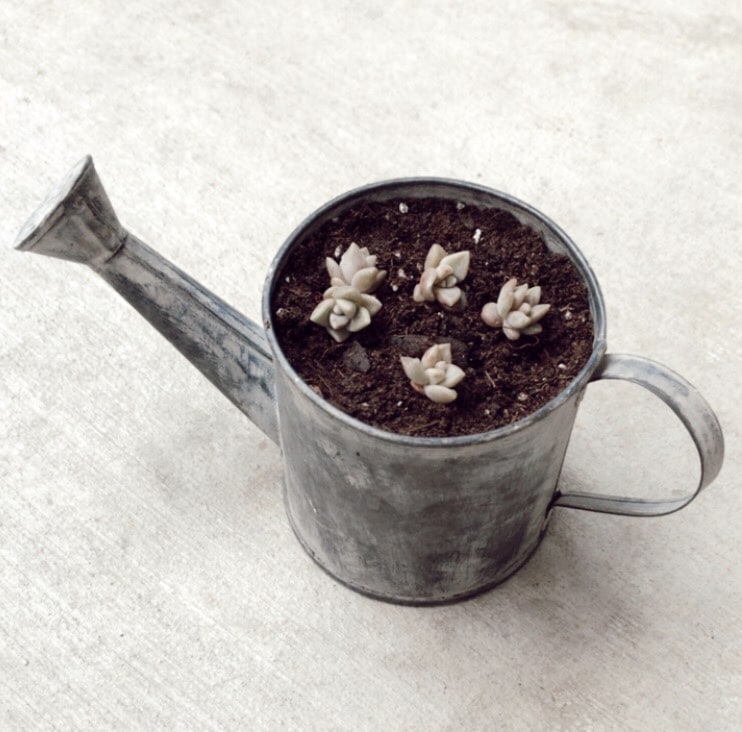 20. Trailing Succulent Arrangement
Here's a succulent arrangement that uses a string succulent as a 'spiller'. It really doesn't matter what type of succulents or planter you use.
Any will do as long as you plant in well-draining soil and preferably in a pot that has a drainage hole.
If you'd like to add a string succulent to an arrangement, try using a taller succulent type to act as the 'thriller'. It'll add height to your arrangement and complement the trailing succulent beautifully.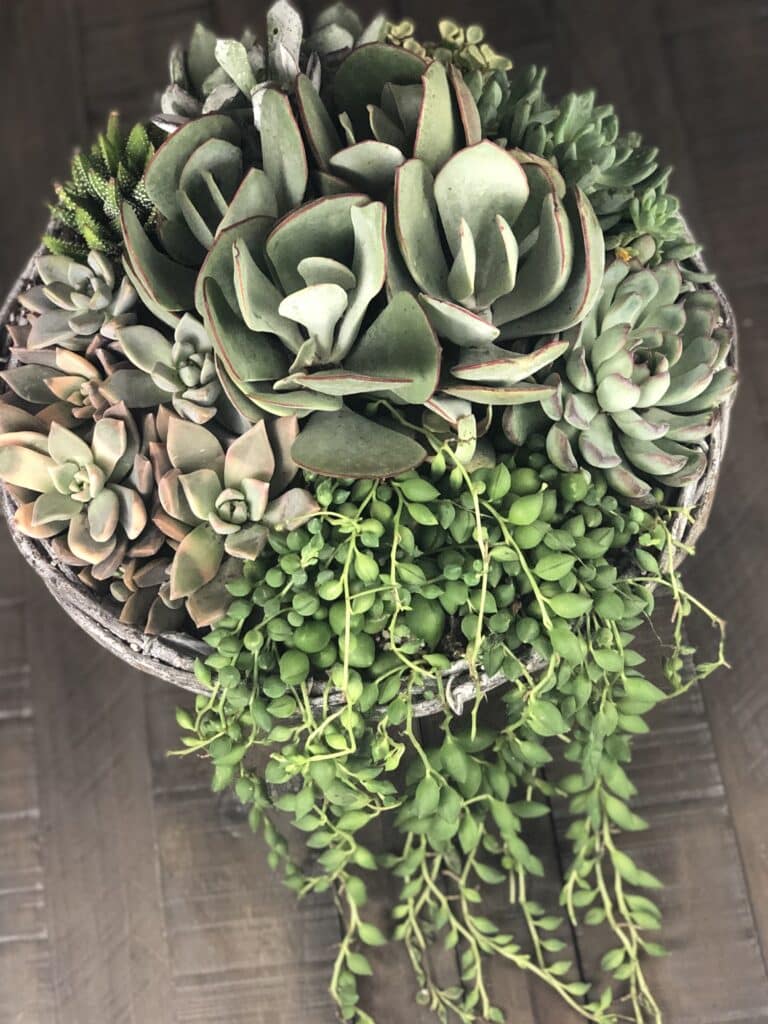 Then, fill in any empty spaces with shorter, smaller succulents. Have fun with it! Keep to a one-tone theme or try different colors!
This particular arrangement features String of Teardrops. It's not as widely known or available as String of Pearls or String of Bananas, but it's lovely just the same, and requires the same care.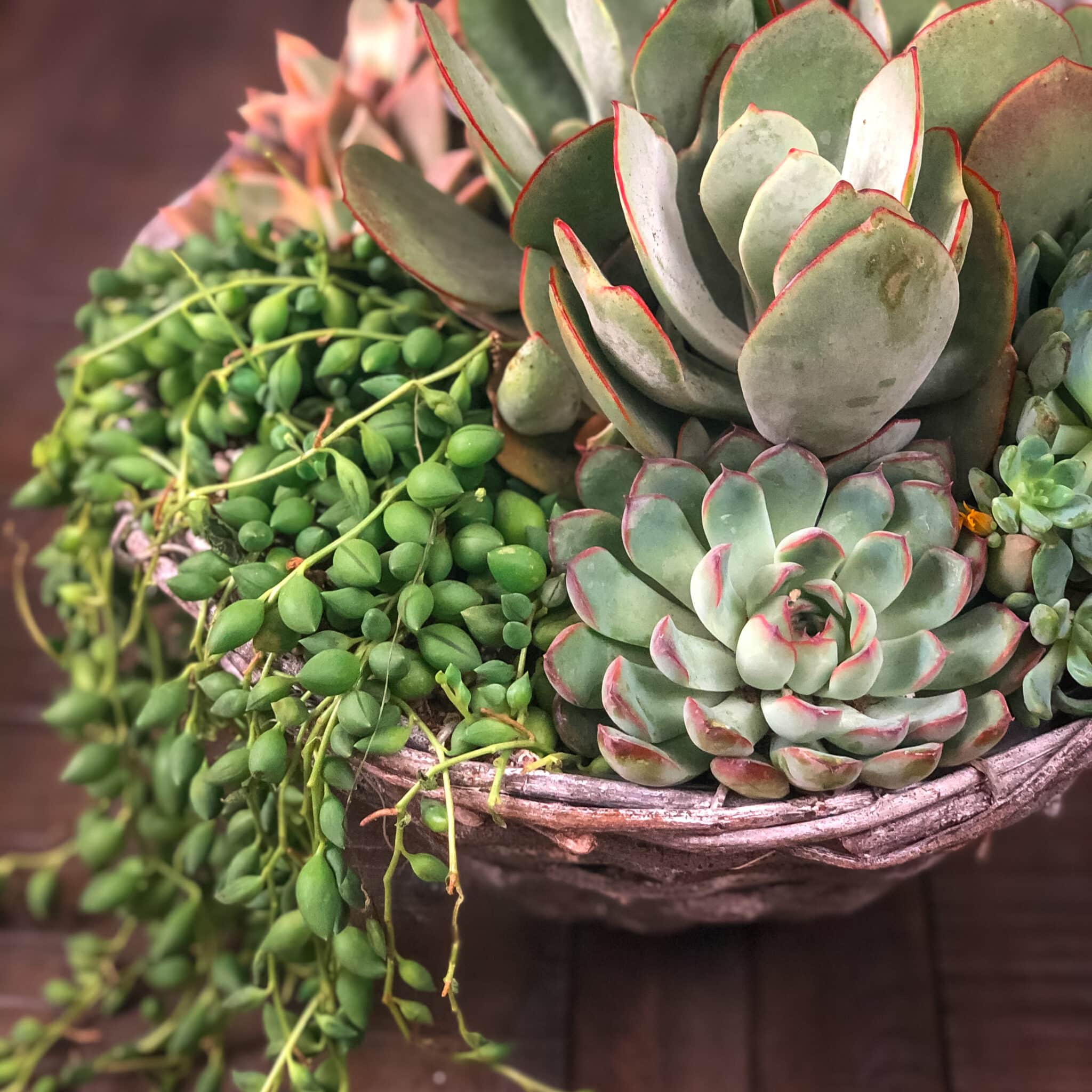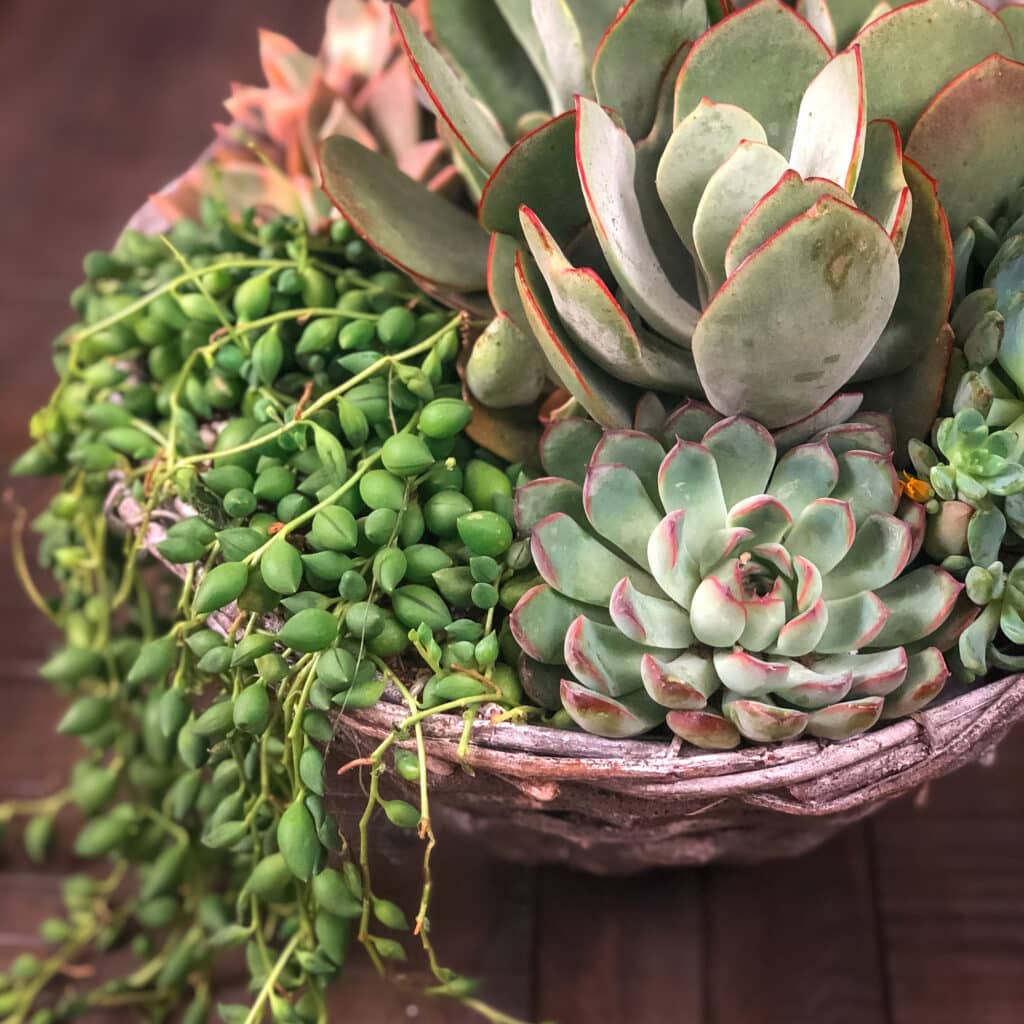 21. Wall Succulent Planter
This is my favorite planter in my side patio. It's a wall planter and it adds a lot of character to the space. The colorful succulents pop in front of the wooden backdrop and I love it as the focal point in the space.
Without this wall, our yard would look much more bare.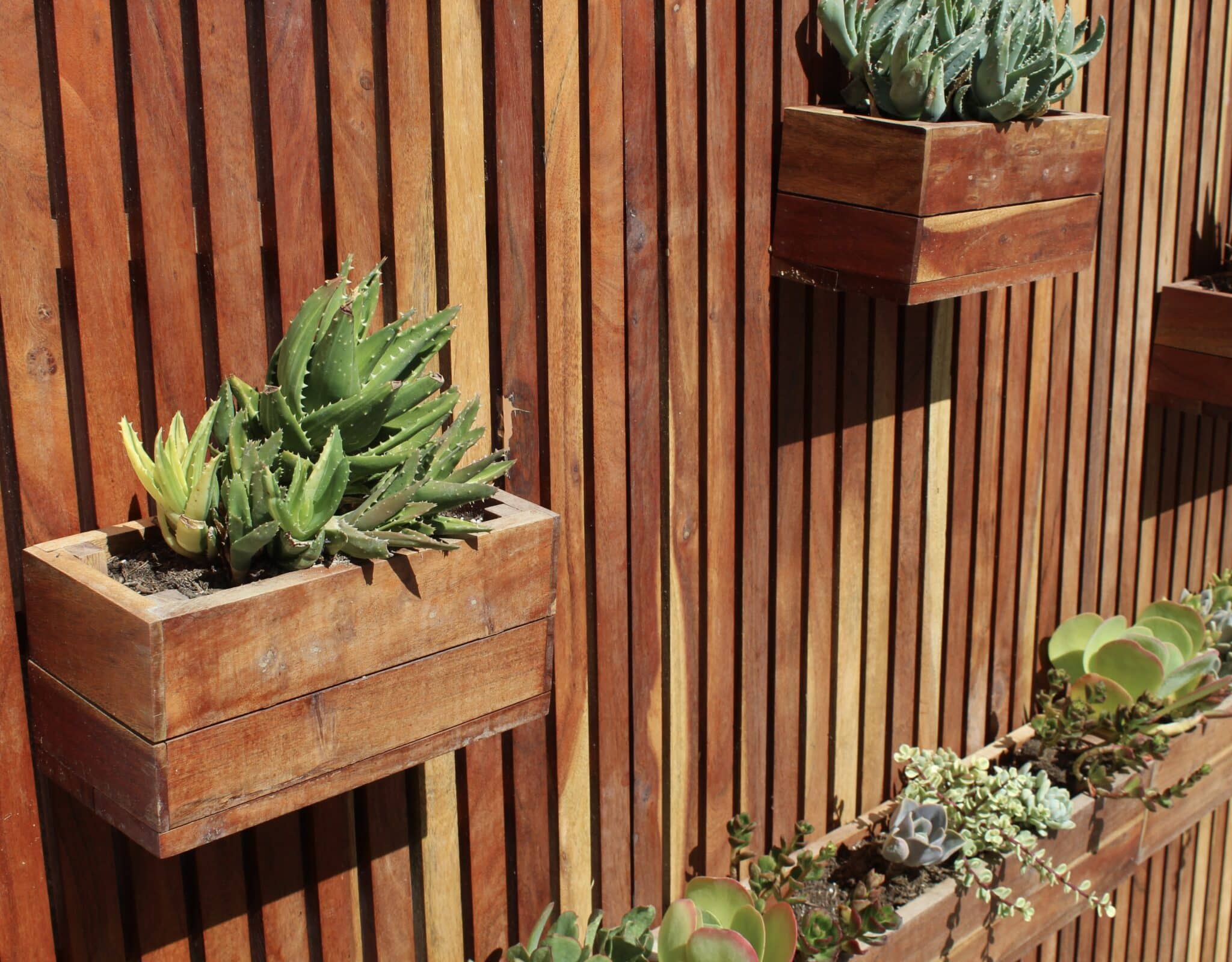 The rectangular planters are not very wide or deep but I was still able to squeeze in plenty of succulents. I added Echeverias, Elephant Bush, and Paddle Plants. The soft and bright shades play off of each other nicely.
I love it!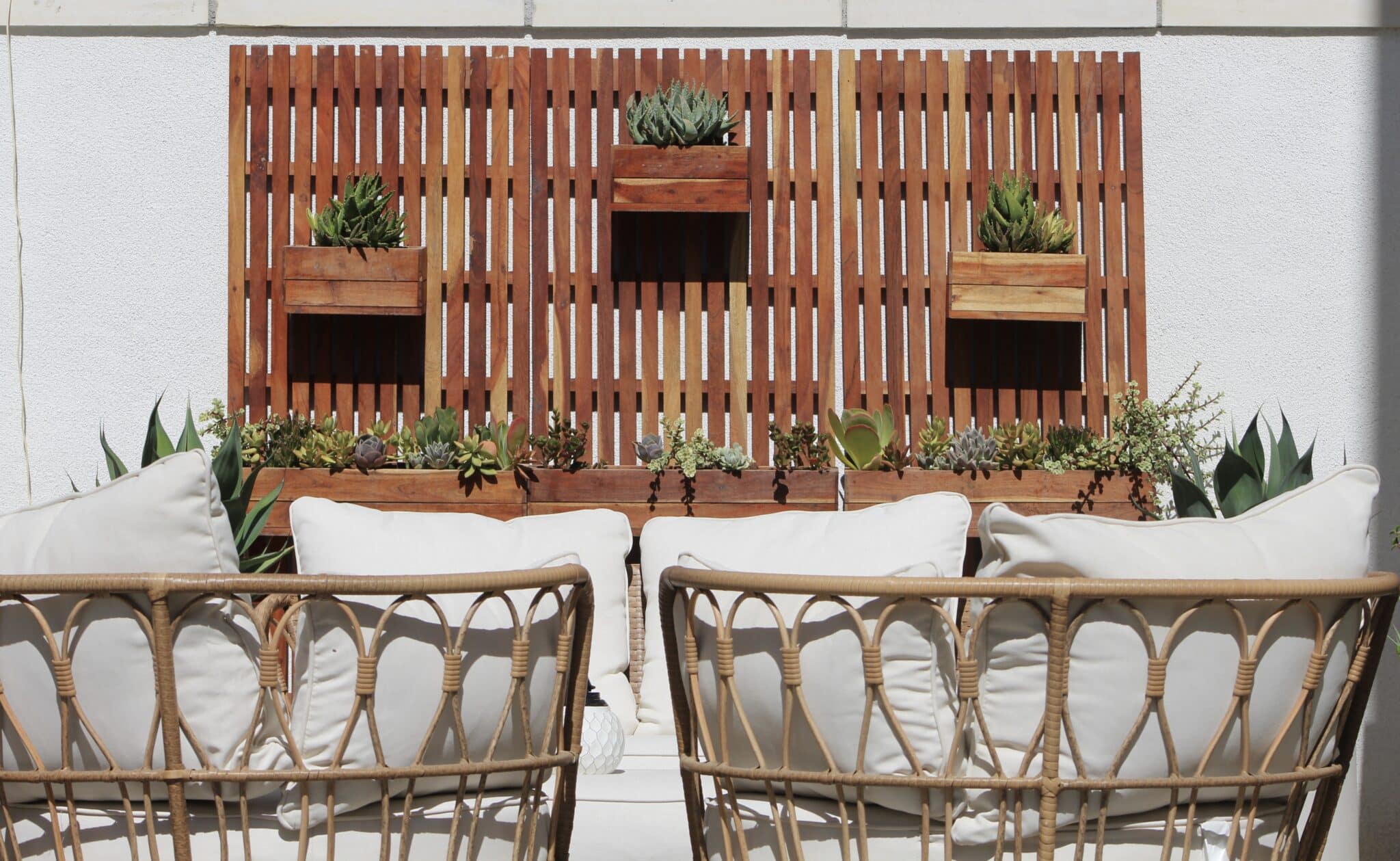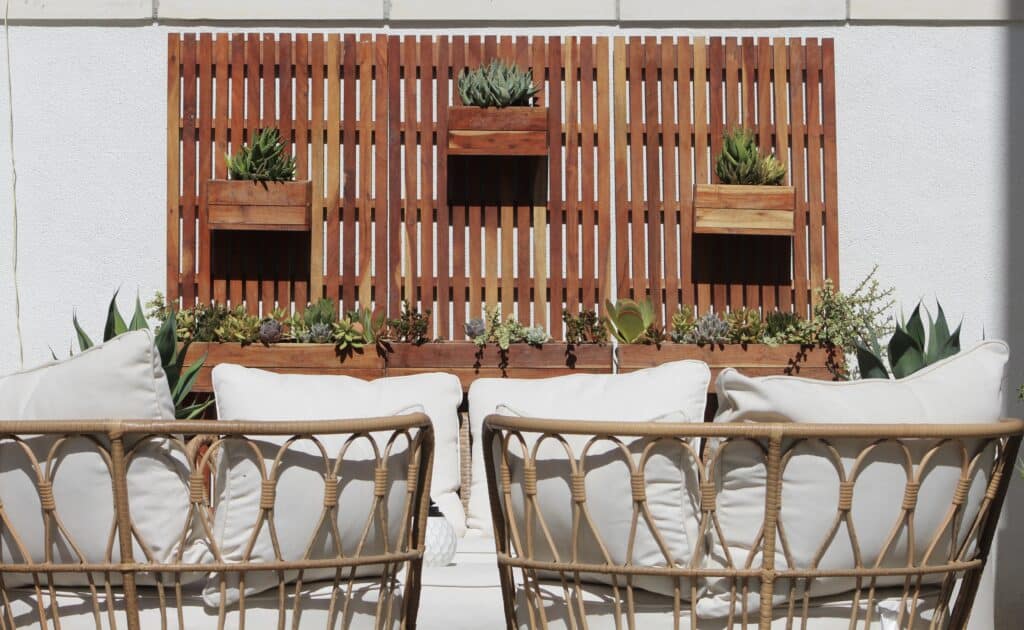 22. Hanging Wall Planters

If you'd like to add some decor to a plain outdoor wall – then try a hanging planter.
You can find them at craft stores; the ones I bought are super durable. They've made it through rainstorms and triple digits temperatures; my succulents have managed to thrive in them, even though they don't have drainage holes!
The key is not to water too frequently so you don't have to deal with an overwatering problem that might bring about root rot.
This is a very quick and simple succulent arrangement to create.
I recommend getting two different succulent types: one that is tall and tough, like Senecio Blue Chalksticks, and a pretty rosette type, like a Graptosedum or Echeveria.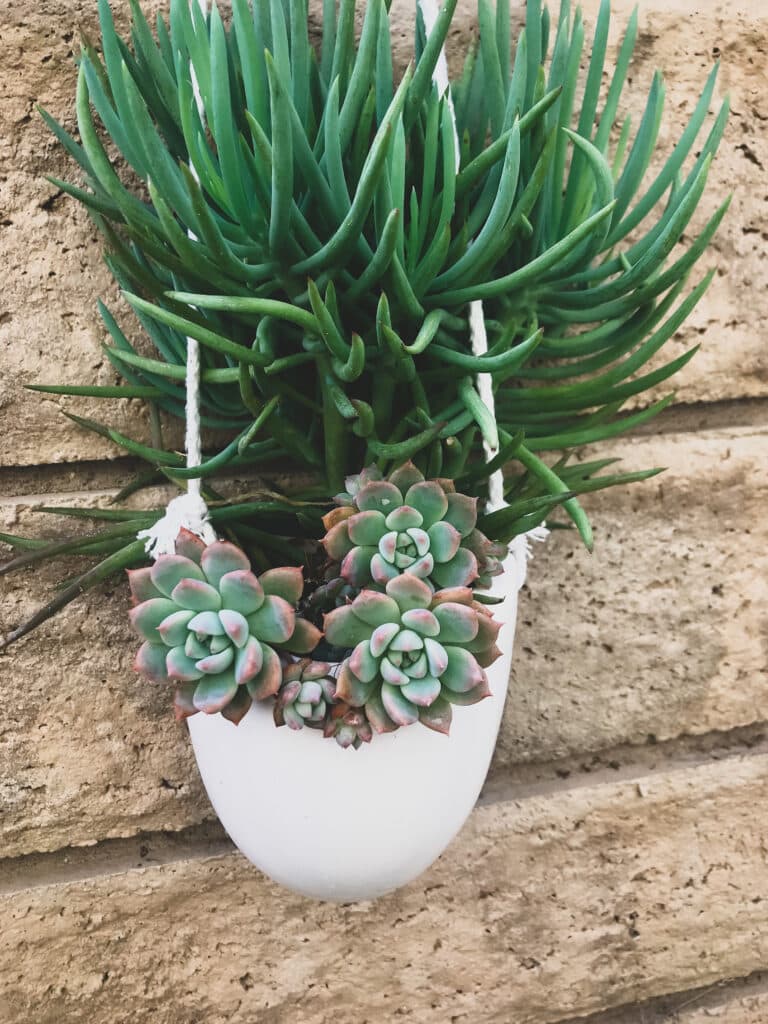 The contrast is what makes the planter so pretty. White pots are perfect for succulents because it helps them stand out.
Always make sure to acclimate your plants first if you're starting this in the summer. These particular planters were positioned outside since January, meaning they acclimated to the weather through different seasons.
This will help prevent shock and make them less susceptible to sunburn.
23. A Winter-themed Succulent Arrangement for Indoors

If you're a crafty person, a DIY'er, or a painter, then you might love this simple idea!
I started with a plain pot and then painted it silver. Then, I glued burgundy string (that I crocheted) to the rim of the pot and added a white decorative stone over the soil.
It was fun to make and I think it looks festive! With rosette succulents, it's always important to keep them as close to direct sunlight as possible so they stay compact and avoid any stretching out.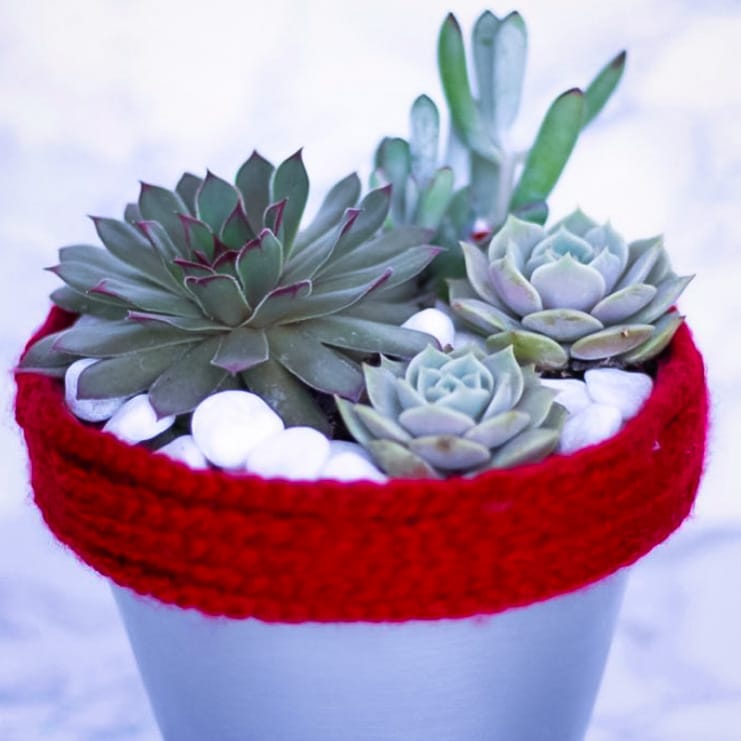 24. White Outdoor Pot with Elephant Bush and Rosette Ghost Plants
If you're looking for a beautiful yet simple outdoor planter idea, this white pot is it! The bright white can go with plenty of styles and color schemes and it really highlights the plants.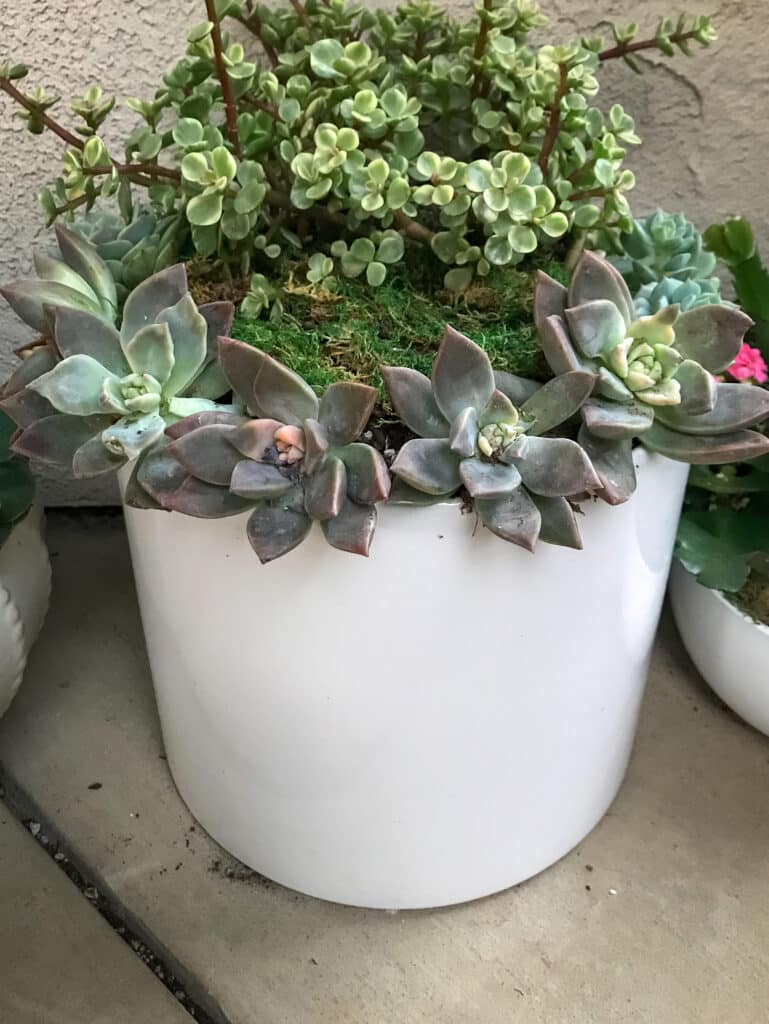 For this succulent arrangement, I used Elephant Bush as the "thriller" and I lined the rim of the pot with beautiful lavender-toned rosettes. I took some green moss and placed it in the middle to act as filler.
That's it! This is a very drought-tolerant arrangement made with two of the best succulents for full sun.
25. Thanksgiving Cactus Shines in Small White Pot
Here's another succulent that looks gorgeous when planted in a white pot.
This one is called Thanksgiving Cactus (not to be confused with Christmas Cactus, which has more rounded leaf segments).
You've likely seen droves of Thanksgiving Cactus plants in grocery stores and garden centers around November and December. That's because this plant blooms right in time for the holidays, hence its name.
To liven up your home, take it out of its plastic pot, plant it in a planter you love, and fill in any spots with moss or stones. Water when the topsoil feels dry and then watch as it blooms for weeks on end!
For more care information, you can read this post about How to Care for Holiday Cactus.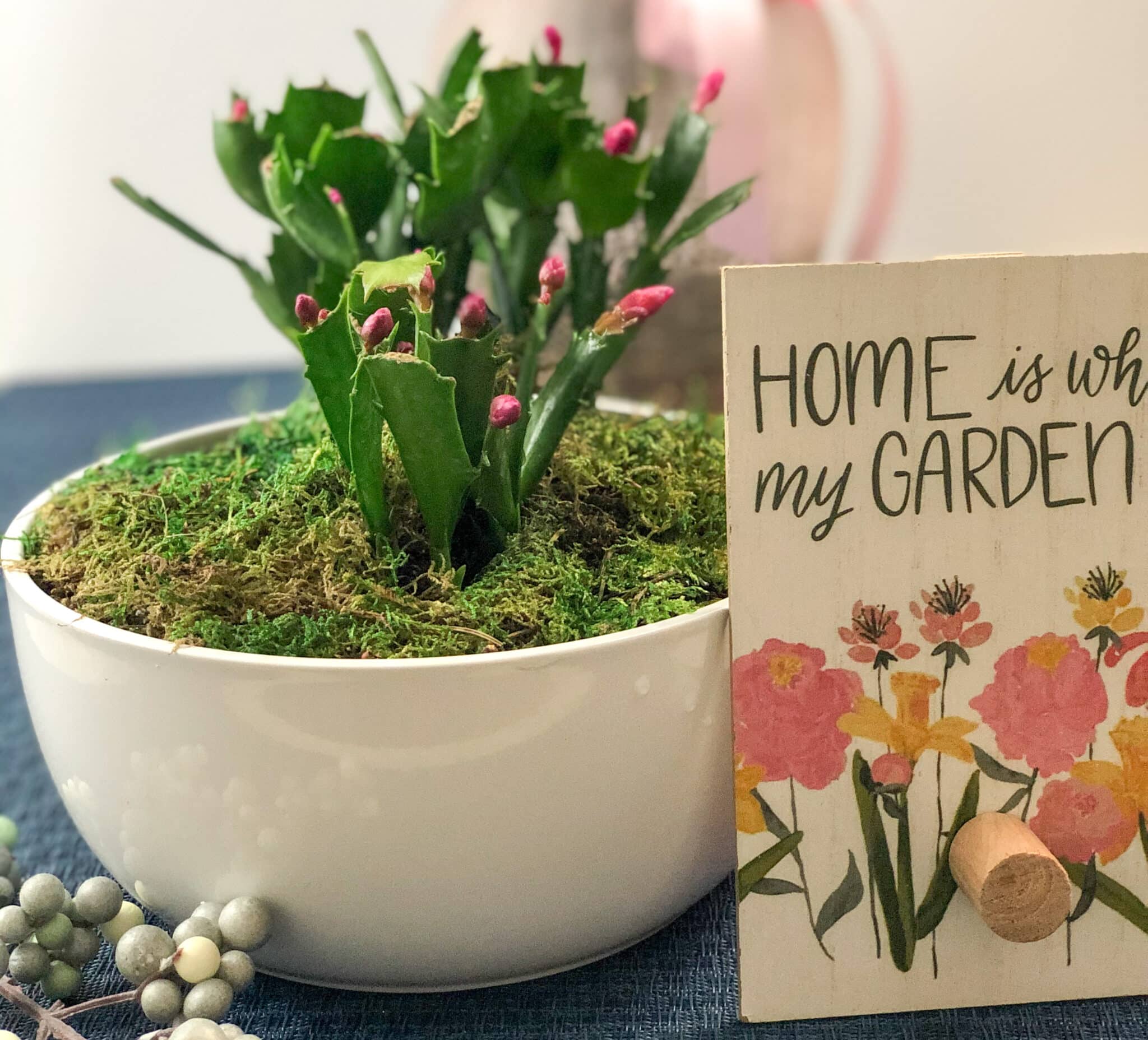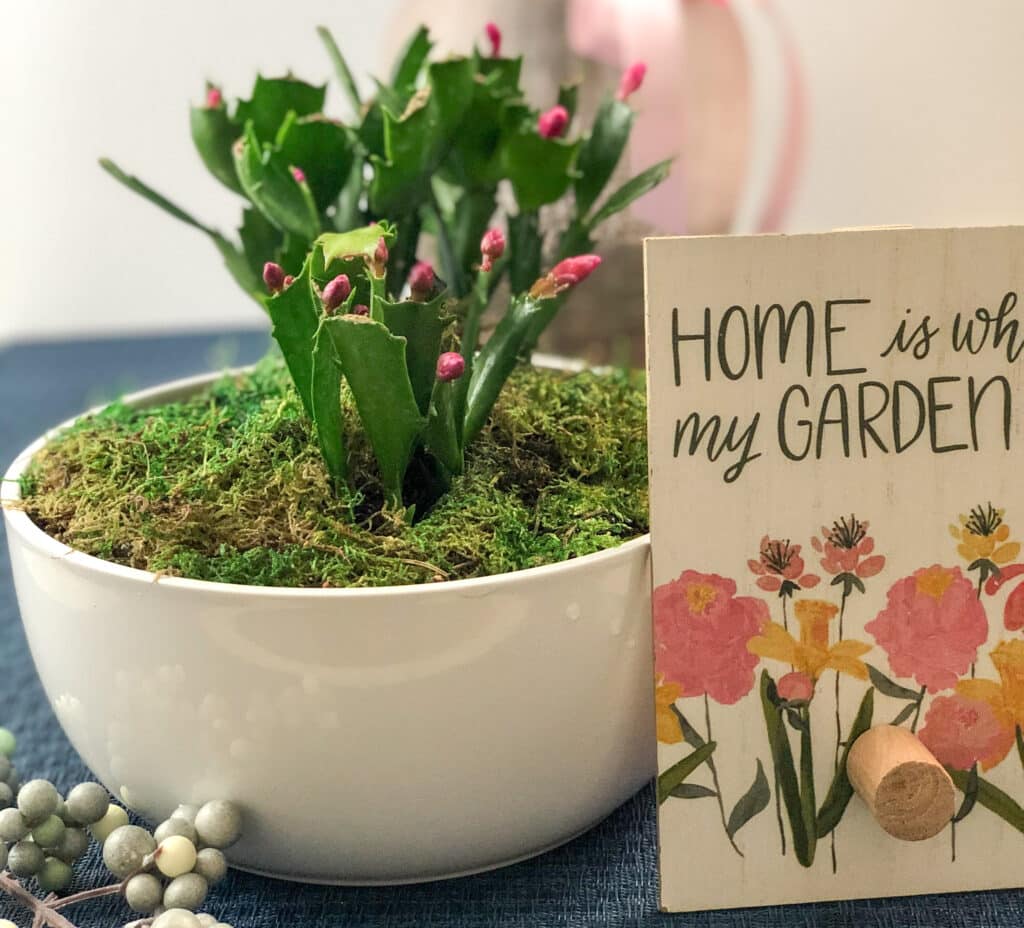 26. Teacup Succulent Arrangement
Teacups are probably the most popular succulent arrangement around.
That's because they're easy to make and fun to display!
Simply grab your favorite teacup or coffee mug and a small succulent plant. Place some soil into the cup, leaving room for the plant.
Voila! You're done.
I added a cute little teddy bear figurine into the mix to make it a tad more interesting.
Remember to water carefully and only when the soil in the entire cup has gone dry.
I used Haworthia Zebra Succulent for this green teacup; it's one of the best succulent plants for indoors.
We've made it to the end of this list. I hope you've found some inspiration in this post for your next succulent arrangement! It's a fun and relaxing hobby – and one that you can enjoy all year round.
Good luck with your next succulent craft and remember to have fun with the different shapes and colors! Enjoy!