If you've killed off every succulent you've ever had – you're not alone. Many people purchase succulents in hopes of watching them flourish only to end up with dead plants a few weeks later. Unfortunately, the easiest and surest way to kill a succulent is to over or under water it.
Once you learn how to water succulents properly, you'll be on your way to owning a beautiful succulents garden of your own.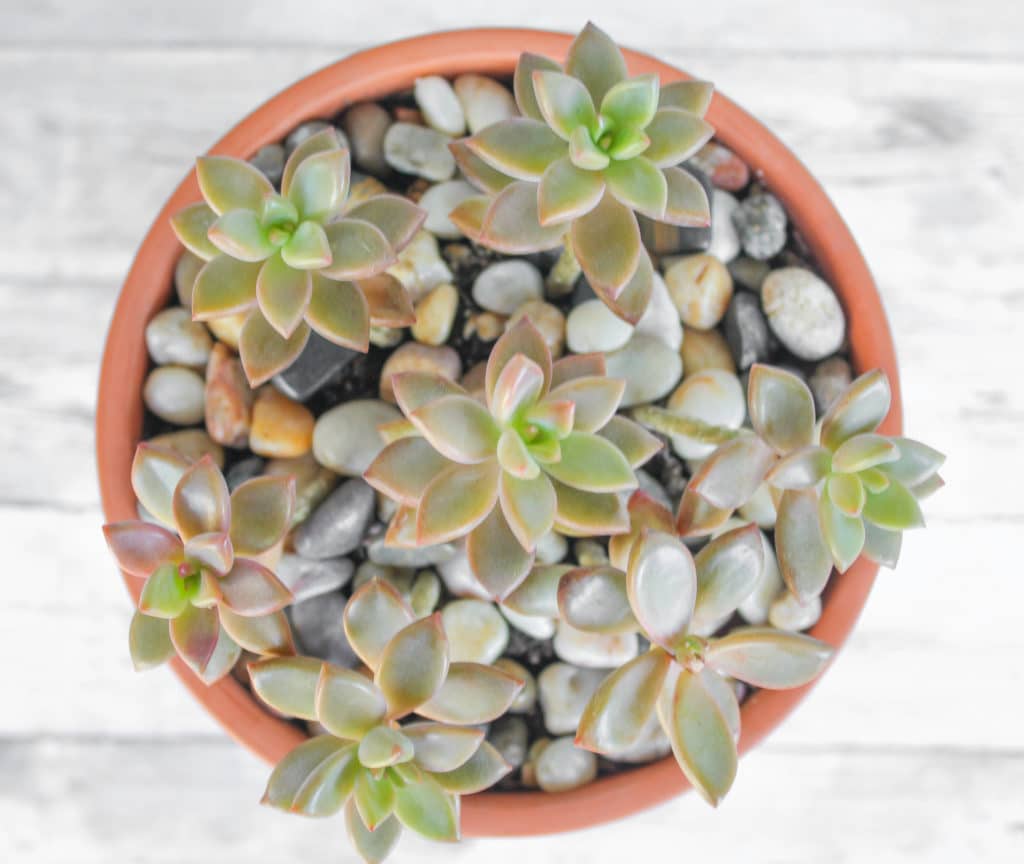 (This post may contain affiliate links.)
Should Succulents be Watered Regularly? 
Succulents have a reputation for being ultra low-maintenance plants due to their tolerance to drought. While this is indeed true, they do need water to survive and they do best when watered regularly, but never excessively. Since succulents and cacti store water in their stems and leaves, observing their leaves will give you clues as to whether they're getting the right amount of moisture.  
Yellow, soggy leaves, as shown in the photo below, usually indicate over-watering.  Brown, dry leaves from the middle or top of your succulent indicate a dire lack of moisture.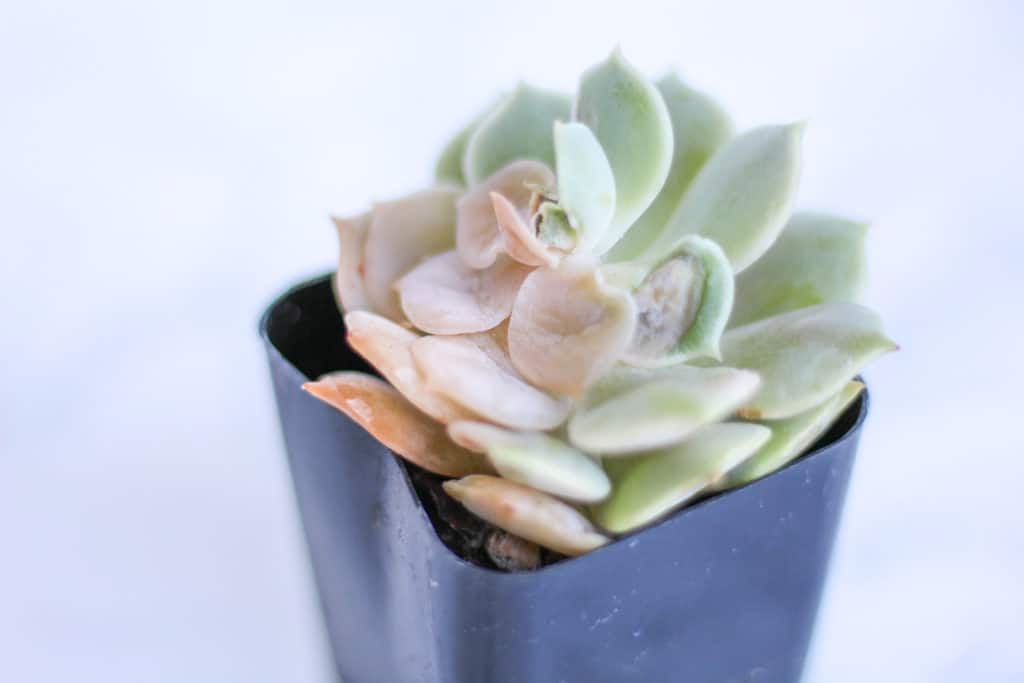 However, dry leaves at the base of your plant, as shown below, is a natural process; your succulent is getting ready to replace old leaves with new ones, so don't be alarmed. Simply tug off these dry leaves and discard.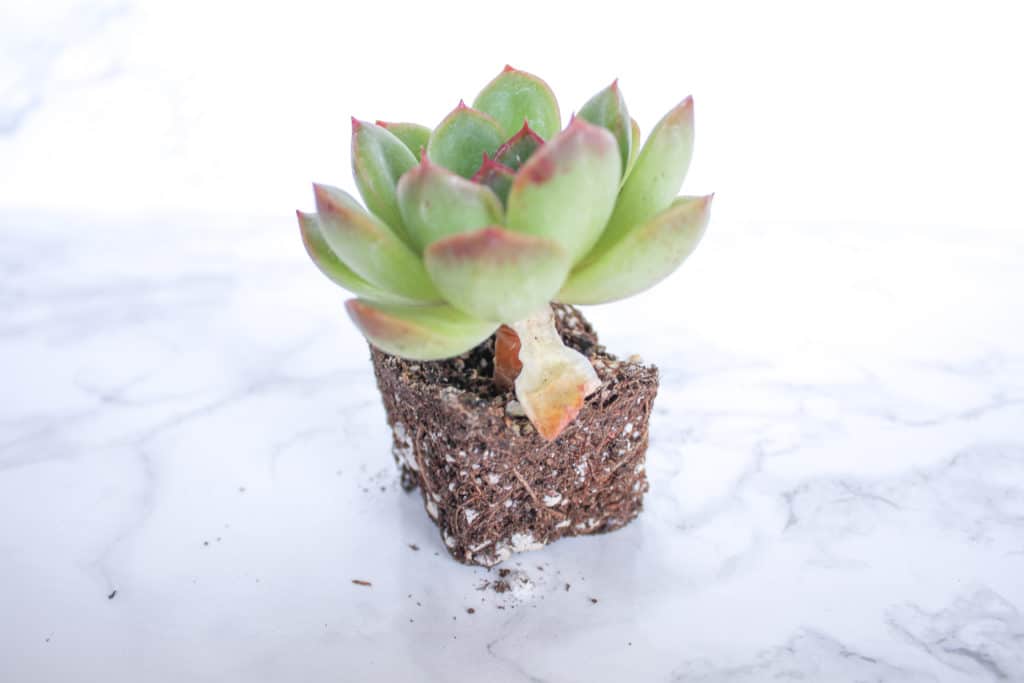 How Often to Water Succulents
Watering Supplies:
Watering can
, Watering squeeze bottle
, OR Watering syringe

Terracotta Pot
 (or any pot with a drainage hole)
Cactus Mix
 aka succulents soil (because this soil won't retain excess water)
Succulents
When it comes to how often to water succulents, always keep this in mind: succulents hate to sit in soggy soil. Its why planting them in well-draining cactus mix
 or succulents soil is so important. If you water your succulents too often, their roots will inevitably rot from too much moisture and you'll be left with dead plants.
Why can't you just use regular potting soil? Here's why: cactus mix is specifically made to be fast-draining so the roots of your succulents don't sit in soggy soil. Regular potting soil retains too much water and is too slow-draining for succulents and cacti. 
A good cactus soil will contain particles like pumice, small twigs, and sand, which is what helps excess water move through the soil and out of the drainage hole. If you've always planted your succulents in regular potting soil, you may have unintentionally started your plant off on the wrong foot. Don't worry, though, it's a common mistake and one that can be easily fixed!
(Read my How To Care For Succulents  post for a refresher on planting succulents properly).
Unfortunately, there's no exact science for how often to water succulents because you have to consider many things such as your climate, whether you're growing your succulents indoors or outdoors, and what kind of pot and soil you're using. There is, however, a rule of thumb: water succulents ONLY when the soil is dry, and water thoroughly until you see water escape from the drainage hole.
When you see water draining from the bottom of the pot, you'll know the soil has received adequate moisture. Generally speaking, I wait about a week between waterings. This is usually how long it takes for the soil in my growing zone (zone 9) to dry out.
When a week has gone by since my last watering, I simply touch the soil with my finger to see how dry it feels. If it feels dry about an inch deep, I know it's time to water again.
How Much Water Do Succulents Need?
The actual act of watering succulents is easy. I prefer to water with a small watering can because it allows me to control the amount of water I give each plant. Since I grow succulents in small pots, I don't need to use a larger watering can or a garden hose.
I use watering cans
 because they're inexpensive, light-weight, and effective; they provide the roots of my succulents with the water they need. Many gardeners prefer watering their smaller planters with a watering squeeze bottle
or a watering syringe because it allows them to be more precise. 
A watering squeeze bottle or syringe is excellent for avoiding messes and knowing exactly how much water you're giving to each tiny plant. They come in handy when you need to water a compact succulent arrangement or garden craft, such as these DIY succulent Christmas ornaments.  A gentle squeeze of the watering bottle is all you need to water a small arrangement such as the tree ornaments shown below.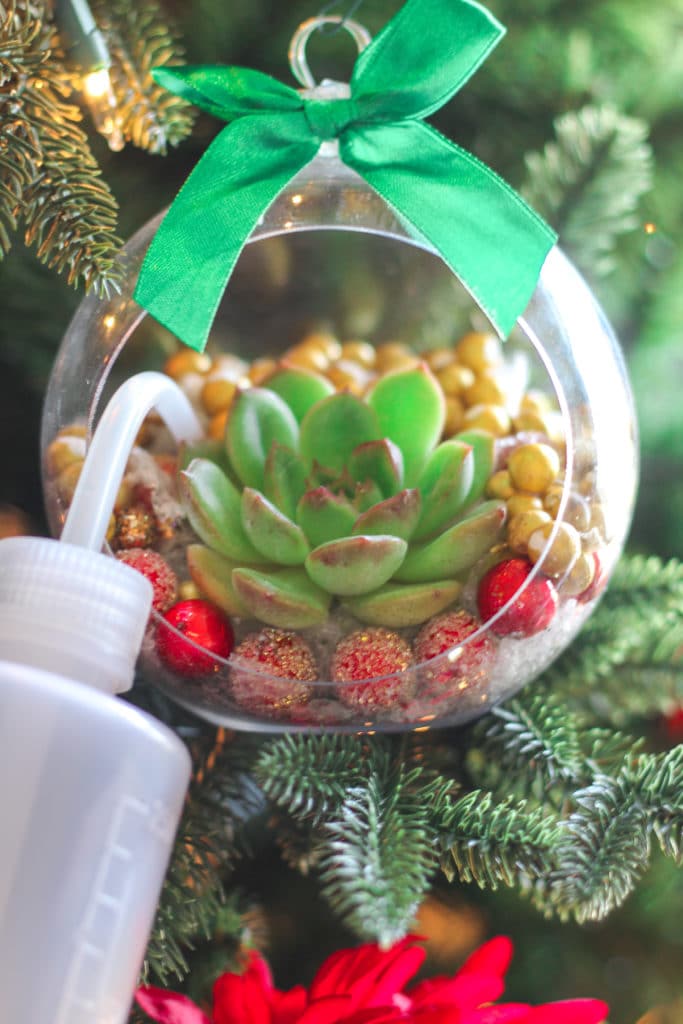 Water Succulents Thoroughly
Remember to keep a watchful eye when watering your succulents and cacti. Once you feel the soil is dry to the touch, grab your watering can and drench the soil thoroughly until you see water draining from the bottom of the pot. This will be your cue to stop watering!
To do this, simply stick the spout of your watering can directly above the soil (not the leaves) and let the water flow gently for a few seconds. Do this in small increments until you see water spill out of the drainage hole.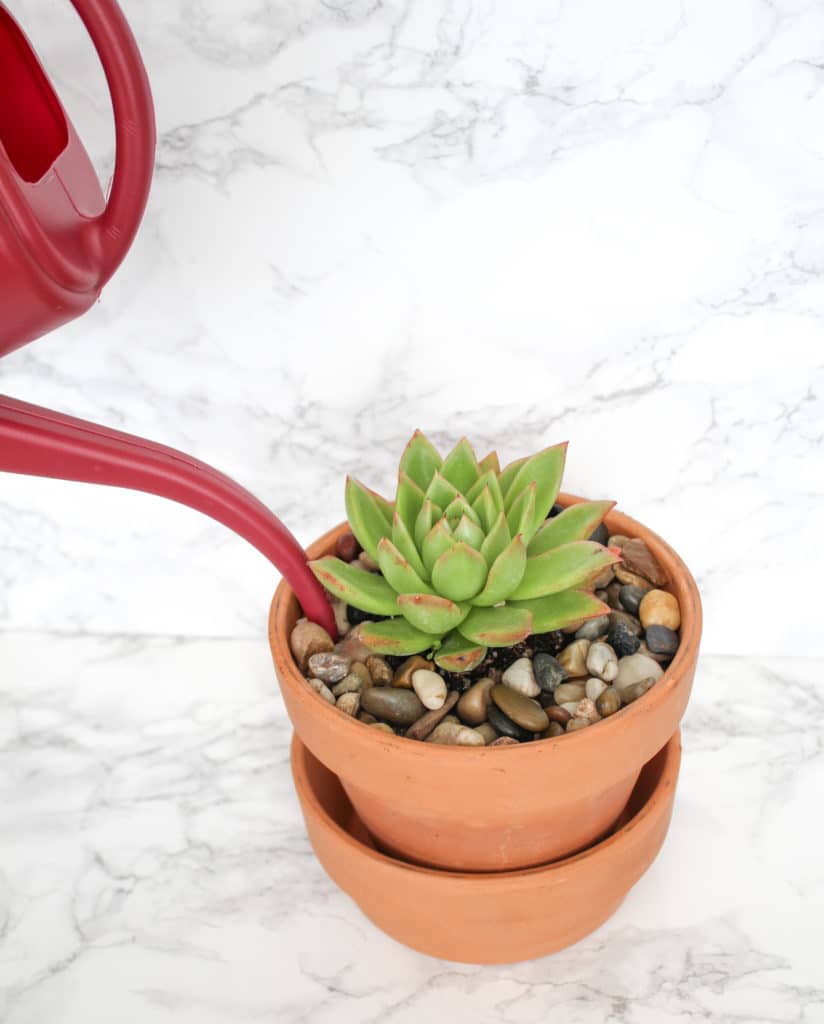 Then, let your plant sit for a few minutes before discarding the water from the saucer. This is a very important step and many people don't realize how crucial it is when learning how to water succulents. Why is this so important? If you don't discard the drained water from the saucer, then the roots of your plant will be exposed to too much moisture for an extended period of time and it may rot — not good!
*This happened to me once after leaving a potted Echevarria Lola in a saucer that was full of water. I forgot to drain the saucer and within 2 days, my little plant had rotted! 
What To Avoid When Mastering How To Water Succulents
I've talked about which supplies you can use to water your succulent plants, but I also want to talk to you about what NOT to use.
I know some people use a spray bottle to water the leaves of their indoor plants, but this isn't something you want to extend to your succulent garden.
Never use a spray bottle to spray water onto your succulent leaves.  Here's why: succulent leaves are prone to rotting if they're exposed too much moisture, especially if they're being grown indoors where the water doesn't evaporate as quickly as it does outside.
The roots are the only part of the succulent plant that needs to be watered, the leaves don't need any additional water. Remember, learning how to water succulents the right way involves watering the soil, NOT the leaves.
In fact, when you plant your succulents, always make sure that all of the leaves sit on top of the soil so they're not touching constantly touching wet cactus mix. You want to make sure that your leaves remain dry.
How to Water Succulents Outdoors
If you're growing succulents outdoors that are planted directly into the ground, then it's okay to use a watering hose to water your succulents. Since they'll be sitting under direct sunlight, they'll be far less prone to rotting if the leaves get wet.
I know it's hard to not water your plants overhead when they've been planted in the ground, so just inspect your leaves every few days to make sure they're not suffering from water overload. Follow the same basic formula as you would when watering potted succulents: water when the soil is dry. 
You Now Know How to Water Succulents Correctly!
Congratulations! You made it through this post which means you now know how to water succulents so that they stay healthy and happy! All that's left is for you to practice what you've learned.
Always remember that less is more when it comes to how much and how often to water succulents and cacti. Also be mindful of the weather conditions, especially during hot summers and rainy days.
TIP: Bring your potted succulents indoors if it's too hot outside (over 90 degrees) or if you expect rain.
For a step-by-step watering cheat sheet, click here! You'll get my How To Water Succulents printable that you can keep on hand to remind you of everything you've learned in this post. You'll also get access to my Gardening Resource Library, which hosts my other free gardening printables, and you'll also get my weekly gardening newsletter that I like to fill with helpful tips!