If you've killed off every succulent you've ever had – you're not alone. Unfortunately, the easiest and surest way to kill a succulent is to over or under-water it.
However, once you learn how to water succulents the right way, the rest of succulent care will seem like a breeze!
(This post may contain affiliate links.)
Should Succulents be Watered Regularly?
Succulents have a reputation for being low-maintenance plants due to their drought tolerance (just like ZZ plants!).

While this is indeed true, they do need water to survive and they perform best when watered regularly.
Since succulents and cacti store water in their stems and leaves, they're able to survive long periods without water.

This, however, does NOT mean they'll look or perform their best when starved for water for an extended period of time.
Frankly, your succulents won't look too great when they're dehydrated.
Regular watering goes a long way in helping succulents grow a strong root system in addition to helping them look vibrant and healthy.
Thankfully, observing the leaves of your succulents will give you clues as to whether or not they're getting the right amount of water.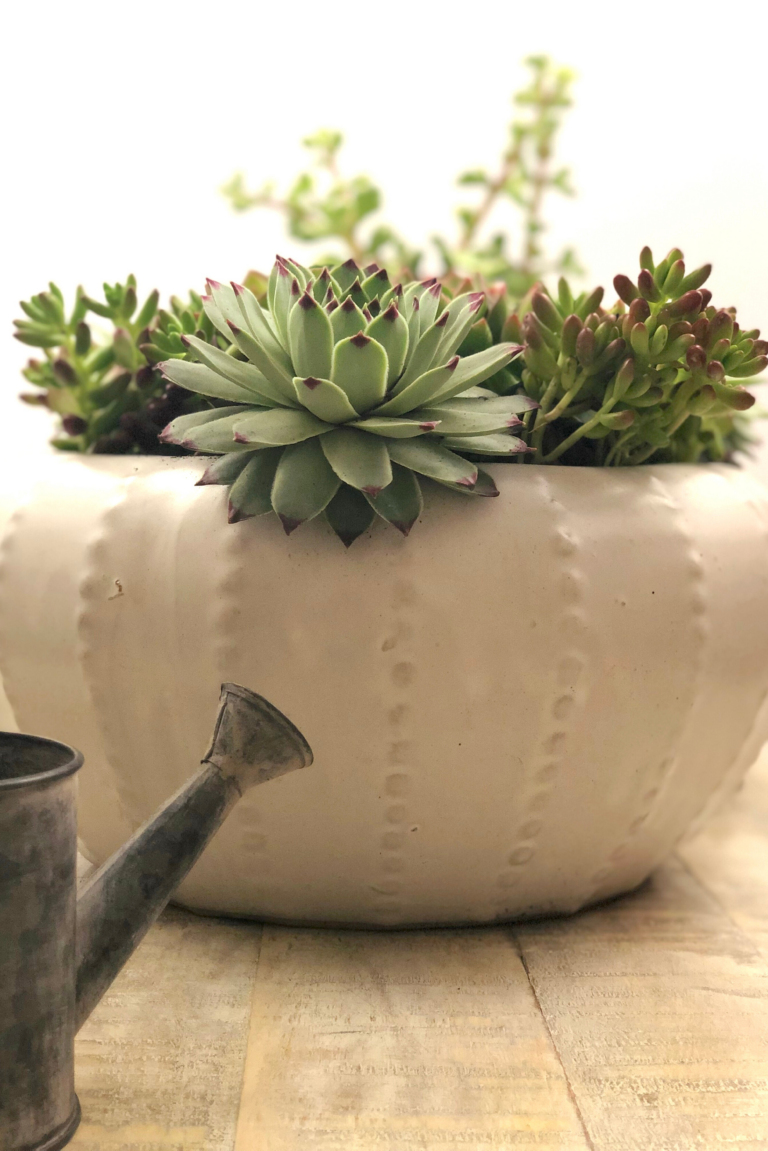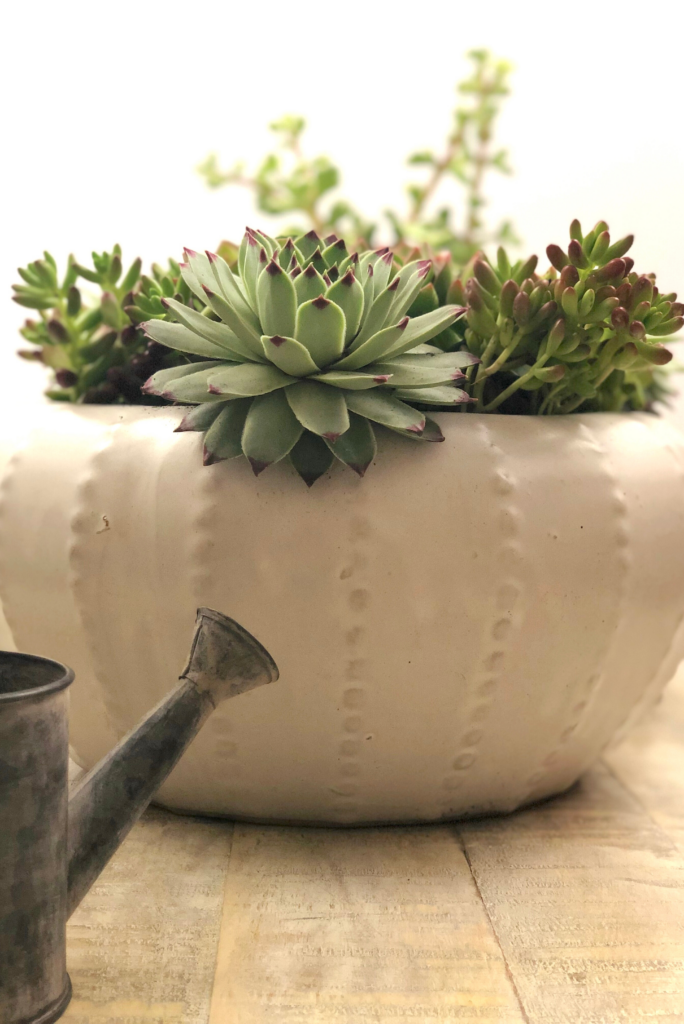 If you see yellow, translucent, and soggy leaves on your succulent, as shown in the photo below, then you've been over-watering (a common mistake!).

Stop watering your plant until the soil feels dry several inches deep.
On the other hand, if you see brown, dry, and crispy leaves on the top or middle section of your succulent, then you've been under-watering and the plant is in major distress and need of water.
Give your succulent a deep watering and then water it again in a few days when the soil feels dry about an inch or two deep.
If you see dry leaves at the bottom of your plant, though, as shown below, know that this is the plant's natural growing process, so don't be alarmed.

Succulents drop old leaves as they prepare to grow new ones from the center.
Simply tug off these dry leaves and discard them (this is referred to as "pruning").
Supplies for Watering Succulents
When it comes how to water succulents, it's important to know that succulents hate soggy soil, which is why we need to talk about the cactus mix.
Planting your succulents in cactus mix gets you started off on the right foot because this soil mix is created to be very fast-draining.
Cactus mix simply doesn't retain as much water as regular potting soil does which is a good thing, especially if you tend to over-water your plants.
"Cactus Mix" is widely available at the garden centers and through online retailers, so it's pretty easy to find.
Aside from cactus mix, you'll also need a watering can, and/or a watering squeeze bottle or watering syringe, plus a pot with a drainage hole like this terracotta pot.

Terra cotta pots make wonderful pots for succulents because they wick away moisture.
TIP: If you're already using regular potting soil, you can make it more fast-draining by adding pumice, perlite, or coarse sand. OR you can be more conservative with the amount of water you give your plant.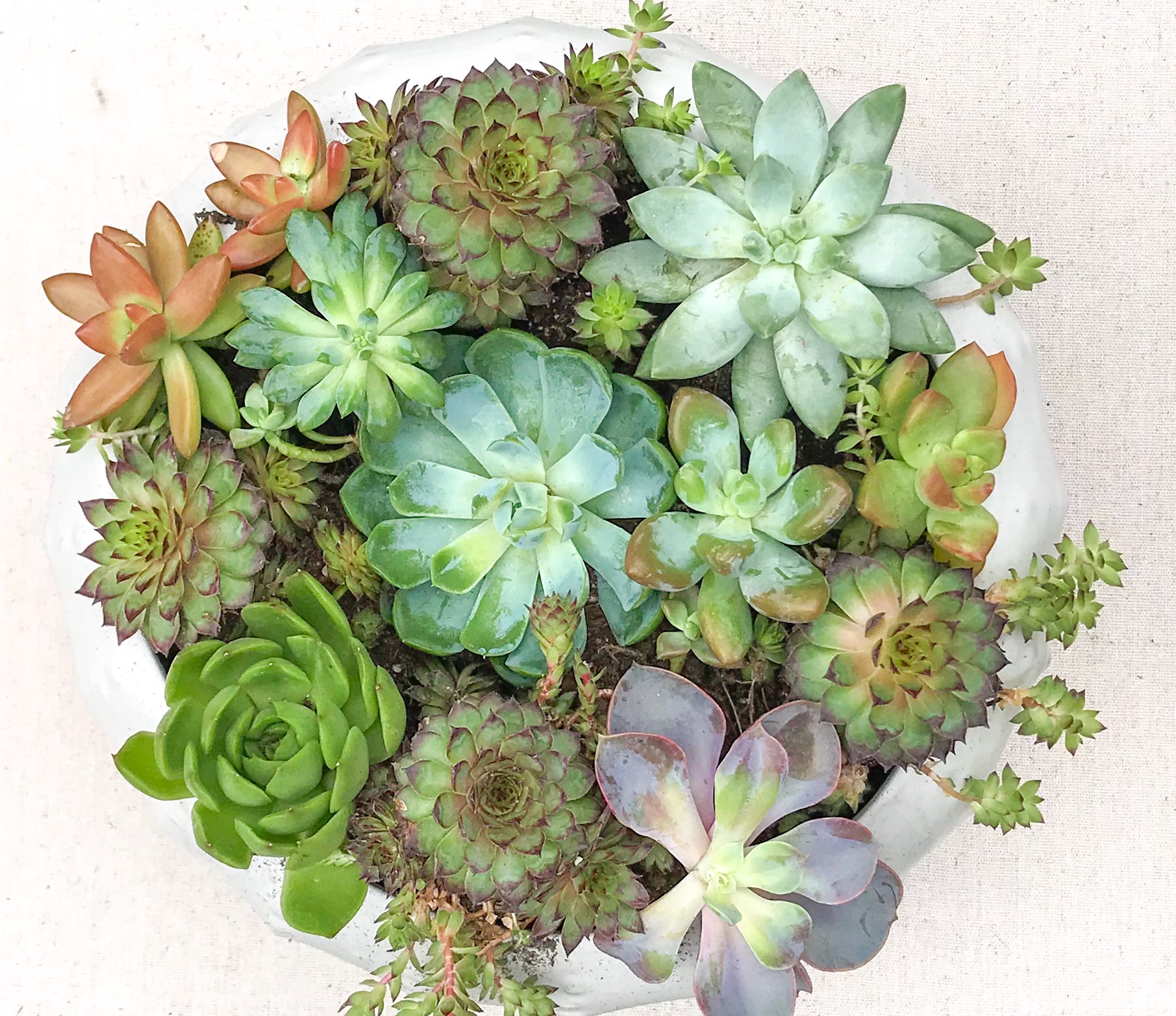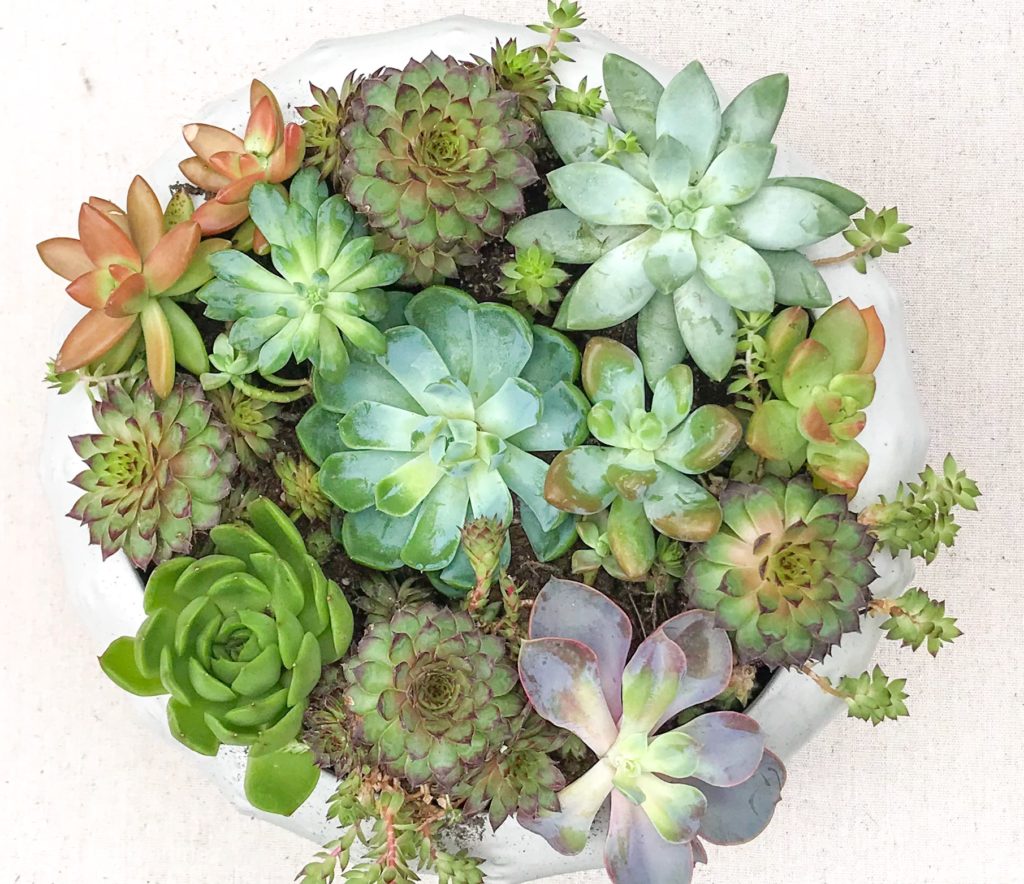 How Often To Water Succulents
When it comes to how often to water succulents, various factors help determine the answer, and those factors include climate and temperature, whether you're growing them indoors or outdoors, and what kind of pot and soil you're using.
But there IS a general rule of thumb when it comes to watering succulents and this is it: water succulents when the soil feels dry a few inches deep into the pot or ground. Water deeply and generously; you should see water escaping out of the pot's drainage hole.
When you see water draining from the bottom of your pot, you'll know that the soil has received adequate moisture.
If growing succulents directly in the ground, water until you feel that the soil is sufficiently moist.
Generally speaking, I wait about a week between waterings. This is usually how long it takes for the soil in my growing zone (Zone 9b) to dry out.
We get triple-digit summers here, so I water more during the summer and less during the winter.
Many succulents are not actively growing during the winter so they have less need for water.
The soil also takes much longer to dry out during these months.
I always touch the soil to see how dry it feels before I decide if it's time to water. If it feels dry about an inch or two deep, I know it's time to water again.
Tools for Watering Indoor Succulents
Watering cans are great because they're inexpensive, light-weight, and effective.

I prefer ones with thin spouts because I like to get in between the plants when watering. I always aim to water the soil directly, not the leaves, because I don't like water spots!
Some tools I find very helpful for watering compact succulent arrangements are watering squeeze bottles or watering syringes because they allow you to be more precise when watering. (You can use these tools for your houseplants, too!).
Watering squeeze bottles (as shown in the photo above) or watering syringes are excellent for avoiding messes and designating different amounts of water to each small plant.
They come in especially handy when watering compact succulent crafts, such as these DIY succulent Christmas ornaments.
A few gentle squeezes of the watering bottle is all you need for a smaller arrangement or a small DIY succulent craft.
Water Succulents Thoroughly
Always aim to water the soil, not the leaves. This not only helps prevent water spots on the leaves but it also helps to prevent rotting leaves.

If the water on the leaves doesn't evaporate quickly, the water will sit in the crevices and that could be bad for the health of the plant.
This is not a problem with outdoor succulents, of course, since the sun dries up the water quickly.
Just keep in mind that it's the soil that needs water, not the actual leaves.
The photo below shows how to properly water succulents: the spout of the watering can is watering the soil.
What To Avoid When Watering Succulents
After your plant sits for a few minutes, make sure to discard the drained water from the saucer.
Many people don't realize how crucial this step is when learning how to water succulents the right way.
If you don't discard the drained water from the saucer, then the roots of your plant will be exposed to too much moisture for an extended period of time, which can cause them to rot.
*This happened to me once after I left a potted Echevarria Lola in a saucer that was full of water.

I forgot to drain the saucer and within 2 days, my little plant had rotted!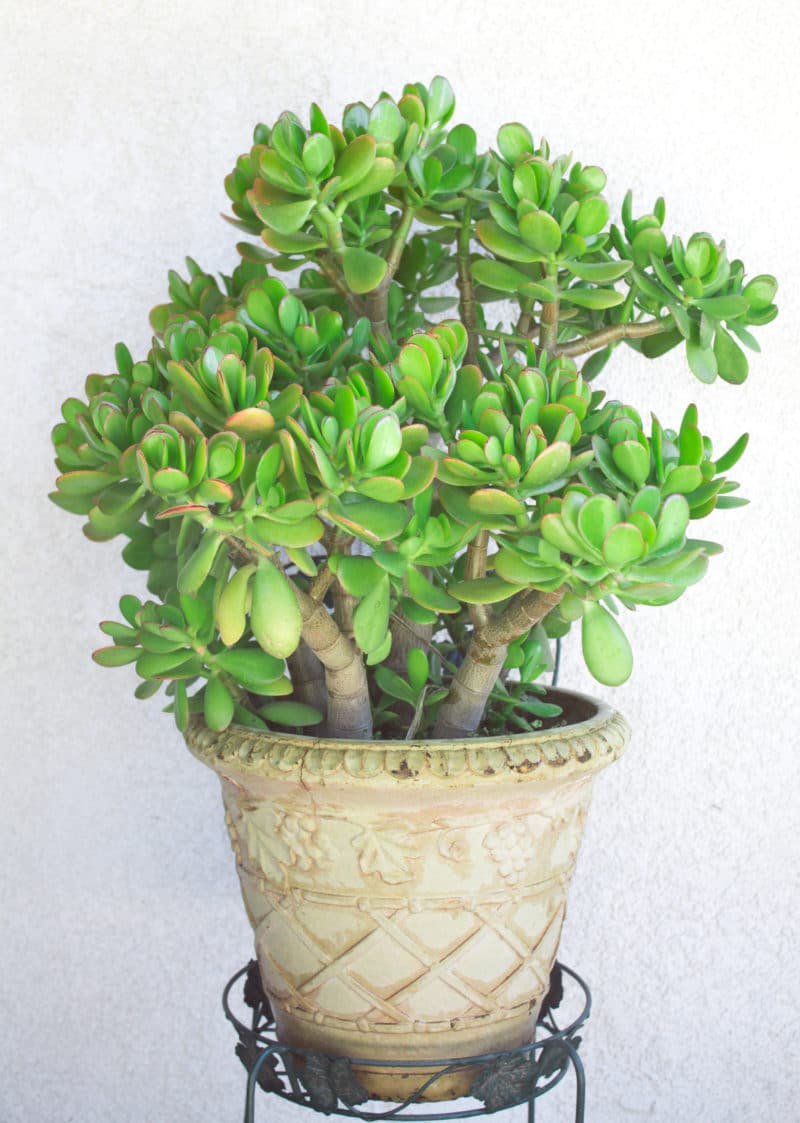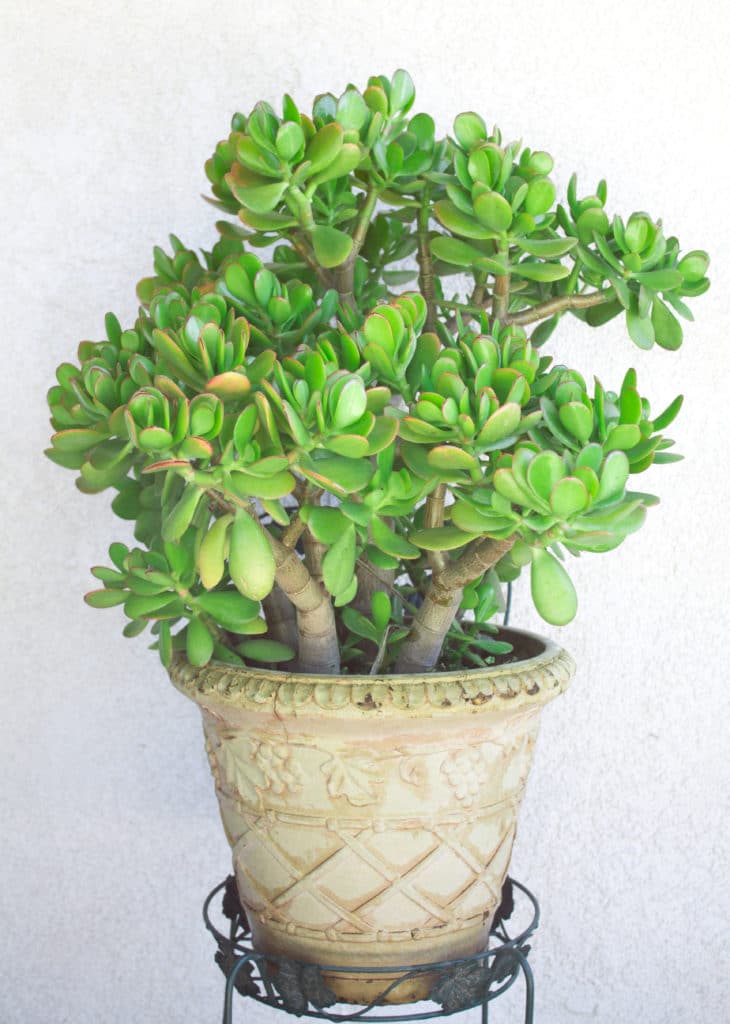 Now let's quickly talk about what tool you should avoid when watering your succulents: spray bottles!
Never use a spray bottle to spray water onto the leaves of your succulents!
Here's why: The roots are the only part of the succulent plant that needs to be watered, the leaves don't benefit from being sprayed – they get their water directly from the roots.
Remember, learning how to properly water succulents means watering the soil, NOT the leaves. It's simply a waste of water.
In fact, when you plant your succulents, always make sure that all of the leaves sit on top of the soil because you want them to remain as dry as possible.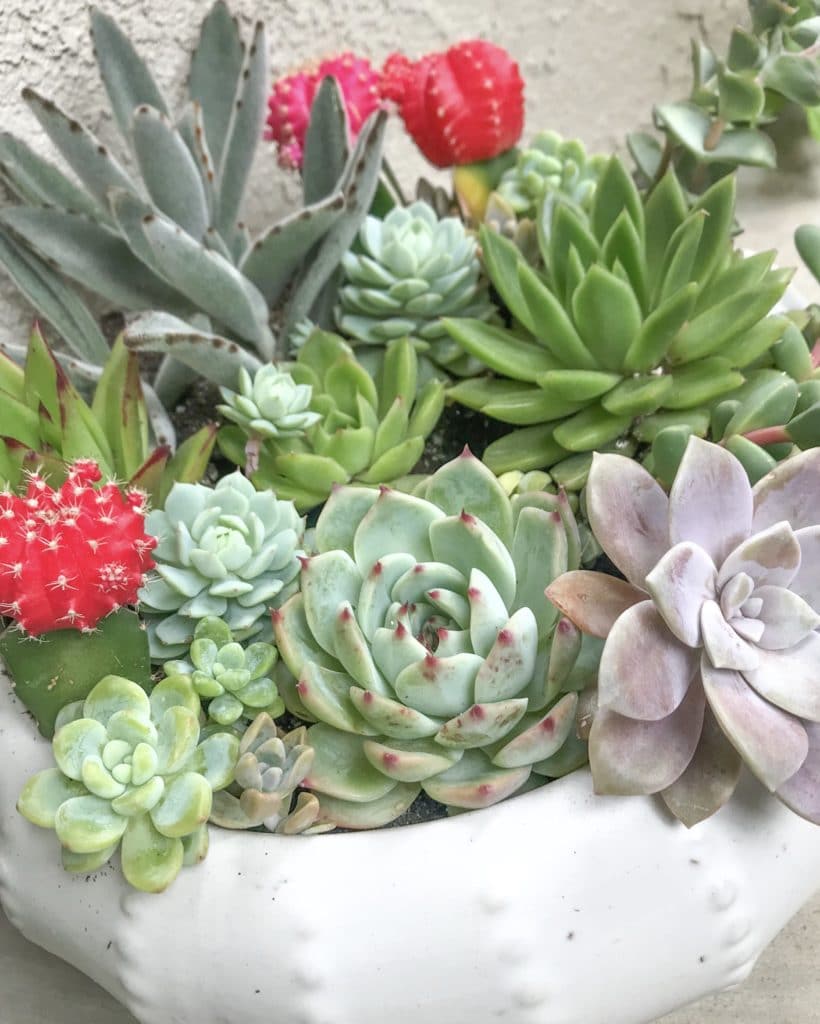 How to Water Succulents Outdoors
If you're growing succulents outdoors that are planted directly into the ground, then it's okay to use a watering hose to water your succulents.
They'll be sitting under direct sunlight, so they're far less prone to rotting if the leaves get wet.
I know it's hard to not water your plants overhead when they've been planted in the ground, so just inspect your leaves every few days to make sure they're not suffering from water overload.
As with all my other plants and flowers, I aim to water the soil directly.
As to when to water outdoor succulents: water when the soil feels dry.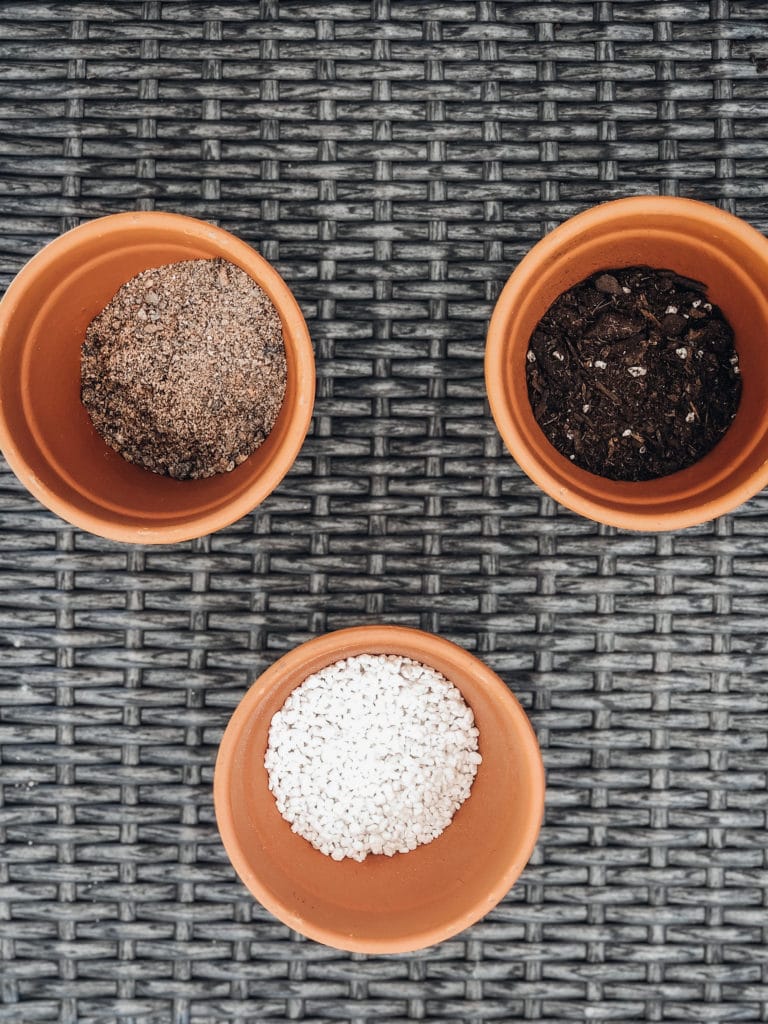 You Now Know How to Water Succulents the Right Way!
Congratulations! You now know how to water succulents!
All that's left is for you to get some practice.
I'll leave you with a couple quick tips:
Always remember that less is more when it comes to how much and how often to water succulents and cacti.

It's easier to save an under-watered succulent than it is to save an over-watered succulent!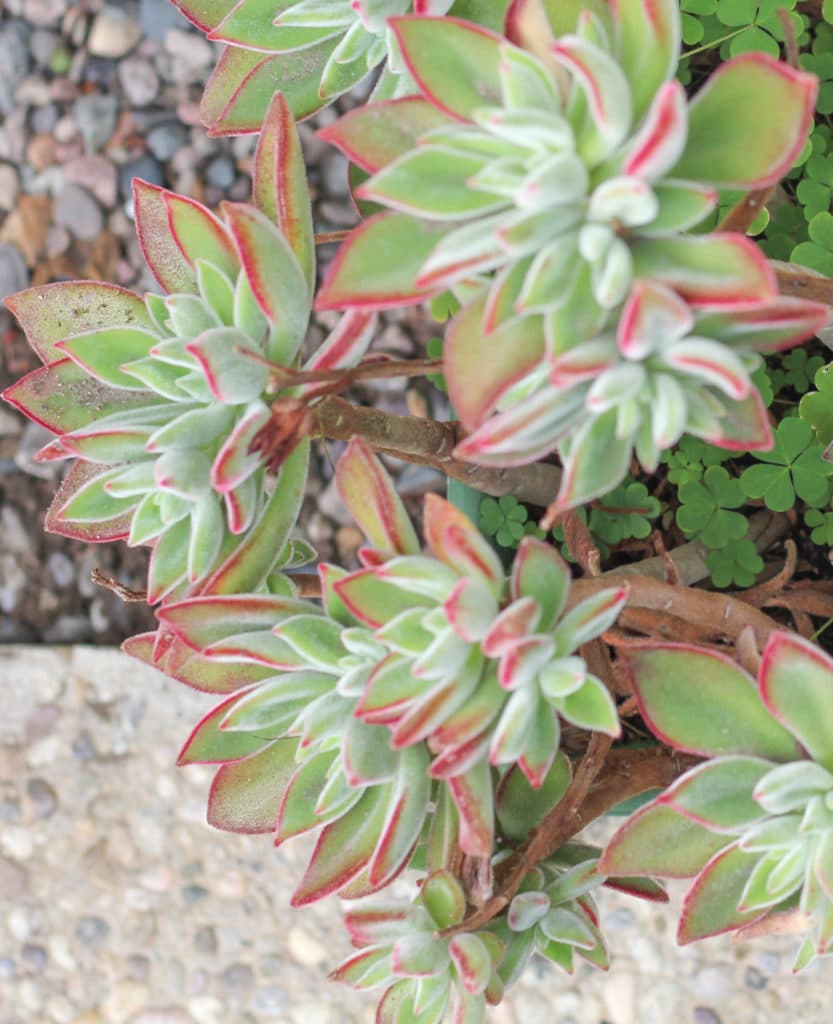 Also be mindful of the weather conditions, especially during hot summers and rainy days.
TIP: Bring your potted succulents indoors if it's too hot outside (over 90 degrees) to avoid sunburn, or if you expect rain, to avoid root rot.
Best of luck – I think you're doing to LOVE having succulents in your home and garden!
For Related Blog Posts:
How to Keep Air Plants Alive: Easy Care Tips for Beginners
Pothos Plant Propagation: How to Grow Pothos Cuttings
How to Care for a Pothos Plant
How to Care for a Jade Plant