DIY Side Yard Ideas for Transforming a Small Space
Are you interested in turning your side yard or side patio into a beautiful oasis but aren't sure where to start? In this post, I'll give you simple and actionable ideas that will help you transform your small space into an area you love!
If you have dreams of turning your side yard into a place where you can sit, relax, and tend to a garden, then these useful tips will get you started on that path.
But first, let me tell you why I'm so passionate about side yards.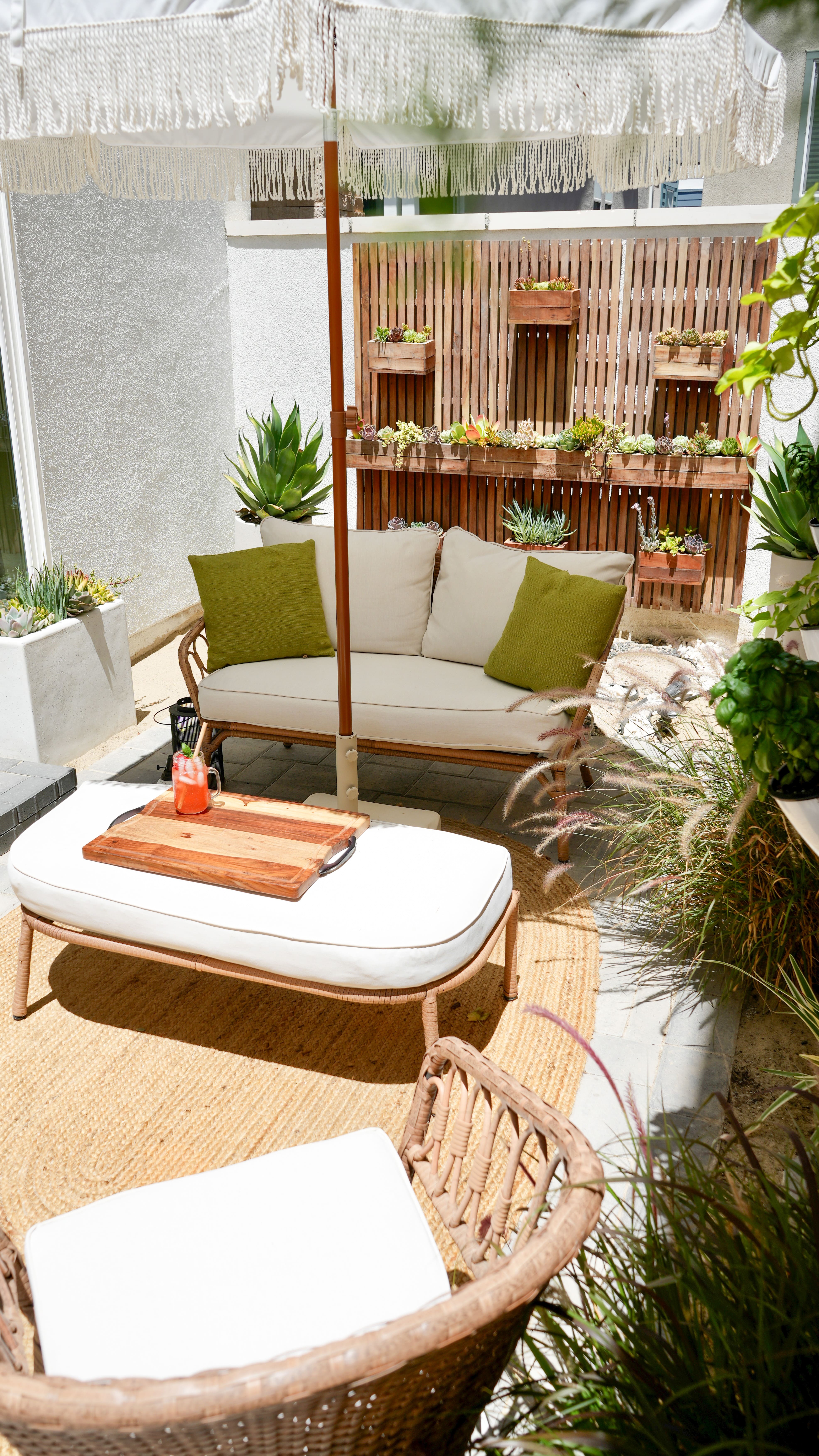 When we moved into our new home, we were naturally very excited. But because the house didn't have a backyard, I was left wondering if I'd have enough space to grow a garden or even sit and enjoy the outdoors.
We had a pretty narrow side yard to work with when we moved into our new home, as you can see below.
I knew I wanted this narrow space to hold several features that included a sitting area, a small vegetable garden, a stone path, vertical planters, and of course, plenty of containers to plant my succulents in (that was a must!).
That might sound unrealistic and ambitious but we pulled it off!

We just needed to get creative.
And I feel it proves this very important point: you DON'T need a huge yard in order to grow a garden; there's a lot of potential in a small sideyard!
Not everyone has a large backyard, after all.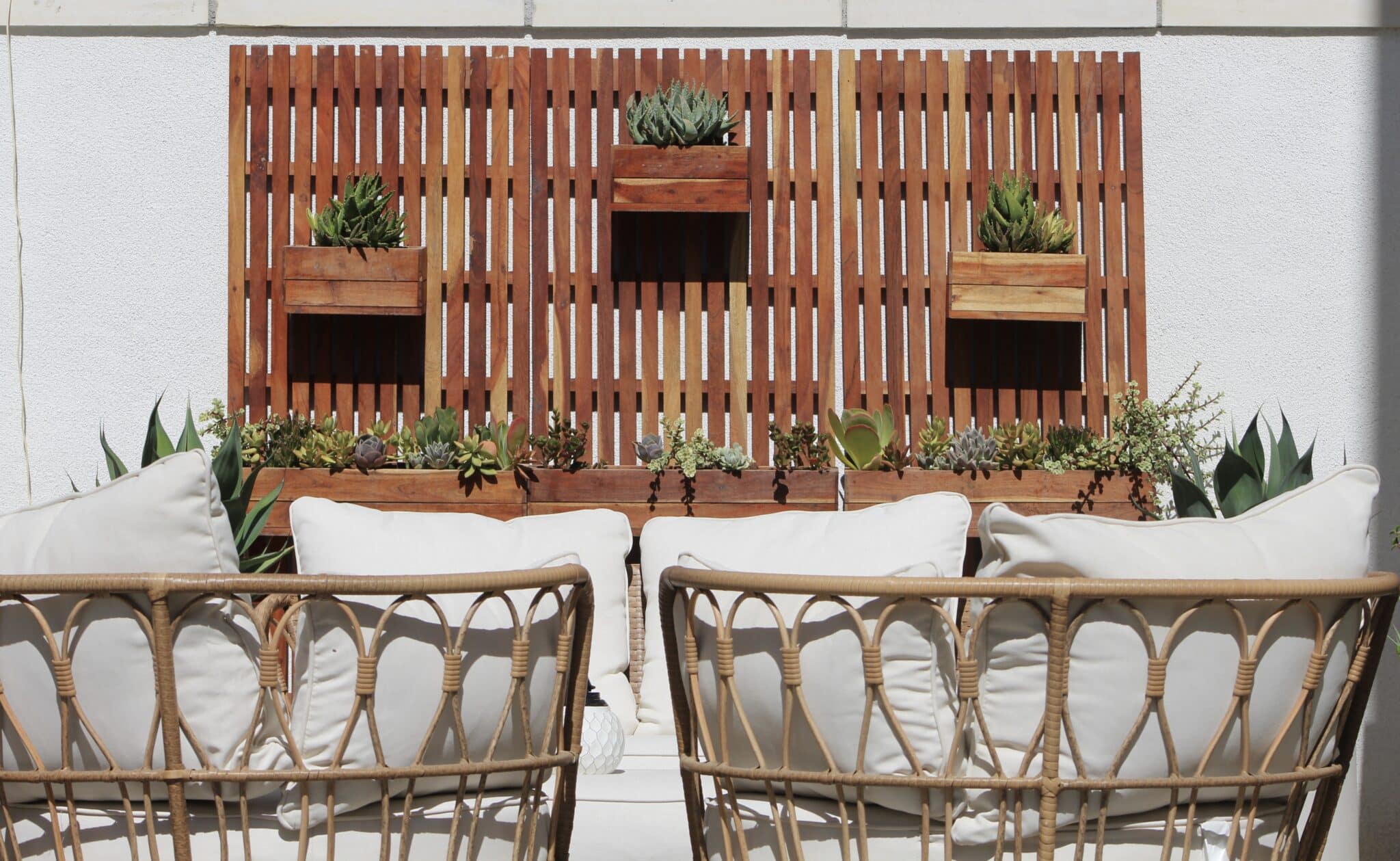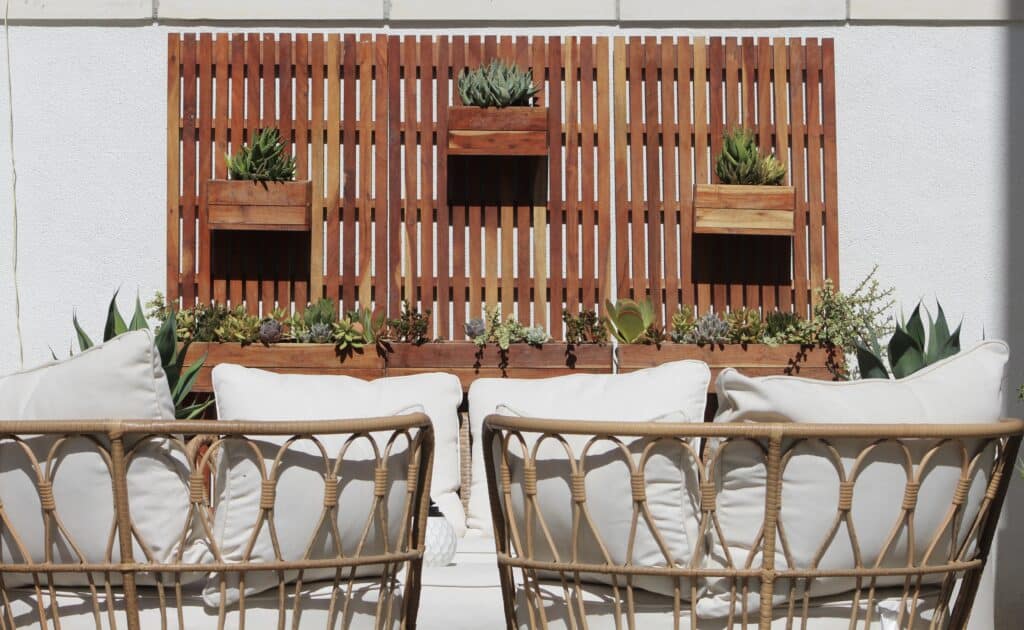 With the help of a few planters, patio furniture, and a stone pathway, we transformed our narrow side yard into a functional space that brings us joy and is also beautiful to look at (a huge plus).

I feel content with how much visual interest is to be had here.
Most importantly, we used a ton of drought-tolerant plants!
I live in Zone 9B with year-round sunshine and numerous heat waves during the summer – not to mention long periods of drought.
This means I need to purchase plants that not only add charm to my garden space but that can withstand the heat, too.
My hope in sharing this is that you'll leave this post inspired to create a side patio or small yard that also brings you joy and fulfills a few of your outdoor needs.
Below is a photo of what we started with. It was completely bare and nothing but dirt. It didn't look like much at all.
But we had a vision for it!
If you think you can't grow a productive garden in a small outdoor space, I hope you'll be able to see that you indeed can if that's your goal.
Here are my top tips for transforming a plain sideyard into a beautiful side patio. Let's talk details!
1. Create a Stone Path That's Both Pretty and Functional
Stone paths are timeless and never go out of style. I think a stone path adds so much character to a sideyard, aside from utility.
It's one of my top picks for small sideyard ideas because it can make the space look elegant and pulled together. We went with concrete pavers and I'm glad we did.
The look and shade of the pavers complement our light-colored pots and wooden planters.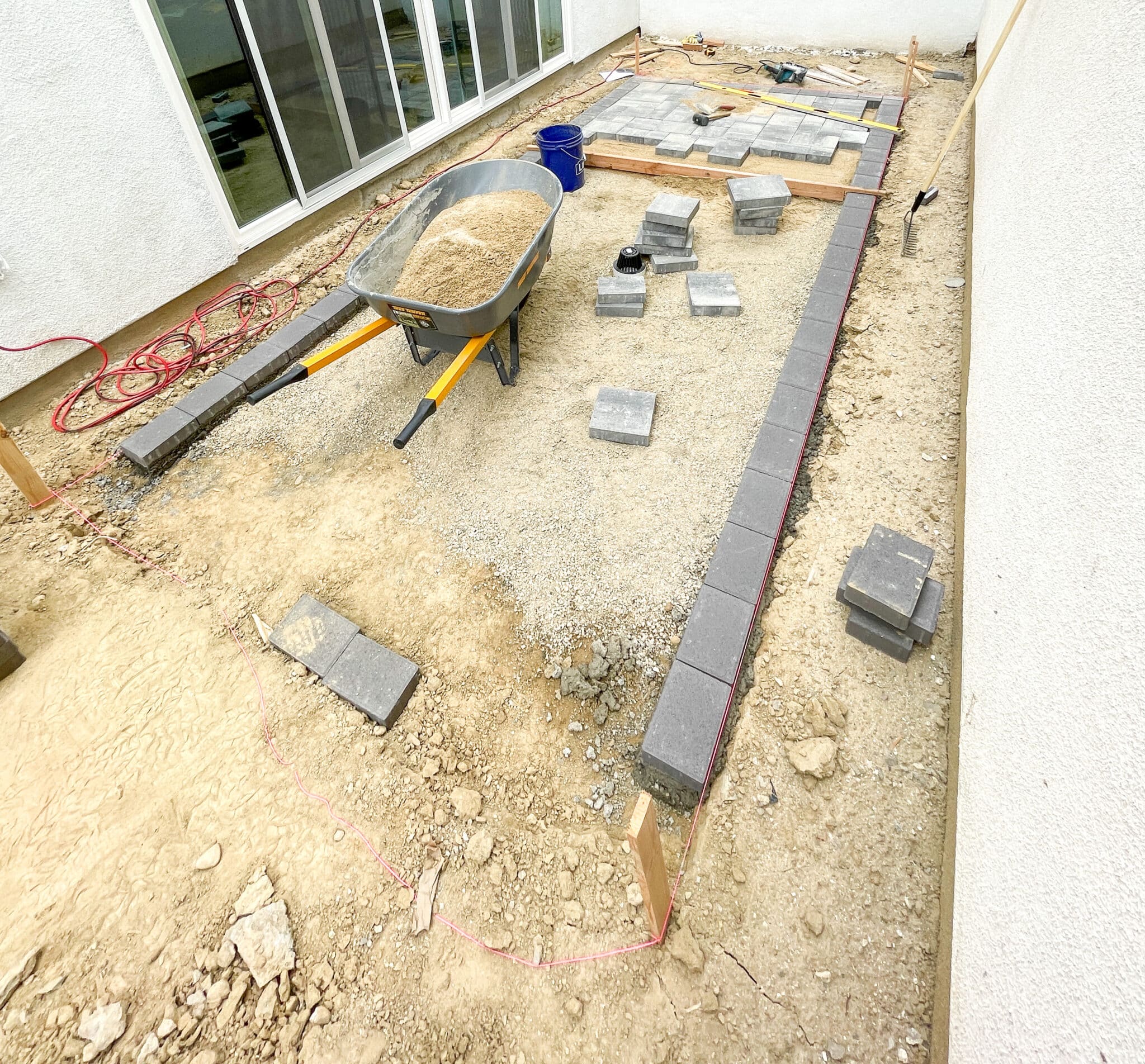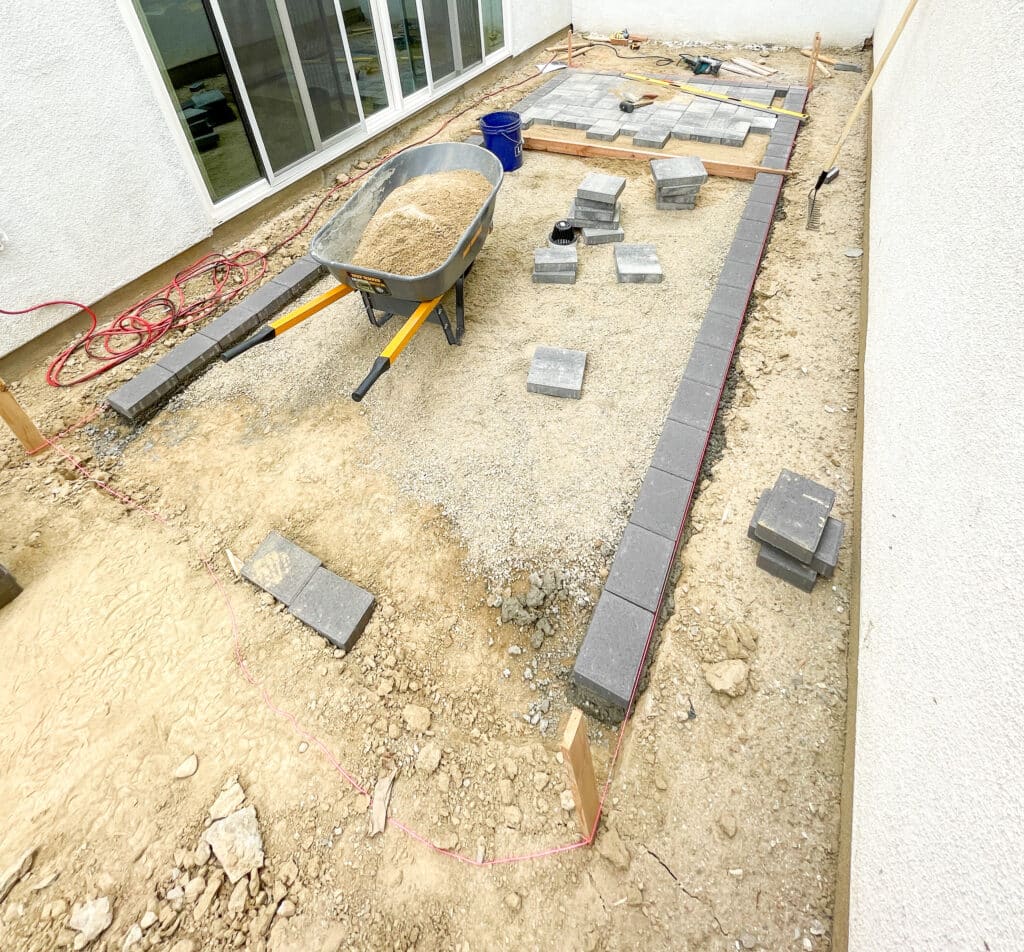 2. Leave Planting Space on Both Sides of the Stone Path
This is something I'm really glad we did.
By leaving planting space on each side of the walkway, we were able to include a few more ornamental plants, evenly spaced out, to achieve a polished look.
I have to admit I was going for a Cabo resort-style feel!
You can leave this space for ground cover plants but I'm glad we went with plants that grow tall. Vertical gardening is important in small spaces.
If we ever tire of these particular plants, we can always change things around and plant more low-maintenance perennials or ground covers.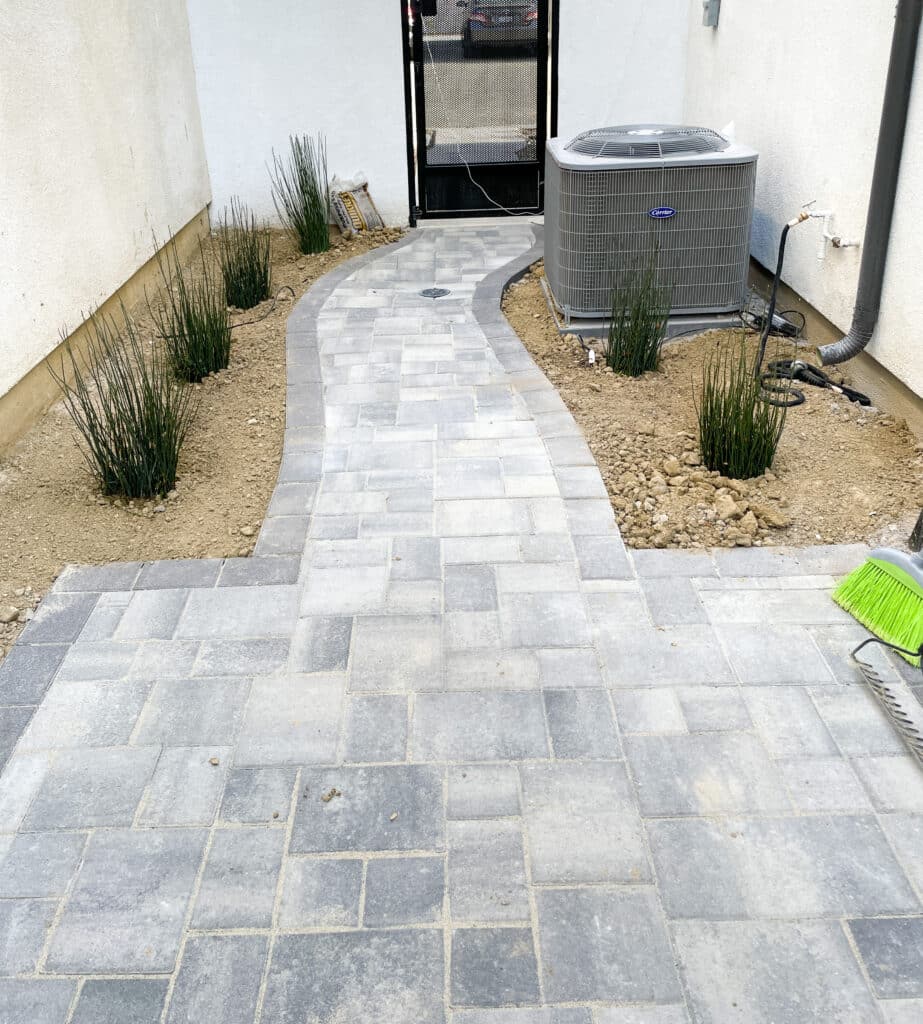 3. Add Pathway Lights and Spotlights
I cannot stress how beautiful pathway lights are at night. We also added a few spotlights in front of our large agave planters and succulent wall planters.
It looks gorgeous when the sun goes down.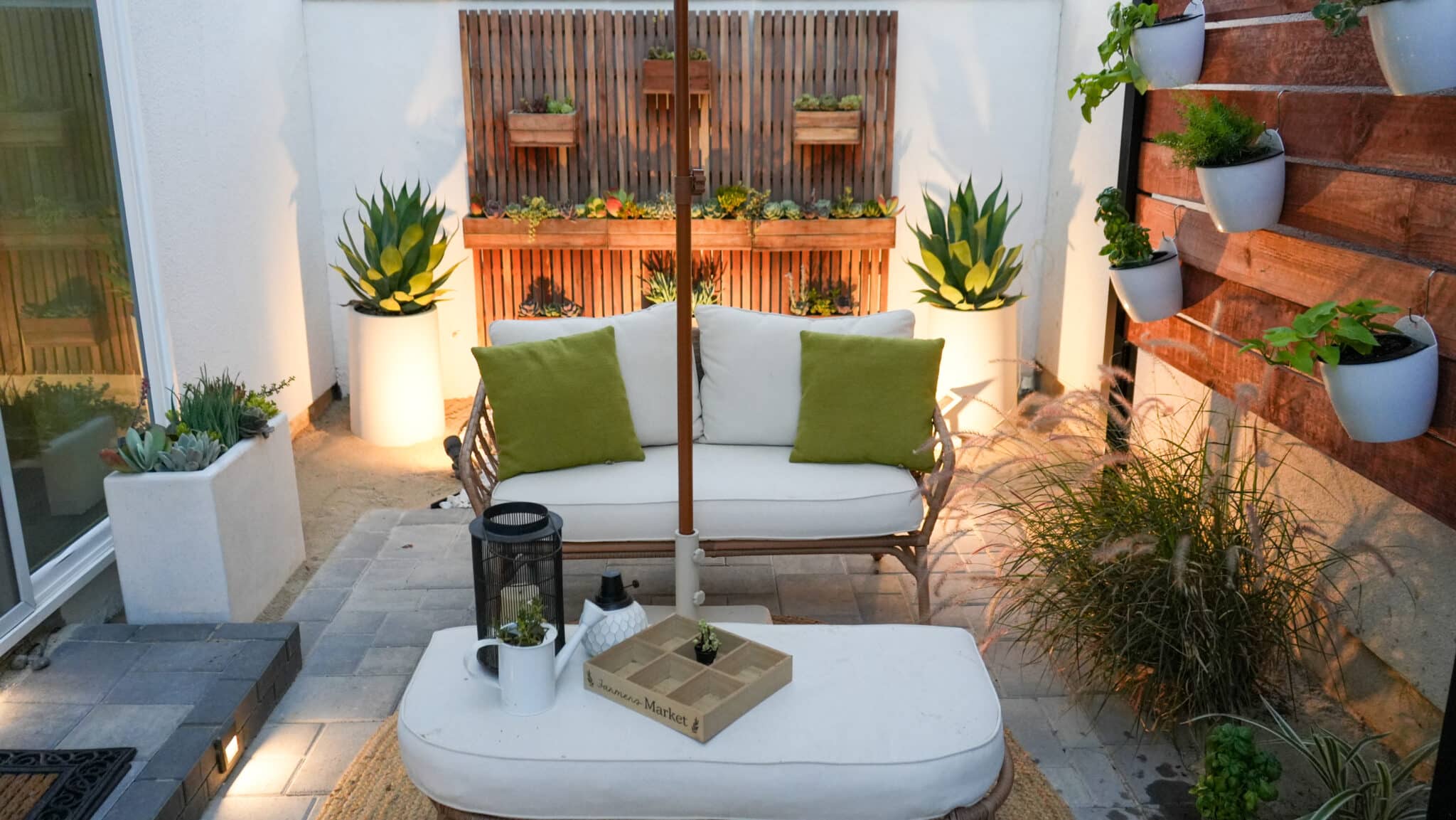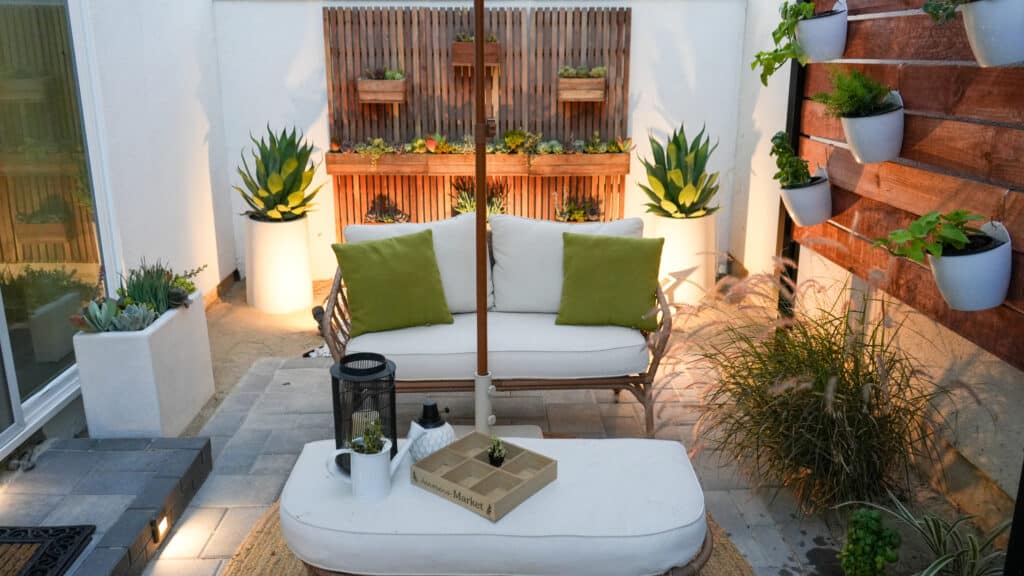 It's an easy addition but it makes a big difference.
There are several styles to choose from as far as pathway lights go but we went with a modern look, which I think complements the space well.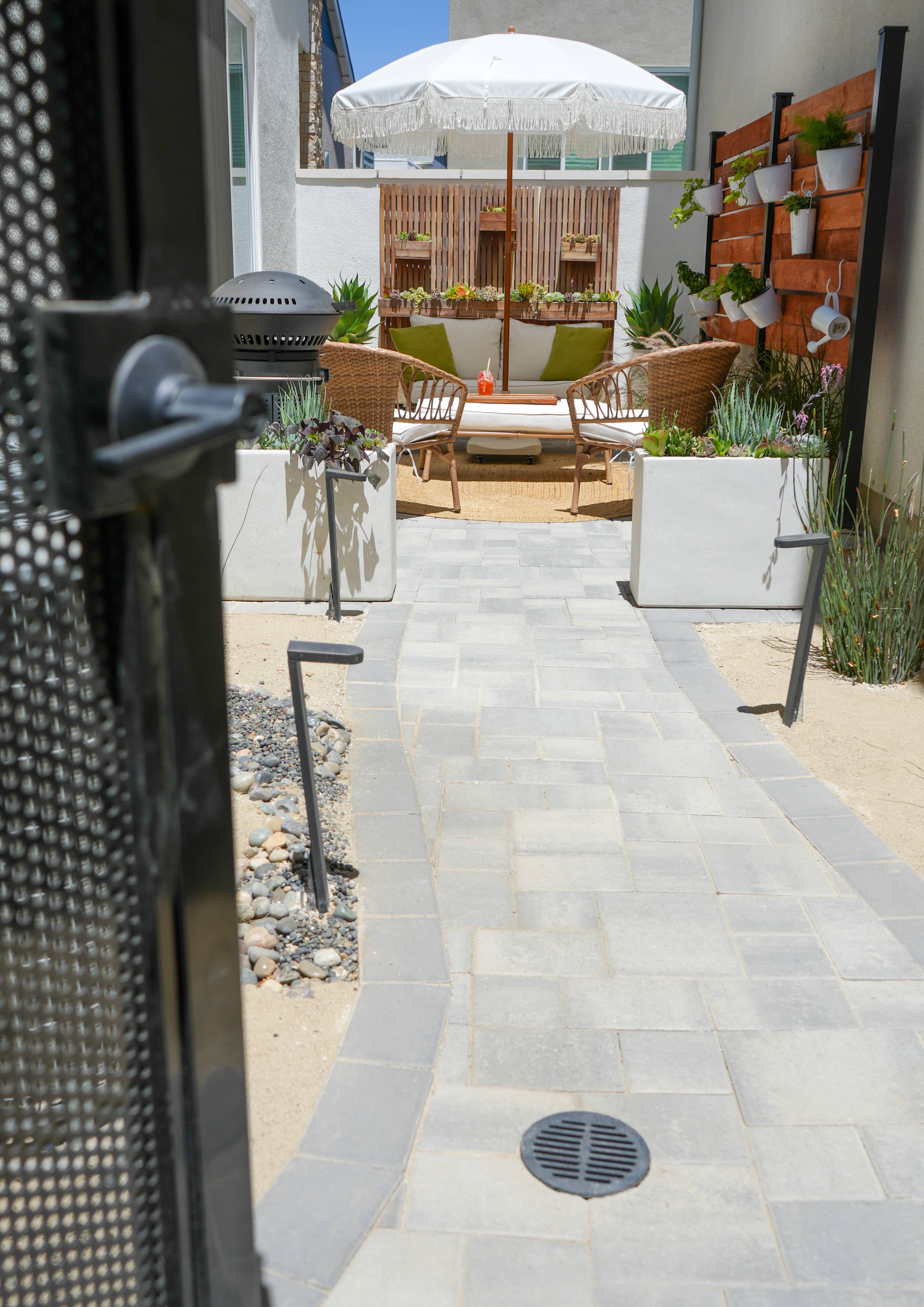 They also help to outline the stone path and side path plants, which is a major plus. I consider them an ornament as well as a necessity!
3. Make Use of Large Planters to Create a Uniform Look
For our side patio, I decided to go with large rectangular containers. I knew they were large enough to hold several plants and I wanted to pack in as many plants as I could.
If you have a side yard, consider the many benefits of container gardening, which is ideal for small spaces.
I wanted my containers to look uniform and I knew this look could be achieved by purchasing several of the same pots in a neutral color.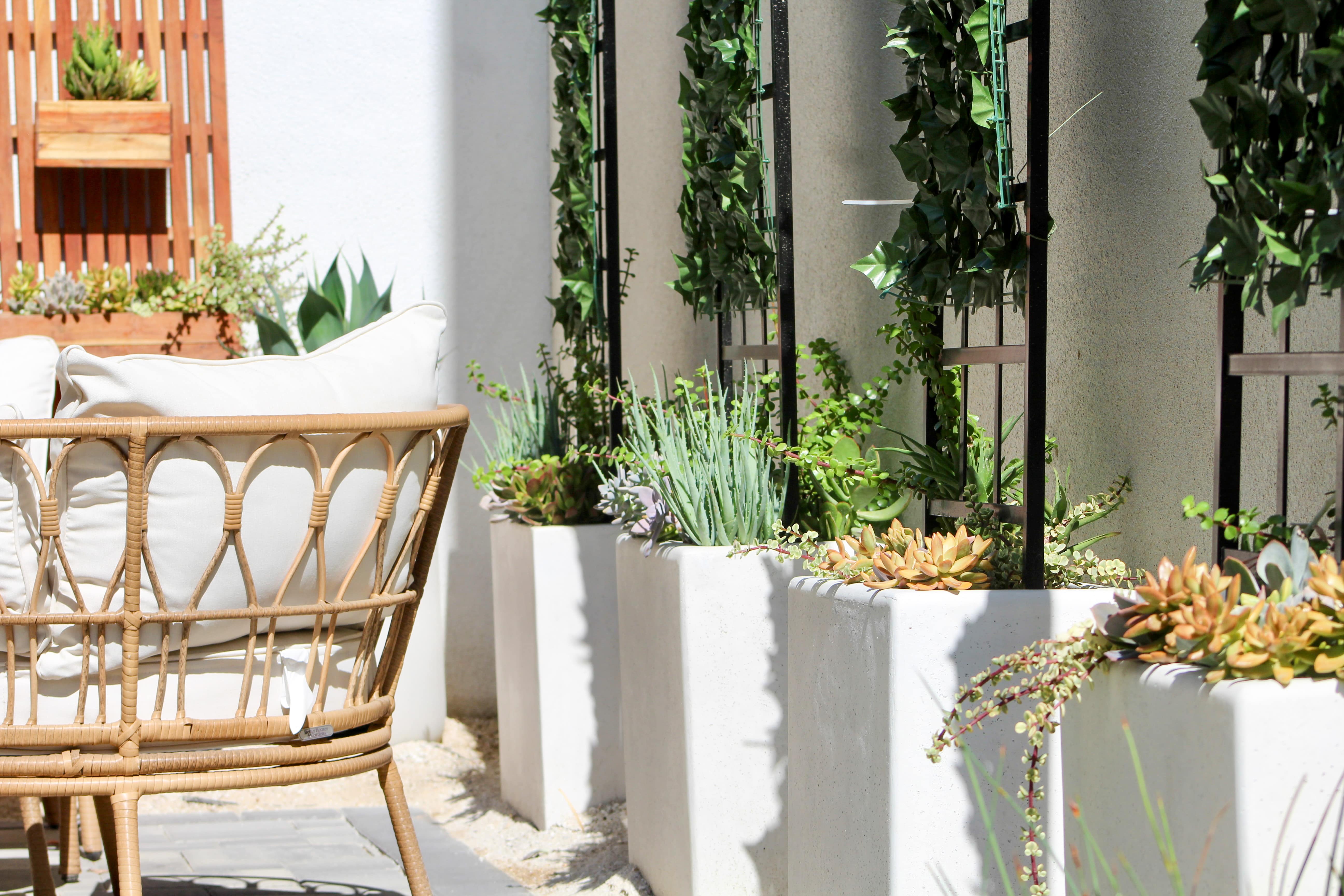 Opting for a neutral color does two things: it lets the plants stand out and it doesn't close off the space.
My container plants are all succulent varieties that will live for a very long time in these pots.
While I might have had to spend quite a bit on these succulents, the good news is I won't need to keep spending money on new plants every year or season.
If well cared for, succulents can last for decades. If you're interested in growing your own, my post about Succulent Tips for Beginners can help!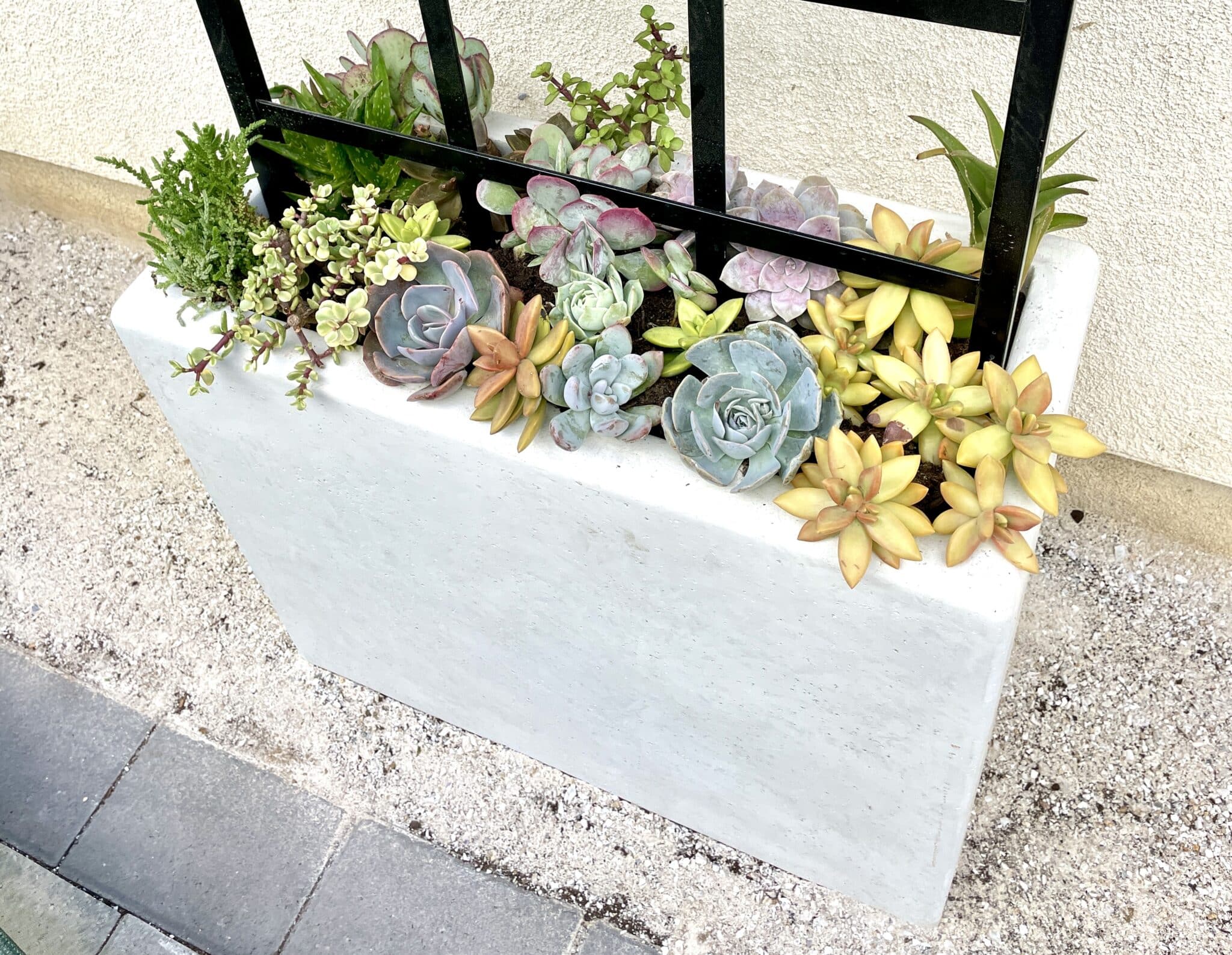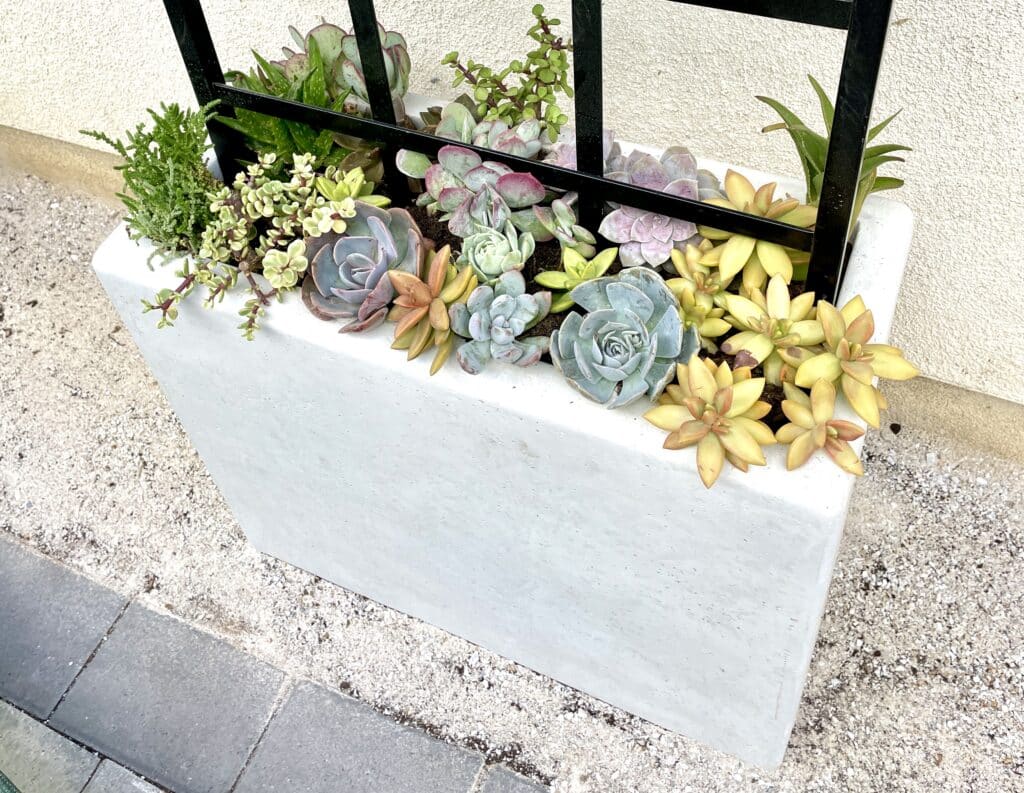 4. Choose Low-maintenance Plants that Don't Require A Lot of Attention

My side yard has mostly low-maintenance plants that are both drought-tolerant and perform well in high temperatures.
This has meant I can spend time planting them just once and then enjoy those same plants season after season.
This has made it easier on me because let's face it: life is busy!
There are always other things that need attention. If you live in a colder zone, however, only some succulent varieties, like Sempervivum 'Hens and Chicks' succulents, can withstand snow and temperatures below 30 degrees Fahrenheit.
They'll have to be moved indoors in the winter.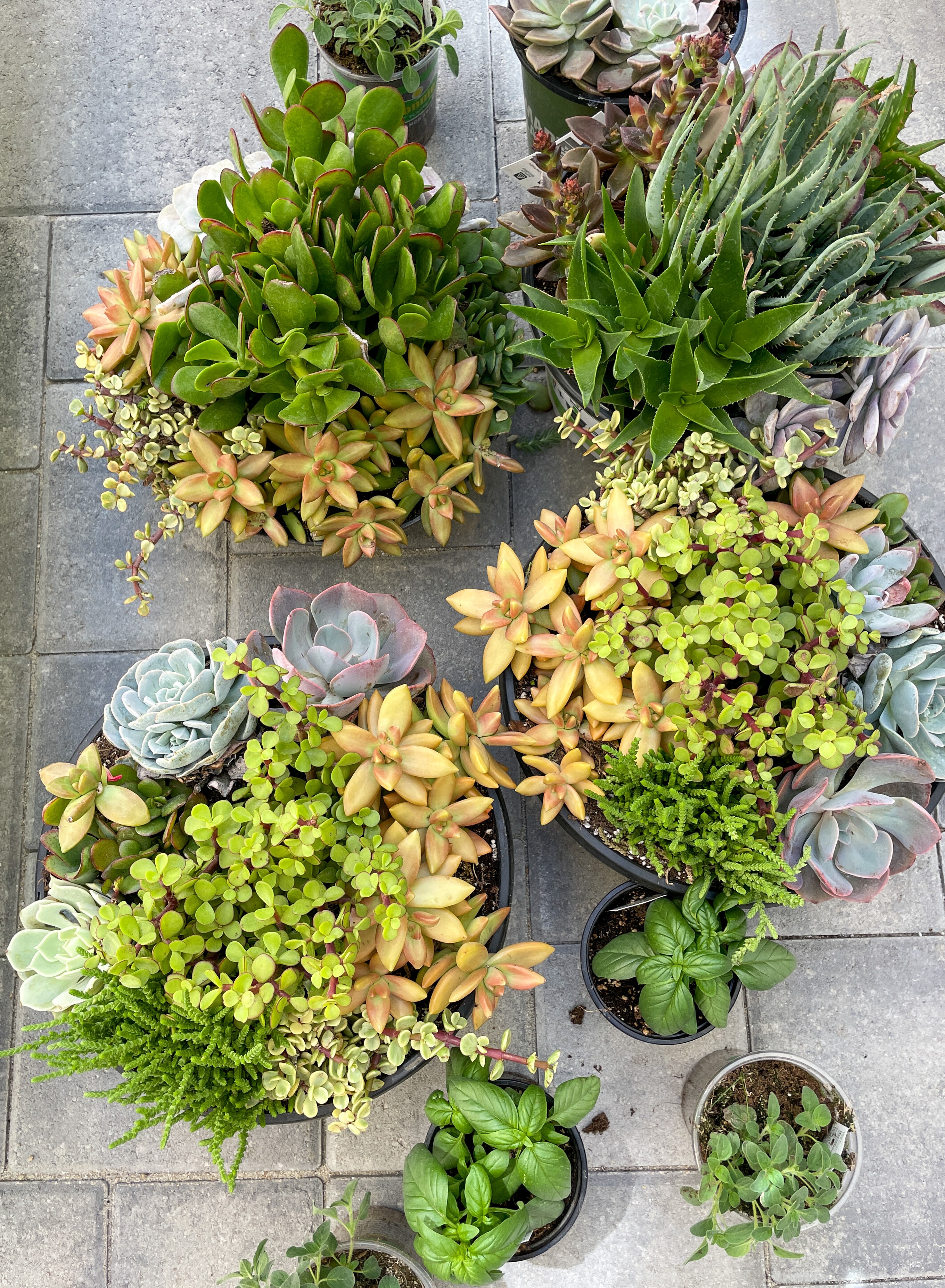 Having low-maintenance plants makes a garden a true outdoor oasis rather than another thing that might feel like a chore.
What I love about succulents is that you can work hard to plant an arrangement and then enjoy that arrangement for a very long time, unlike many flowers.
They're truly the perfect plant for limited space. (Here are some DIY Succulent Arrangement Ideas for a little inspo!).
Just make sure to use the right plants for the amount of sunlight your space gets. Do you know how much direct sunlight your side yard gets in a day?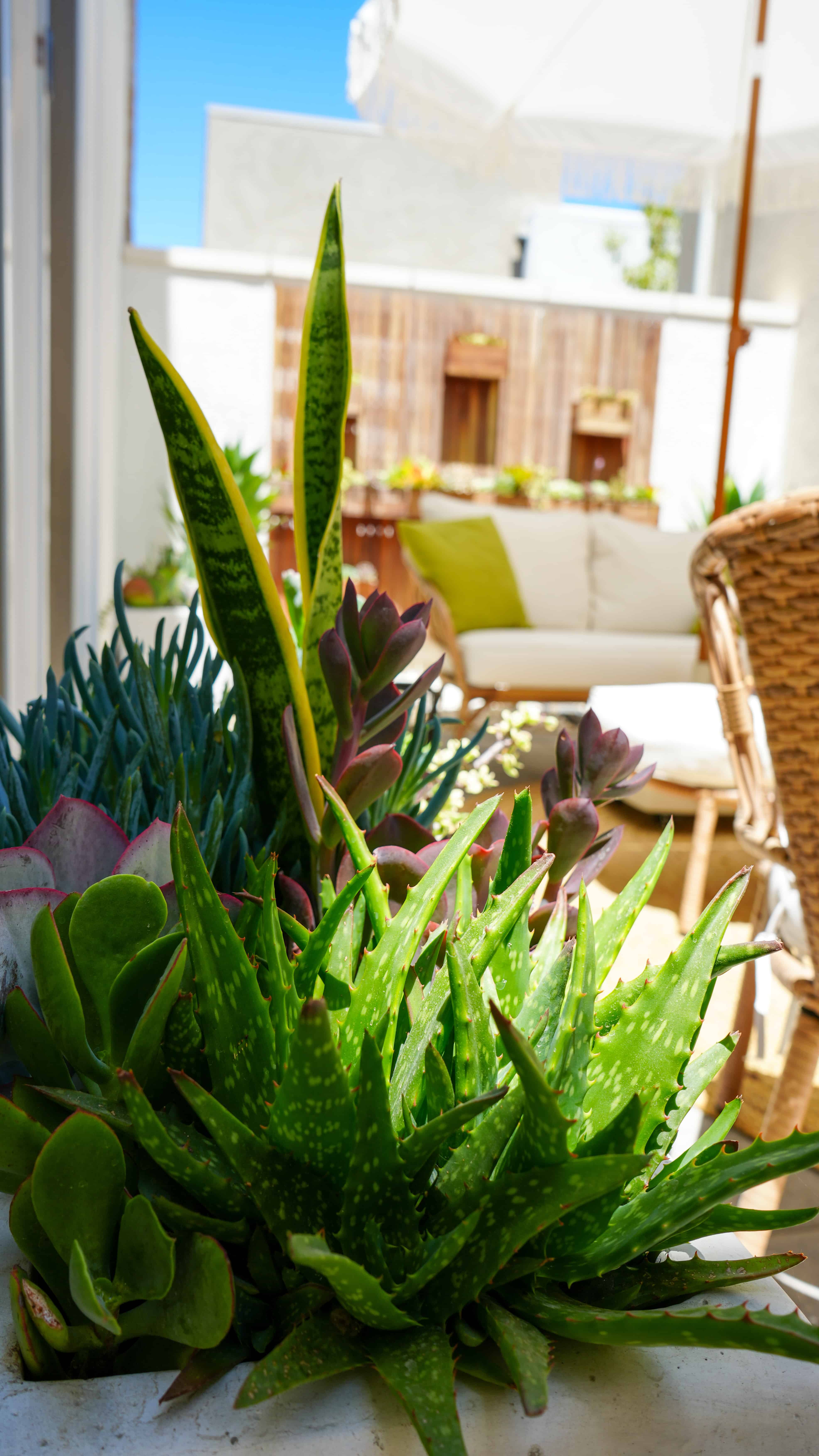 Finding out is a great way to understand what type of plants you should be purchasing. You might find out your side yard gets very little full sun.
In that case, you should plant shade-loving perennials or succulents that can thrive in low-light, such as snake plants, jade plants, and even succulents that are often grown indoors.
If the space does get direct sunlight, then succulents, cacti, ornamental grasses, and even heat-tolerant annual flowers will be suitable.
5. Include Patio Furniture to Create a Small Sitting Area
A small sitting area was a non-negotiable for us.
We wanted the opportunity to sit and enjoy the weather out in our side yard.
We envisioned having a meal outdoors on a lovely autumn evening or enjoying a glass of iced tea during a summer afternoona bit.
We wanted it to feel a bit like an outdoor living space.
We chose patio furniture we liked: two chairs and one loveseat, along with a cushioned table to place a tray of food or beverages.

It's the perfect spot for taking in the sun or relaxing with a good book!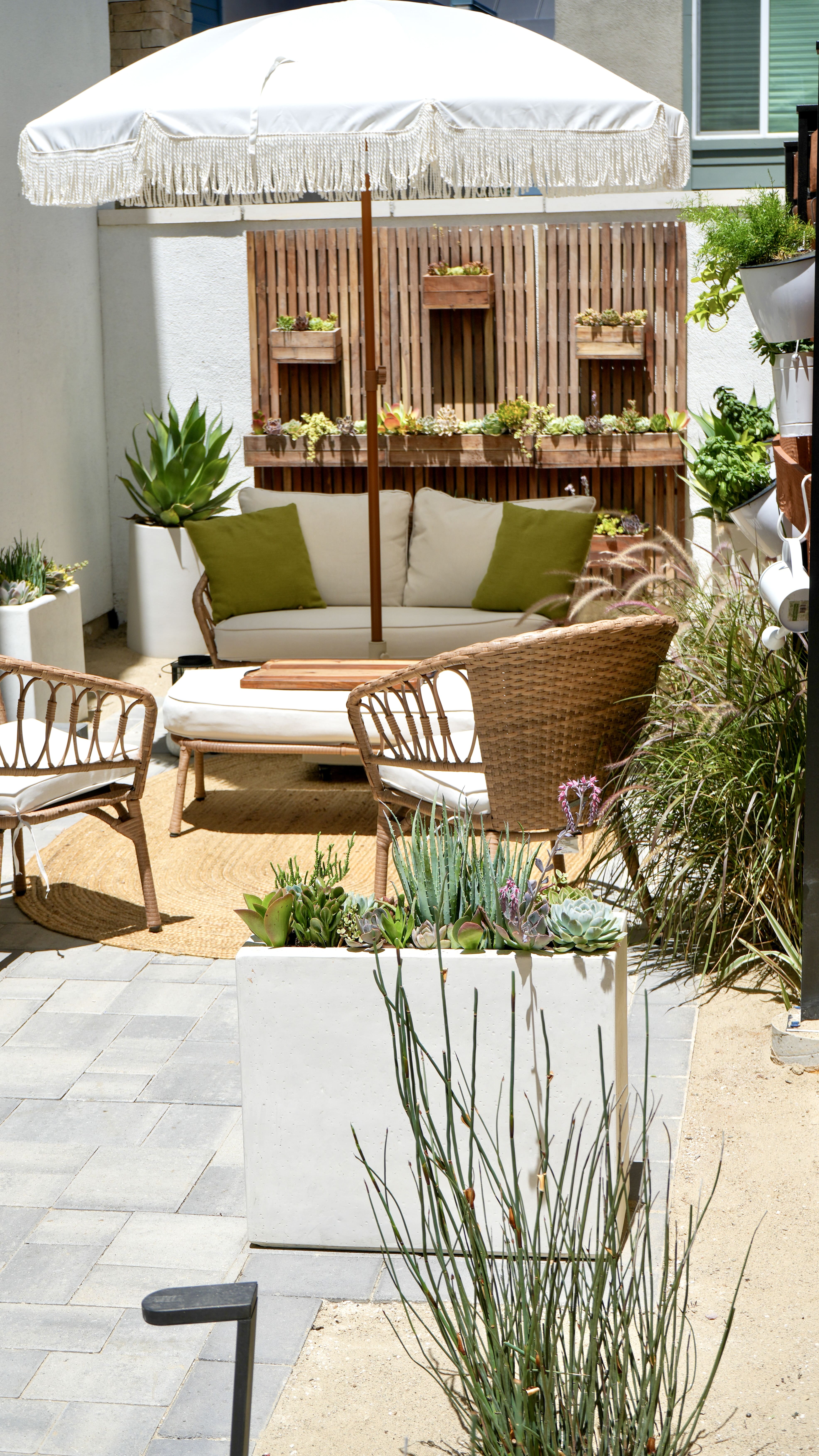 We bought the patio set from Walmart; it's from the Better Home & Garden line.
6. Use a Raised Garden Bed Container for Vegetables and Herbs

I've always wanted a kitchen garden…who wouldn't?!
If you love or need to cook most of your meals at home, having easy access to fresh produce is a blessing.
While I don't have room for several garden beds, I'm thankful I'm still able to grow some vegetables and herbs for my family.
It's a small garden, but I have just enough room to produce a few of our favorite vegetables.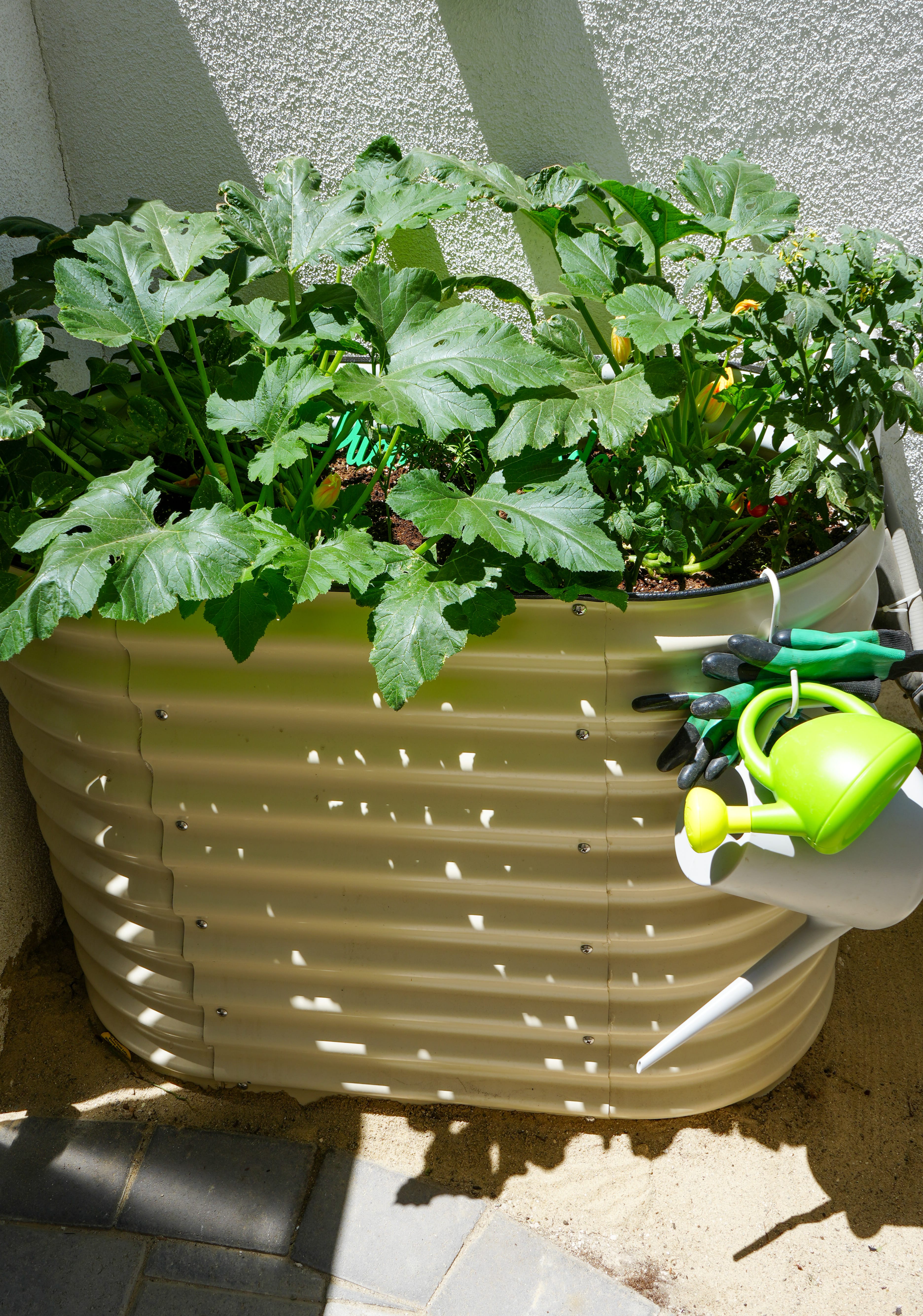 With careful planning, a raised bed container can fit into a small side yard.

Better yet, it can make it easier to grow food without having to strain your back or knees. Pretty neat!
Our vegetable garden is out of reach of small children and dogs, which was important to me.
We decided to purchase a Vego Garden raised bed and planted a few veggies we love to eat, including zucchini and bush beans.
This garden bed is in the corner next to an air conditioning unit, so it nestles perfectly into that space without being an eyesore or distraction. It doesn't take up much space at all.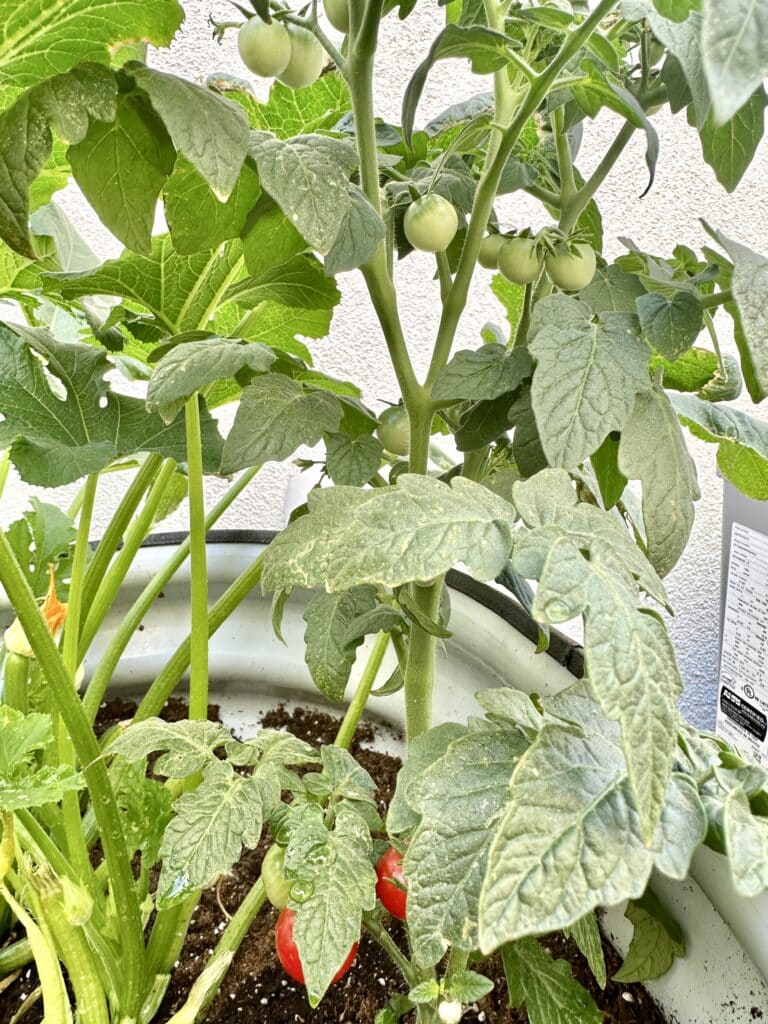 7. Use a Large Wall Planter or Vertical Planter

I love the wall planter we purchased for the back wall.
The wood stands out against the white walls and it's become the focal point of our yard.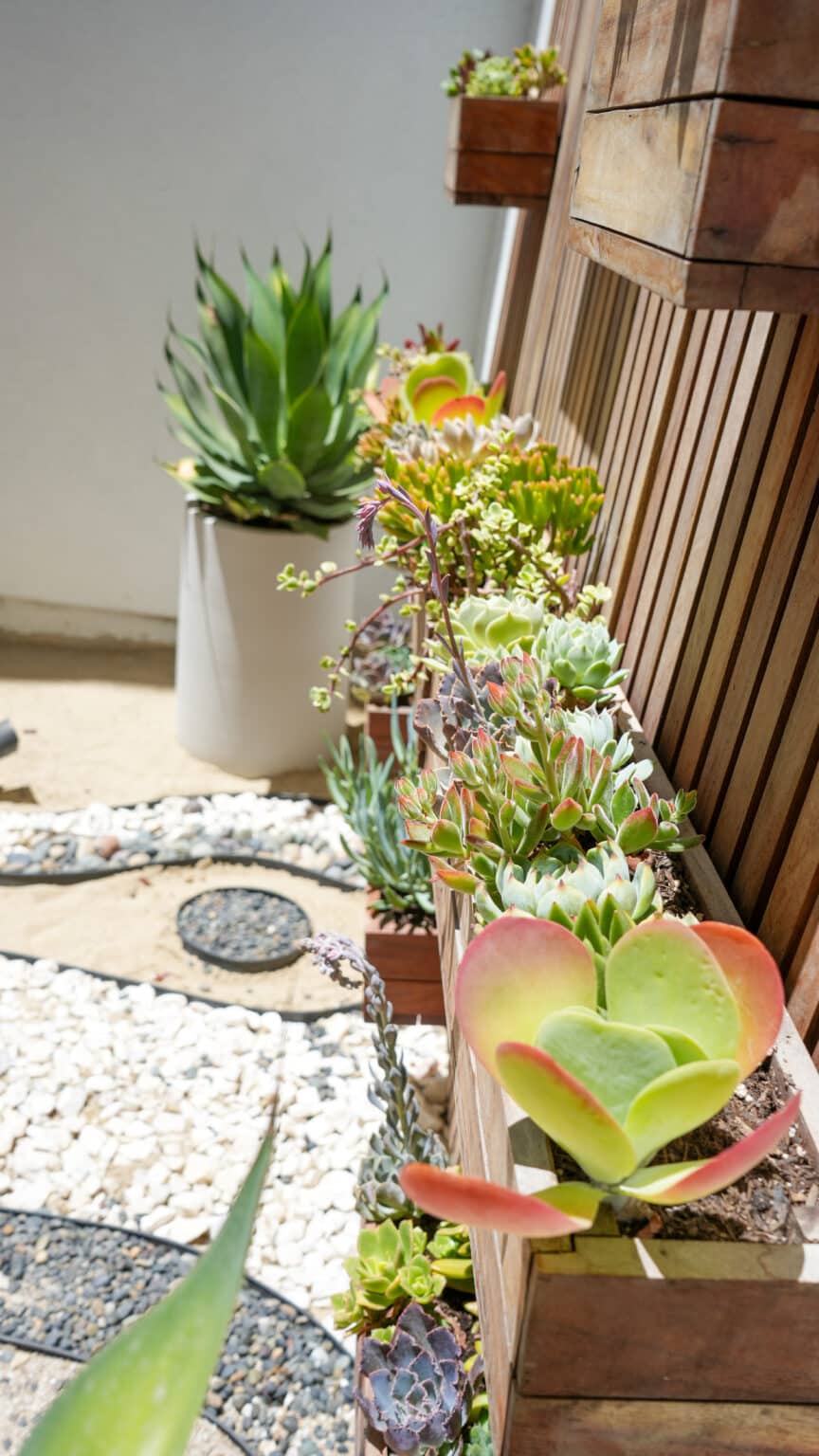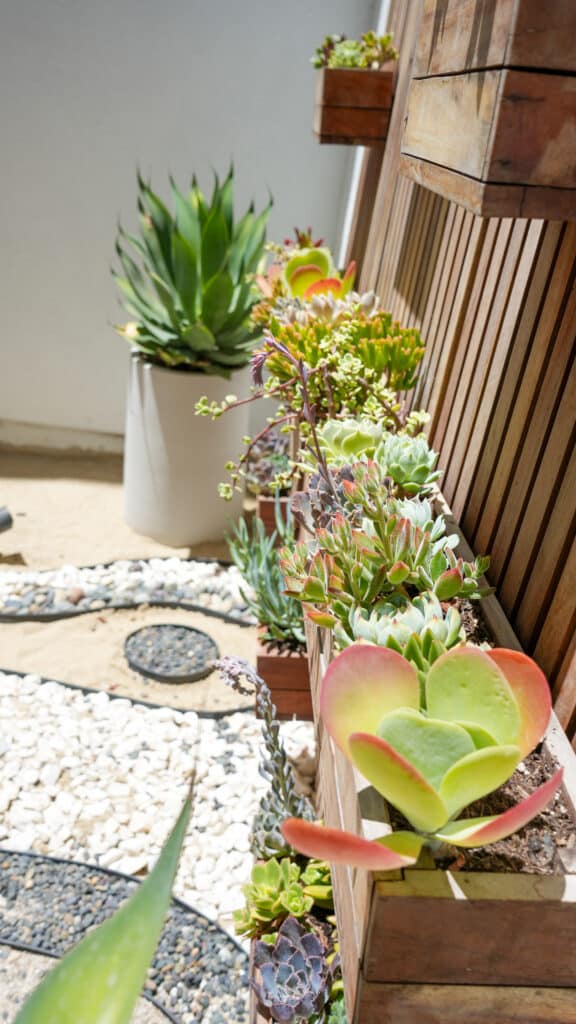 I can use it to showcase my favorite succulents, and that's a big plus for me.
Having a planter close to the back wall helps to elongate the space and create depth. It's an easy way to add character to your sideyard, too.
Otherwise, you'd simply have a bare wall behind the sitting area…why not utilize it to pack in even more plants?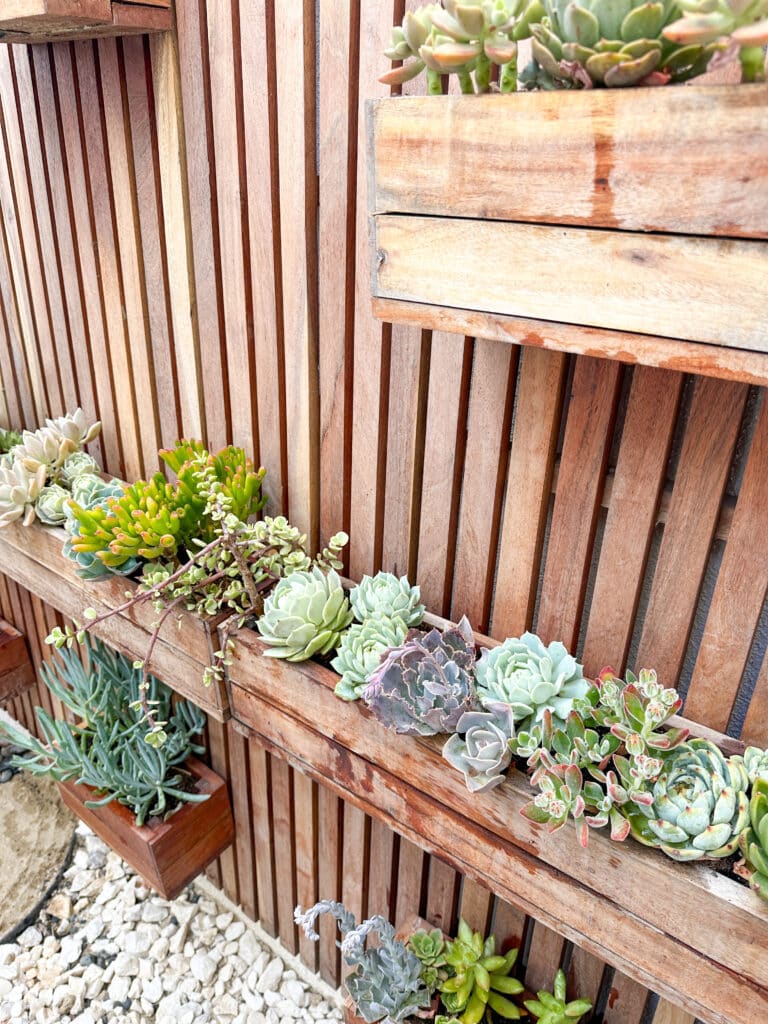 This can help your side garden be even more abundant. Vertical gardening is important when working in a small area!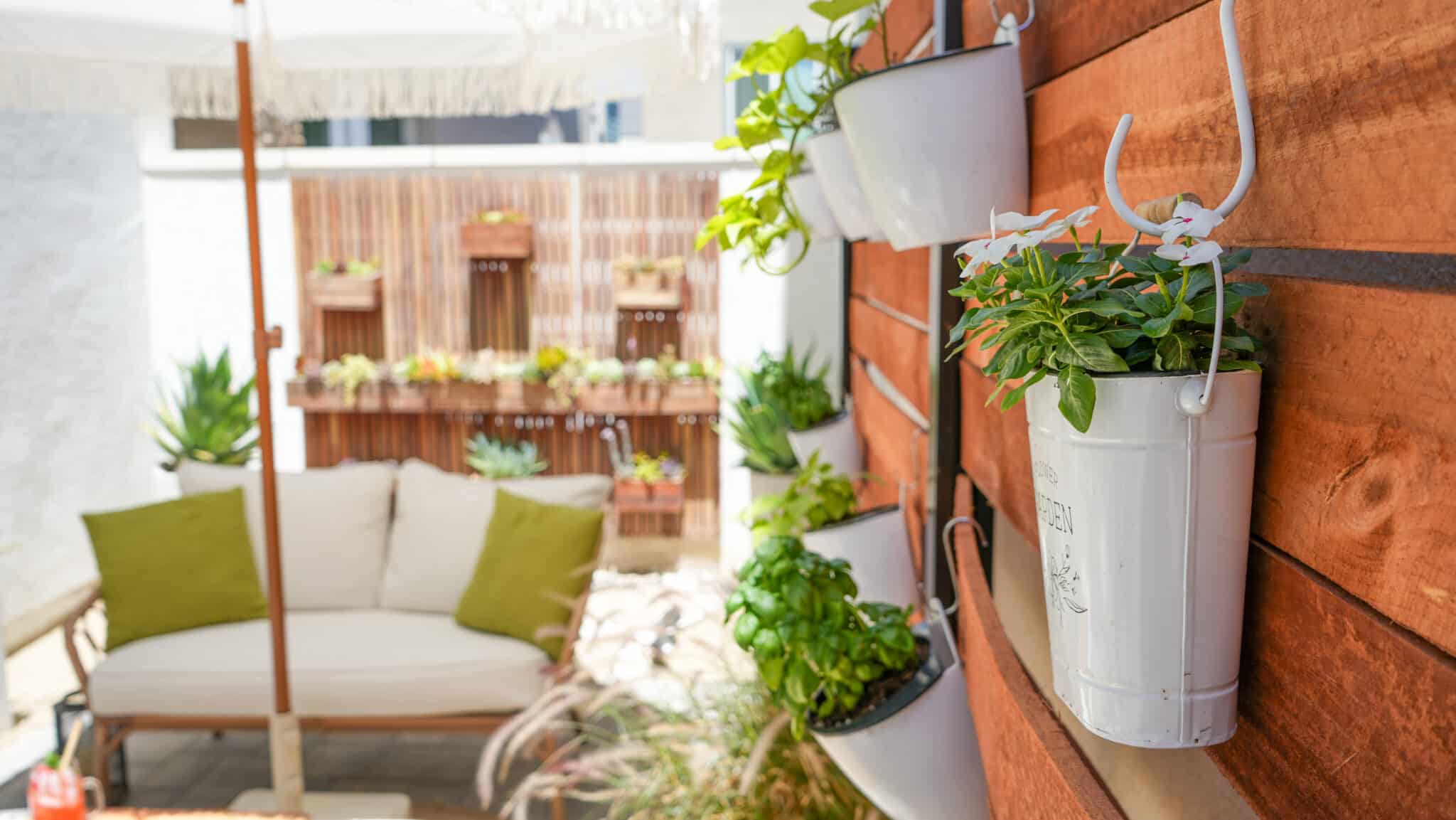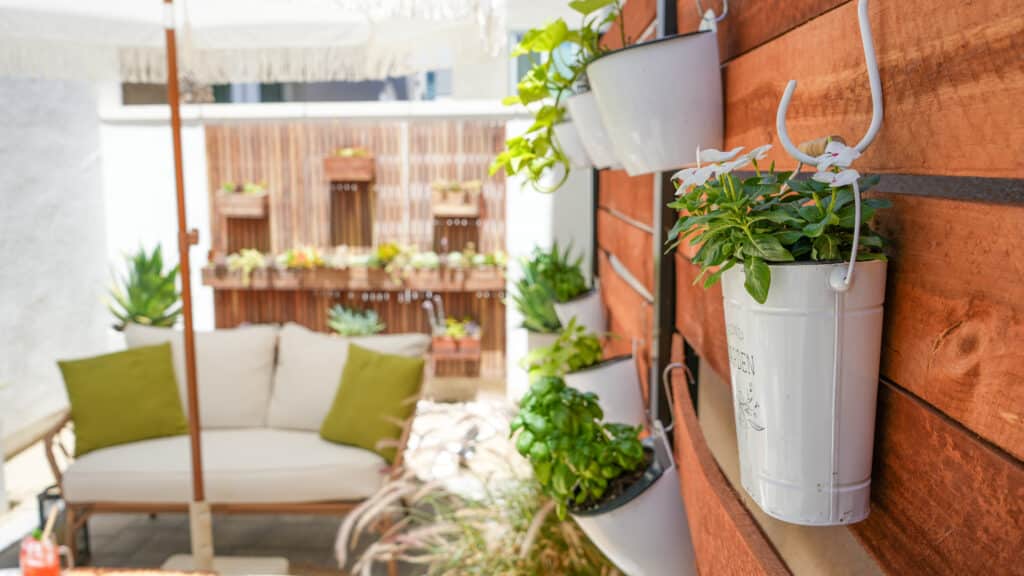 We also included another wall for herb planters and flowers. I especially love it because you can see it from the living room and it's always nice to see what you have growing.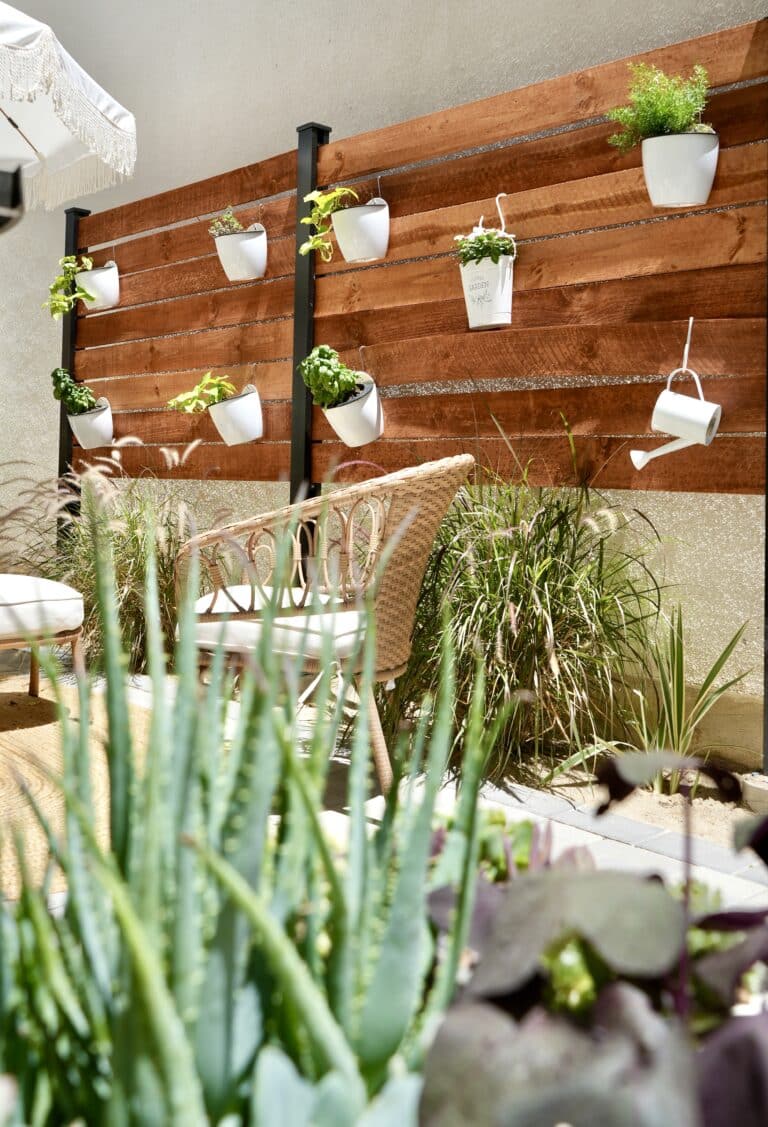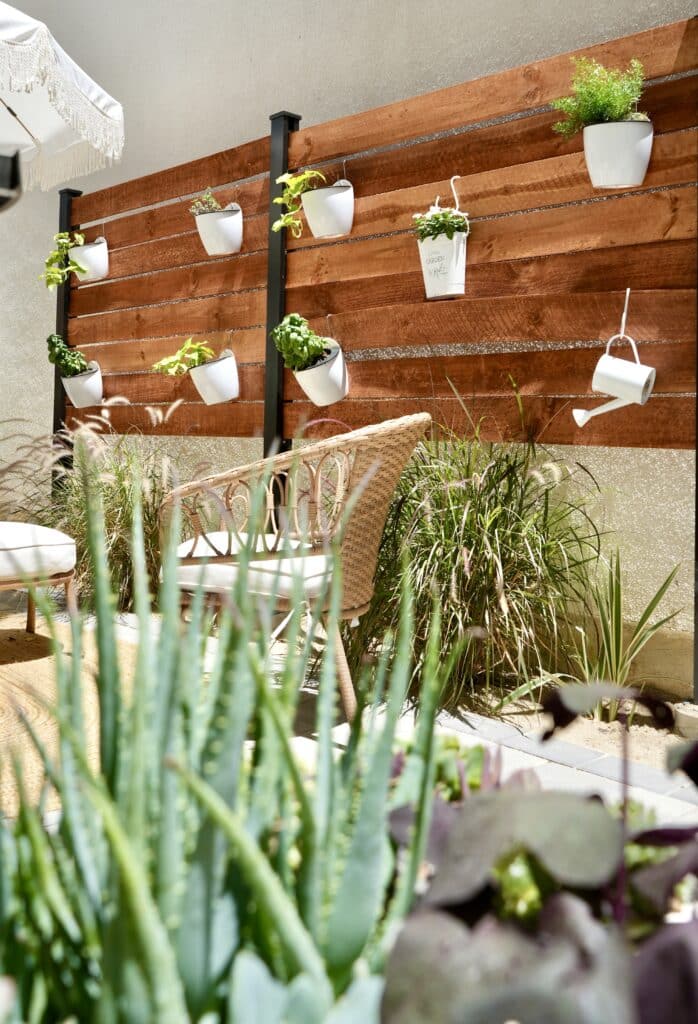 8. Utilize Sand As a Filler to Cover Bare Spots
Our side yard doesn't have any grass. Our intention was to design the space with low-water plants, and that meant no grass.
We also did not want to use artificial grass or turf.
Our goal was to pack the space with as much nature and live plants as possible, with the requirement that it fit beautifully into our landscape design.
By utilizing sand, we were able to save money; it's an effective way to fill in bare spaces in a cost-effective manner.
9. Use Small Stones to Create a Mosaic Design
This isn't necessary but if you're looking to acheive a unique look or would like to add a little something special to your space, then why not try a mosaic design?
It doesn't need to be a complicated one – keep it simple if you need to!
We went with white, black, and grey stones to create a fun design right under our wall vertical planter, next to our two agaves.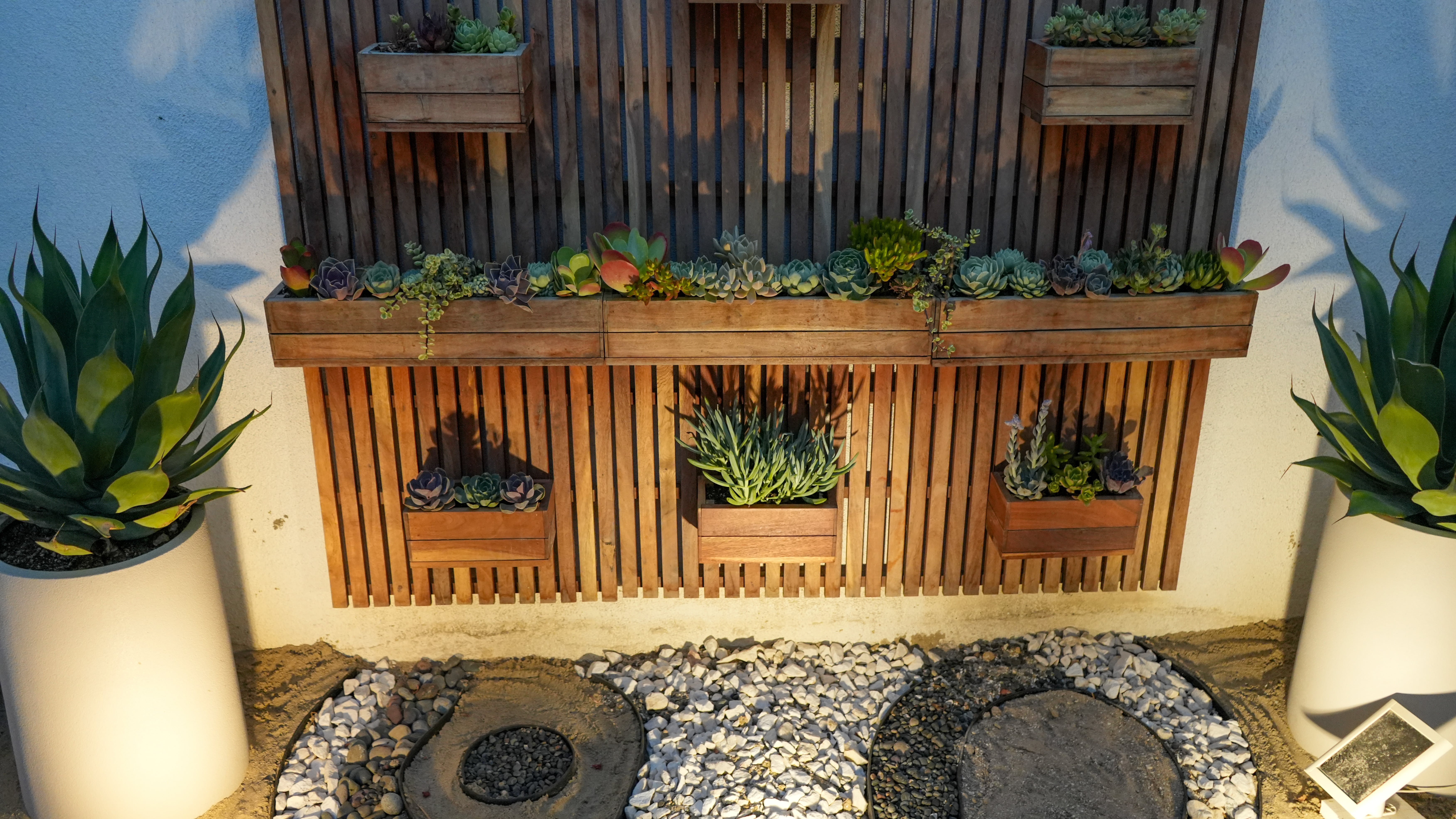 We also did a simple design under our rain gutters.
It makes a bold statement and yet the neutral colors allow it to blend seamlessly with the rest of the yard.
It's a great way to express your creativity!
You can also stick a few small plants in there and create a rock garden.
10. Add a Water Feature
If you really want to turn your small yard into a relaxing oasis, try including a water feature.
I don't currently have one but am considering it because I know how calming it can be.
You don't need a large water fountain, either.
These days, you can find one in various sizes so you're bound to find something that suits your needs. Even a tabletop one can make a difference.
Well, those are my best tips for a DIY Side Yard that looks beautiful and feels relaxing. I hope you'll try a few and let me know how it goes! Good luck!
WANT TO SAVE THIS TUTORIAL ON SIMPLE DIY SIDE YARD IDEAS FOR LATER? SAVE THIS PIN TO YOUR FAVORITE PINTEREST BOARD!