I love teaching people how to care for succulents because they're the perfect plants for beginners and experienced gardeners alike. If you crave a low-maintenance garden that's full of beautiful color and texture, look no further than succulents!
Whether you have a large outdoor border garden you want to fill or a small balcony you'd like to adorn, succulents can handle the job.
There are hundreds of varieties to choose from and I'm certain you'll find a few to fall in love with.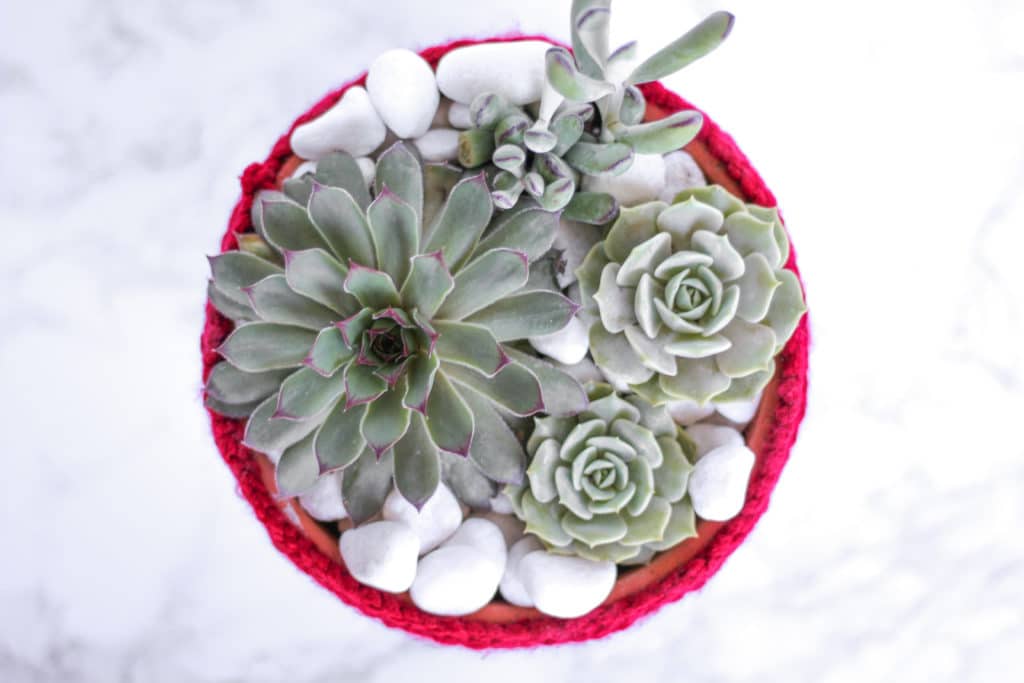 My personal favorite is the Echevarria Lola, known for its rose-like appearance (shown in the photo above). It'll probably become one of your favorites too since it's an elegant plant and one of the most popular!
(This post may contain affiliate links).
What Exactly Is a Succulent?
Before we talk about how to care for succulents, you should understand what they are.
A succulent is a plant that stores water in its fleshy leaves and stems, which is what makes it so drought-tolerant. Succulents can be found in various sizes, shapes, and colors so you'll never want for variation; some of them have a very dramatic aesthetic! 
They're also known for being hardy, independent plants that don't like to be fussed with. 
While they are indeed low-maintenance, they still require a few things from you in order to thrive. If you've attempted to grow succulents in the past but ended up with shriveled plants a few weeks later, you're not alone – this is actually a common problem.
This guide, however, will show you exactly how to care for your succulents so that they stay healthy and happy.
Plus…have you seen the kinds of creative crafts and arrangements you can make using succulents? It's an added bonus of growing these plants! 
You can make the most beautiful succulent arrangements and they'll last much longer than arrangements made with fresh-cut flowers. 
I'm talking wreaths, bouquets, table centerpieces, fairy gardens, and birdhouses. Trust me, succulents are about to become your favorite plant! Once you get your first, you'll want to keep adding more and more to your collection.
How to Care For Succulents 
Supplies needed:
These are the supplies you'll need to get before you start your succulent garden. The decorative stones are for visual appeal, so you can skip those if you prefer.
Cactus Mix

Terracotta Planter
 (or any planter that has a drainage hole at the bottom)
Watering Can

Decorative Stones
If you can remember the following tips, you'll be able to grow as many succulents as you have space for. Here it goes: succulents need the right kind of soil, the right amount of moisture, and the right amount of sunlight. Now let's get into the details!
Succulent Potting Soil
Yes, you'll need to use succulent potting soil or cactus mix
when you plant your succulents.
Here's why: this type of soil is made to be fast-draining and will be full of small rocks, pumice, and twigs. This allows for better drainage and better airflow – two things that succulents need in order to grow healthy, strong roots.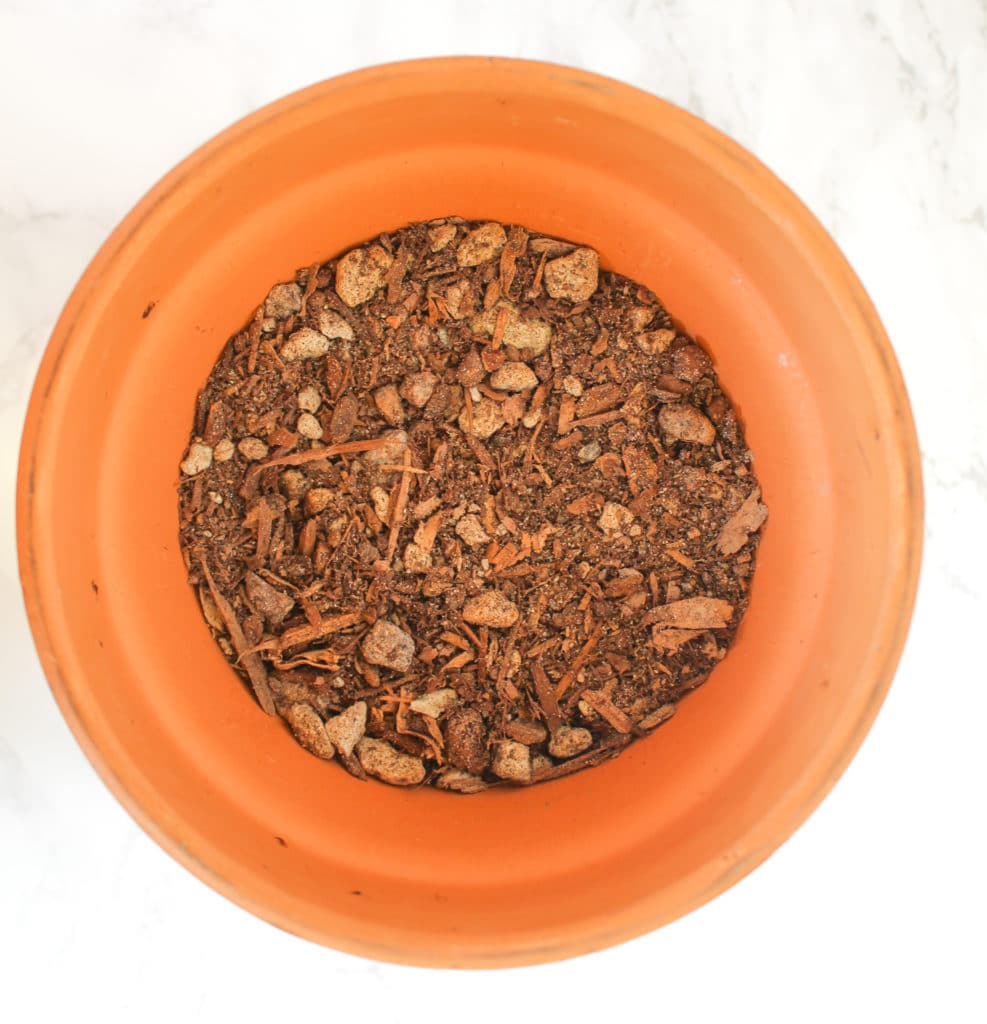 This is why it's important to pay attention to what type of soil your succulents come in when you purchase them.
Garden centers sometimes plant their succulents in regular potting soil, which is unfortunate because this soil retains too much water and can kill your chances of growing a healthy plant. 
If your succulent looks like it's been planted in regular potting soil, all you have to do is remove the soil from your plant's roots before re-potting it in cactus mix
.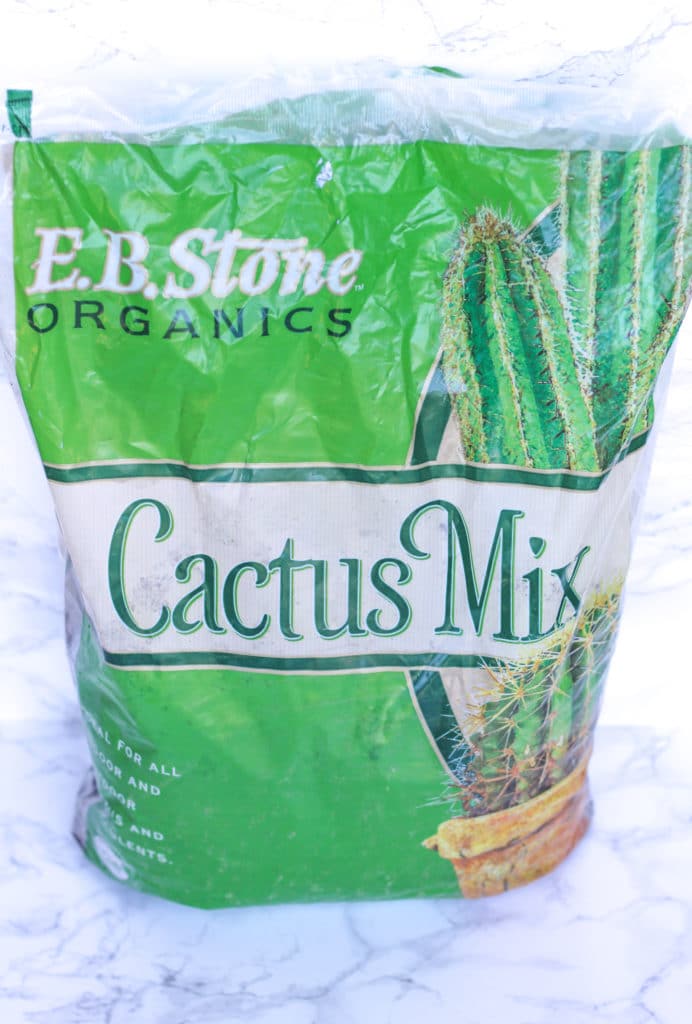 (Fortunately, the succulents I purchase through my local garden center are all planted in cactus mix, so there's no need for me to discard the soil before re-potting.)
Once you purchase your potted succulents, take them out of their plastic pots and transfer them to terracotta pots (my planter of choice). You can use any planter you want as long as it has a drainage hole at the bottom.
A drainage hole will prevent excess moisture that leads to soggy soil and rotted roots, so don't forgo good drainage when picking out a pot!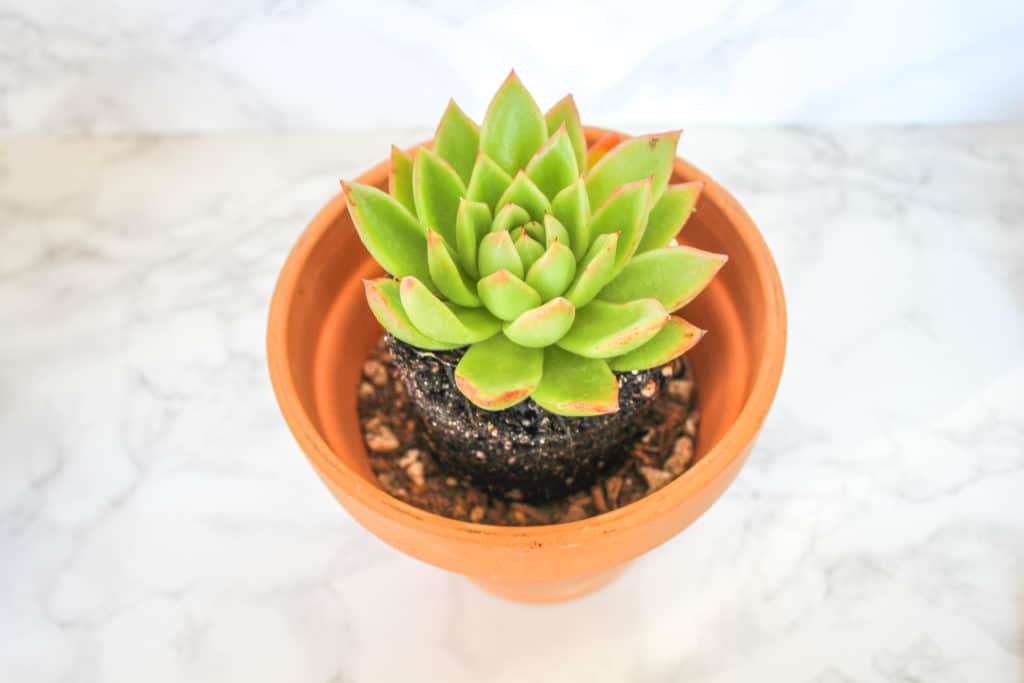 TIP: Because the leaves of succulents are prone to rotting if they're constantly touching wet soil, you want to make sure that all the leaves sit above the rim of the pot and atop the soil. 
To accomplish this, don't fill up the entire pot with soil but add just enough soil so that the base of the succulent is parallel to the rim of the pot, as shown in the photo above.
Now, use a spoon or gardening tool to add soil around the succulent, and then press down gently to make sure the soil and plant is in place.
Important: Do not water your succulent after planting! You'll probably be tempted to water your newly potted plant, but hold off. Try waiting about a week before the first watering; this will give your roots time to settle in their new home.
*The garden center from where you purchased your succulent most likely watered it shortly before you took home your plant, so adding more moisture is unnecessary and even harmful. Remember – succulents don't like to sit in wet soil!
Add a Top Dressing
When you read the term "top dressing" in indoor garden guides, it simply refers to small particles like stones and rocks that can be used to cover the topsoil and make the plant more aesthetically pleasing.
I personally love to place decorative stones 
on top of my succulent arrangements because it adds visual appeal.
My advice is to choose a top dressing that will complement the pot you're using.
You'll be amazed at how beautiful your succulents look when they're sitting above a pretty top dressing instead of plain soil!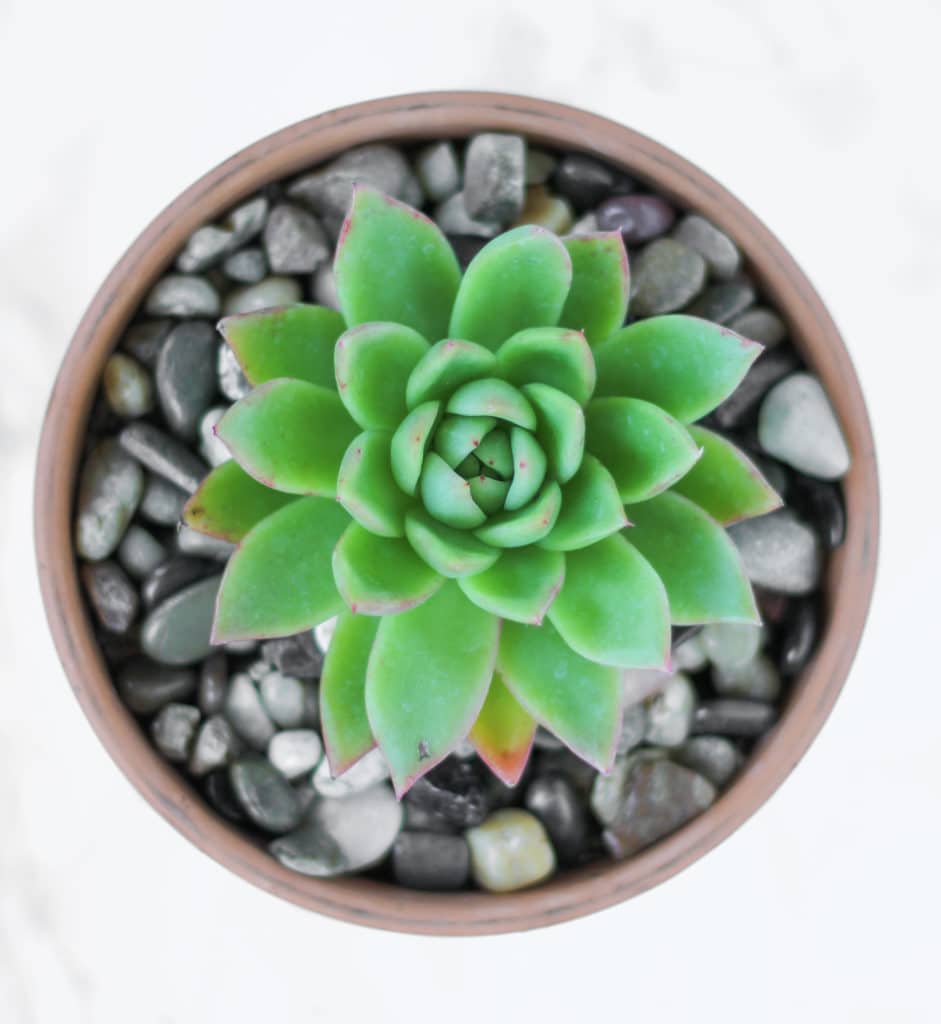 Watering Guidelines
Here's where you really need to pay attention! It's important to know how to water succulents because this can make or break your succulent garden, so to speak.
There's no exact science as every succulent has different needs and several factors come into play, such as climate, but the rule of thumb is simple: water only when the soil has gone dry.
If the soil is dry to the touch, water thoroughly and make sure that water drains from the bottom of the pot. Never let your succulents sit in water or they will rot. Always discard the water that has drained into the saucer. 
TIP: When you water you succulent, make sure to place the water directly onto the soil. Try not to wet the leaves of your indoor succulents because this can also lead to rotting. 
To accomplish this, I use a small watering can as shown in the photo below. An inexpensive watering can is usually all I need.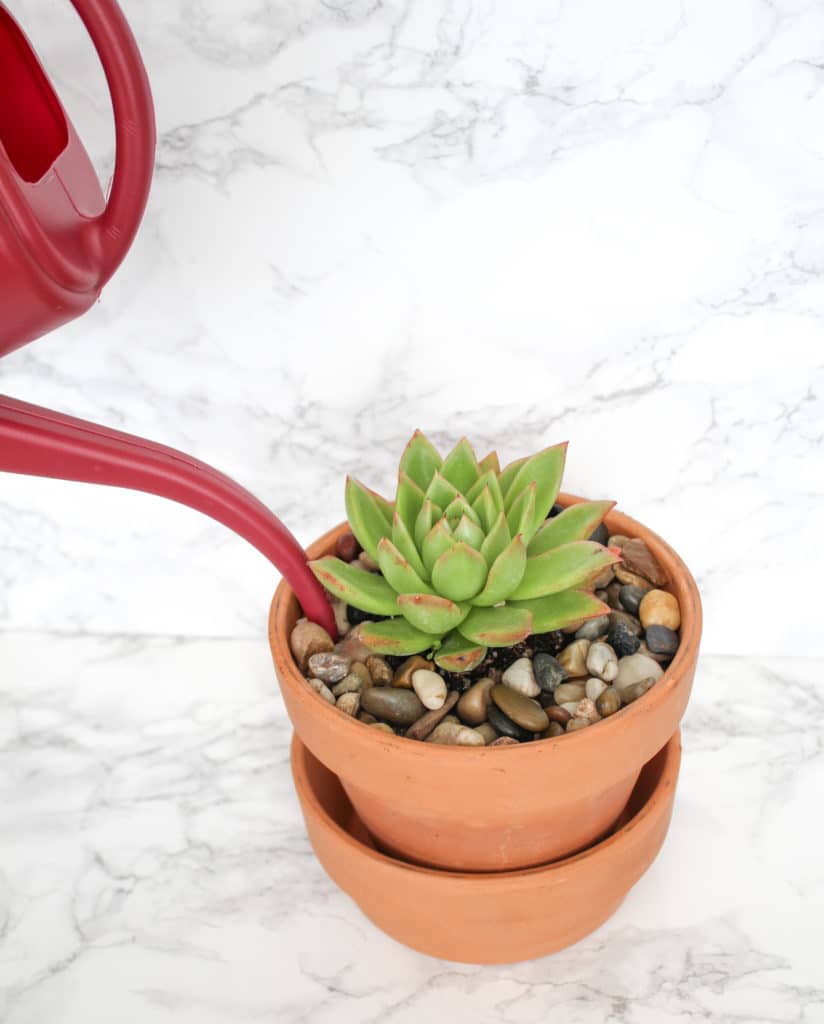 You can also use a succulent watering bottle
with a thin tip if you're watering a compact succulent arrangement in which all of your plants are packed tightly together.
Lots of gardeners use this method and it's a favorite because it prevents spills and messes, plus you can designate different amounts of water to different areas of the pot with a simple squeeze of the bottle.
If you notice that your plant's leaves are turning yellow and feel mushy to the touch (as shown below), then you're over-watering your succulent. Yellow leaves indicate too much moisture, which means the leaves of your succulent are storing more water than they need.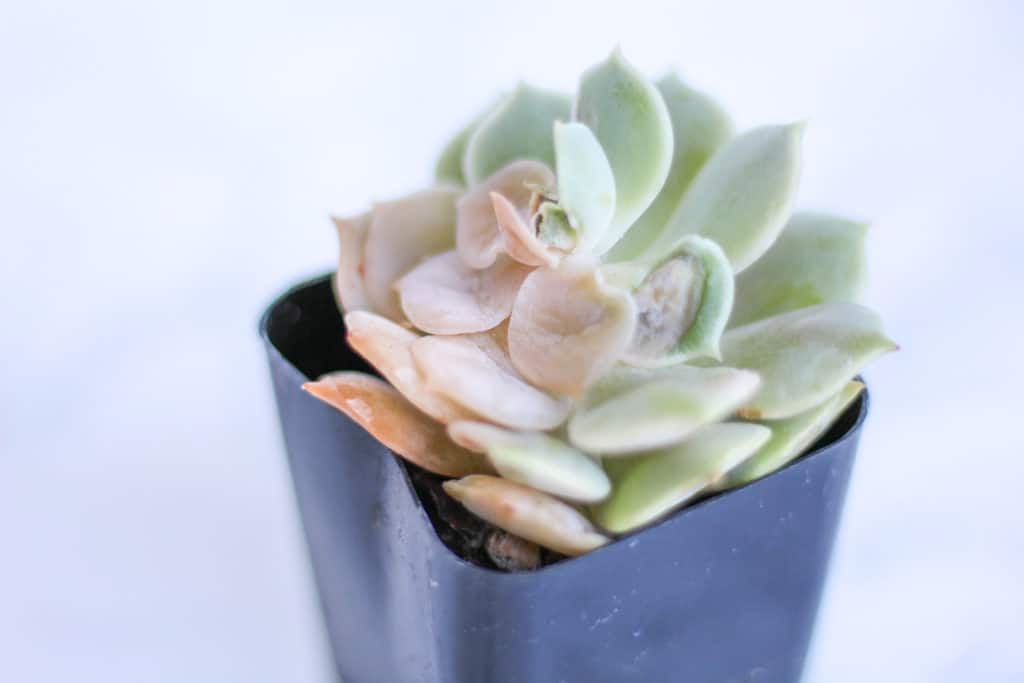 Help your plant by waiting a few days before their next watering (depending on the climate, of course).
Sunlight
While most succulents are drought-resistant, they actually don't do well when placed in a full-sun area. This is why many people unintentionally kill their plants!
It's a misconception that succulents can tolerate long hours of intense heat and sunshine.
Succulents need about 4-6 hours of indirect sunlight each day; they prefer morning and indirect sunlight to direct afternoon sun, especially if you live in a climate where the temperatures reach above 90 degrees.
Unfortunately, succulents are prone to sunburn if they sit under direct sunlight for an extended period of time, so it's best to keep them away from areas that aren't protected by at least partial shade. 
If you want your succulents to live indoors, try placing your succulents a few feet away from a window that gets hit by direct sunlight. Make sure, however, that your plant still gets the light it needs.
Fertilizer
Succulents can benefit from regular does of fertilizer
, though they're not heavy feeders. Most fertilizers that are designed for cacti and succulents contain a healthy amount of nitrogen, phosphorus, and potassium.
These nutrients help the plant grow and it provides the food it needs to develop healthy stems and leaves. Some succulent growers apply fertilizer once during the growing season, while others apply it once a month. (For more on why, how, and when to fertilize succulents, click over to my post here.)
Insects & Garden Pests
You won't encounter a huge insect problem when you grow succulents, but you'll need to look out for mealybugs.
Mealybugs look like white, cotton-like mounds that sit atop succulent leaves and in between crevices of plants. They spread very quickly so you'll need to act fast.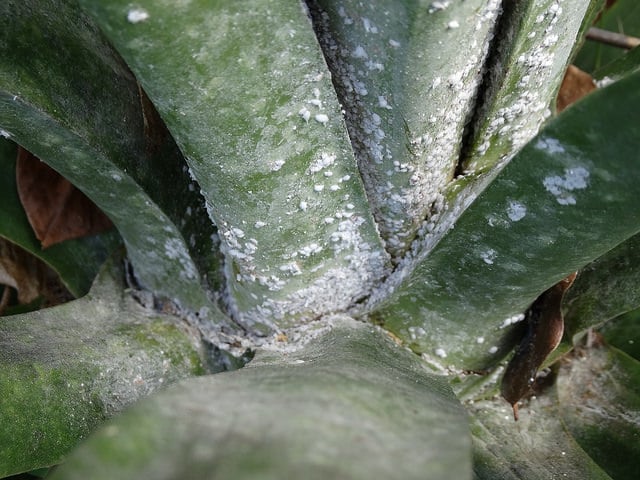 Fortunately, you can get rid of them easily and inexpensively. Whenever you see a mealybug on your plant, simply take a Q-tip and dip it into rubbing alcohol. Swipe away the mealybug with the Q-tip and you're good to go! For a step-by-step post on how to get rid of mealybugs on your succulent, click here!
Dead Leaves
You're bound to find a few dead, crispy leaves in your succulents. You may even find a few after you first purchase your succulents from the garden center.
Don't panic! If the browning leaves are coming from the bottom of the plant, then this is normal. Your plant is simply creating new leaves to replace older ones.
To get rid of these dry leaves, simply tug at them until they break off from the stem, then discard.
If you find brown, shriveling leaves at the top or middle of your succulent plant, however, this usually means your plant is lacking moisture. Make sure to water your plant thoroughly and water again once the soil has gone dry.
Grow Your Own Succulents!
Now that you've read through this guide on how to care for succulents, you can head to your local garden center to pick up a few succulent plants!
Remember that less is more when it comes to healthy succulents, so don't try to do too much in the way of care. Soon, you'll amass many different types of succulents and cacti for your new garden!