If there's one plant I recommend to gardening beginners above the sea of other options, it's the pothos plant. In my experience, a pothos houseplant is the easiest plant to care for. It's exceptionally low-maintenance and can withstand some serious neglect.
Luckily, this plant isn't just easy to care for, it's also easy to propagate! If you've never propagated a plant before, I think you're going to love it. It's a simple process, though it does take a bit of patience, so beware.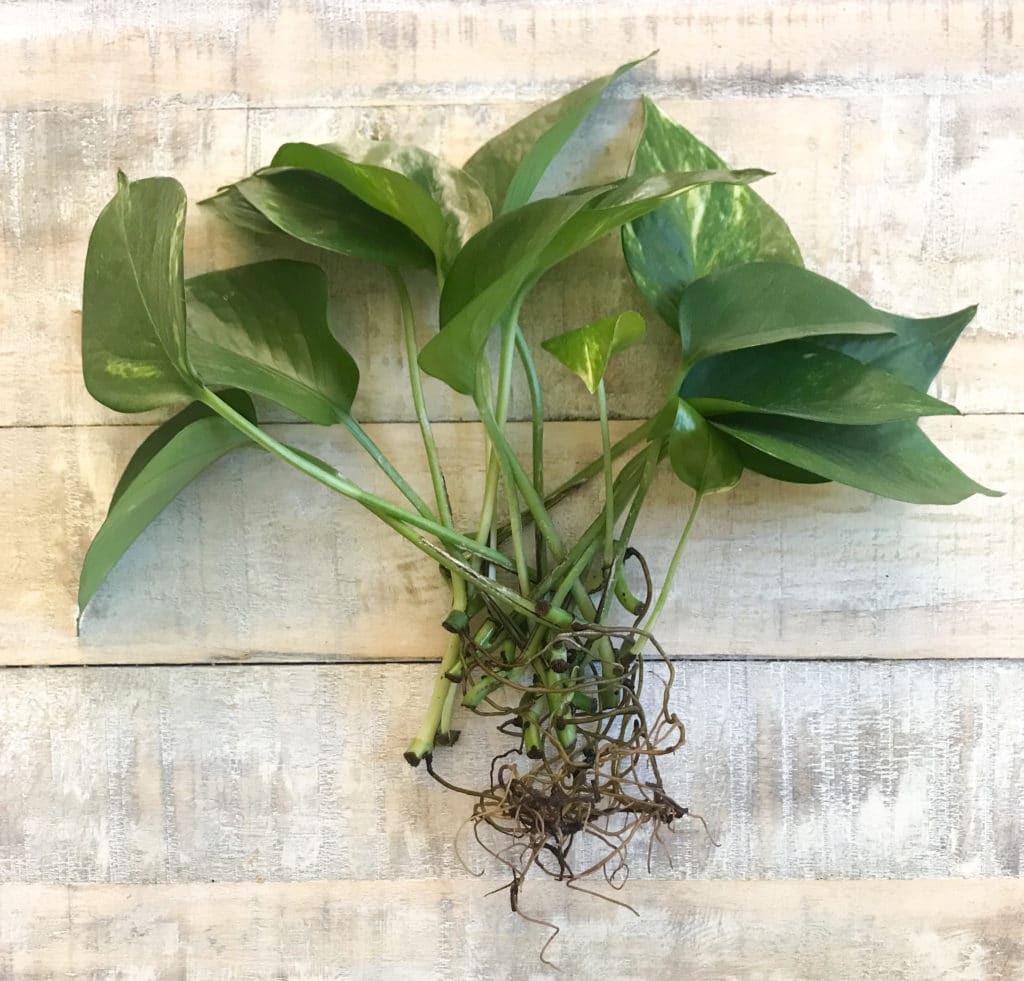 Propagating pothos requires you sniping off some vines (cuttings)and giving it some time before you start to witness the miracle of plant propagation.
It is, of course, more complicated than that but once you attempt the process yourself and start to see results, you'll wonder why you never tried your hand at it before!
There are different propagation methods but I think water propagation is the easiest to master. If you're ready to prune your pothos plant and multiply your pothos collection, I'll take you step-by-step!
Why You Should Prune and Propagate a Pothos Plant
Before jumping into the tutorial, let's talk about why you should prune your pothos plant. Aside from the obvious reason of getting more plants out of one, another reason to prune your pothos plant has to do with appearance and rejuvenation.
After you prune your plant in the right places, new growth will start to sprout from the crown of the plant, which will aid in giving it a fuller, bushier look.
While care and maintenance of a pothos is low-key, people sometimes have trouble keeping their plant looking full. It's one of the most common frustrations when it comes to houseplants.
The spindly look in a vining plant happens when the plant puts all of its energy into producing more leaves on the cascading vine and thus neglecting new growth near the crown and base of the plant.
You see, pothos plants love to cascade out of their pot due to their vining nature, so a bare crown isn't uncommon.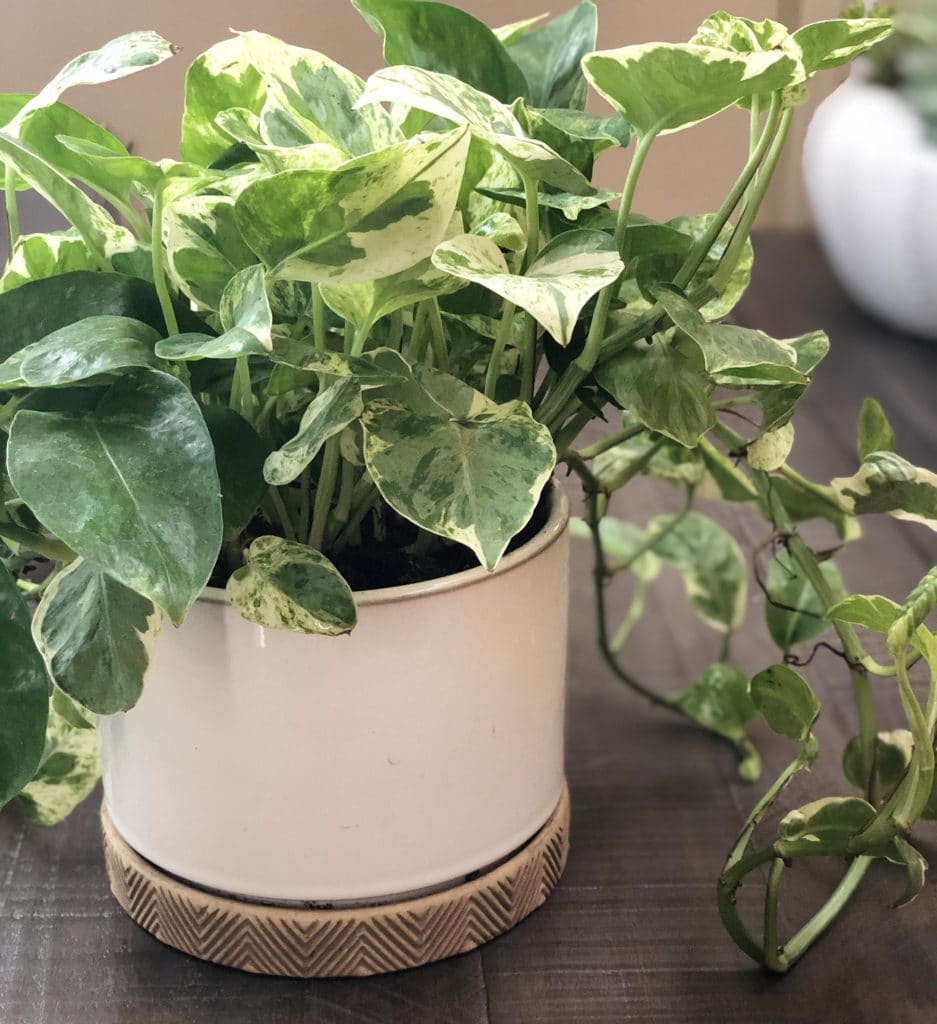 Thankfully, however, there's a simple solution and that's pruning and plant propagation.
Luckily for us, pothos plants react very well to propagation, but you'll need to be patient because this process does take time; the reward of creating new plants from one parent plant, however, is definitely worth the extra effort.
With proper propagation, you can trim off vining leaves, wait for them to grow roots, and then add them back into the parent pot for a bushier look.
To propagate a pothos plant, all you'll need is pruning shears or sharp scissors, a few water-filled glasses, and a warm spot in your home.
Where to Cut the Vine When You Propagate a Pothos Plant
Cutting your pothos leaves is a quick and simple process as long as you know EXACTLY where to cut on the vine. Remember, you can't just cut it anywhere and expect results. Follow the photos and the instructions below.
First, cut off a long vine (that's if your pothos is vining, otherwise a shorter stem will do.)

My pothos plant had grown long vines so I cut off each cascading vine in an effort to reenergize my plant and give it a fresher look.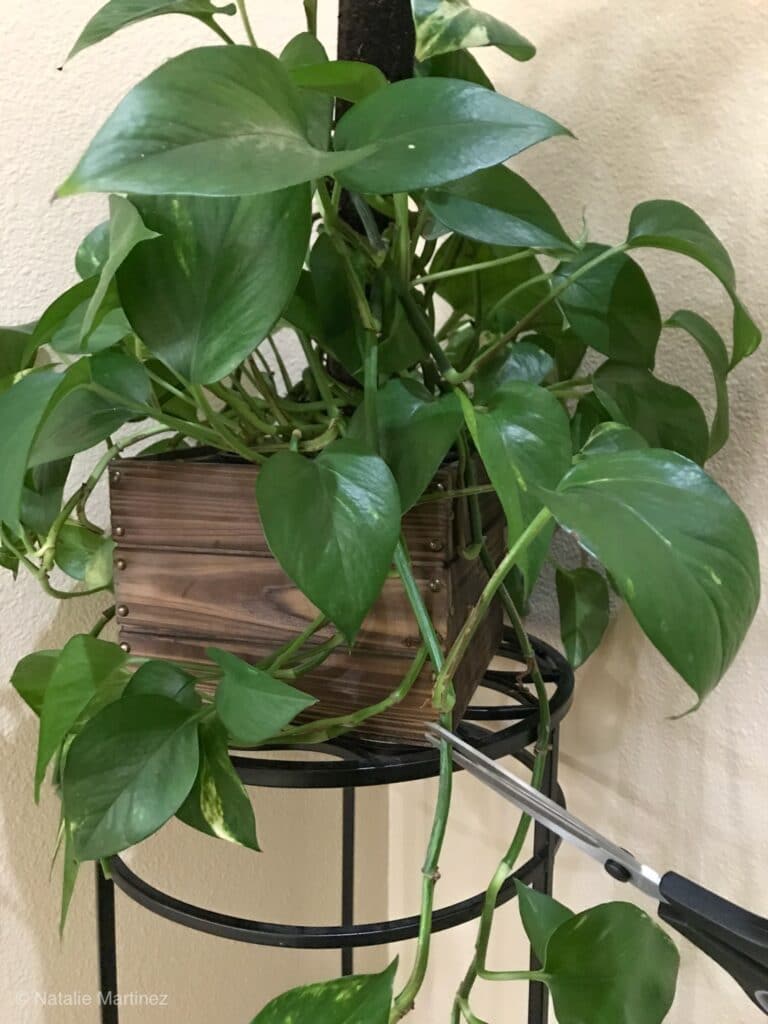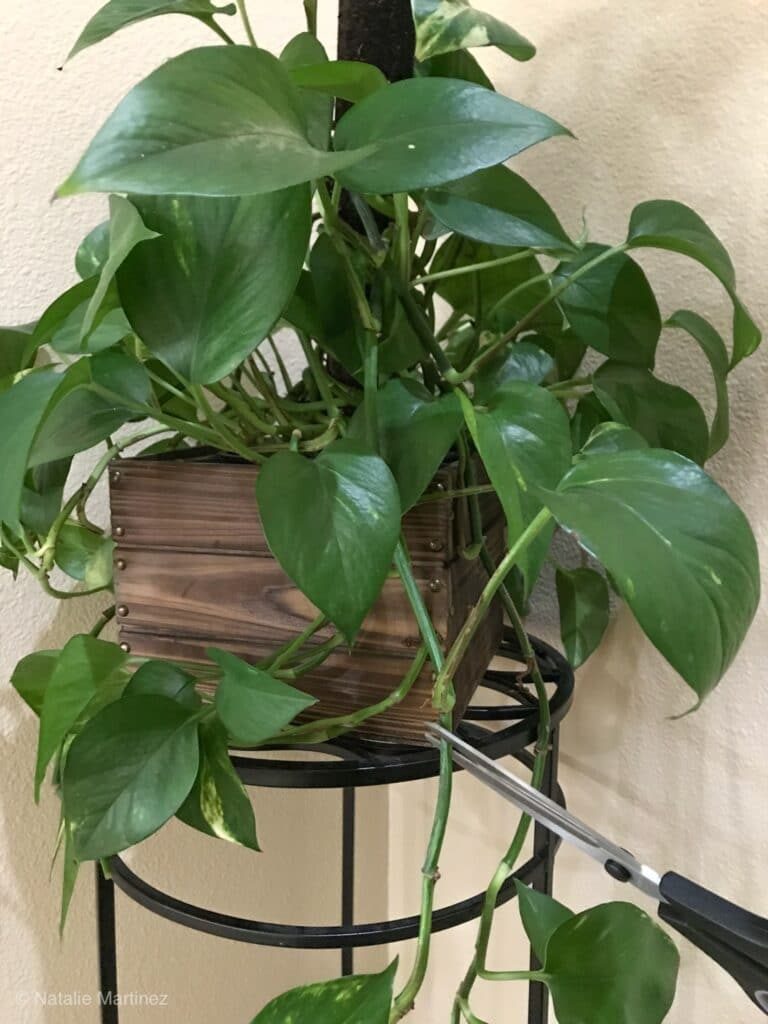 Once you cut off a few cascading vines, you're going to take it apart. This is the fun part!
Take your scissors and cut into the stem to the right and left of each leaf's root node, as shown in the three photos below. You'll need to do this for every leaf. Remember that each leaf provides a new opportunity for propagation!
Water Propagation Method To Propagate Pothos Plants
Here's the next step. Don't worry, the hardest part is over! This next step is where the glass of tap water comes in. It's also where your pathos cuttings will live for the next few weeks. Here are the instructions:

1. First, take a glass or jar, and fill it with tap water.
3. Be Patient. The pothos plant is now being kept alive by this glass of water. It's also what will encourage the leaf node to grow roots that will get longer and stronger as time goes by.
2. Take each pothos leaf and place it in the glass of water, as shown below. Once you do that, place the glass in a warm room. This step is important because pothos plants won't propagate if they're kept in temps below 70 degrees Fahrenheit. Remember, this houseplant thrives in warmth and humidity.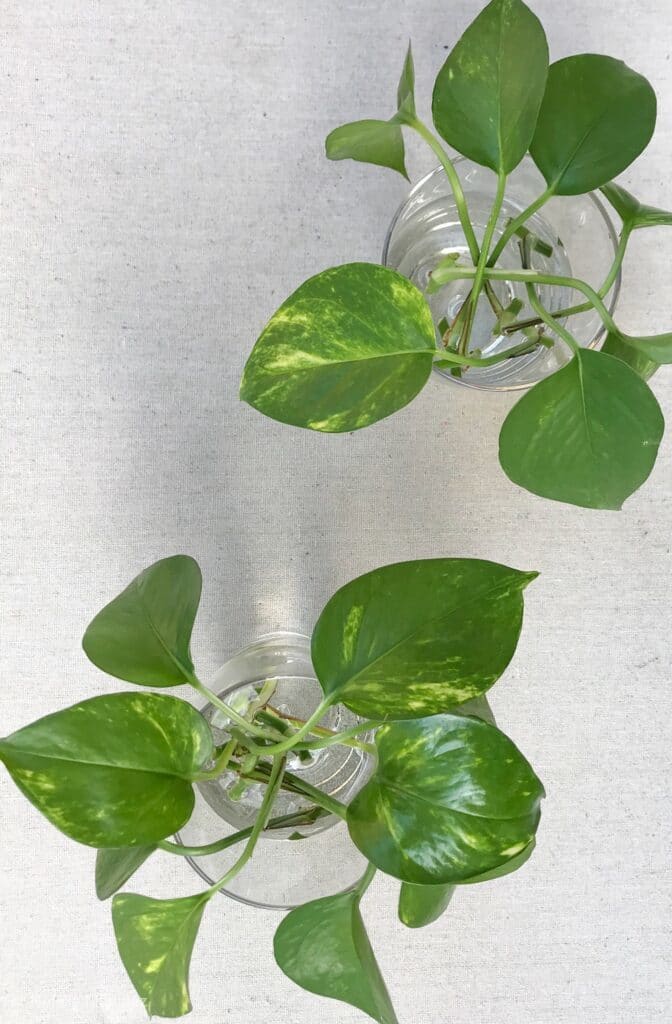 How Long Does It Take to Propagate a Pothos Plant
It takes several weeks for a single cutting to grow roots. Like anything with gardening, it takes time! You'll begin to see tiny formants of roots coming out of the nodes after about 4 weeks (They'll look like pale little spikes coming from the nodes of the leaves.)They won't look exactly like the roots you're used to seeing but they'll grow a few inches more in the weeks that follow.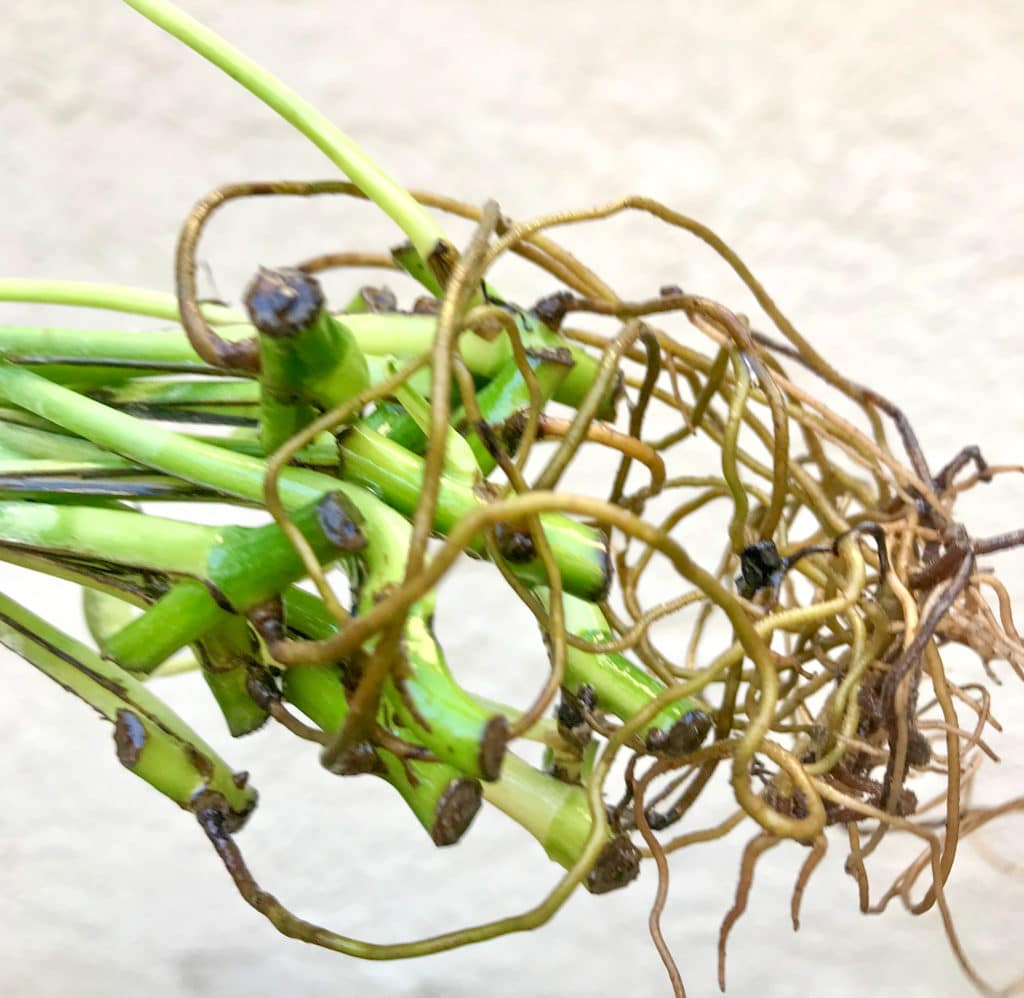 In the meantime, you'll need to replace the water every few days. Why? Because fresh tap water contains oxygen, and plants need oxygen to survive.
After the first day, oxygen starts depleting from the water, so make sure to replace the water when you can.
Keep in mind that not all leaves will root. If it's been several weeks and some of your leaves don't start rooting, you can simply take them out of the glass and discard.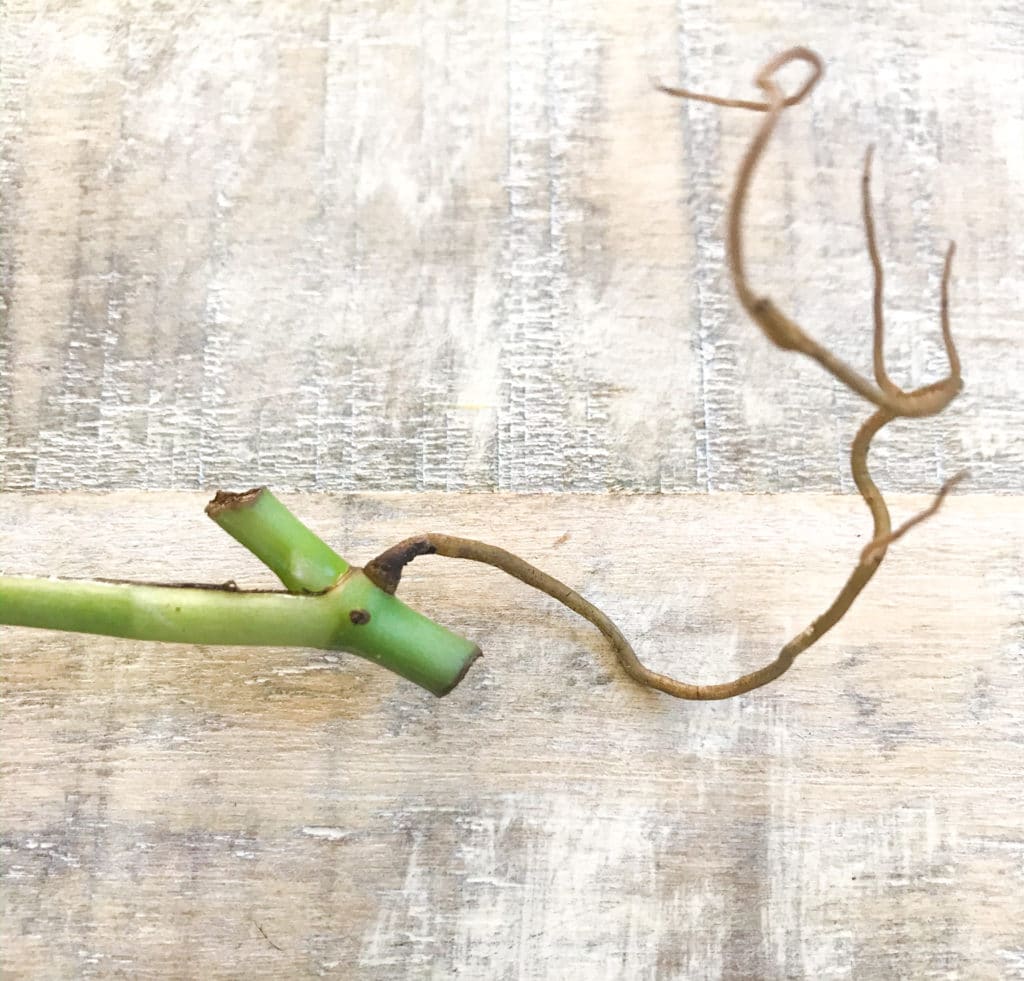 Transfer the Leaves from Water to Soil To Successfully Propagate a Pothos Plant
Now that your leaves have formed roots that are about two inches long, it's time to plant them in soil!
Some people wait until the roots are much longer (as shown above) but this can pose a problem because the roots might be too accustomed to living in water at this point and they may not perform well when transferred from water to soil. The longer you leaves the leaves in water, the harder it is for them to assimilate to soil.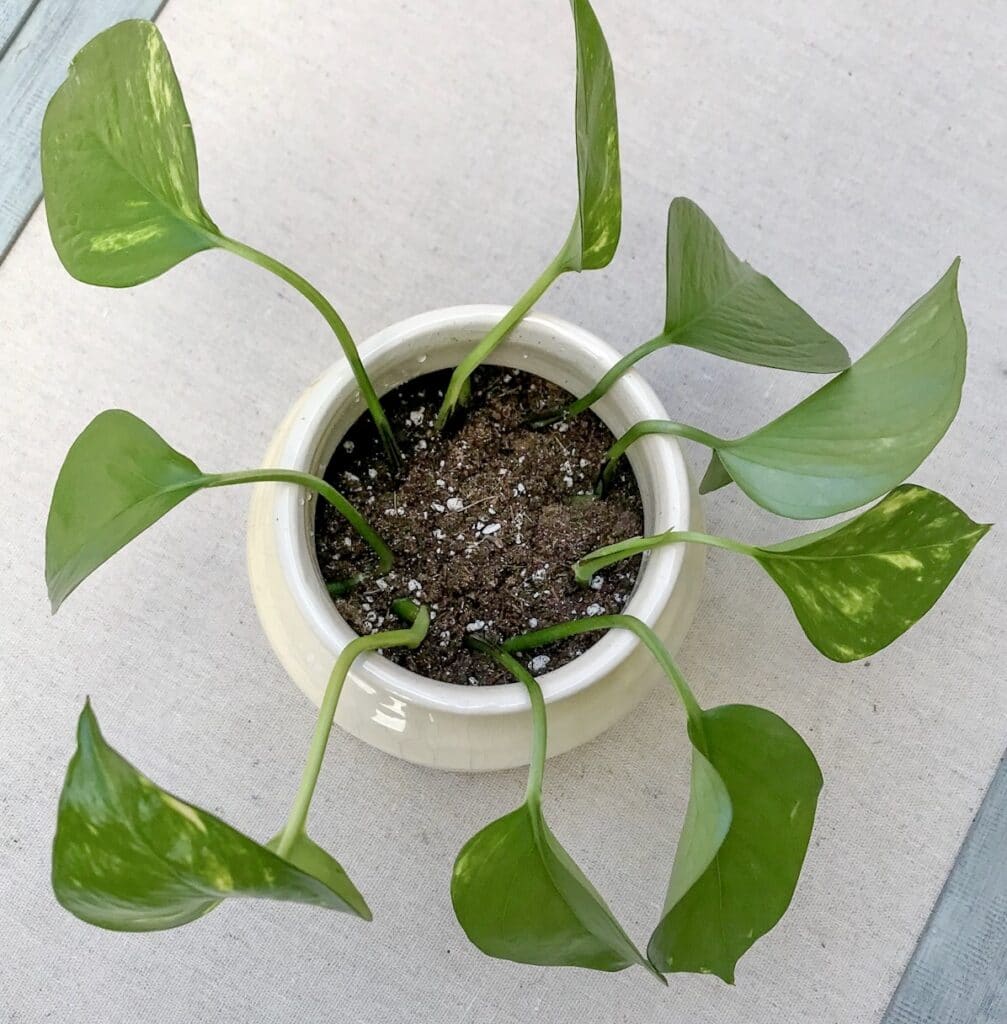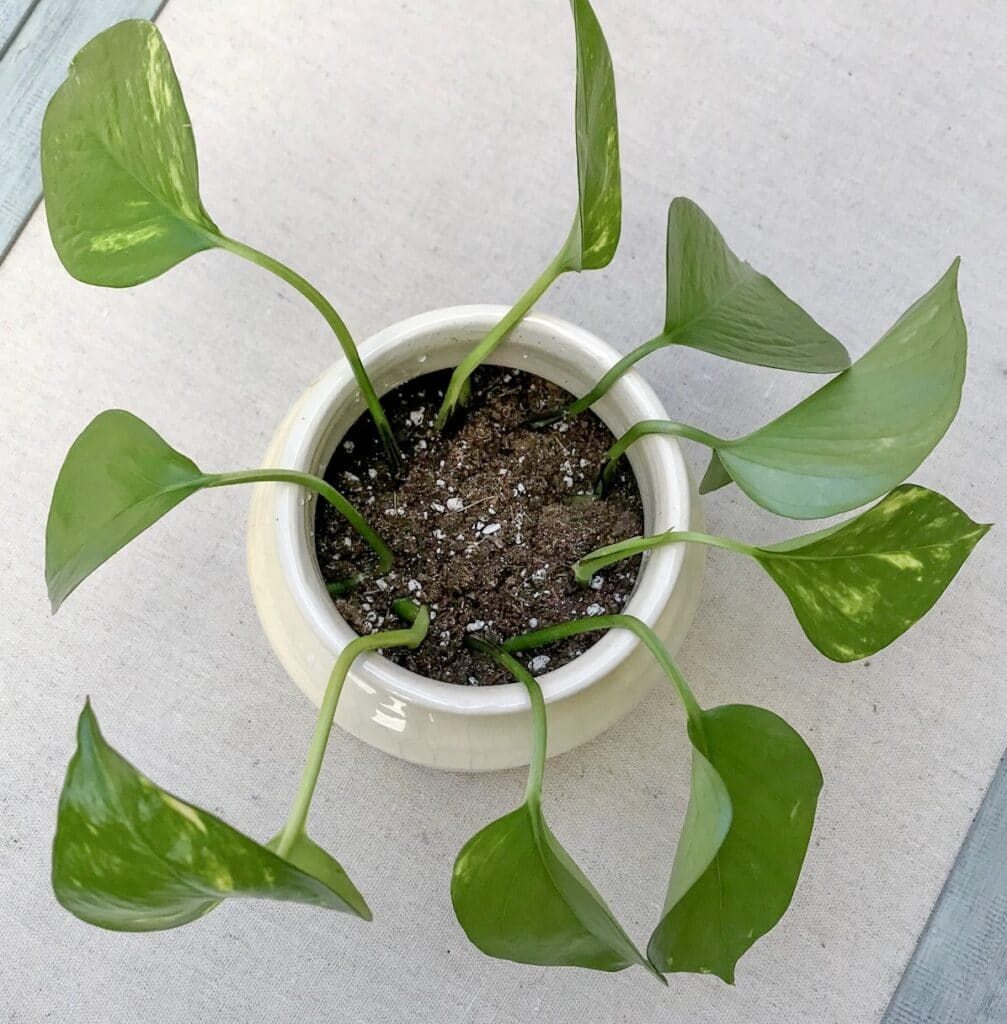 To help your cuttings along, try to get them into soil after a few weeks of them being in water.
So here's the final step in pothos propagation:
Take your rooted leaves and plant them into a pot filled with soil, just as you would plant any other plant or succulent.
You can use a fresh pot or you can plant the rooted leaves back into the pot where the parent plant lives.

If you propagated to achieve a bushier look for the mother plant, simply take each rooted leaf and stick it back into the pot at the base. Plant the leave where you think the plant needs them or where it looks spare. This is an excellent way to give your old pothos plants a much-needed makeover,
I hope this post was helpful and I hope you know feel equipped to give your pothos plant a good pruning and try your hand at plant propagation!
Happy Gardening!