Cozy Reading Nook Ideas for Book Lovers
Do you long to create your own reading nook but have no idea where to start? It's not difficult to do at all! You don't even need a ton of space and you might already have the essentials. In this post, I'll give you actionable tips that will hopefully inspire you to create your own lovely book nook.
Whatever your style, this is the time to get creative!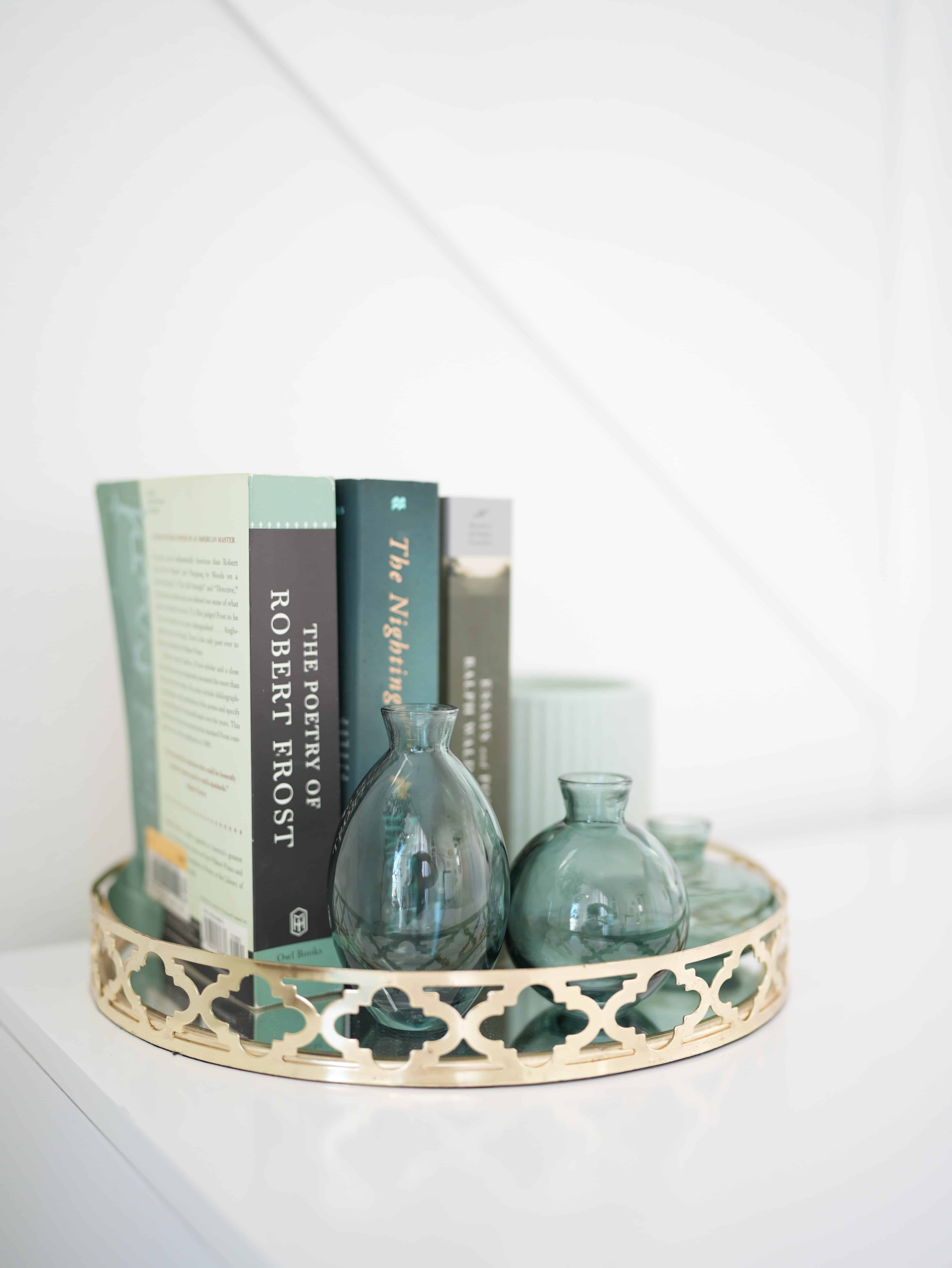 If you're a voracious reader or simply want to get into the habit of reading more often, a reading nook should be a place of sanctuary and motivation.
It should inspire your love of reading and also be a place where you go to escape, get comfortable, and delve into a good book.
Whether you have a large space to work with or a very tiny corner in your apartment, these reading nook ideas and essentials will help you understand how to create a wonderful place that helps you hit your reading goals.
In this post, I'm going to share my own reading nook. I adore this space of mine.
It's actually a corner in my office and I've wanted my own cozy nook my entire life.
I'm pretty proud of how it turned out and am happy to share it with other readers so they can create their own perfect space at home, too.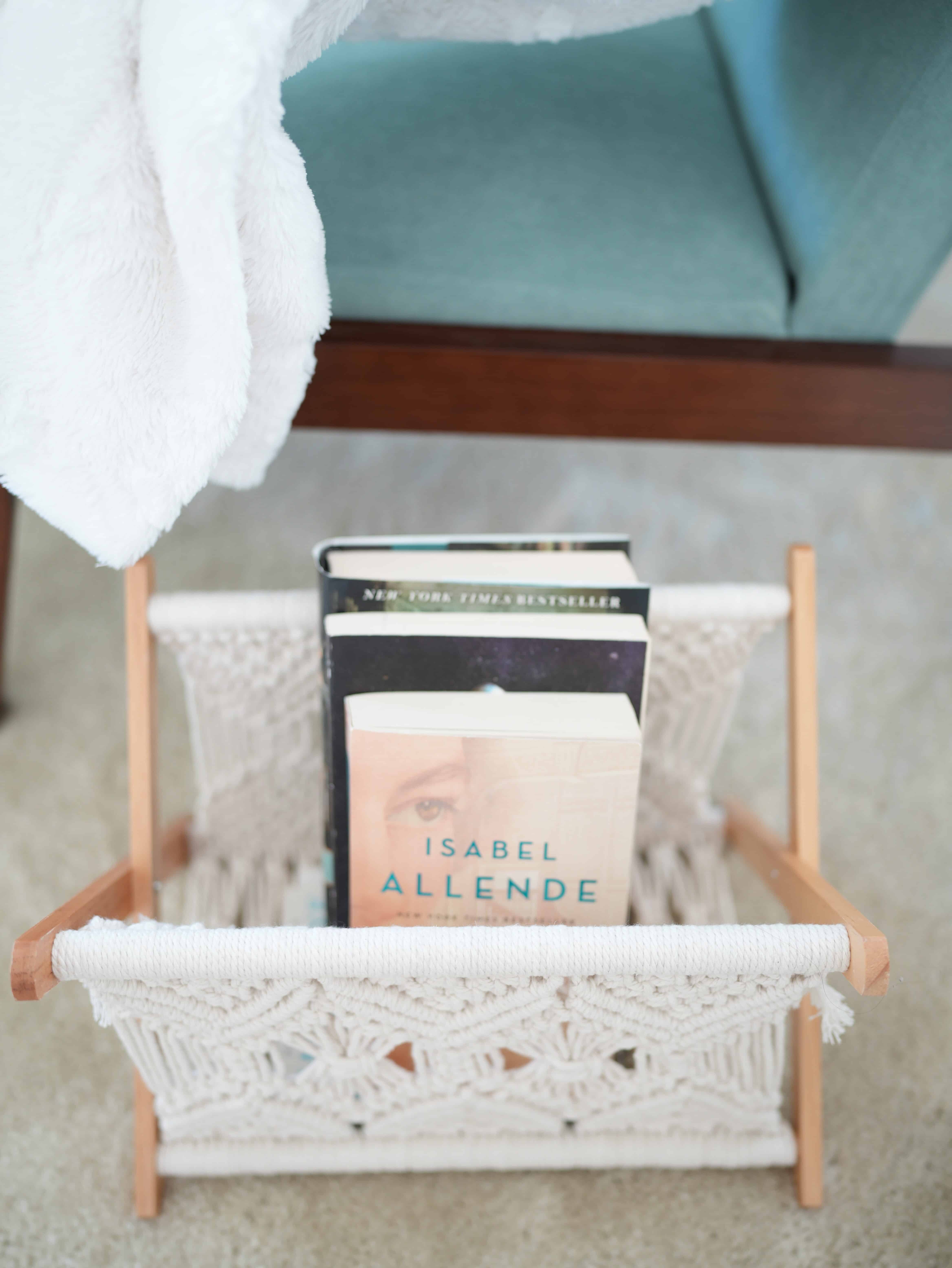 I hope you take these ideas as inspiration and create the perfect spot that makes you feel happy and ready to flip the pages of a book you've been aching to read.
Let's get started!
Reading Nook Essentials
Not everything on this list is a necessity but to create the perfect reading nook, you need to treat it as a separate space in your home that's only used for reading.
With a little imagination, however, you can really turn the space into something spectacular.
First, you'll need to get the necessities; you might already have these in your home!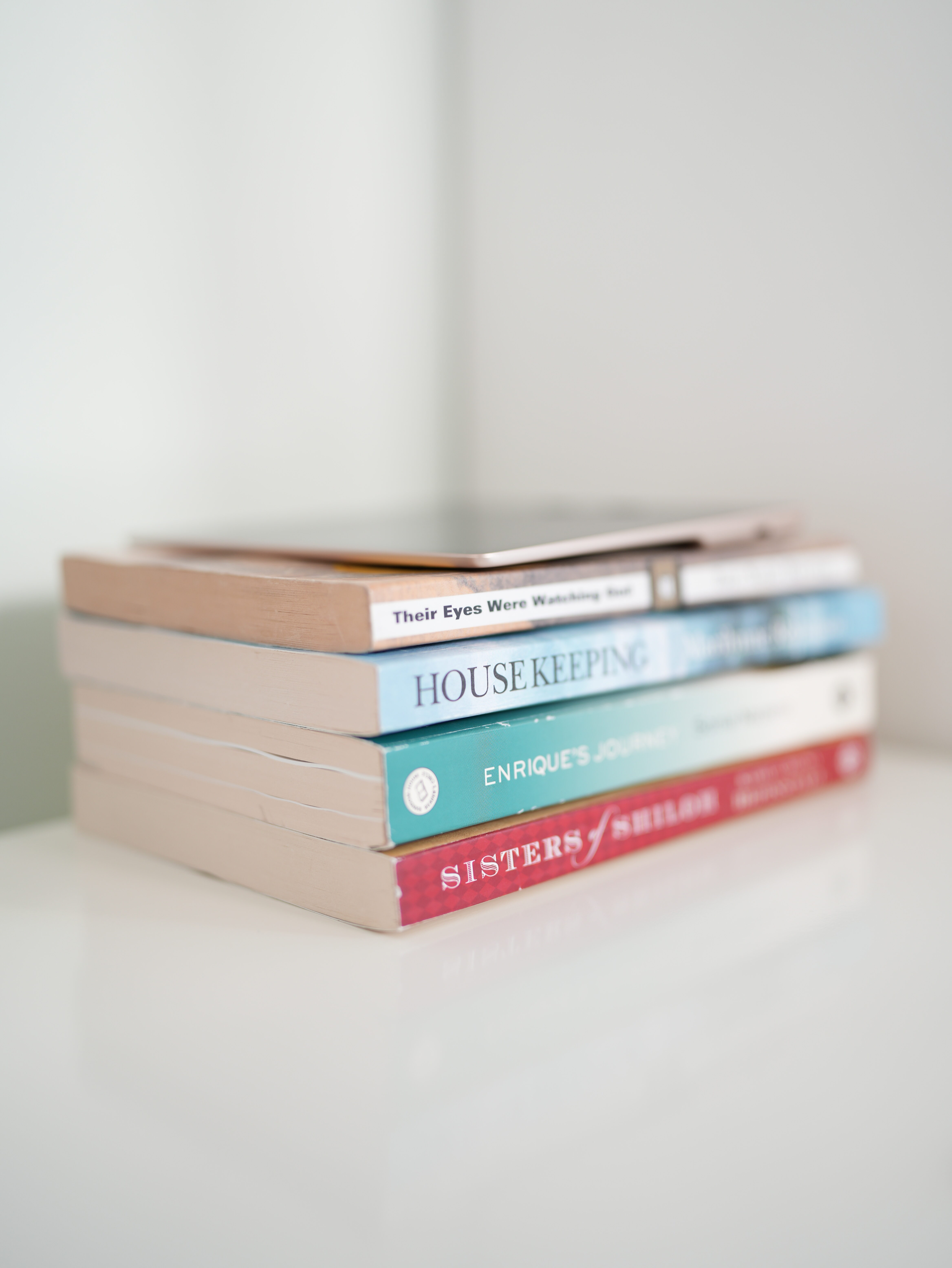 The most important things you'll need to include for your reading area are:
A chair that's comfortable
A light source like a floor lamp or table lamp for good lighting
Bookshelves or storage space for your books
Then, you'll want to make a note of what's most important to you, design-wise.

Is it bright colors or white walls? Houseplants and interesting wall art?
Or perhaps it's a plush throw pillow that adds texture to your cozy spot. Maybe it's fancy furniture like a chaise lounge or a built-in bench?
Those are all luxuries that are nice to have but certainly not necessary!
Best Reading Nook Ideas
Get yourself a chair or couch that's comfortable to sit in for hours as you read
Comfortable reading chairs are worth their weight in gold.
A comfortable chair is the first item on this list because it's the most important item in a reading nook, aside from the books of course!
You'll want to get yourself a chair or small couch that is very comfortable because you're going to be sitting in it for hours at a time.
I like the chair I currently have. It's cushioned just the right amount plus it's low enough to the ground which makes using a footstool pretty comfortable.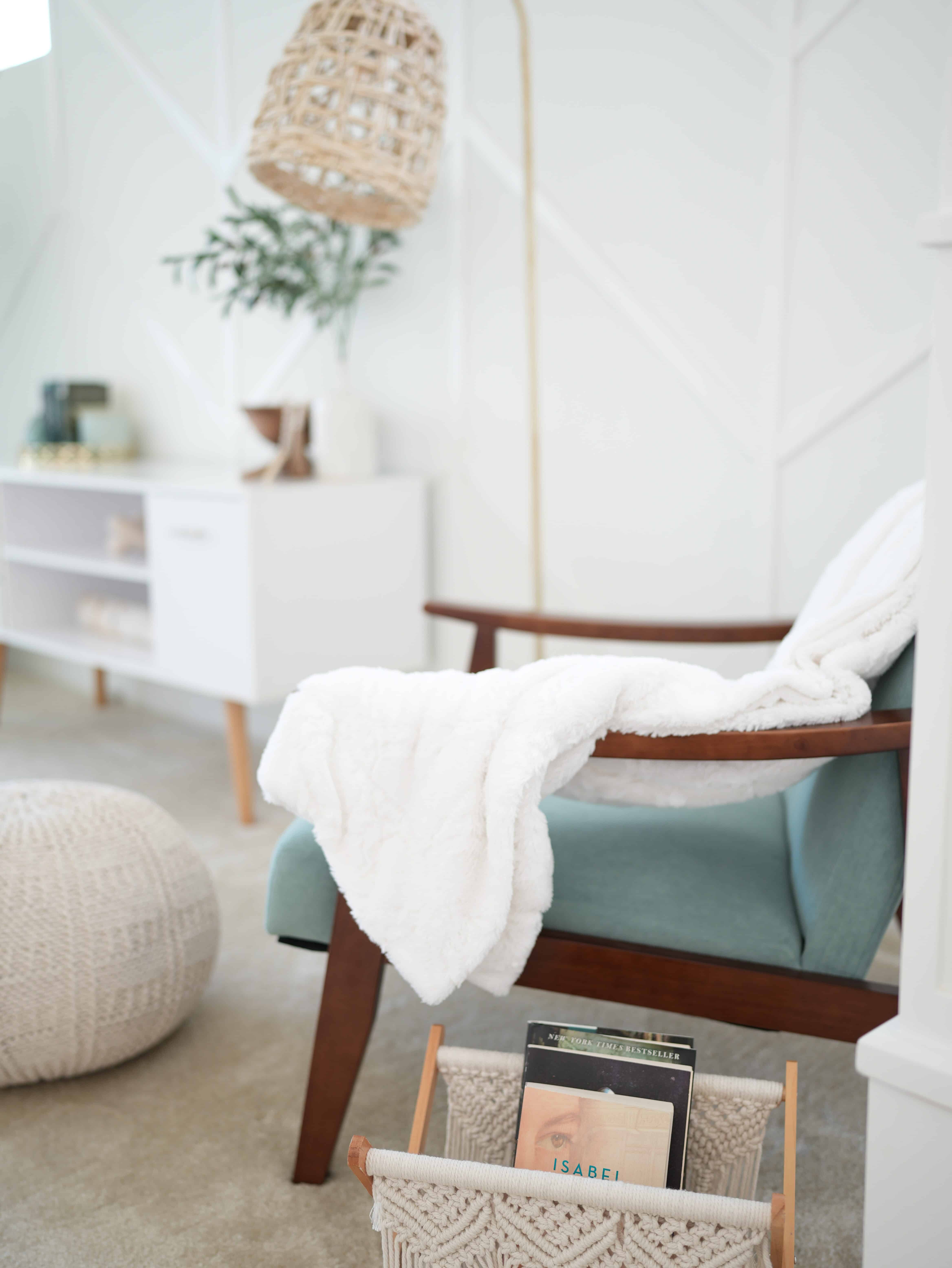 A comfy chair is important but I think it's also nice to get one that you think is pretty and adds to the overall aesthetic of the room.
I chose the color teal because I love the way it looks against the white walls of the room. I also like that it gives off an elevated vibe to the space.
If you're going with something a little funkier, you can try bean bag chairs or floor cushions!
2. Get even cozier with the help of a footstool

I mentioned a footstool above so here it is as #2.
Since I have a chair and not a chaise lounge or something I can lay on, I purchased a footstool that lets me comfortably extend my legs.
It's another necessity if you're going the chair route.
3. Let in plenty of light via a window or funky lighting fixture
Proper lighting is definitely essential when reading!
Aside from your standard ceiling light, an extra light fixture can come in handy, especially during the colder months when the days are shorter and natural lighting isn't always available.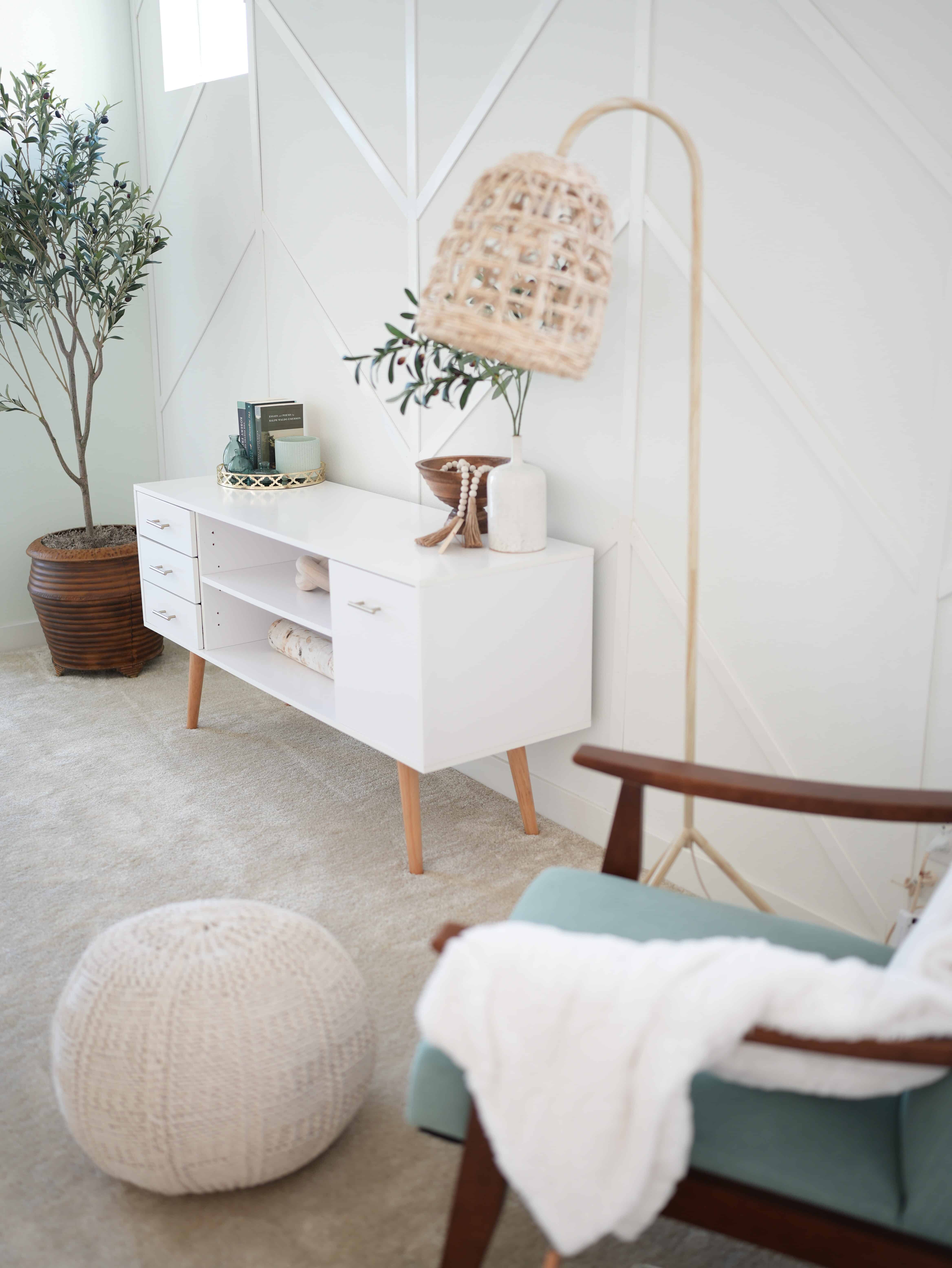 Extra lighting can help prevent you from straining your eyes plus it's a great way to add more interest to the room.
If you're not near a large window or glass sliding door that lets in plenty of natural light, then an extra light source is a great idea.
You can place your floor lamp near your chair, as I did. See how a nice chair and floor light placed together really emit the reading nook vibe? I love it.
Even when I don't have it turned on, a floor lamp is honestly the best way to create the quintessential reading nook of your dreams.
4. Keep it comfortable with throw pillows and/or throw blankets
I think like most readers, I love curling up with a soft blanket or favorite pillow when I read the latest novel on my list.
A pillow and/or throw blanket are not only utilitarian, though.
They also serve as decor pieces if you throw them elegantly on your chair. If a cozy corner is what you crave, avid reader, then by all means, get yourself a plush throw blanket!
You don't have to go expensive, just choose one that looks appealing to you and feels soft, too.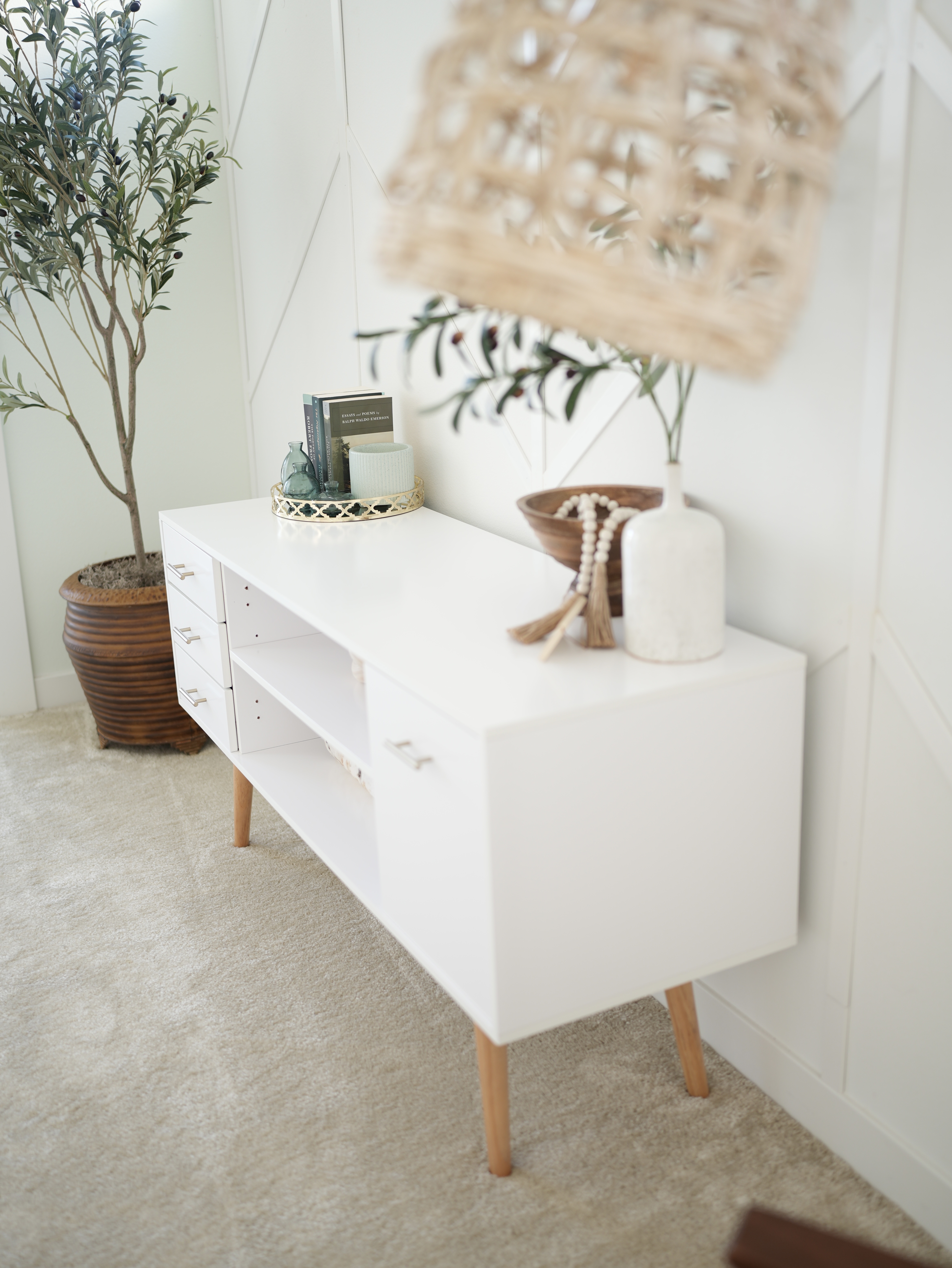 The one I currently use is white but I can change it out for another color and instantly adjust the vibe of my reading room.
5. Utilize small tables
Side table, small table, or coffee table
Side tables come in so handy while reading. Think about it for a second…don't you always have a cold or hot beverage with you while you read? I know I do!
I love having a designated space to place my water-filled yeti or cup of tea instead of having to place it down on the floor.
My table is not small nor is it right next to my chair but I still love using it to place my drink as I read.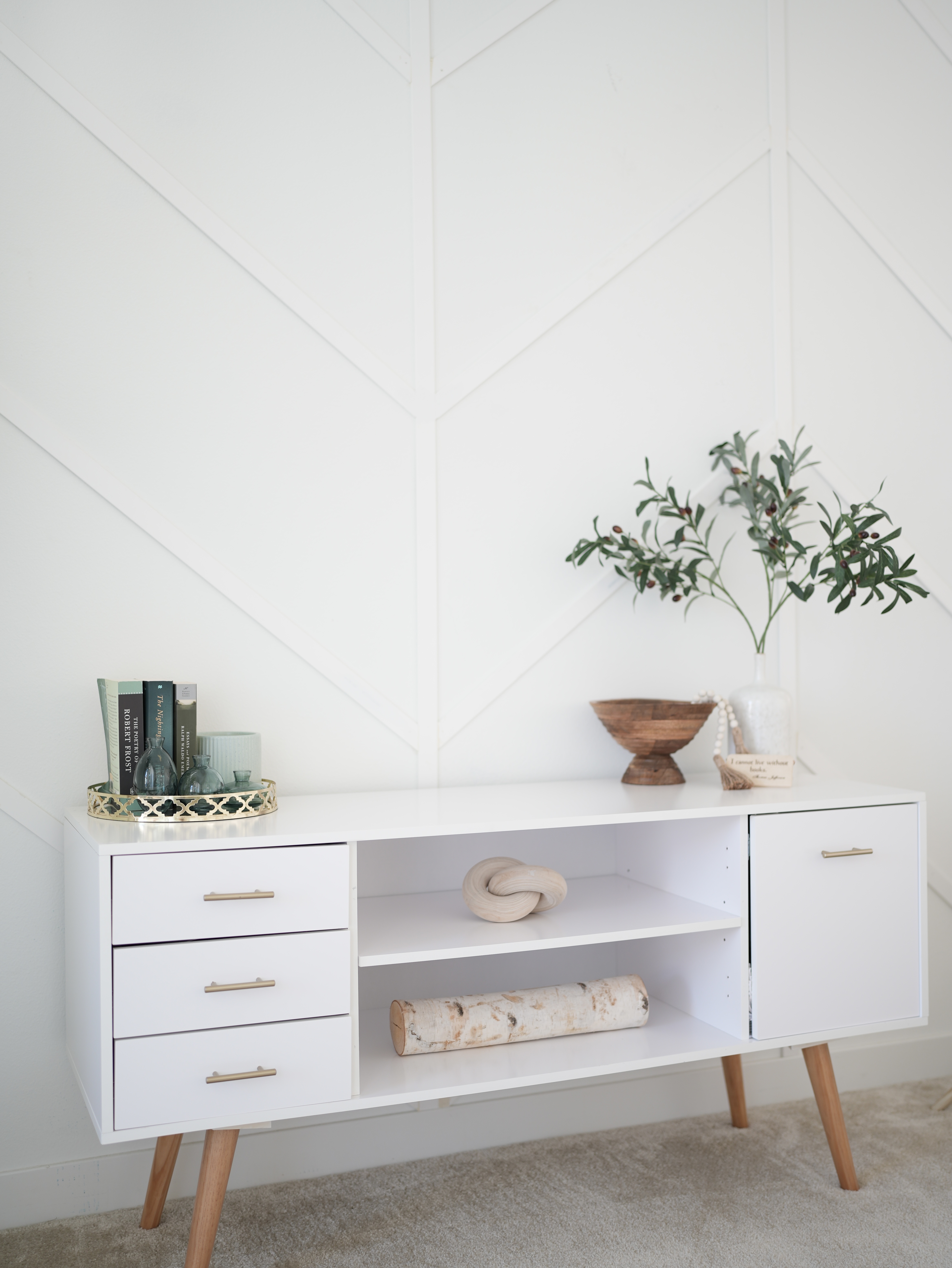 A side table can also be purely aesthetic. You can use it to display some of your favorite books, beautiful coffee table books, and even family photos.
6. Give yourself as much storage space as you can
Book storage, built-in bookshelves, library wall, wall shelves
If you're an avid reader, odds are you have a ton of books you need to store. You no doubt have a large book collection you want to display, too.
This is where something like floating wall shelves or bookcases come in.
At the moment, I use my long end table to display my favorite books plus store a few more inside its built-in shelves and drawers.
Soon, I'll add some floating wall shelves up above my desk to display not only books but bookish things, too.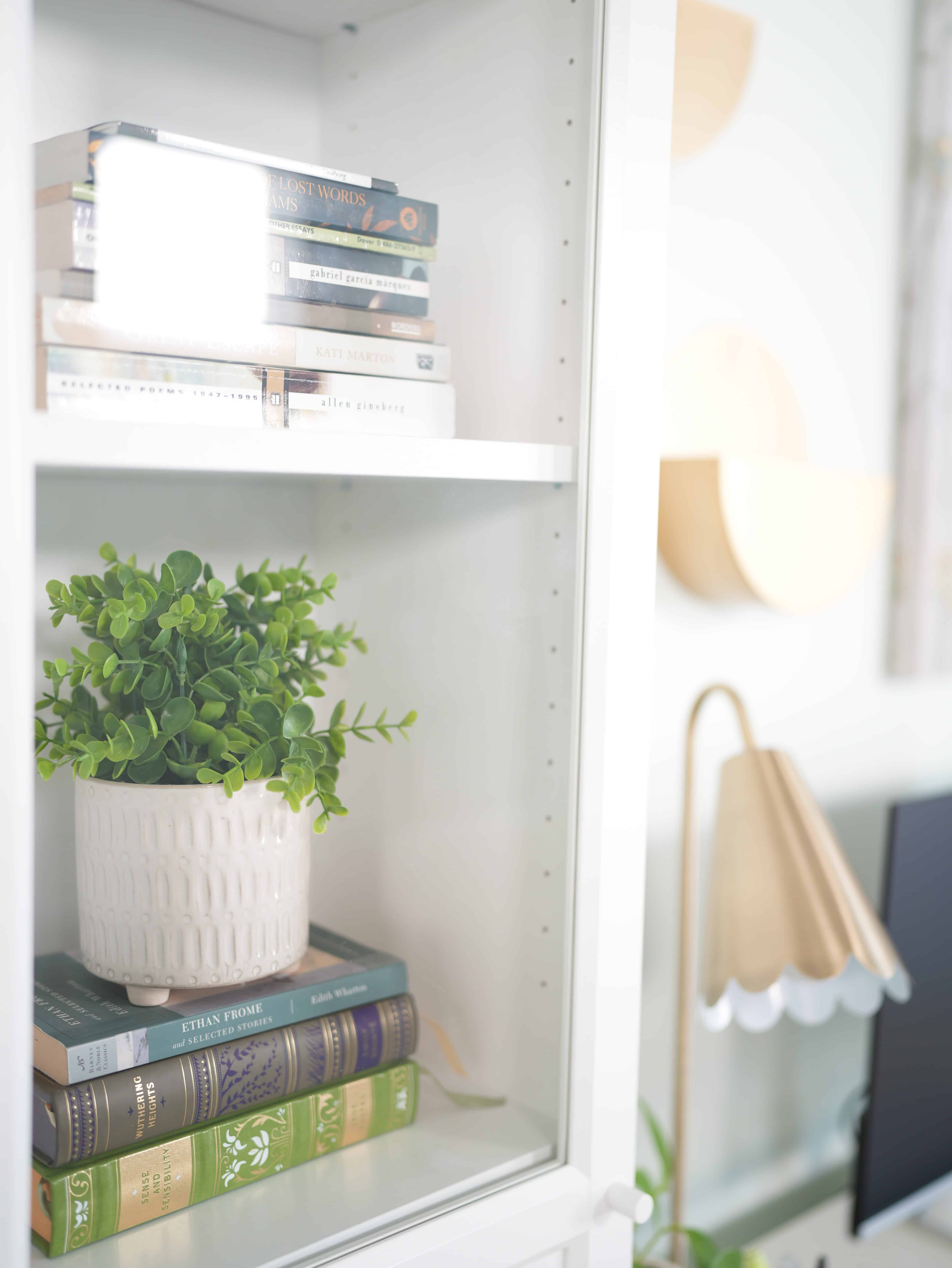 7. Infuse pops of life with real plants
I'm adding plants to this list because I think books and plants go so well together.
I currently have a tall faux olive tree and a small vase with short faux olive branches in my reading nook.
I also have a small pothos plant on my desk that I love to look at.
As a plant lover, adding this to my reading space has really made it my ideal spot in the house. It's my perfect reading spot!
Aside from a floor lamp, tall plants/trees add height and interest to any room. I think it makes a cozy nook or home library even more exquisite.
8. Hang Inspiring Wall Art or Literary Decor
Is there a favorite quote you like that you'd love to hang on your wall?
Perhaps a photo of your favorite author or a quote they said or wrote that inspired you?
Framing famous quotes from your favorite books is not only inspiring but also aesthetically pleasing!
It will definitely make the space feel more literary almost immediately.
If you'd rather not do quotes, any wall art that speaks to you would fit in great. Remember, your reading nook should be a place you love and feel at home in.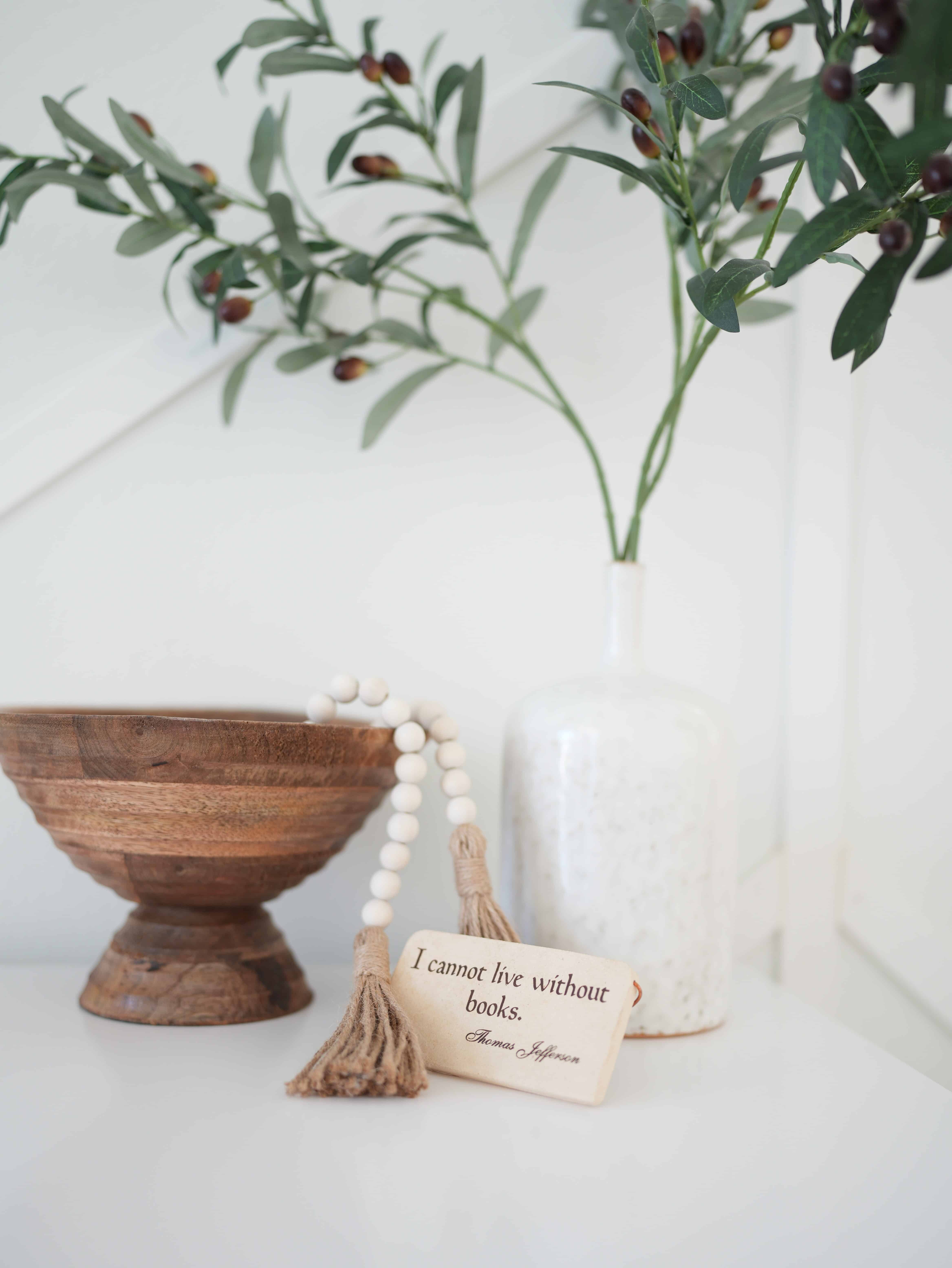 Now that you've gotten some cozy book nook ideas, I hope it'll be easier for you to create a quiet place in a small corner of your home where you can go to relax and lose yourself in a good story.
Whether it's your home office, an entire room, or just a small space, the good news is that your ideal reading nook is within reach with just a few design elements and some really great items!
A quiet spot is a perfect place to get some reading done and with the help of a few interior design ideas, you can have a cozy reading space to call your own.
Remember that the most important things include a chair, good lighting, and book storage; the rest are just creative ideas to bring more life to your little space!
Happy reading!
Want to get more tips on reading? Head to the posts below!

The Many Benefits of Reading Books
25 Best Books to Read Around the Holidays
Best Books on the Salem Witch Trials
Jane Austen Books in Order: Full Guide
How to Get Rid of a Reading Slump – Best Tips for Beginners
Colleen Hoover Books In Order: The Ultimate Guide – Natalie Linda

Want to save this post for later? Save the pin below to your favorite board!