Enchanting Holiday Tales: Best Books to Read During the Christmas Season
It's the most wonderful time of the year for reading! Many heart-warming books are set during the Christmas season, and this list offers a few of my favorites. I hope you enjoy them!
(This post contains affiliate links. As an Amazon Associate, I earn from qualifying purchases. This post may also contain other affiliate links by which I earn commissions at no extra cost to you.)
You may have heard of some popular classic Christmas books, such as A Christmas Carol or Little Women, but you may have yet to hear about the other books on this list.
In this post, I will recommend the best books to read during the Christmas season to help you get in the holiday spirit!
Some are old classics that are beloved by many, some are new and romance-driven, and some have been turned into beloved Christmas movies and are played over and over on Christmas Day and New Year's Eve.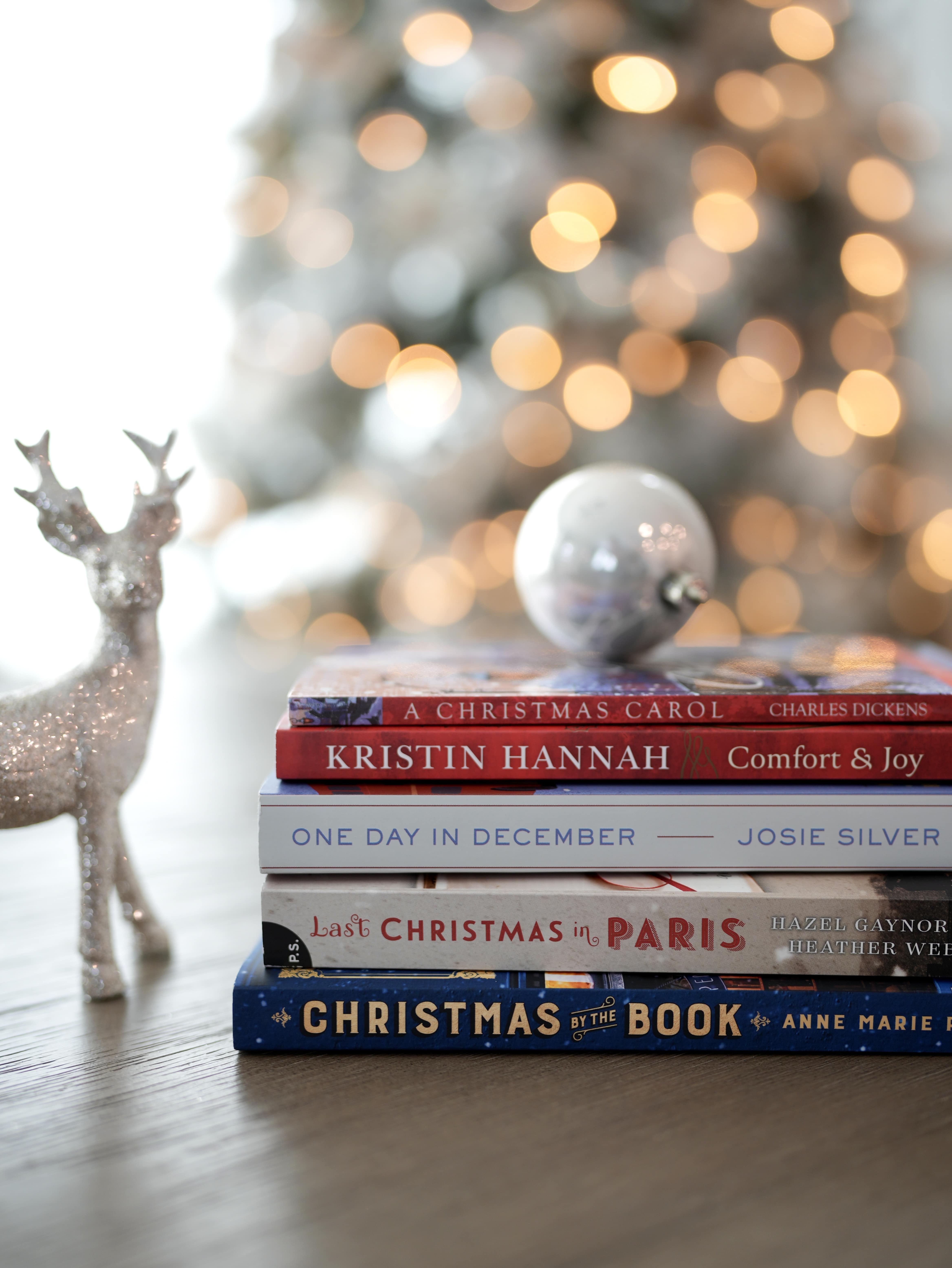 Grab a steaming cup of hot cocoa (or coffee or tea!), curl up in your cozy reading nook, and get into the Christmas spirit this holiday season with these lovely books.
If reading is your favorite way to carve out some me-time, you'll enjoy reading a few Christmas-themed books this year!
1. A Christmas Carol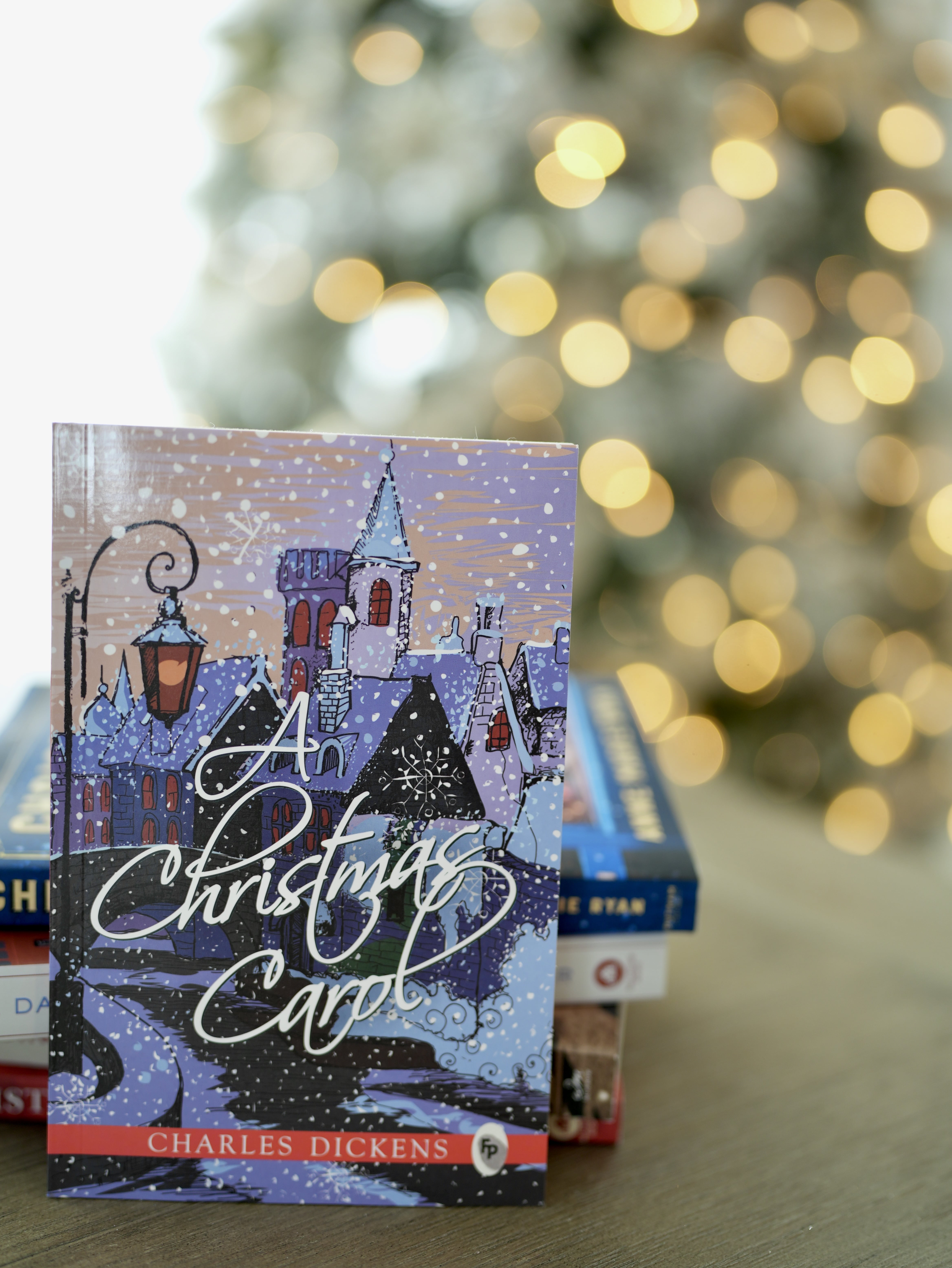 Nicknamed Father Christmas for his massively successful book, A Christmas Carol, Charles Dickens is an author who knows how to deliver a heartfelt Christmas story.
A Christmas Carol is one of the best Christmas stories ever written, and there are so many lessons to take from it.
It's worth a read every year! I come away with something new from it every time I read it.
In this classic short story, you'll meet the grumpy, stingy Ebenezer Scrooge.
He's a bitter, lonely man who treats his employees with little respect. But when the spirit of Christmas Past, Present, and Yet To Come, visits him, he begins to see the error of his ways.
Can he be transformed into a kind, generous man?
Turn this beloved classic into one of your family's Christmas traditions by reading it together every year!
2. Little Women by Louisa May Alcott
Little Women is a classic novel and a coming-of-age story that occurs around Christmas time.
It's one of my favorite books. The heart-tugging novel has inspired numerous films, too.
If you still need to give it a read, consider reading it around the holidays. It's a good book with intriguing, loveable characters that you won't ever forget.
You'll meet four sisters, Jo, Beth, Meg, and Amy, as they travel through girlhood and young adulthood during the American Civil War.
With the help of their loving mother and generous neighbor, the girls learn important lessons about love, generosity, and determination.
Plenty of lessons for readers to take away from this timeless novel, too.
Drink it with a mug of hot chocolate, a warm blanket, and a box of tissues!
After reading the book, I recommend watching the 1949 classic film Little Women, starring Elizabeth Taylor, Janet Leigh, and Margaret O'Brien.
It's a beautiful adaptation and one I've watched many times.
3. The Greatest Gift: A Christmas Tale by Philip Van Doren
​

The heartwarming story by Philip Van Doren was adapted into the beloved Christmas film, It's a Wonderful Life, starring Jimmy Stewart.
It's moved generations of people and is absolutely worth a read at Christmastime. It's sure to get you into the holiday spirit!​
Here's a little backstory on the book:
The author found it impossible to find a publisher for this story, so he published his tale himself in a small pamphlet. He then sent it out as part of his Christmas card in the year 1943, to about 200 people.
As luck would have it, one of those postcards made its way to film director Frank Capra, who shared it with movie star Jimmy Stewart!

They clearly loved the story and well – the rest is history.
Now a little bit about the story:

In The Greatest Gift: The Christmas Tale, the main character contemplates taking his own life until he's shown what the world and the lives of his loved ones would have been like had he never been born.
He realizes the preciousness of life and the impact of one person on the lives of many.
This story will touch your heart, no doubt about that! Make sure to read it and then enjoy the classic film on Christmas Day!
4. 'Twas the Night Before Christmas by Clement Clarke Moore
​

'Twas the Night Before Christmas is a line we hear multiple times throughout the festive season.
Well, it all stems from this classic poem by Clement Clarke Moore, and it all concerns Santa Claus.

In 1823, few children living outside of Germany and Holland knew about Santa Claus.
But that all changed when a newspaper in New York published the poem, An Account of a Visit from St Nicholas.
Word spread around that country, and Santa Claus became a Christmas figure, with children rejoicing at the gifts he delivered on Christmas!
​
This book can be great for starting a new Christmas tradition with your kids: you can read it to them every year, perhaps around the fireplace or while enjoying a hot beverage and warm cookies!
​
There are so many beautiful editions available in different formats for kids. It's the perfect way to help them celebrate the joys of Santa Claus.
5. A Christmas Memory by Truman Capote
​If you're a fan of Truman Capote, you should add this book to your reading list, as it gives you an intimate glimpse into the author's life.
In A Christmas Memory, Capote takes readers back to his own boyhood during the Great Depression.
The story centers around a memory he holds dear: making fruitcakes in the kitchen with his beloved cousin around Christmas time.
It was their yearly tradition and one that made them realize the true meaning of Christmas.
6. A Christmas Story by Jean Shepherd
​If you love the movie that plays every year in December, you'll enjoy the book that inspired it!
The cult classic is funny and nostalgic, so if you're in the mood for something comical, this is a good choice.
A Christmas Story portrays Depression-era American life around Christmastime and is one of the more light-hearted books on this list.
7. How the Grinch Stole Christmas by Dr. Suess
Another must-read Christmas tale that's fun to read with your kids!
I love owning different editions and displaying them in my home around Christmas time.
Now that I have a son, I can't wait to start reading this fun story to him and showing him the illustrations!
​It makes a good gift, too, or a good stocking stuffer.
In How the Grinch Stole Christmas, you'll be entertained by the fascinating Grinch and all his grouchy ways!
​
8. Polar Express by Chris Van Allsburg
Polar Express is a magical read to enjoy with the kids in your life.
It tells the story of a little boy who, in the middle of the night on Christmas Eve, is welcomed onto the Polar Express, a magical train headed to the North Pole.
It's a train ride like no other.
At the end of his journey, he'll get to make a special Christmas wish.
Read this sweet story with your cherished littles!
​
9. Hercule Poirot's Christmas by Agatha Christie
​
If you've never read anything by Agatha Christie, this Christmas tale will make a fan out of you!
It's a different kind of Christmas story than the rest on this list, as it centers around a mysterious murder on Christmas Eve.
In Hercule Piorot's Christmas, the Lee family is enjoying the festivities when they hear a sudden loud crash.
They're shocked to see the dead body of their patriarch lying in an upstairs bedroom.
The brilliant Belgian investigator, Hercule Poirot is on the case!
But he grows more and more suspicious of the family members – it seems everyone has a gripe with the murdered man.
This Christmas tale is a fun read by the Queen of Mystery!
10. Letters From Father Christmas by J.R.R. Tolkien
Here's another enjoyable Christmas read for you and the kids in your life!
Every December, J.R.R. Tolkien's children received an envelope from the North Pole. Inside were handwritten letters, drawings, and sketches from Father Christmas.
The letters told fascinating stories about life at the mystical North Pole.
​Letters from Father Christmas will entertain you with stores of rambunctious reindeer, polar bears, elves, goblins, and more!
11. The Christmas BookShop by Jenny Colgan
I adore this book cover and admit to buying the book solely for this reason!
Aside from the beautiful cover, this is one of my favorite books to read around Christmas time. Books set in bookstores always feel cozy and uplifting; it's hard not to love them.
​
The Christmas Bookshop is no exception.
​
It's clever, enjoyable, and touching. It follows two sisters who are at very different places in their lives but have no choice but to work together to revitalize an old bookshop.
Can the bookshop mend their family and perhaps inspire a new love?
​
12. Royal Holiday by Jasmine Guillory
Entertainment Weekly calls Jasmine Guillory a "rising star in the romance genre" and Refinery 29 has named her a "rom-com queen".
If you haven't read anything by this author, now is your chance!
In Royal Holiday, tells the story about how a last-minute vacation unexpectedly leads to an unforgettable romance.
Vivian Forest has only traveled out of the country once in her life.
When her daughter, Maddie, invites her to tag along on a work trip to England to style a member of the royal family, she jumps at the opportunity. Who wouldn't?!?
But she couldn't have anticipated being so drawn to a certain private secretary.
Malcolm Hudson is equally attracted to her.
They start off with a playful flirtation that eventually turns into a full-fledged romantic fling.
As their feelings for each other intensify, will they be able to part ways when Vivan's vacation ends?
13. One Day in December by Josie Silver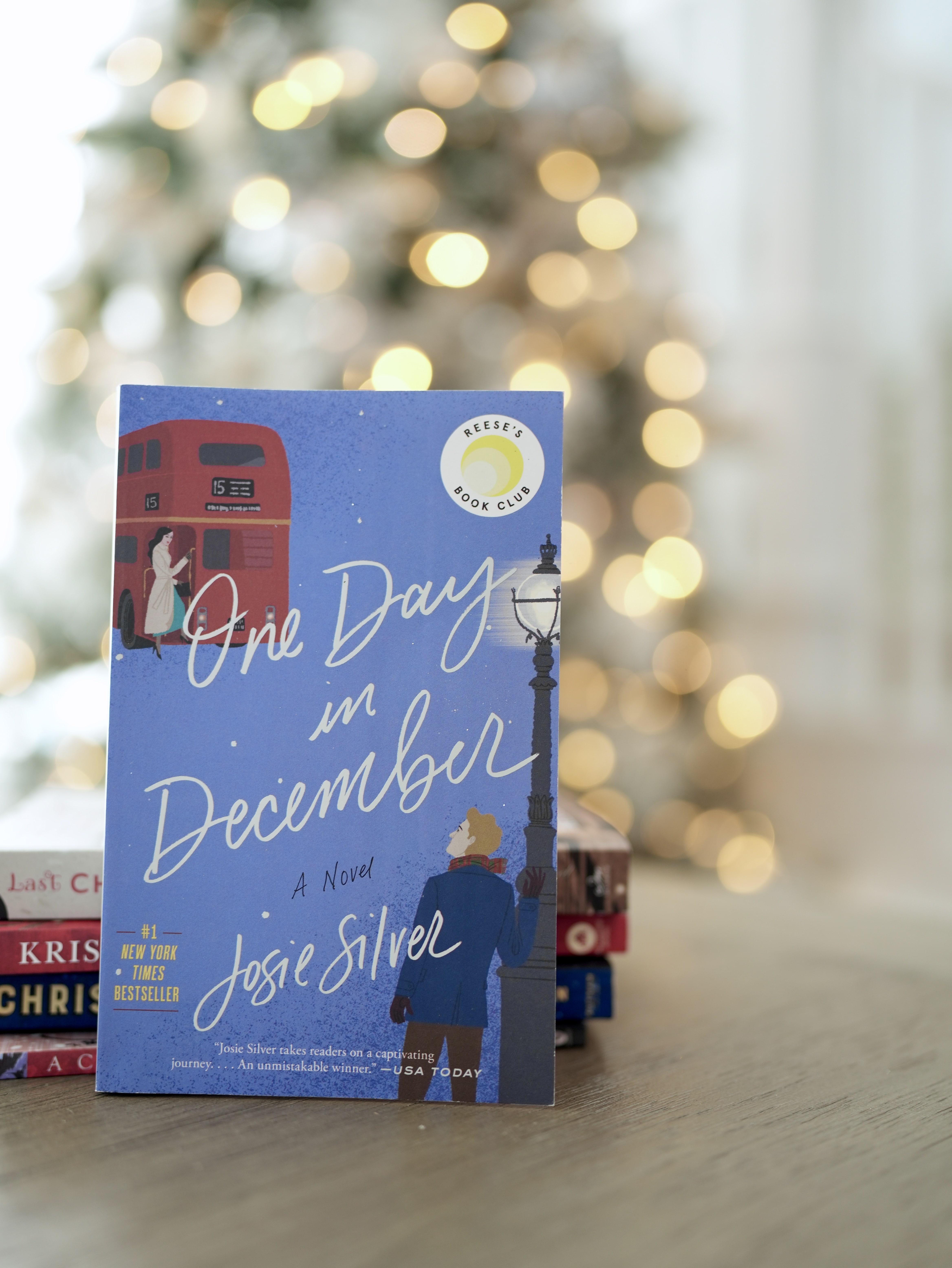 ​
Reese Witherspoon's book club has selected this book and has been highly successful. The New York Times bestseller tells the story of a whirlwind romance.
​
In One Day in December, Laurie doesn't believe in life at first sight, that is until it happens to her at a bus stop.
She locks eyes with the man of her dreams, but the bus driver drives off before they can meet.
Laurie finally meets him one year later at a Christmas party. And it's none other than her best friend's boyfriend – of course.
​
Laurie, Sarah, and Jack embark on a ten-year journey of friendship, heartbreak, and regret.
​
The book is a moving, remarkable story not to be missed!
​
14. Nantucket White Christmas by Pamela Kelly
Who wouldn't want to read a Christmas tale set in Nantucket?! Enter Nantucket White Christmas.
Angela Stark always hated Christmas.
She was born on that day, and every year, she dreads it because something bad always inevitably happens.
This year, she's been fired and evicted from her home in San Francisco. Her future looks dreary until she gets a certified letter that changes her course.
She finds herself on a plane headed to Nantucket.
There, the Hodges family and friends give her a new perspective on the meaning of home.
15. The Santa Suit: A Novel by Mary Kay Andrews
Add this one to your reading list!
The Santa Suit: A Novel is all about second chances and the magic of Christmas. Recently divorced Ivy Perkins buys an old farmhouse without even seeing it first.
She needs a change and needs it quickly.
The farmhouse, called The Four Roses, is filled with old furniture and junk that the previous owners should have discarded.
​
Ivy stumbles upon an old Santa suit with a letter written by a little girl. The note contains her Christmas wish, which is for her father to return from war.
​
This note takes hold of Ivy, and she cannot return to life as usual. She must find out who this little girl is and whether her father ever came home.
​
All Ivy wanted was to be alone, but now her quest is bringing her into town and talking to strangers.
She finds more than she expected: a welcoming town and the giving spirit of Christmas miracles.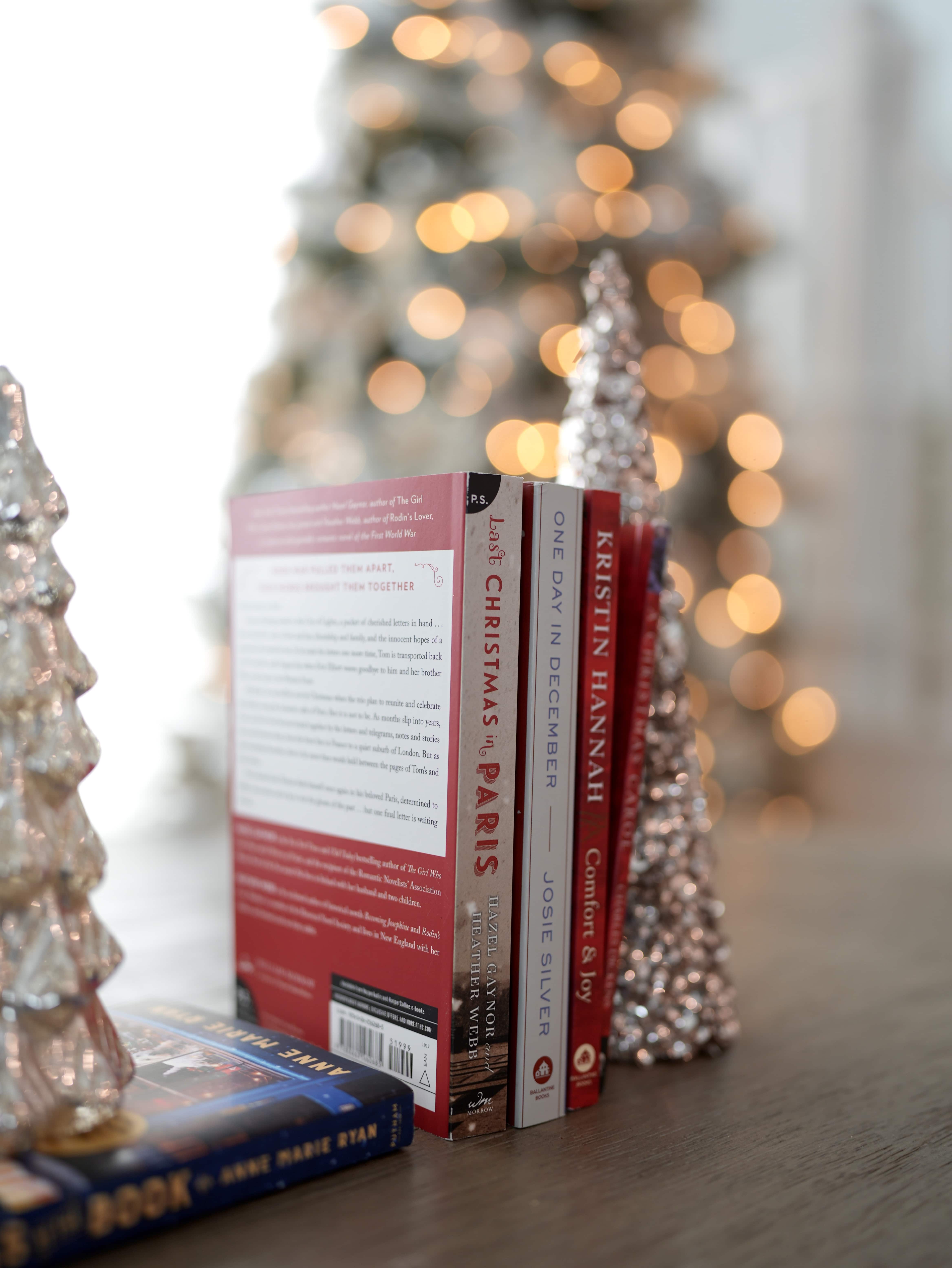 16. The Christmas Spirit by Debbie Macomber
I had to include a Christmas book by Debbie Macomber, the queen of holiday stories and #1 New York Times bestselling author!
In The Christmas Spirit, two friends switch lives before Christmas and find love in this charming novel.
Two best friends, Peter and Hank, couldn't be more different. Peter is the local pastor, while Hank is a bartender.
When Peter comments that Hank's job is much easier than his, the two decide to switch jobs until Christmas Eve.
Their new jobs help them see each other in a new light, and their lives begin to change.
17. Always, in December: A Novel by Emily Stone
Always in December tells the heart-tugging story of two people who hate celebrating Christmas.
Meeting each other, however, might change that.

Josie posts a letter every December to the parents she lost on Christmas many years ago. But this year is different.
On her way to send the letter, a bicycle collision with a stranger, Max, knocks her off course.
He's also not a fan of Christmas, but the pair spends the holiday together. So begins a beautiful love story.
​
18. You Make It Feel Like Christmas by Toni Shiloh
In You Make It Feel Like Christmas, Starr Lewis isn't having a wonderful Christmas season in the slightest.

She is overwhelmed by the holiday festivities leading up to her sister's wedding on Christmas Eve, which happens to be with Starr's ex-boyfriend, all while dealing with being unemployed and single.

Things are looking dreary – until her brother's best friend enters the picture.
Waylon Emmerson has her rethinking her holiday blues.

Starr helps Waylon renovate his late mother's Christmas shop, and as the days pass, sparks between them begin to fly.

But as the holidays approach, Star must decide if she's ready to leave behind her life in NYC to be with this intriguing man.
​
19. Christmas by the Book by Anne Marie Ryan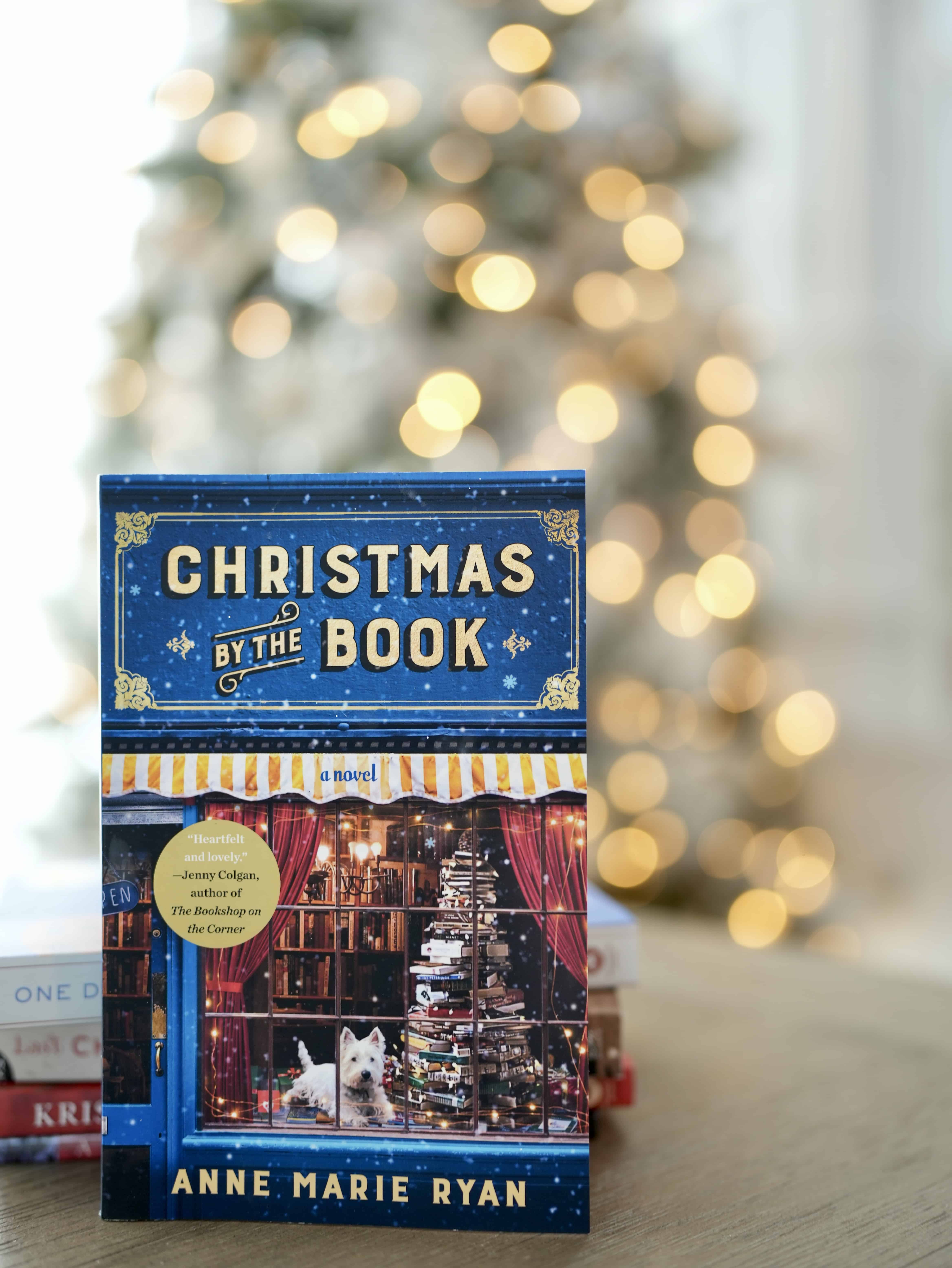 In Christmas by the Book, readers meet Nora and her husband, Simon. They've owned the bookshop in their small British village for 30 years.
But tough times and the threat of closure loom over the shop, and their fate rests on the upcoming Christmas season.
When an older man purchases the only book they've never been able to sell, saying it's perfect for his sick grandson, it gives Nora a heartwarming idea.
What if she and Simon sent books to everyone feeling sad this holiday season?
They might not be able to save their bookstore, but they can have one final chance to lift people's spirits through the power of reading and the beauty of books.
​
What ensues is a true Christmas story filled with hope and generosity.


20. The Last Christmas in Paris by Hazel Gaynor and Heather Webb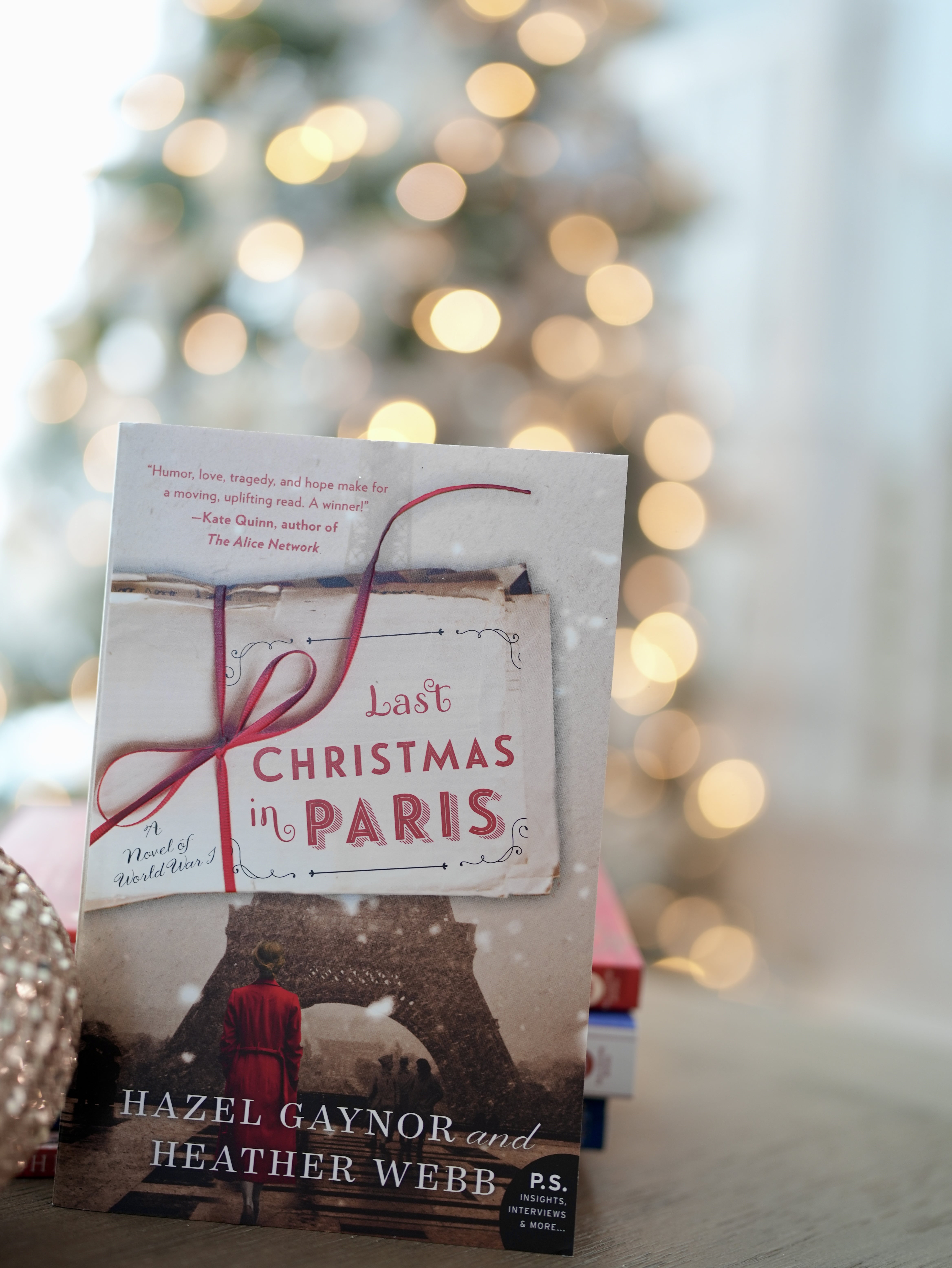 The Last Christmas in Paris is the perfect choice for fans of historical fiction, particularly those interested in WWI literature.
The story takes place over four Christmases between the years 1914 and 1918.
Like many people of that time, Elie believed the Great War would end in months.
She anticipated welcoming home her brother, Will, and his best friend, Thomas, by Christmas.
However, that's not how things unfolded.
As we all know now, World War I lasted for several years.
Elie and Thomas keep in touch by exchanging letters and sharing their hopes and fears.
Can two people become closer despite living far apart and experiencing different realities? Can love thrive amidst the backdrop of uncertainty and violence?
21. Christmas Shopaholic: A Novel
Christmas Shopaholic is a fun, festive book that will get you into the holiday spirit.
Although it's the eighth book in the Shopaholic series, you can skip reading the previous books to enjoy this Christmas-themed novel.
Becky Brandon, formerly known as Bloomwood, is embracing change. Upon returning from the United States, she decides to set roots down in the charming village of Letherby.
Becky and her best friend, Suze, now work together at the gift shop in Suze's stately home.
​
Becky loves the old family traditions her family had at Christmas. But this year, things are going to change – and drastically.
When her parents, who are moving to an ultra-trendy town, ask Becky to host Christmas, she is unprepared for the unexpected mishaps.
​
Will she be able to capture the beauty of Christmas for her guests?
23. Comfort & Joy: A Fable by Kristin Hannah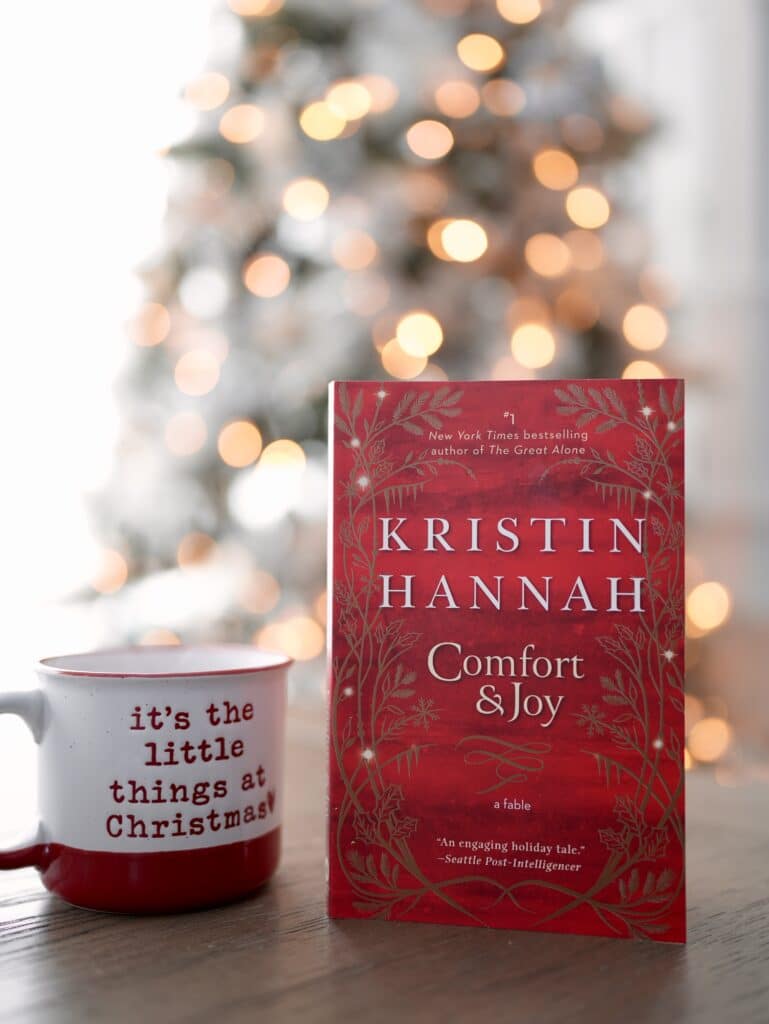 If you enjoy the writing style of Kristin Hanna, then make sure to add this Christmas story to your reading list this holiday season.
The bestselling author of The Four Winds and The Nightingale tells a tale about a woman who gets another chance at happiness.
Comfort & Joy centers around Joy, a woman who used to love Christmas but now she's divorced and not feeling very celebratory.
She boards a plane and heads to the Pacific Northwest, ready to start anew.
She finds herself in Rain Valley, where she meets a boy who's recently lost his mother.
Not able to cope with her death, the boy has stopped talking altogether, much to the dismay of his grieving father, Daniel.
Surprisingly, Joy and Bobby form a special bond, and they begin to heal together.
But something happens, and suddenly, Joy is left heartbroken again.
On Christmas Eve, when anything seems possible, Joy is faced with the choice of taking a chance and going after what she wants.
24. Home for Christmas: A Novel by Courtney Cole
This book is a must for fans of historical fiction and time travel looking for a holiday-themed read. It might become one of your favorite Christmas books!
Home for Christmas follows Piper McCaulley as she travels to the 1940s to meet her young grandmother.
During her journey, Piper gains a new perspective on her grandma, discovering the true value of family legacy and Christmas cheer.
25. The Christmas Orphan's Club by Beca Freeman
Looking for a holiday romantic comedy? Check out this new and modern holiday read!
The Christmas Orphan's Club is written by bookfluencer and BAD ON PAPER podcast host, Becca Freeman.
It's about four friends who live in New York City and hold tight to their unconventional Christmas tradition even when their lives take them on different paths.
Meet Hannah and Finn. They've spent every Christmas together since college. Neither of them have elsewhere to go.
Upon starting their adult lives in New York City, they befriend stylish Priya and mysterious Theo, forming a family and a sense of belonging they've always longed for.
WANT MORE READING ADVICE & TIPS FOR LIVING A BOOKISH LIFE?
Head to the blog posts below for more book lists and advice on how to read more books!
The Many Benefits of Reading Books
Jane Austen Books in Order
How to Get Out of a Reading Slump
The Best Books on the Salem Witch Trials
Cozy Reading Nook Ideas for Book Lovers
Colleen Hoover Books In Order: The Ultimate Guide