Succulent Pumpkins DIY Centerpiece for Fall
DIY pumpkin succulents are such a fun and pretty craft to create, and it's simple, too! If you're looking for fresh fall decor to add to your home, a succulent pumpkin arrangement looks gorgeous as a fresh fall centerpiece or along your front porch alongside your potted mums. 
The great thing about this succulent craft is it gives you a chance to get creative. There's a lot of variety and room for experimenting with this arrangement!
For instance, there's a variety of succulents of different shapes, colors, sizes, and even textures to choose from and use.
No two succulent pumpkins will look identical and that's the beauty of it.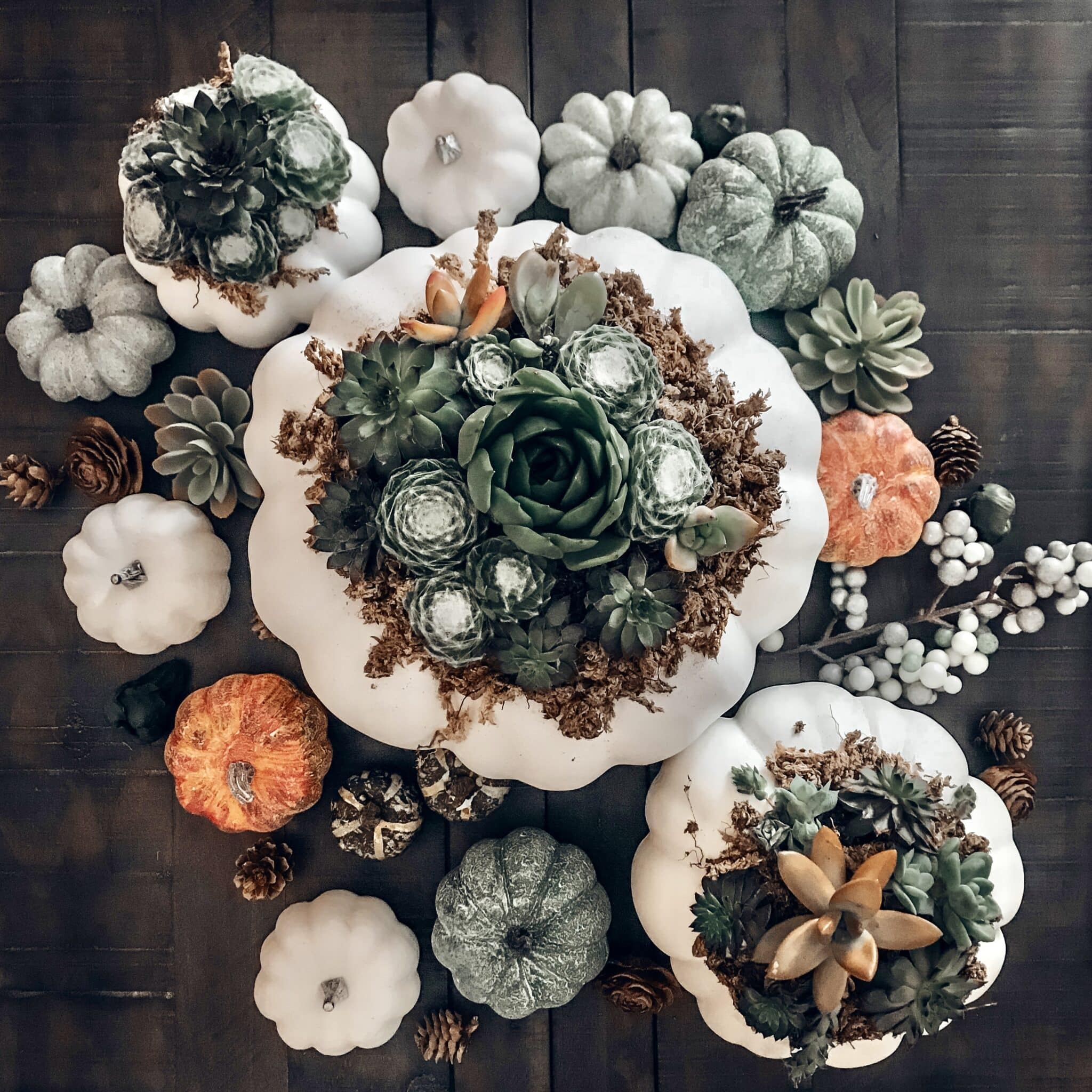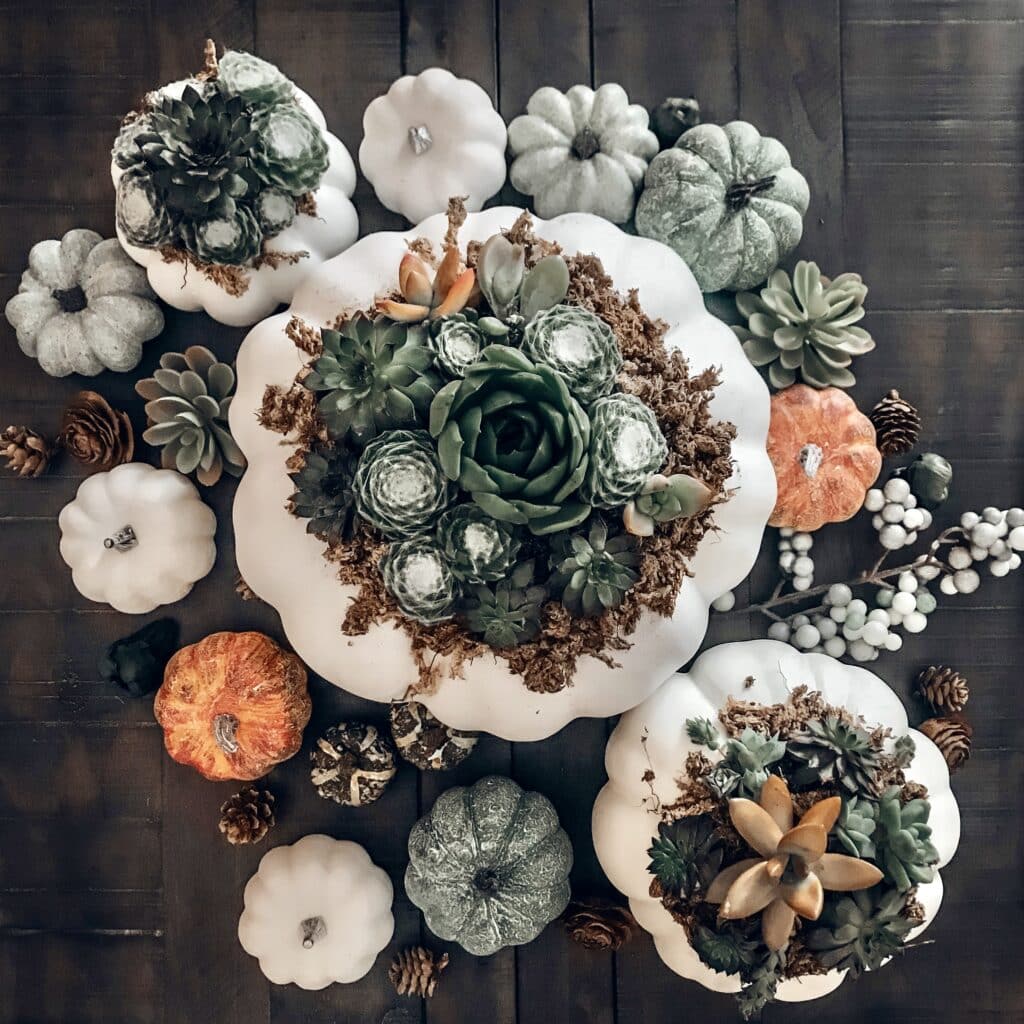 For this DIY project, you can use mini pumpkins, craft pumpkins, real Cinderella pumpkins, or large faux pumpkins. 
You don't have to stick to the typical fall colors, either. You can use teal or white pumpkins, for instance.
They don't have to be orange or yellow.
Your beautiful pumpkin centerpiece can last for months on end, too.
For instance, if you create the craft in October, you can enjoy it on your Thanksgiving table and through the autumn season! It's longevity is amazing.
There are different ways to display your succulent arrangement and I hope you get some inspiration from what I've created here.
This is one of my very favorite succulent arrangements to create and I make them with love each time. Let's get started! 
How to Care for Succulent Pumpkin Crafts
A succulent pumpkin craft can be taken care of in a similar way to all succulent plants. You'll need to provide them with bright light, a growing medium like Spanish moss, and water, but not too much!
If you're keeping your arrangement indoors, then it won't need very much water at all. You'll simply want to mist the moss about once a week with a few sprays of water to moisten the area.
When you're done spritzing, remember to wipe dry the pumpkin to prevent any mold from growing. This is enough to keep the succulents thriving for at least a couple of months.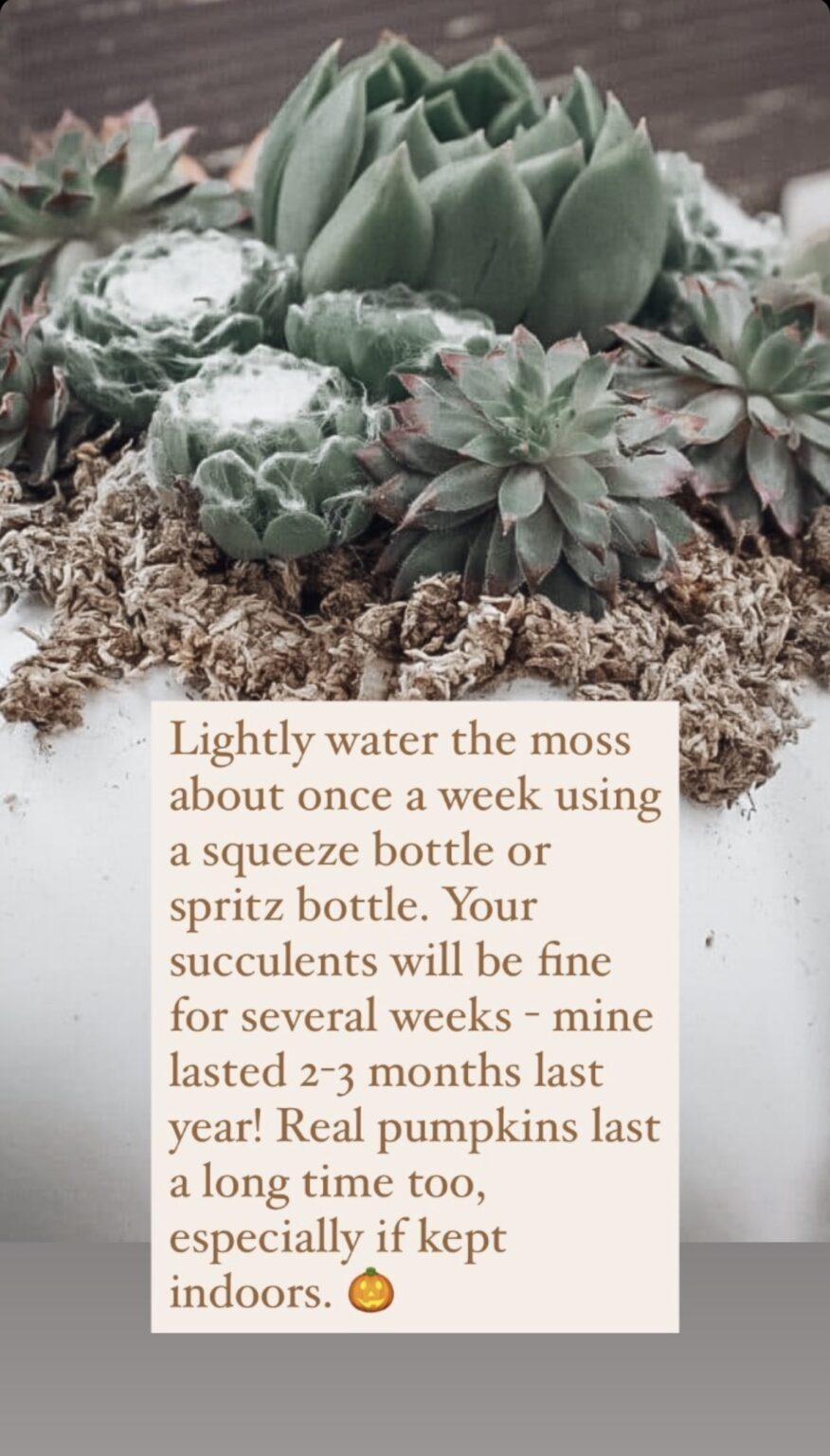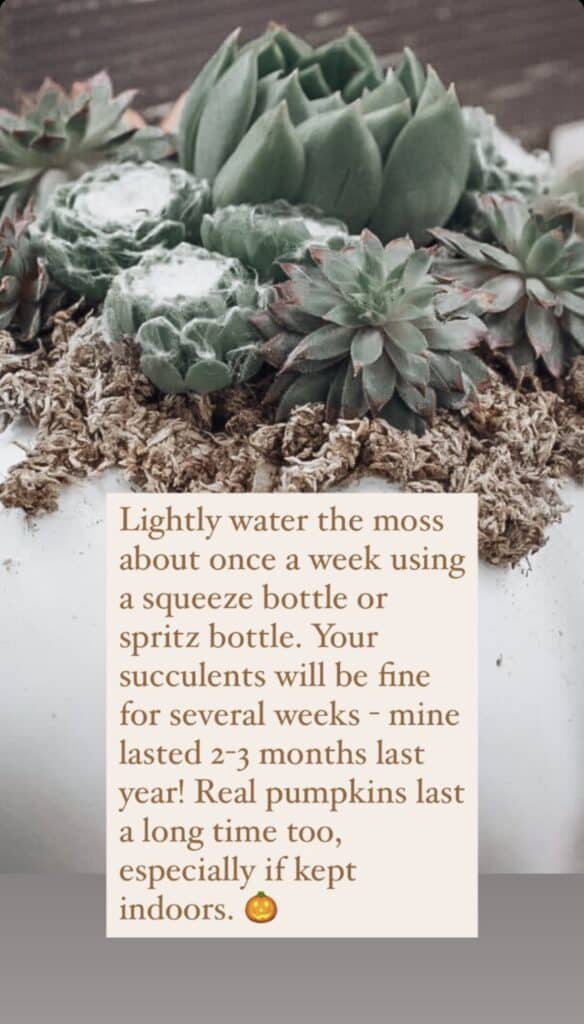 Bigger pumpkins will need a little more water than smaller ones.
Then, when pumpkin season is over, you can take the succulents off the pumpkin, gently, and plant them into fresh soil.
In a few months, the succulent cutting will grow new roots!
If replanting outdoors, be mindful of the weather. Extreme weather can quickly kill a succulent that's been living indoors.
Wait until extreme weather conditions have passed before moving indoor succulents out into your garden.
Also, placing them in indirect sunlight instead of full sun is usually a better idea; this gives the succulent plant time to acclimate itself to more sunshine. If you skip this step, your plants might get sunburned quickly.
With proper care, you'll be able to enjoy your succulents long after you're done displaying your craft pumpkins.
Supplies Needed for Succulent Pumpkin Centerpiece
You've surely seen succulents planted on top of a pumpkin before. You may have wondered what type of succulents or pumpkins are best.
Let's talk about it!
The supplies listed below are what I've found to be the best for this type of craft. While you can use many different things to create a pumpkin craft, this is what I prefer to use.
You can find the following supplies at a few places including crafts stores like Michael's and Joann's.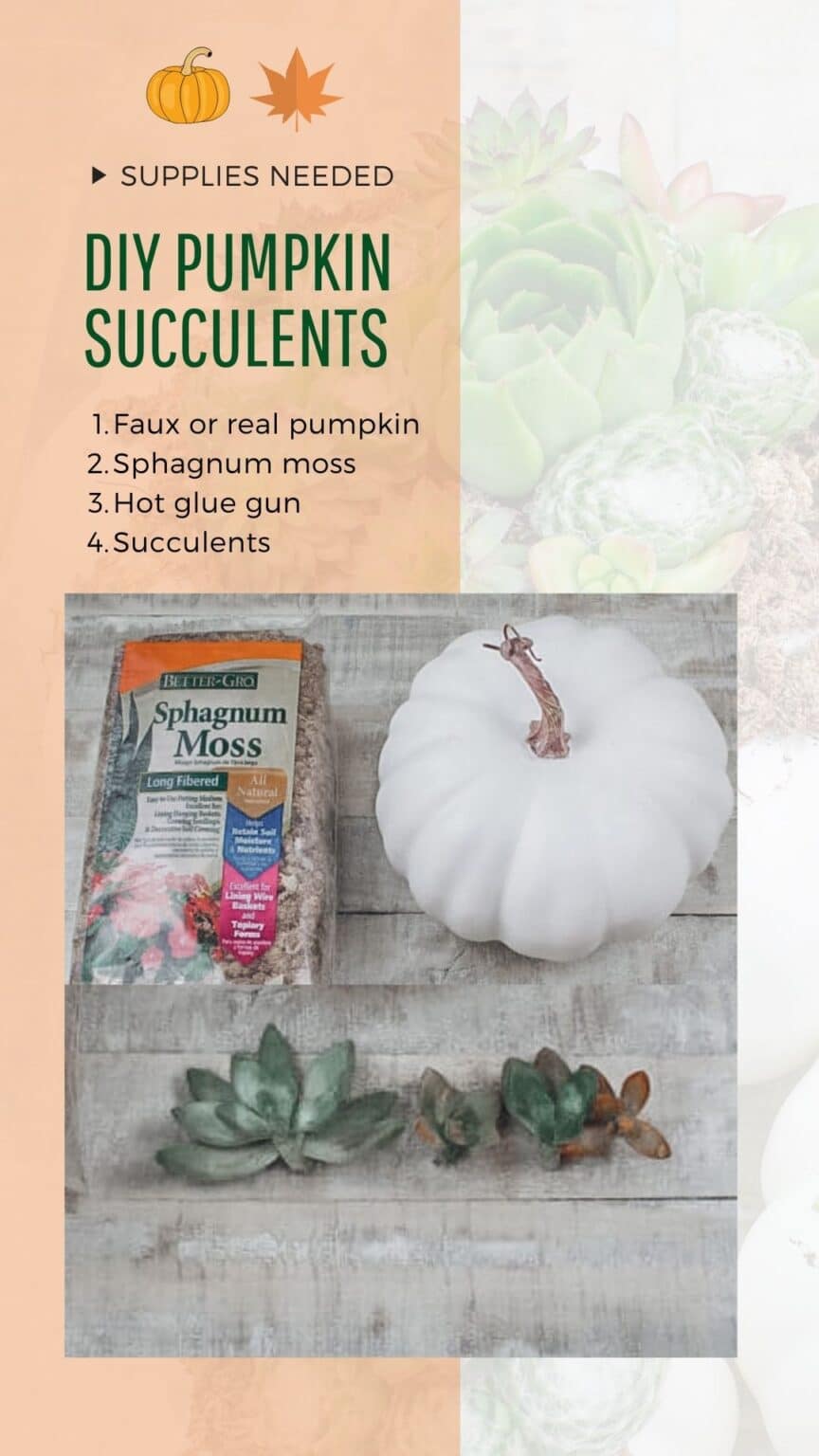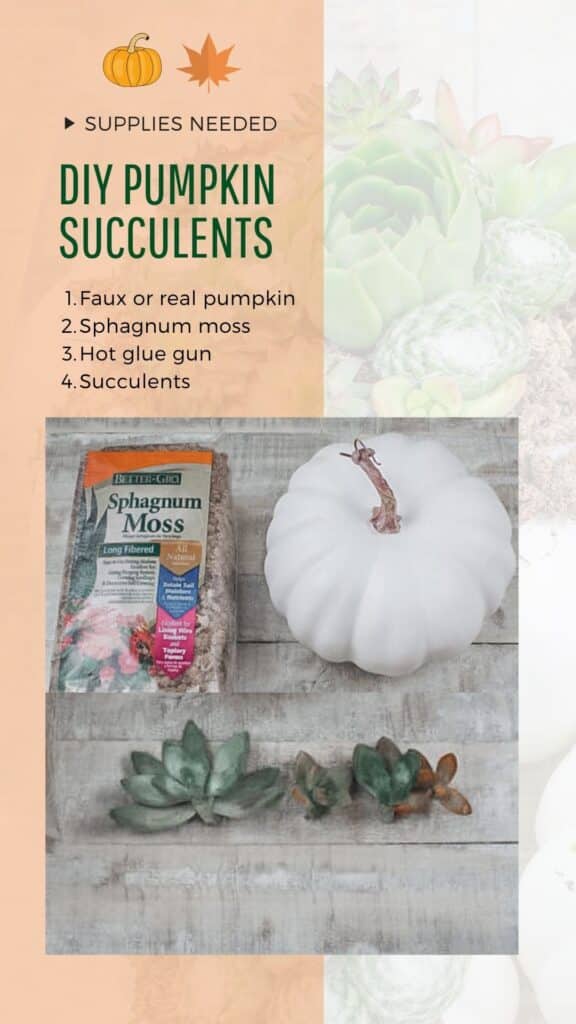 You can also find them on Amazon, which I've linked for your convenience.
As far as the type of succulents, I find tiny succulents or succulent cuttings to be the easiest to work with.
If you're working with a small pumpkin you'll definitely need small succulent plants.
Small succulents can usually be found at places like Home Depot, Lowe's, and local garden centers.
The most important thing to look out for is a flat top on your pumpkins. They're easier to work with AND they'll stay in place, not rolling around once you put them down. So whether you choose a faux pumpkin or a real one, make sure the bottom is flat.
Think of Cinderella pumpkins over perfectly round pumpkins.
Craft stores sell all sorts of sizes and shapes, so choose one that can sit securely on a fall table.
This is especially important if you're creating this craft to serve as your table centerpiece.
Supplies Needed for DIY Succulent Pumpkins:
Faux or real pumpkins
Succulents, succulent cuttings, or succulent clippings
Sphagnum Moss (the best moss for succulent crafts)
Hot glue gun and hot glue sticks OR craft glue
Step-by-Step Succulent Pumpkin Craft Instructions
Once you've picked out the pumpkin, wipe it down to remove any debris or dust, especially if using a real pumpkin. This will help it last longer and keep it from rotting quickly.
Then, take your adhesive spray (or hot glue) and place glue on the top of the pumpkin. Grab enough moss to cover the top.
You want enough moss so that your succulents can nest there nicely and you also want it to look pretty.
The moss is a big visual part of the craft, so be generous with it.
The green and beige color of the sphagnum moss adds an additional natural element to the craft that really helps to liven it up.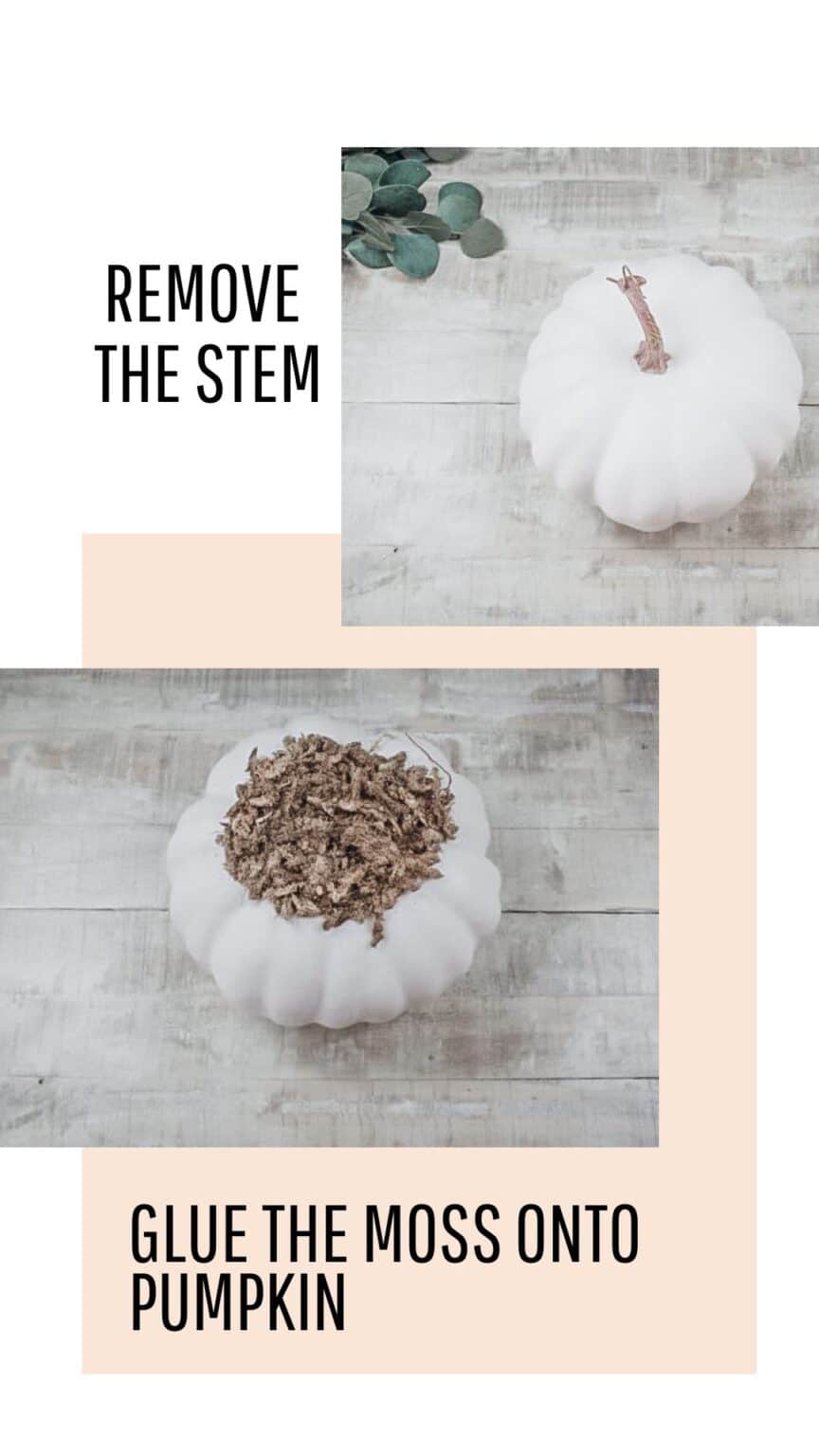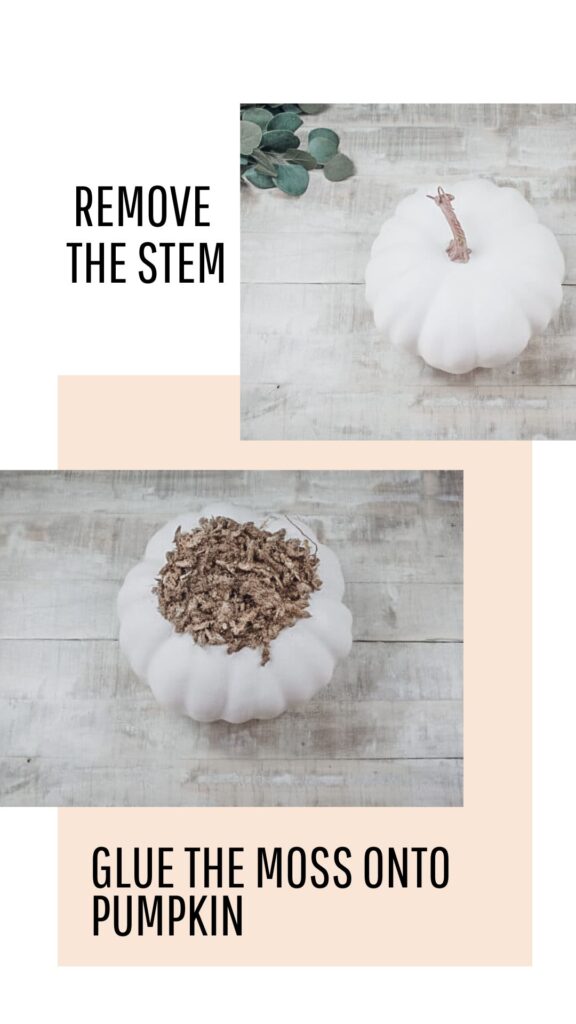 Next, you can take your glue of choice and put it on the bottom of the stem of the largest succulent as well as on the sides of it.
You might want to do this quickly if using hot glue because it hardens quickly. 
Stick the succulent onto the moss and hold it there for a few seconds to secure it.
Now you can start placing your smaller succulents around the larger one, your "star succulent", so to speak.
This is where you can get artistic and decide which succulents look best together. You can arrange them in your own perfect way.
You can use a variety of succulent plants on one pumpkin or you can stick to just a few or maybe just one.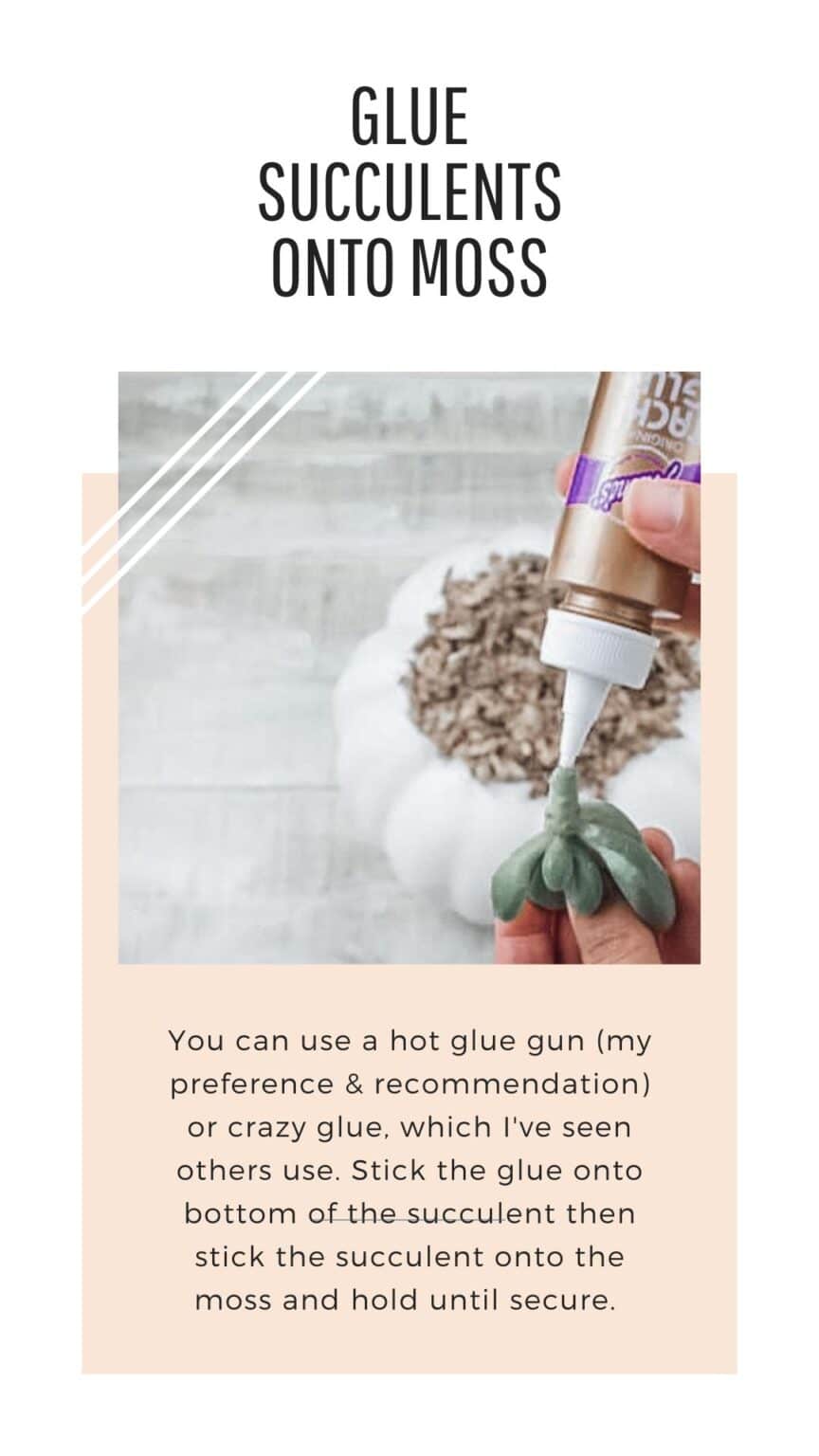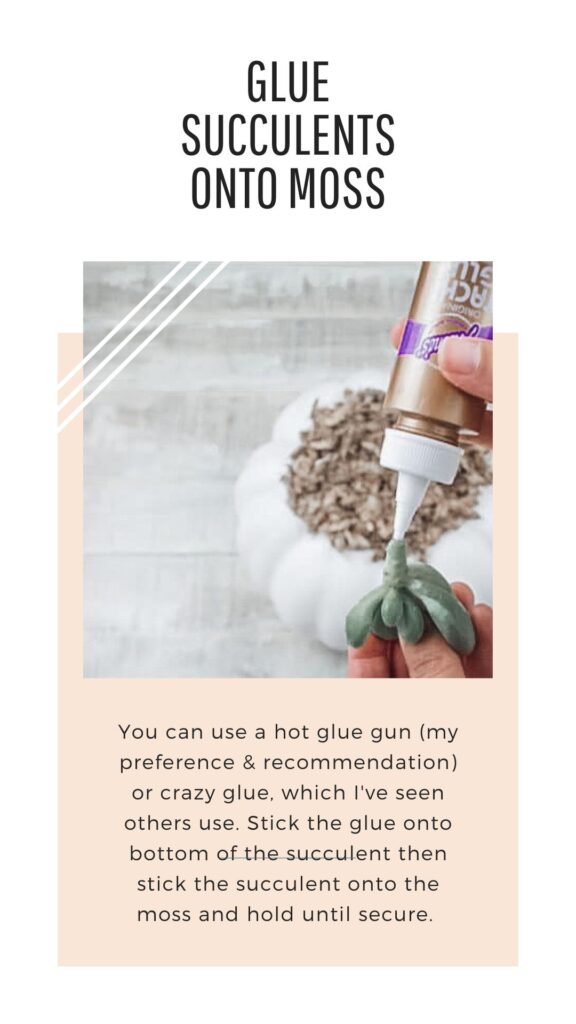 For more variety or to add a "spiller" to the craft, you can use a trailing succulent like a string of pearls plant or string of bananas.
String of pearls is a succulent that performs very well indoors and looks gorgeous on pumpkins, especially orange pumpkins.
Try gluing the stem of your string succulent to the side of the pumpkin, rather than the center. It makes for a very pretty focal point.
Take your time placing the succulent cuttings and work in small sections at a time. This way, you have time to see whether or not you like the direction you're going in.
You can always change them around if they don't suit the look you're going for.
That's pretty much all it involved!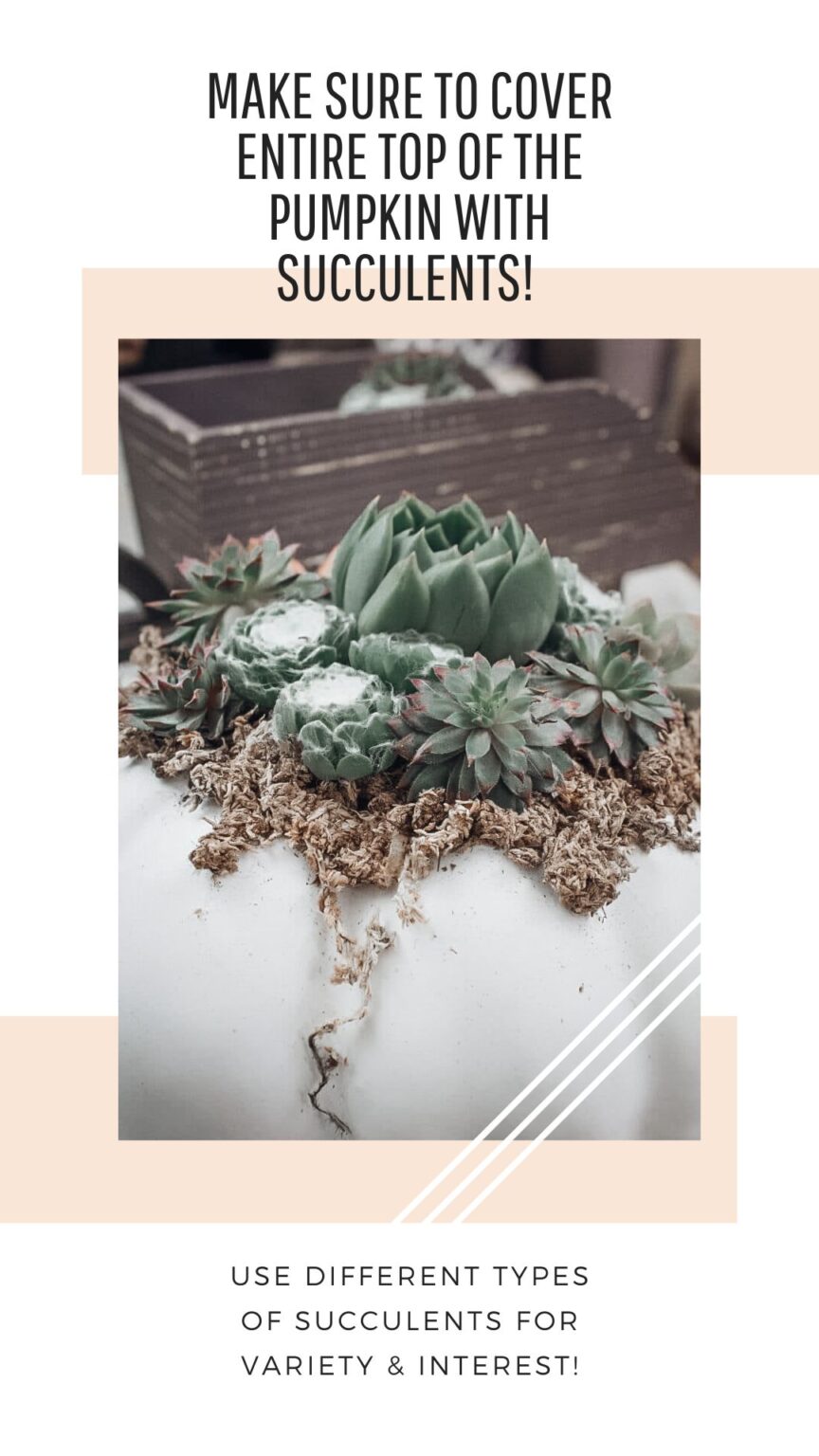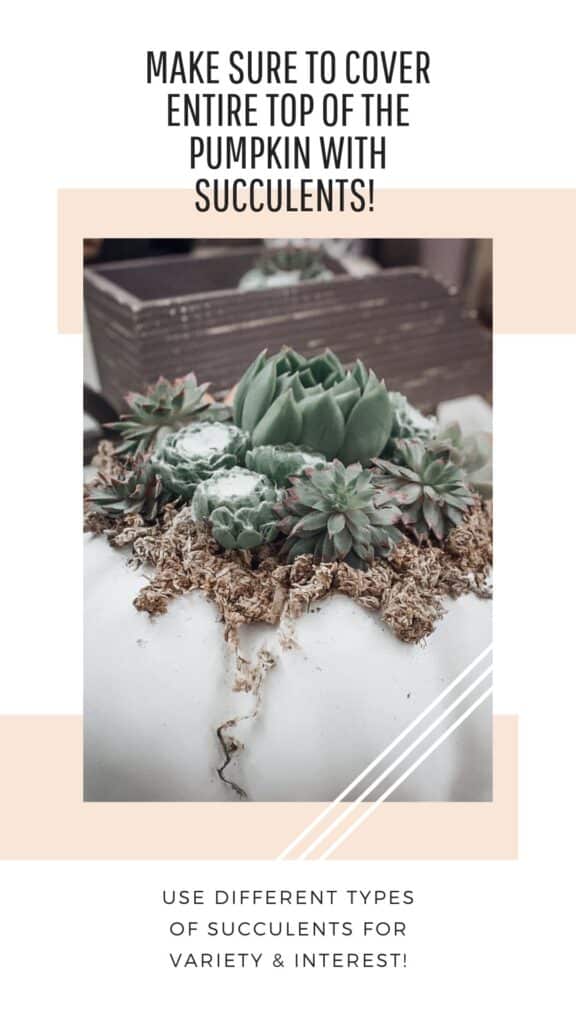 This simple project might look more complicated or intimidating than it actually is, but if you're patient and take the time to choose some good succulent types, you'll end up with something you love and want to show off!
Take this DIY succulent pumpkin centerpiece, for instance. I kept it on my dining table throughout the Fall season and received so many compliments and tutorial requests!
When winter rolled around and it was time to break out my Christmas succulent crafts, I simply took the succulents off the pumpkins and gently laid them on top of fresh cactus soil.
In a few week's time, tiny roots began to form, which let me know the plants were doing great in their new home.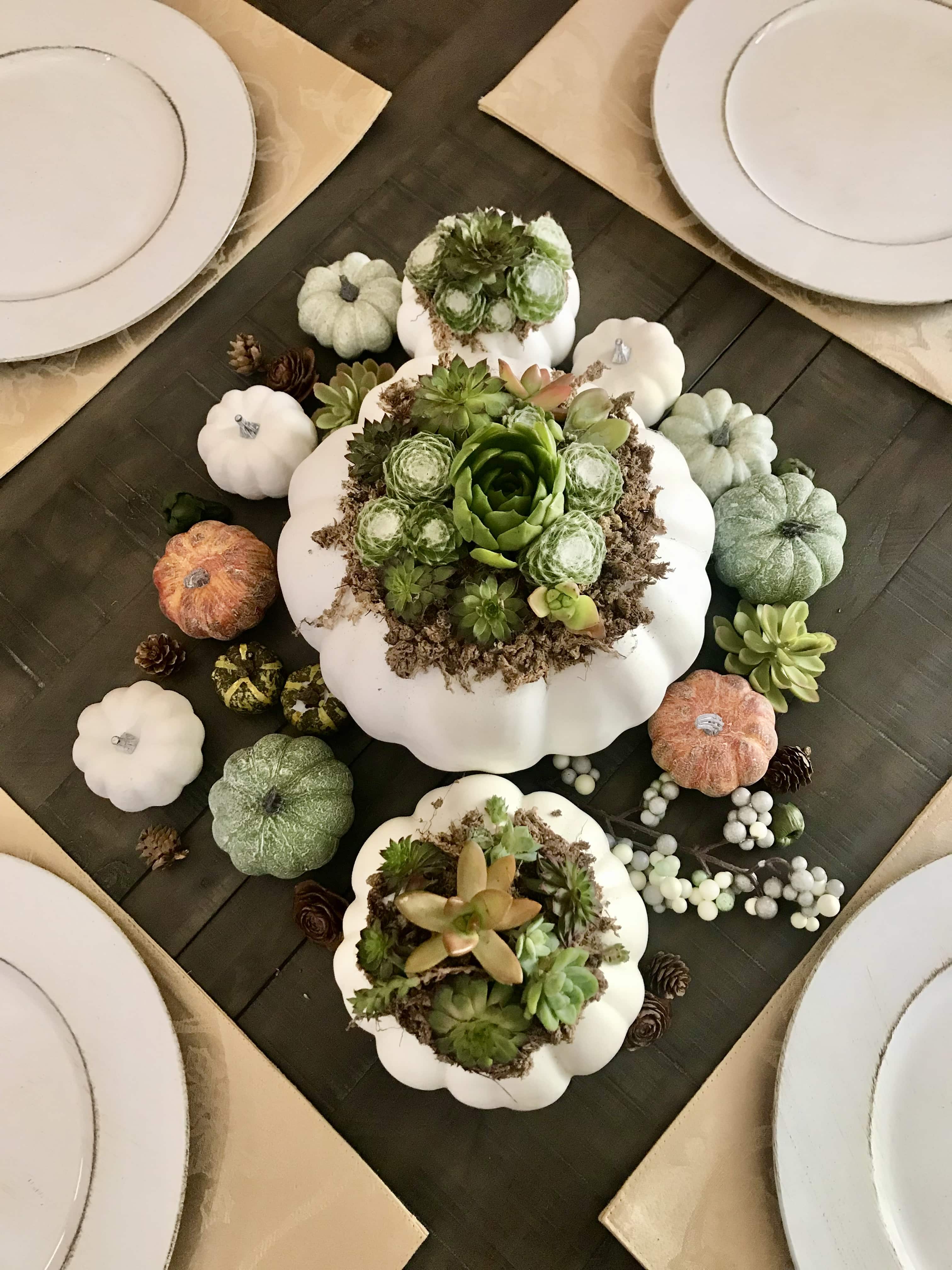 Good luck with your DIY pumpkin succulent arrangement and please tag me when you're done @itsnatalielinda. I'd love to see what you create!