I have a confession to make: I've never been good at making brownies. Until now, that is. For some reason, I had a habit of burning them in the pan, no matter which recipe I followed. I always committed the same mistake: leaving them in the oven for too long.
These Mexican-inspired brownies have forever changed the way I feel about vegan brownies. They're made with oil, not butter, and there are no eggs in this recipe. I used both cocoa powder and chocolate chips. But that's not what makes them special. Chocolate ganache made with espresso powder, cinnamon, vanilla extract, and cayenne pepper topped with chopped pecans is what makes this recipe shine.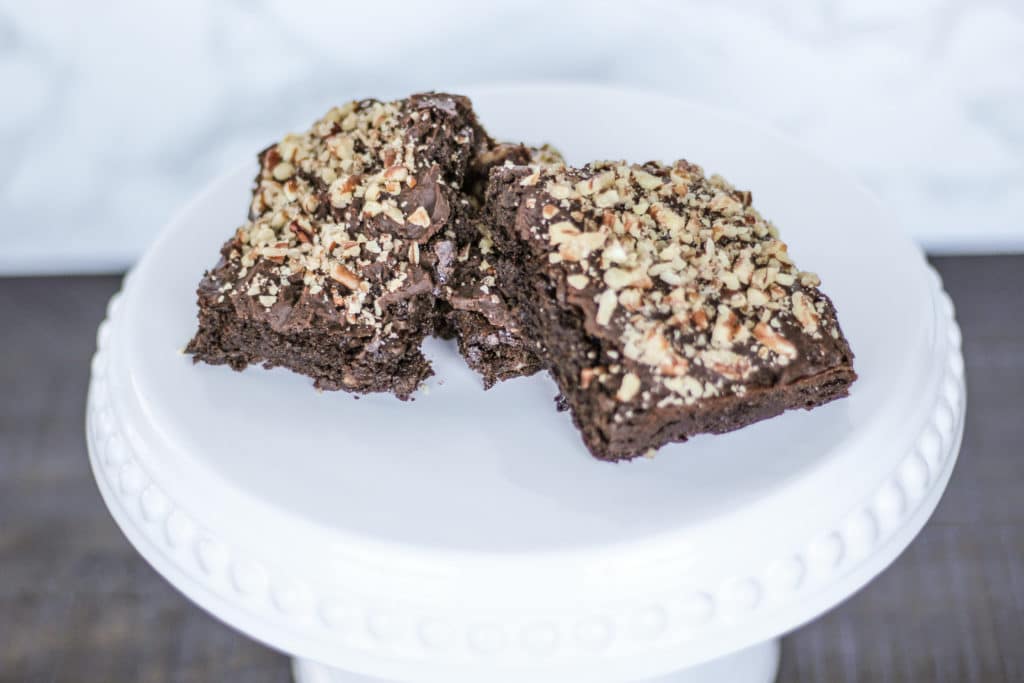 Did you know that espresso powder deepens the flavor of chocolate? It's almost magical. If you've never added espresso powder to your chocolate baked goods – try it and thank me later. It will kick your dessert up about a million notches.
These vegan brownies deviate from the classic brownie that most people are used to- but in a good way. Plus, isn't it nice to try something new every once in a while? 
This brownie recipe came about the other night when I couldn't overcome my craving for a nice big chocolatey brownie. I headed to the kitchen and started baking. Luckily, I usually always have flour, cocoa powder, and some chocolate chips in what I designated as my "baking station".
This time, however, I didn't make the mistake of over-cooking them. I took the brownie pan out of the oven after 25 minutes and I let them cool for over an hour. It worked! The brownies continue to bake because of the heated pan and this time they retained their moisture.
The brownies tasted great but I wasn't content. I wanted more of a chocolatey taste and I also wanted to try something new. So, I decided to make a veganized chocolate ganache from scratch and I put some espresso powder and cayenne pepper in it to spice things up.
It might sound crazy to add pepper to a chocolate dessert, but the two distinct flavors blend very well together. They complement each other perfectly. As long as you don't over do it with the pepper, the cholocate flavor still comes through…trust me!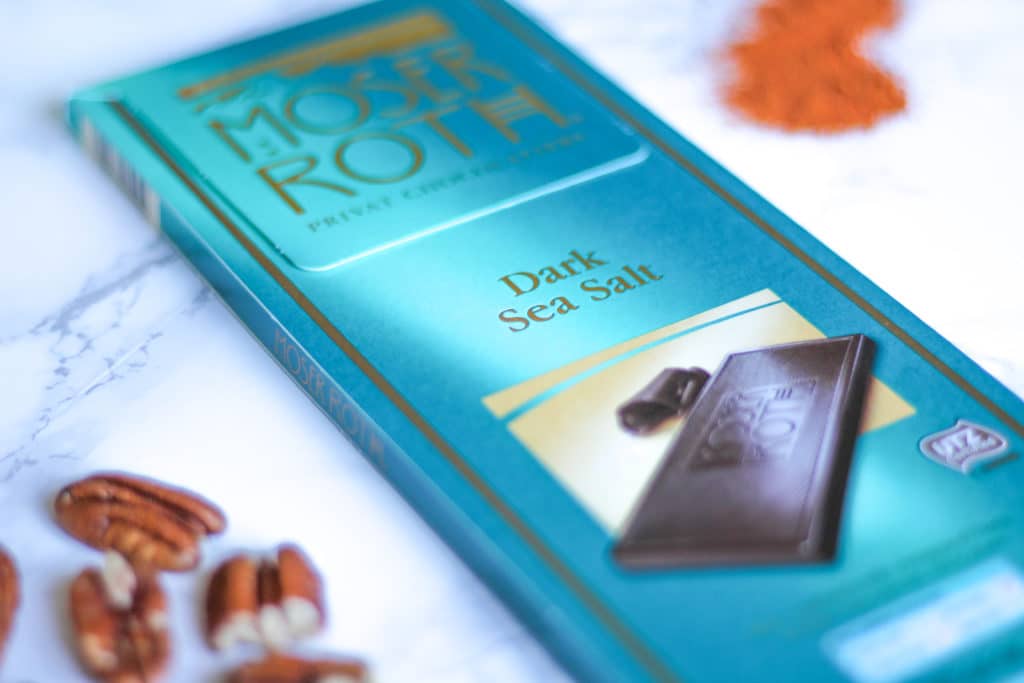 I'm calling these brownies Mexican-inspired because when I think of Mexican cooking, I think of spice and bold flavors like cinnamon and espresso. Blending these ingredients together resulted in one of those pleasant surprises that doesn't happen too often in baking. 
If you're looking for a vegan brownie that doesn't taste plain or predictable, you need to try this recipe. If you're not vegan but love a little spice in your food, this one's for you, too. Here's the recipe! 
Mexican-Inspired Vegan Brownies with a Kick
Ingredients
2 cups All Purpose Flour
1/2 canola oil
1/2 unsweetened apple sauce
1 cup soy milk
3/4 cocoa powder
1 tablespoon vanilla
1 teapsoon espresso powder
1 cup semi-sweet chocolate chips
1 cup packed light brown sugar
1 cup chopped pecans or walnuts (optional)
Instructions
Preheat oven to 350 degrees
Grease a 9x13 baking pan and line with parchment paper
In a large mixing bowl, combine oil, applesauce, and brown sugar.
Sift and gently stir in the flour, espresso powder, baking powder and salt until combined (Do Not Over-Stir)
Slowly mix in the milk, pecans, and the chocolate chips
Pour batter into the greased pan
Bake for 20-25 minutes
Take the pan out of the oven and let sit for 10 minutes
Pull the parchment paper up to take the brownies out of the pan
Let the brownies cool on a cooling rack for at least 1 hour
Top with spicy chocolate ganache, see recipe below!
Notes
Be mindful NOT to over-mix the batter after the dry ingredients have been added to the bowl because this will create air pockets that will leave you with a cakier result.
For brownies, it's key to NOT over-bake. Try taking the pan out of the oven after 20-25 minutes, even if they look wobbly. They'll continue to bake in the pan after you take them out.
Do NOT bake your brownies on the bottom shelf of the oven - they'll bake too quickly and they'll burn. Try the top shelf instead.
Let your brownies cool completely before you eat them. This will help them take form so that you don't end up eating a crumbly mess. Let them sit at least 1 or 2 hours.
Vegan Spicy Chocolate Ganache

You don't need heavy cream to make ganache! The ingredients you'll use consist of melted vegan chocolate, coconut oil, and powdered sugar for thickening. The amount of powdered sugar you use will depend on how thick you like your ganache. I like it pretty thick so I use about 3/4 of a cup of powdered sugar and sometimes up to one cup.

Ingredients

3/4 cup of vegan chocolate chips (melted) or 1 large vegan chocolate bar (at least 4 ounces, chopped)
1/4 cup milk of choice (I used soy milk)
3/4 cup of powdered sugar
1/4 cup of melted coconut oil (I use unrefined)
2 teaspoons espresso powder (I use decaf espresso beans from Intelligentsia)
1/4 teaspoon of cayenne pepper
1 1/2 teaspoons of ground cinnamon
1 teaspoon vanilla

Instructions

Heat the soy milk in a microwave-safe bowl for about 30 seconds.
Add the chocolate to the bowl, allowing it to melt, then stir
Melt the coconut oil and combine it with the melted chocolate and milk
Stir in the vanilla, espresso powder, cinnamon, and cayenne pepper
Allow to cool
Slowly sift the powdered sugar into the bowl and mix until you reach the desired consistency
The ganache will thicken the more it cools
Wait until it has cooled before frosting your brownies
Top the brownies with chopped pecans

Notes

If you let the ganache cool in the refrigerator, it will thicken quickly. If you'd like a thinner frosting, simply pop it in the microwave for a few seconds