I'm obsessed with journals, planners, and notebooks. I buy them with the hopes that they can help me stay organized and focused. I'm always left disappointed, though, and feeling like I need more.
I used to keep several planners that served different purposes, so when I heard of the bullet journal and what it can do, I became intrigued.
And how exactly do you start a bullet journal? I had to find out. So, I did some research.
.
What is A Bullet Journal?
A bullet journal refers to a notebook planning method invented by Ryder Carroll. Essentially, a bullet journal is a build-it-yourself planner.
It can be as simple or as complex as you make it. You can take a minimalist approach to your bullet journal, or you can get artistic and creative with it, too.
The basic principles of the bullet journal involve a few systems that were created to help you stay organized and focused on your future, monthly, weekly, and daily goals and to-do tasks.
It's become such a phenomenon because it's completely customizable and it gives you the freedom to create your own layouts and set your own priorities.
You're not restricted by your planner's pre-configured templates, and that's what makes it so effective.
Many times, when you buy a planner, you find that you don't need as much space for certain tasks, or you don't have enough space for the things you need to write down.
With the bullet journal, you avoid that problem.
How to Start a Bullet Journal
View this post on Instagram
Image credit: @mylittlejournalblog
Bullet Journal Supplies You'll Need
Let's get into what you actually need to start your first bullet journal:
1. NOTEBOOK
One of the great things about this organizational notebook system is that you don't need to have any particular, special journal. In fact, any old notebook will do.
If you're like me, however, and you're motivated by beautiful things, you're probably looking forward to buying a new notebook in your favorite color and size dimensions.
My favorite one thus far is the Leuchtturm1917 Hardcover Medium Dotted Journal
in Berry (I like pink!). It's hardcover, sturdy, and the perfect travel size, too.
It's probably the most popular notebook for bullet journaling. It can definitely fit in your backpack or large handbag.
Other good options that are popular in the bullet journal community include the Scribbles That Matter Dotted Journal
and the Minimalism Art dotted notebook
.
(TIP: If you prefer a spiral notebook, Fringe Studio makes beautiful ones (shown below). The pages are thick so that ink doesn't bleed through, plus its faux leather and has gold foil detailing on the front cover. It doesn't come with an Index or numbered pages, however, which are essential parts of creating a bullet journal. (more on that later.) So you'll have to create those things yourself. However, I recommend you try out a dotted journal first, as it really helps create beautiful lines and layouts but isn't as restricting as lined paper.)
2. PENS & HIGHLIGHTERS
As far as pens go, I personally like to use erasable pens because if I make a mistake or don't like how my layout is panning out, I can just erase it instead of using white-out or wasting a page.
Plus, I sometimes like bright, colorful pages in my bullet journal, and the erasable pens I use come in various colors, which helps me differentiate my tasks and beautify my journal. These erasable gel pens
on Amazon have more than four thousand 4.5 star reviews! Read more about why I love using erasable pens here.
Bullet journalists also go CRAZY for these Zebra Highlighter Mildliners
. They're gentle on the paper and aren't overbearing. They also come in a host of different shades – they're pretty much perfect.
Here are just a few popular pens that lots bullet journalists swear by:
Pilot G2 Retractable Premium Gel Ink Roller Ball Pens
Tombow Fudenosuke Brush Pen
3. RULER
Yes, you're going to need a ruler to draw lines for all those spreads you'll create. You don't need a fancy one, any ruler will do.
I recommend a 6-inch ruler because its the ideal size for drawing lines across the Leuchtturm1917, which is the notebook I have. If you're using a larger notebook, you might prefer a larger ruler. Many bullet journalists swear by rulers that have a non-slip cork backing, like the one below.
4. WASHI TAPE & STICKERS
Do you like adding pops of detail to your planners? Washi Tape
is great for this because they come in different prints, so it's perfect for highlighting different tasks and reminders, as are stickers and sticky notes
.
Remember, no planner on earth can force you to keep using it, so creating a planner that inspires you is key. While washi tape isn't absolutely necessary, it does help to beautify your journal, and I find that a beautiful journal is actually much more inspiring than a plain one.

How to Create a Bullet Journal
Let's get started on how the basics of what you should include in your journal!
INDEX
First, you'll want to create an Index. Think of your index as your journal's Table of Contents.
If you're using a notebook that doesn't already come with numbered pages, make sure to number the pages yourself so that you can keep an index. If you include an Index, you won't ever have to frantically look for a page or note, you'll just check your index for your note's page number. It' an easy filing system!
Simply leave the first few pages of your notebook blank so that you can add your entries and page numbers to the Index as you go along. Here's an example: the Key (which we'll get to below), is on Page 1, the Future Log is on pages 2 through 5, and the Monthly Spread for February is on pages 6 through 7. (I started this journal in February, which is why you don't see January listed in my Index!)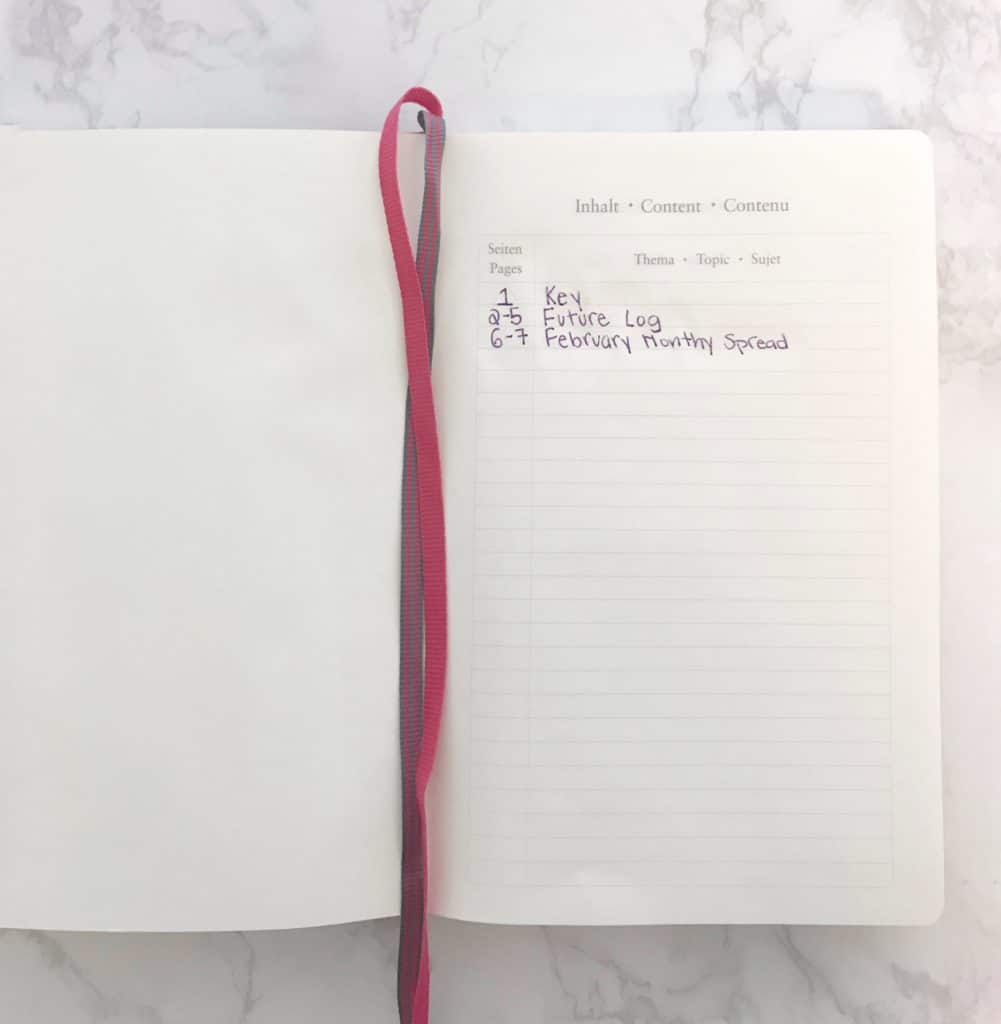 2. KEY
Now that you know how to create your Index, let's move on to your Key, aka your Legend. Don't panic – it's not complicated!
A bullet journal Key or Legend is simply a page where you store all of your symbols and what they symbolize. See the example below. These symbols will help you stay even more organized with your tasks – they'll remind you of what you've completed, what you've moved to another day, or what you haven't completed yet, etc.
You can add more symbols as you get more comfortable with bullet journaling. For now, I recommend keeping your Key simple and easy. It will be another layer of your organizational system!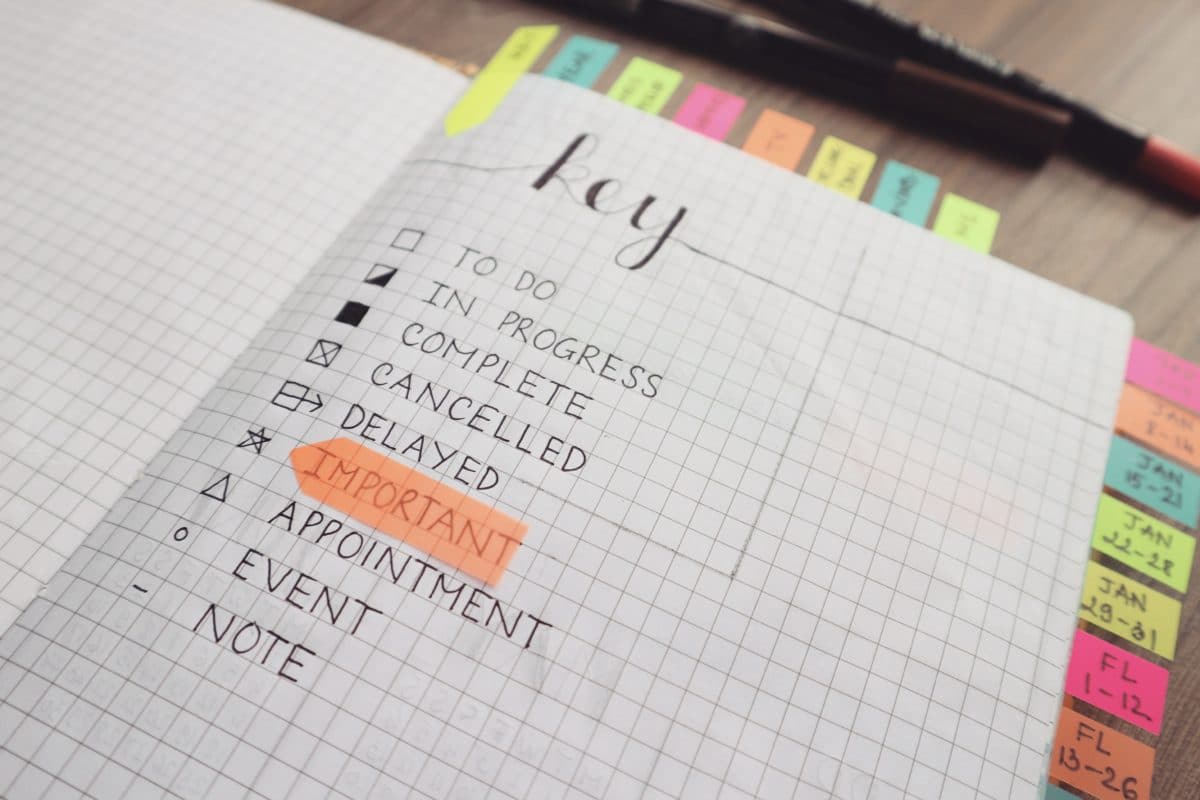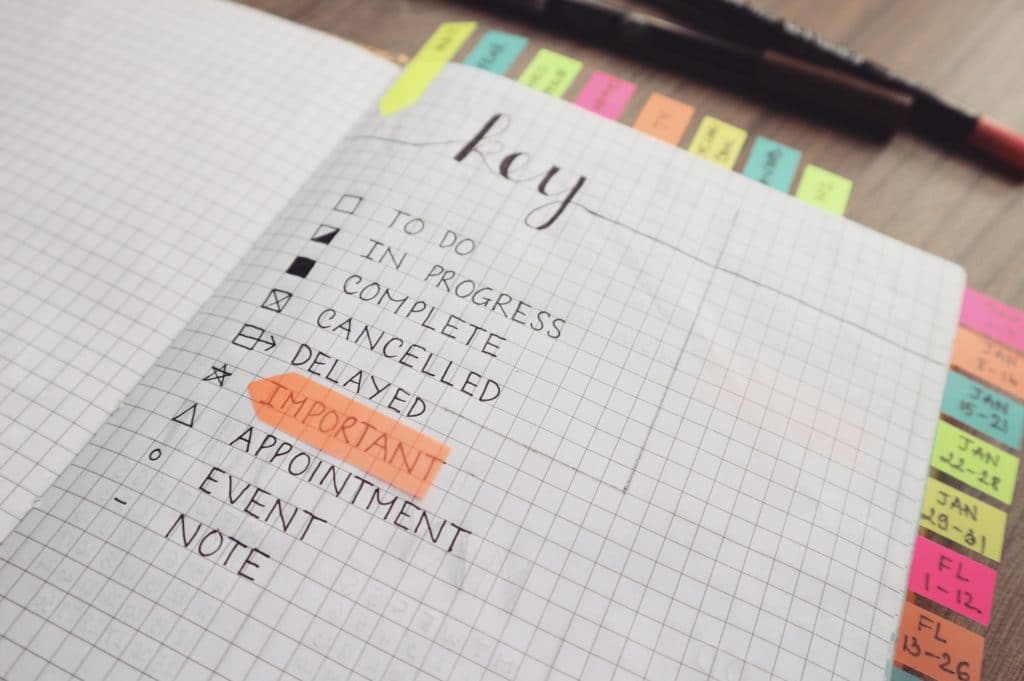 3. FUTURE LOG
Your future log is pretty important because it serves as the "bigger picture" for the year ahead. This log usually consists of 2 pages in your bullet journal that houses all the months of the year, like a traditional Calendar. This is where you'll put anything that you want to be reminded of every time you flip to it.
Personally, I use the Future Log as the place to write my monthly goals. I choose 1 major goal for each month, and I make sure to write it at the top of the month so that it's easily seen.
You can use the Future Log to write down birthdays, yearly doctor's appointments and checkups, car tune-ups, school exams, bills, etc. Below is a simple and pretty example of a Future Log. You'll want to use your ruler for this!
View this post on Instagram

4. MONTHLY SPREAD
Your Monthly Spread is a great place to house your most important monthly commitments and goals. There are so many different layouts and spreads to try, and some of them look like a traditional monthly calendar set-up, while others are much more minimalistic, artistic, or experimental.
This Monthly Spread below is one of my favorites because the bullet journalist made it clean, functional, and pretty! There's plenty of room to write your notes, and it's nice to look at, which only helps keep you motivated.
View this post on Instagram

5. WEEKLY SPREAD
This is another bullet logging system that many bullet journalists use.
The point of a Weekly Spread is to keep you focused on the goals and tasks that need to be worked on before the next week begins. This is the place where you'll store your weekly appointments and key reminders.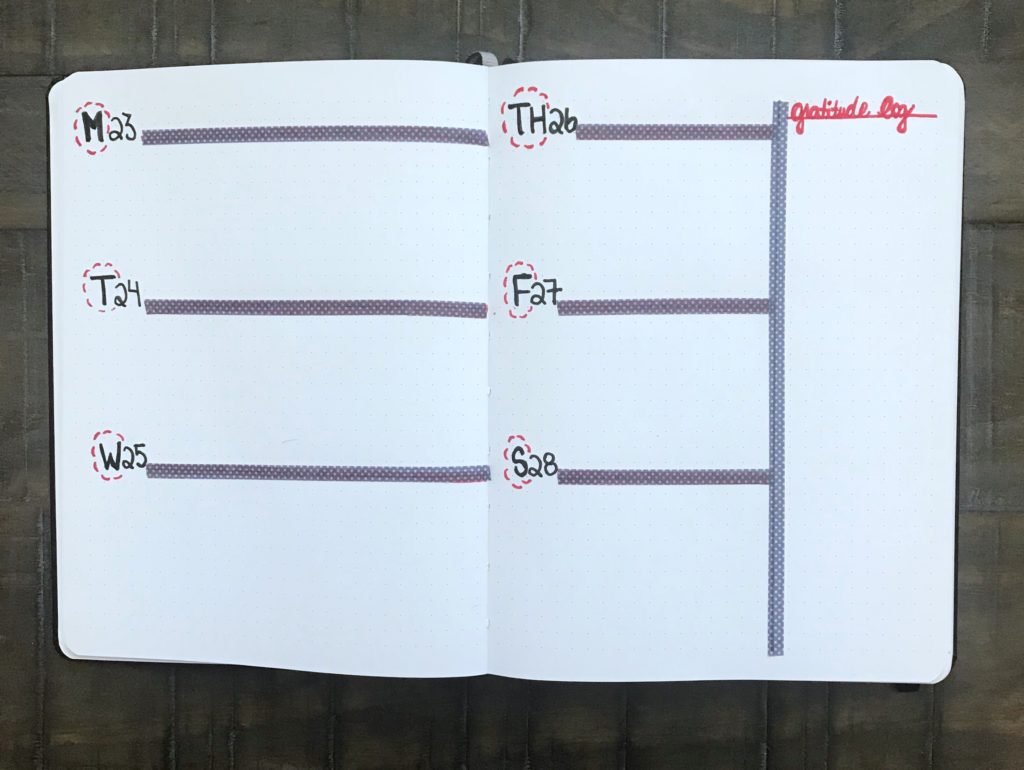 There's no rule that says you have to use a Weekly Spread, however. I sometimes prefer using daily spreads instead of weeklies, depending on how much I have going on. BUT you might be different! Try it out.
Have fun experimenting, and then settle on a few basic spreads that work best for you. I like this weekly spread below by @abulletandsomelines because it's simple, neat, and pretty.
View this post on Instagram

6. DAILY LAYOUT
This is my favorite spread because it's what keeps me so focused on each day's tasks! I use dailies the most and it's what keeps me coming back to my bullet journal every day.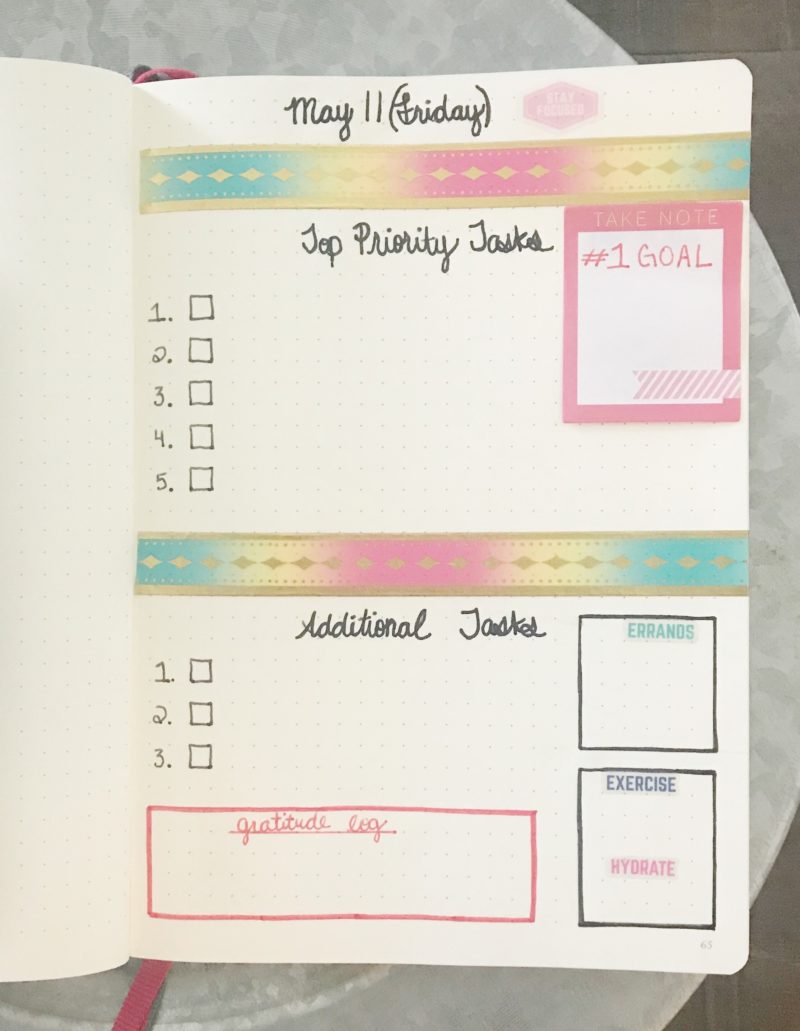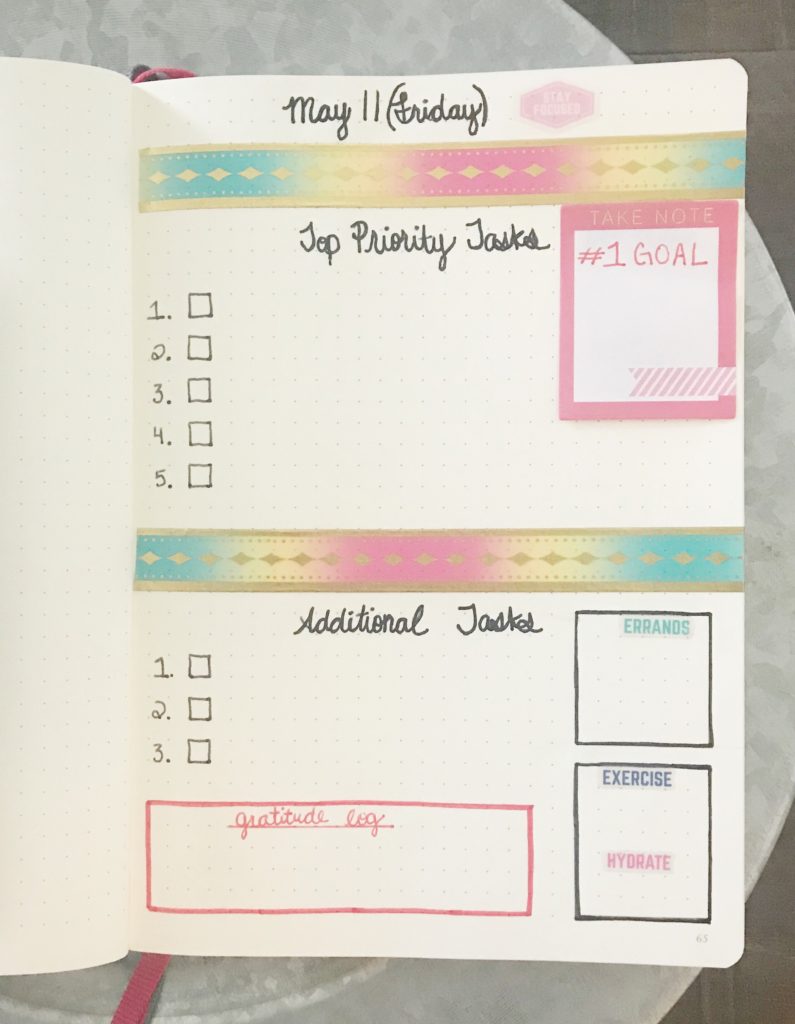 When I actually write out my to-do's, I find that alone is enough to motivate me to actually complete the tasks. (After all, what could possibly be more exhilarating than crossing out a task in your planner because you've completed it, right?!?)
In your Daily Spread, you can write down your daily to-dos, goals, errands, appointments, meetings, and reminders. Use a layout that gives you as much room as you need. That's the beauty of the bullet journal – you can take up as much or as little space as you need – you're not restricted by pre-designed layouts!
I like the simple one below by @afineplanner because the lettering and flower detail is so feminine and nice to look at, and there's plenty of space to write down what you need to. Plus, I usually like to keep my bullet journal spreads minimal and simple, so I'm inspired by layouts like the one below.
Once I have a layout down pat, I then give myself room to be a little more creative with my drawings and decorating, if that's what I feel like doing.
View this post on Instagram

That's it! That sums up the most important aspects of how to start a bullet journal! You can get more complex with entries, collections, and habit trackers as you get more comfortable with the bullet journal logging system, but for now, you're ready to start your very first bullet journal.
Remember that you're the creator of this planner, so you have the freedom and room to do as you please. Don't let yourself be hindered by perfectionism, either, just get your feet wet and see for yourself what all the commotion is about!