Weekly spreads…they're the workhorse of so many people's bullet journals.
A weekly spread can help you keep your entire week organized and skillfully laid out on 1 or 2 pages, making it easier for you to complete your most important tasks in a timely manner. Leaving room for things like habit trackers and gratitude logs makes the weekly spread even more functional and useful.
People go crazy for their weeklies because it affords them the opportunity to stay one step ahead of their schedule, which in turn gives them peace of mind. If you use a weekly spread, it's easier to foresee scheduling conflicts or identify areas that need improvement. 
It's no secret the bullet journal is meant to be entirely customizable so that it fits the needs of the individual using it. Everyone has their own unique style of creating bullet journal layouts and spreads, but you should always be trying new monthlies, weeklies, and dailies because you never know what might prove most helpful.
When you're in a slump as to what kind of layout to create next, take a look through other people's creations, it can work wonders in the inspiration department!
The 34 weekly bullet journal layouts below are all amazing in their own way. These spreads have obviously worked for the bullet journalists that created them, so they might work for you, too! 
Take a look below to see the spreads and to get my take on why they're special! 
If you love flowers in your bullet journal spreads then you NEED to be following Mone. Her spreads are so beautifully and carefully done – you'll feel awe-inspired by her artistic talent. She uses black ink so delicately in her lines, lettering, and drawings. 
Whether you're a minimalist or a person who likes lots of detail in your spreads, I think Mone is someone you're going to want to look to for inspiration. This particular weekly spread is easy to recreate – you'll just need a good ruler and a black pen to draw horizontal boxed columns for each day of the week. 
If you know how to draw flowers, you can leave space for that at the top of the spread, or simply use a magazine cut-out photo to add some color to the spread. Try leaving some room at the top right corner for a Notes section, just like Mone did.
Check out this account for beautiful layouts.
3. @whiskeymug
This is one of my favorite weekly spreads on this list because I LOVE wisteria vines! The picture cutouts of these beautiful lavender blooms really bring so much life to the spread. I bet using them brightened up her mood every time she looked at her weekly!
Take a cue from Madeline and look for pictures in magazines that you can cut out and paste to your spreads. This is especially useful if you're not a natural-born drawer. Using cutouts can beautify your spreads with minimal effort on your part – so go ahead and give it a try.
Also, if you ever make a mistake in your spread that you want to fix, pasting a cutout picture over the mistake is an excellent way to cover it up!
This is the perfect spread to create during the Spring and Summer months. Nothing captures the spirit of these sunny seasons like the color yellow, after all! This is also another spread that's great if you're currently learning how to draw flowers in your bullet journal.
I love that Frida drew the flowers at the very top, then simply wrote out the dates across the pages, from left to write, leaving free space for her to write her tasks. Her large To-Do box at the bottom is perfect for drawing attention to your top-priority tasks. 
If you love creating boxes in your spreads, then this layout is for you. You don't even need to use a ruler. You can see that this bullet journalist didn't align her lines perfectly, so she probably drew them free-hand, which is quick and convenient. 
I love that the days of the week are written at the top of each box, while the dates are highlighted in orange at the bottom. Try sneaking in a monthly calendar somewhere in your spread, just like Connie did.
View this post on Instagram

Here's another weekly spread for the minimalists out there (including myself). Horizontal columns on both pages with the dates highlighted in black ink makes for the perfect spread that's easy to recreate and quick to complete.  
Christina left space at the bottom of the page for writing notes that pertain to this week's and next week's schedules. Her little doodles on the left add some unexpected flair!
7. @itsthebujo
This weekly spread uses shades of peach and dusty blue and I think it's a brilliant use of color. It's definitely an artistic spread. I also love it because it proves you don't have to be good at drawing in order to create interesting bullet journal layouts. 
If you want to create something similar, just flip through your favorite magazines and cut out images that inspire you, then simply tape them to your spread around the days of the week. It's that easy!
8. @elevestudy
Here's another weekly spread that utilizes boxes for each day. I know it's a layout that lots of people prefer using for their weeklies. Each day is hand-lettered at the top and then filled in with a marker or highlighter.
View this post on Instagram

9. @elevesstudy
Try using horizontal columns for each day of the week, and then include a Weekly Overview section where you write in your most important goals for the week. Add flair to the spread by hand-lettering the first few letters of each day at the top of each column, as shown above!
View this post on Instagram

10. @amandarachlee
This spread by Amanda should appeal to minimalists. You don't even need a ruler to complete this spread. Simply draw some rectangular squares with the date at the top left corners. Hand-letter your favorite quote on the right side of the page, along with your favorite flower!
View this post on Instagram
11. @nordic.notes
You have to love this weekly spread for its simplicity! Sometimes, a hectic schedule just doesn't leave any extra time to create an elaborate spread. When a spread like this can keep your entire week organized, why not try it out? 
12. @bujo_kirsten
Kirsten's weekly spread is simple but fun, too. The days are arranged in an interesting manner and she pasted a few cut-out pictures for a little detail. I think the cutsouts help to evoke a calming mood.
13. @deskgraphy
If you like structure and black-ink only spreads, give this weekly layout a try. Make sure you use a quality black pen to get similar results and make space for a mini monthly calendar or a tracker to make this spread even more functional.
This spread is unique in that it doesn't use very many lines. I love this! It means that recreating it should take you no time at all. Simply underline each day of the week, and then draw circles down the line to designate space for your tasks. This spread includes a water tracker on the side of each day, but you can experiment with different types of trackers, such as sleep, gratitude, or exercise.
If you enjoy precision, then this spread is for you. Add an artistic flair by drawing some cacti or your favorite plant into the spread. Make sure you use your 6-inch ruler if you want your spread to mirror this layout. You can also leave a space on the left page for a small monthly calendar!
16. @journalbymalin
I can't get over how beautiful this flower is, or how stunning a layout can be even when you don't add pops of color or accessories like washi tape or planner stickers. Give this spread a try if you want to practice your flower drawing or if you're a fan of black-ink-only layouts.
View this post on Instagram

17. @journalbymalin
Here's another spread you should try if you're craving a simple spread with not a lot fuss. She's obviously a gifted drawer, but you can add your own spin to a spread like this by choosing something that's easier to draw or by using magazine cut-outs, really nice washi tape, or inspirational planner stickers. 
View this post on Instagram

18. @annedburnham
I love a weekly spread that utilizes vertical columns/rectangular boxes for each day of the week – it's a very similar layout to the spreads you find in a typical planner. 
Leave space on the sides and on the bottom of the page for things you want to track or any extra reminders or events. The floral border this bullet journalist drew along the right side of the page is something that even an amateur can try, so give it your best shot!
19. @bulletbyjulia
This is a weekly spread I'm excited to try because it's unlike anything I've ever created. Plus, it looks very easy to replicate. I do enjoy creating black-ink-only spreads because they feel professional and crisp. 
To recreate this spread, just add the first letter of each day next to the corresponding date, and then underline them both. 
20. @bulletbyjulia
This is another spread on my to-try list. It's simple, organized, and very professional. All you have to do is use your ruler to draw vertical lines that separate each day of the week. Then write in the dates on the left-hand side. That's it!
This bullet journalist has become one of my favorites to follow and is a great person to look to if you like minimalistic layouts. 
21. @bujo.crafts
Separate boxes for each day is always a great idea. Flowers are definitely a popular accessory in bullet journals during the warmer months, and the flower on the right-hand corner makes this spread ultra-feminine.
Trace your dates with a little pink highlighter to add some color to your page just like @bujo.crafts did. 
22. @bujo_k.e.t
This weekly spread is special because it exudes a care-free attitude. It goes to show that your lines don't have to be perfectly straight and your hand-lettering doesn't have to perfect, either. The green highlighter is nice for sunny months, too. It's a beautiful spread!
23. @calligrxph
View this post on Instagram

Recreate a layout like this if you don't feel like using lines in your spread. Simply handwrite the days of the week and write in your heading at the top of the page with a marker. 
25. @journal.it
View this post on Instagram

This is such an artistic spread; the use of leaves, foliage, and color is very impressive.  If you want to create something like this, make sure to give yourself plenty of room on the top and bottom of the page. This kind of spread doesn't allow for an extensive task or to-do list, but it's great for those weeks where you want to stare at a beautiful spread and try something different.
26. @jannplansthings
Another beautiful spread that utilizes flowers! Recreate this spread if you love using flowers in your layouts. You'll need a black pen of quality for this kind of design. If you have a cat, even better!
This pink and black weekly spread is minimal and creative. The inspirational quotes on the bottom of the spread are a nice touch. It's a gorgeous spread to look at, especially if you like the precision of the numbers, which you can recreate with a stencil!
28. @studynine
This spread isn't constricted by structure which is great if you feel confined by pre-designed layouts. You won't need any lines to create something like this, you'll just need some washi tape for detail and a few picture cutouts that inspire you. Write your days on rectangular pieces of paper and then paste them to the page – it'll make the days stand out!
29. @keletters
View this post on Instagram

30. @keletters
View this post on Instagram

This weekly bullet journal layout will appeal to the hearts of minimalists. All you need is a black pen and neat handwriting for this one. It's perfect for when you're low on time but still want your layout to look good!
This Instagram account is full of bright colors and layouts! This type of spread is perfect for Spring and Summer, especially if you love using your circular stencil or protractor to draw circles in your bujo.
Each day has its own rectangular box, which really helps to keep things organized and your notes nice and to the point. Notice the inspirational quote inside the circle – it's an excellent place to a quote! Check out their Pinterest profile for more! 
View this post on Instagram

32. @plan.tful
This spread is all about the art and it's impossible not to love the creativity it expresses. Flowers and rich colors take center stage, but it still leaves enough room to write in your to-do tasks. 
33. @journal.it
Here's another spread that shouldn't take too long to recreate. Make sure to use your ruler and a good black pen or marker. 
35. This is a weekly spread I created!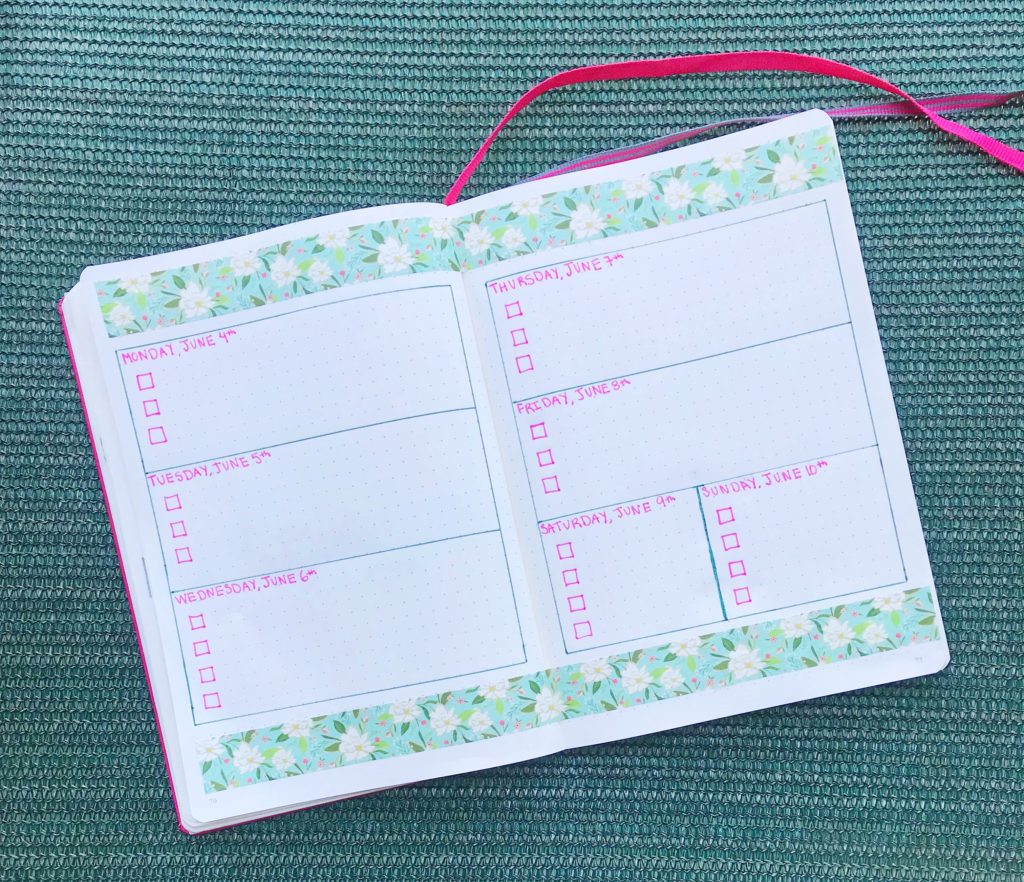 I created this weekly layout using a pretty roll of washi tape and a pink erasable pen. I also used a green erasable pen to create the lines. Erasable pens are my favorite bullet journal supply because if I make a mistake, I can just erase it and start over.
I also love drawing small boxes for each task because it helps me keep my tasks separated. Each time I complete a task, I fill in the little box to mark it as completed – it's such a satisfying feeling and my favorite part of bullet journaling!
I hope you enjoyed looking at these weekly spreads – it's always nice to see what other bullet journalists are creating. The bullet journal community is a very generous and inviting community, so picking up ideas here and there is never difficult to do! 
Hopefully, you've found some spreads here that inspire you and motivate you to keep journaling.